LPA (Lauren's Pale Ale)
| Seven Brides Brewing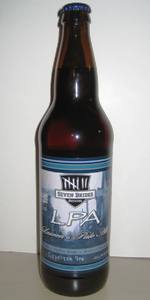 BEER INFO
Brewed by:
Seven Brides Brewing
Oregon
,
United States
sevenbridesbrewing.com
Style:
English Pale Ale
Alcohol by volume (ABV):
5.50%
Availability:
Year-round
Notes / Commercial Description:
IBUs 50
11 SRM
Added by msubulldog25 on 11-30-2008
Ratings: 8 | Reviews: 8
3.36
/5
rDev
+2.8%
look: 3 | smell: 3.25 | taste: 3.5 | feel: 3.5 | overall: 3.25
interesting pale ale, almost bitter enough to be an IPA, but the bitterness comes late on the finish and sticks with you. Light orange/amber with spare silky off white head. Aroma is citrus orange, flowers, taste comes in differently with malt and hops. Gets better the more you drink....
288 characters
1.68
/5
rDev
-48.6%
look: 2.5 | smell: 2 | taste: 1.5 | feel: 1.5 | overall: 1.5
Bomber
Appearance- Looks more orange than amber
Smell- It's hard to smell this beer with all the foam. If you enjoy huge foamy beer head then this is your beer. It seemed a tad out of control to me.
Taste- This beer may have been tainted or a bad batch. It wasn't skunky but it was hard to detect any floral or carmel notes of any kind. Just a bad beer taste. I would never recomend this beer to someone who wants to start drinking beer, if they did they would would swear off beer forever.
Mouthfeel- Too much carbonation felt like soda pop
Overall- I really wanted to enjoy this beer because it is a local brew, but wow sad to say it was a bad beer.
656 characters
4.14
/5
rDev
+26.6%
look: 3.5 | smell: 4.5 | taste: 4 | feel: 3.5 | overall: 4.5
Poured from a 22oz bottle-
A: Huge foamy off white head with lots of sticky lace. Slightly cloudy with a Carhartt brown color. Lots of visible carbonation.
S: Burnt caramel, malty sweetness with a nice citrus hop note to add balance. Very fresh and clean.
T: Sweet caramel malts and fruits such as bruised peach and banana all rolled into a whole wheat tortilla. This is all balanced and muted by a very nice citrus hop bite on the back side of the swallow.
M: Medium, creamy body with lots of carbonation. The hoppy ending creates a nice clean finish.
O: Nice brew. I liked the sweet vs hoppy bitterness balance with the malts taking the lead, then passing off to the hops for a nice finish.
697 characters

3
/5
rDev
-8.3%
look: 3 | smell: 3 | taste: 3 | feel: 3 | overall: 3
Appearance-pours a deep orange amber with some cloudy chill haze a low white head with poor retention and virtually no lacing.
Smell-Some fresh fruit andsweet caramel malts.
Taste-The fruit flavors are of fresh apples or pears and some citrus and a bit of pine.Some. Some complex.caramel flavors and some mild hop bitterness wth the finish.
Mouthfeel-Moderately high carbonation, Light on the palate and a pleasant aftertaste.
Drinkability- A pleasant surprise from a brewery that in my experience has been plagued by inconsistency. Nice to see when they're on the beer is very good. I think I may just try again with less apprehension.
Update 3-29-11 Above text indicates the best case scenario I've experienced. Scores are reduced due to several bad experiences and a few average to good experiences. ****Significant problems with product consistency and stability over time. Short shelf life=get it while it's fresh or it's not very good. When it's on it's fab. It's just often not on. I've adjusted scores to average out experiences. I've had this beer around ten times times with widely varied results. B+ when it's excellent D when it's off. Wish I didn't need to say this.
1,186 characters

3.52
/5
rDev
+7.6%
look: 3 | smell: 3.5 | taste: 3.5 | feel: 3 | overall: 4
22 oz bomber from Roth's Vista Market, Salem. Appearance? average amber colour..but ominously a HUGE oversized thick off white head. Aroma not too bad, honeyish, buscuity malts, slight lemony hop. Taste is pretty malt driven again honeyish, with a bready tone also. Hops are taking up the end and are slightly citric in character. Kinda average palate to this one. Not too bad though. Over all an average pale.
410 characters

4.08
/5
rDev
+24.8%
look: 4.5 | smell: 4 | taste: 4 | feel: 3.5 | overall: 4.5
appearance - amber, generous frothy head, incredible retention, sticky lacing
smell - hops and buttery malts
taste - fresh and generous earthy hops with a unique character, malt body, slightly bitter finish
mouthfeel - medium carbonation, balanced, mid to light body
drinkability - very fresh and flavorful, great session beer, finished a 22 of this and wanted another
372 characters
2.58
/5
rDev
-21.1%
look: 3 | smell: 2.5 | taste: 2.5 | feel: 3 | overall: 2.5
Pours hazy amber with a two finger white head. Well laced. Aroma is soap and a faint apple scent. Taste is soapy with a hint of boiled ham. Some modest bitterness lingers but no real malt character in evidence. My guess is this beer has been infected with a wild yeast strain. Or the brewer has a very uncommon type of yeast for this style of beer. I will try to visit the brewery some time or find it on tap locally. I hate to write a negative review of a local micro brew but it is what it is. If my next tasting yields a more enjoyable result I will gladly update my review. From a 22 ounce bomber.
601 characters
3.49
/5
rDev
+6.7%
look: 4 | smell: 2.5 | taste: 4 | feel: 3.5 | overall: 3.5
A-Pours smooth medium straw color with creamy white head.
S-Crisp malt sweetness intermingled with some hop spice, light caramel malt aroma light on the nose.
T-Clean malt sweetness apple,pear,light caremel malt,nice mellow malt flavor with lingering light spicy hop bitterness in the finish.
This is a nice easy to drink pale ale good crossover beer, could use some more late hop additions to boost the aroma and hop flavor for my taste anyways.
447 characters
LPA (Lauren's Pale Ale) from Seven Brides Brewing
3.27
out of
5
based on
8
ratings.