Oatmeal Ellie
| Seven Brides Brewing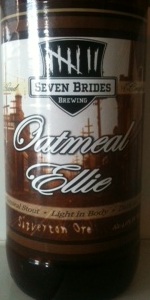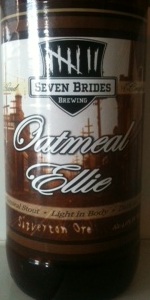 BEER INFO
Brewed by:
Seven Brides Brewing
Oregon
,
United States
sevenbridesbrewing.com
Style:
Oatmeal Stout
Alcohol by volume (ABV):
4.50%
Availability:
Year-round
Notes / Commercial Description:
IBUs 30
33 SRM
Added by msubulldog25 on 03-05-2009
HISTOGRAM
Ratings: 13 | Reviews: 11
Reviews by Fatehunter:

2
/5
rDev
-34.4%
look: 4 | smell: 4 | taste: 1 | feel: 2 | overall: 1
A - Poured from a bomber into a tulip glass. Black color with almost an inch of tan head.
S - Roasted malt with a little burnt malt as well.
T - Whoh. Slight roasted malt and then a super sour taste. Terrible. And then it stays on the tongue for a while after.
M - Light body and lots of carbonation.
D - Not drinkable. I have not read the other reviews so I do not know if this was just the bottle I have. I did try pouring it in a different glass to make sure that it was not my glassware that was giving off the horrible taste, but the same taste was there as well. I only had four drinks of this, but there is no way I am having any more. Worst beer taste I have ever had.
682 characters
More User Reviews:
1.43
/5
rDev
-53.1%
look: 4.5 | smell: 1.5 | taste: 1 | feel: 2 | overall: 1
I got a bottle of this beer that was infected. It was sour and acidic, and smelled like death.
I was really excited to try this one too. I don't know where the slack in cleansing was, but I don't care to take another $4 gamble until this batch has moved off the shelves.
The appearance was very nice, though.
If there is another way to warn about bad batches then please let me know.
I picked it up at the Roth's store between Commercial and Liberty streets in Salem, Oregon.
479 characters

2.95
/5
rDev
-3.3%
look: 4 | smell: 4 | taste: 2.5 | feel: 2.5 | overall: 2.5
Thanks again to the Market of Choice for stocking this beer. It's a very dark brown color that could almost be black. There is a nice aroma of oats. I wasn't too fond of the taste. It seemed somewhat bitter, but it also may have been from a bad batch as well. I probably wouldn't try this beer again, but I would like to try other Seven Brides beers.
350 characters

1.96
/5
rDev
-35.7%
look: 3 | smell: 2 | taste: 1.5 | feel: 3 | overall: 2
Look: Black and totally opaque 1/4 inch head and no retention that settles into a thin collar with quite a bit of carbonation bubbles
Smell: Not too much going on here a touch of chocolate and oatmeal
Taste: The beer starts with this weird soapy like note at first maybe I thought it was my glass so I poured some more into a different glass and nope same soapy flavor. The beer then finishes with some oatmeal and roasted malts
Mouthfeel: Thin body and mildly carbonation
Overall: Not a very good beer. The flavors are just off on this beer. Epic Fail
556 characters

3.58
/5
rDev
+17.4%
look: 4 | smell: 3.5 | taste: 3.5 | feel: 3 | overall: 4
22 oz bomber from Roth's Vista Market, Salem. OR Very nice looking stout dark brown with a very attractive thick tan head. Aroma however is pretty subdued, toasty oats, some coffee and thats it. Not bad but for from impressive. Taste is unusual for style..its very coffeeish , not a lot of the oatiness, fruity, spicy almost has a "barnyard" sourness about it...strange but i actually like it. Quite thin mouthfeel for the style, but it does make this drinkable. Overall a very odd stout..lighter and the sourness..just weird. Seems like the recipe chamged for this beer. Alc is 4.2% IBUs now 40( though i could never tell).
624 characters

3.42
/5
rDev
+12.1%
look: 4.25 | smell: 3.5 | taste: 3.25 | feel: 3.25 | overall: 3.5
Poured into the center of a 0.4L Tulip. Serving temperature was 45F and the beer was consumed over a thirty minute time period allowing for warming to near room temperature. 4.6 ABV
A> This stout pours black and opaque producing a four finger tan head which disipated in short time, allowing the glass to be filled. A fine, some what rocky head remains to lace the glass nicely adding to the enjoyment of this beer to the bottom of the glass.
S> Earthy hops and a hint of roast malts and dark chocolate await the nose.
T> Roast malts and a whisp of dark chocolate on the tongue. Nothing comes forward as the beer warms.
M> Amazingly the mouthfeel is initially full bodied with a lingering finish. Mouthfeel thins as the beer warms.
O> This beer is a good attempt at an Oatmeal Stout that would yield to pairing with a good burger to a wholesome shepard's pie. No flaws were noted.
Serving type: bottle
923 characters
4.24
/5
rDev
+39%
look: 2 | smell: 4.25 | taste: 4.75 | feel: 3 | overall: 4.5
4.06
/5
rDev
+33.1%
look: 5 | smell: 4 | taste: 4 | feel: 4 | overall: 4
This one came to me in a 22oz bomber, never tried a 7 Brides beer so I figured it was a good time.
A> This is a beautiful beer, gorgeous tan head with nice retention and lots of lacing. The beer itself is almost black with perhaps the slightest hint of brown around the edges.
S> The nose comes through with lots of chocolate and a little bit of oat in the background
T> Cocoa, red wine, a bit of sourness, really nice finish that ends on a chocolate note
M> Good feel in the mouth, perhaps a little bit thin but still appropriate for the style. Leaves the mouth feeling wet.
O> This is probably my favorite stout of 2012. This is everything that a Guiness wishes it was ;)
694 characters
4.13
/5
rDev
+35.4%
look: 4.5 | smell: 4 | taste: 4 | feel: 4 | overall: 4.5
Another of those über-local finds that Bailey's Taproom has an affinity for catching. THE first BA review for ANY Seven Brides brew is mine, how 'bout that? A 1/2 pint pour.
A: Very dark, bordering on being pure blackness. Thin head of dense khaki cream sits permanently atop. Excellent lace coats in long, draping sheets; sticks from top to bottom.
S: Pleasant aroma of bittersweet chocolate and dry coffee, smells very much the enticing 'Oatmeal Stout'. Not terribly strong/complex, but appealing nonetheless.
T: Rich roasted coffee and dark bakers chocolate with deft sweetness and likeable hints of raisin and spice. Prolonged bittering grows slightly medicinal/chalky, yet still plays nicely with the sweeter grainy roast.
M: A little thin, but at just 4.5% that seems forgiveable. Ends with a spiced dryness, more like an Irish Stout. Surprising density.
D: At 'just' 4.5%, this is far too drinkable. Definitely would have another and certainly recommend for a try. A very nice surprise from a young, unheralded brewery - well done, guys!
1,050 characters
3.27
/5
rDev
+7.2%
look: 3.75 | smell: 3 | taste: 3.25 | feel: 3.75 | overall: 3.25
3.15
/5
rDev
+3.3%
look: 4 | smell: 4 | taste: 3 | feel: 2.5 | overall: 2.5
Poured into 10oz glass. Poured a light black color, with a decent tan head that had OK retention and lacing. The aroma was full, rich and just a bit sweet. Lots of nice grainy malts.
The flavor had those grainy malts but was dominated by a tangy taste, almost sour, that tromped over all other flavors. The body was very light for the style. Drinkability was a bit below average, mostly due to that tangyness. Overall, if I see this beer on tap I'll give it another shot, but probably won't buy another bottle.
511 characters

3.83
/5
rDev
+25.6%
look: 4 | smell: 3.5 | taste: 4 | feel: 3.5 | overall: 4
Poured from a 22oz bomber, into a wine glass (fundraiser dinner, no choice on glassware!)
pours almost black, somewhat undercarbed, even for a stout. aroma isn't huge, but a nice mix of roasted malt and the oats. very nice on the palate a bit of coffee, some earthy tones and a hint of chocolate. mouthfeel is definitely a bit thin, and the undercarbing hurts it a bit more.
A safe, if unsurprising, beer. I'd be happy to have it again.
438 characters
1.66
/5
rDev
-45.6%
look: 3 | smell: 2 | taste: 1 | feel: 3 | overall: 1.5
I won't go into explicit tasting notes, since most reviews have already covered that.
My tasting notes: this beer tastes like sour soy sauce.
This is one of the worst oatmeal stouts I have ever had. This is not representative of what the style should be. If I wanted to drink a sour beer that tastes like soy sauce I sure as hell wouldn't have bought an oatmeal stout.
Seven Brides, you are a joke. You do Oregon a disservice by bottling and selling garbage like this. I don't know if you intentionally want your beer to taste like tangy soy sauce juice, but my guess is something has gone wrong in your brewing process yet you pass this garbage off to consumers who have to pay for it.
I barely drank one pint and poured the rest down the drain. I want my $5 back.
772 characters
Oatmeal Ellie from Seven Brides Brewing
Beer rating:
3.05
out of
5
with
13
ratings