Lowell Beer Works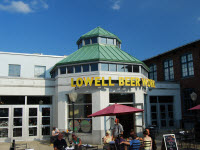 PLACE INFO
Type:
Brewery, Bar, Eatery
203 Cabot St
Lowell
,
Massachusetts
, 01854
United States
(978) 937-BEER |
map
beerworks.net
Notes:
No notes at this time.
Added by goz on 08-02-2008
Reviews: 12 | Ratings: 25

4.09
/5
rDev
+3%
vibe: 4 | quality: 4 | service: 4.25 | selection: 4 | food: 4.25
Solid place with good beers. Service can be hit or miss. For best service sit at the bar. Beer Works puts out some very underrated brews. This is a great place to go before an event at the baseball park or hockey arena.
★
219 characters

3.61
/5
rDev
-9.1%
vibe: 4 | quality: 3.5 | service: 3.5 | selection: 3.75 | food: 3.5
This was my first visit to a Beer Works facility and a long time since my previous visit to Lowell. Let me say first that I am a sucker for modern industrial décor. So, if that isn't your thing, you may not find it as appealing. Arriving on a Friday afternoon, I was surprised to not find many of the after work crowd - perhaps it's the location in town. As I left, it looked as though college graduation ceremonies were about to start, so it was probably a very unusual day - but there's plenty of space for a crowd. <br> I found the beer selection to be broad, but leaning toward extremes in hoppiness or maltiness. Not many balanced selections which are my typical preference. As we're now in June, there were quite a few fruit beer selections on tap. I tried the blueberry, raspberry and a saison with... apricot I believe. Not much of a Fruit-In-My-Beer drinker, I had the passable nut brown first, but it was too malty and heavily roasted for my liking. Finished with a raspberry. <br> I was a little taken aback that my lack for familiarity with *their* beer was initially seen as a lack of familiarity with beer in general. Maybe because I'm not a regular, maybe because I'm female - but we sorted that out quickly. Speaking of which... Ladies: HALLELUJIA for a place that finally has a good number of bathroom stalls! <br> I only ordered a half plate of nachos & it would've been fine for two people. And (yay), someone in the kitchen knows to layer everything so there's cheese & toppings throughout the pile of nachos; so nice to find a place that takes the time! I looked through the rest of the menu. A few healthy selections, but almost nothing but salads or an expensive Gardenburger for vegetarians like myself (beer *is* vegetarian). Overall, it was pleasant enough and I love experimenting on new brews, so I'll probably be back when/if in the area, but it isn't making my Top Ten list.
★
1,923 characters
4.18
/5
rDev
+5.3%
vibe: 4.5 | quality: 4 | service: 4 | selection: 4.5 | food: 4
I had been here many years ago, pre-Beer Works, when it was the Lowell Brewery, or something like that. It was more like a ticky-tack sports bar where, despite the in-house brewery, more people were drinking long-necks of swill... Oh well... a few months back I opted to hit it again, though I don't know why I ignored it all this time. Have visited three times in the last few months, most recently on 30NOV12 with Alewife, to celebrate mein Geburtstag.
Found near the hockey and baseball locales, and amidst the old mills, Beer Works has a nice little courtyard out front with a couple dozen tables for when it's warm out. Inside, the hostess stand is just left, with the bar straight ahead, tables to the right, and a larger room further right with many tables and booths. Beyond that is the brewhouse, visible through large windows. Numerous large screen TVs hang about in this industrial-looking warehouse-ish place, usually with sports on. Music runs the gamut from new stuff to classic rock.
Expect about 12-16 biers on tap, ranging from light to dark in color and light to heavy in body and ABV. They are mostly well-made, though I haven't yet found anything really killer. Service has always been solid and reliable, friendly and fairly timely. They have a wide variety of food items on the menu (I always have a hankerin' for the Spicy Chicken Sammich)... Prices are reasonable across the board, for the most part. You will still find a higher ABV brew with a bit of sticker shock, but most things are in-line with brewpub pricing these days. Have enjoyed my recent visits, and will be back for more. Prosit!!
4.18/5 rDev +3.2%
vibe: 4.5 | quality: 4 | service: 4 | selection: 4.5 | food: 4 | $$
252
★
1,713 characters

3.48
/5
rDev
-12.3%
vibe: 4 | quality: 3.5 | service: 3 | selection: 3.5 | food: 4
Went here last night after cutting some trees at the folks house. Parking is kind of funny, there are a few spots on the street in front of the place, a parking garage around the corner and apparently you can park in the lot across the street as well. The front entrance has a good sized patio with maybe 25 tables for outdoor seating. A grand entrance welcomes you in with at great looking bar 30 feet in front of you. Hostess station to the left as well as a cooler with beer to go in growlers and six packs. We were here fairly early for dinner and were promptly seated to the dining room off to the right of the bar. Several dozen tables and booths seem like they could hold a good sized crowd. The brewery is in the far right wall behind glass. The menu is mainly pub food and everyone at our table though it was good but not great. Our waitress was attentive, but seemed forgetful. She forgot a round of beers once and we waited almost a half an hour for dessert to arrive. They have probably a dozen beers on tap most lighter styles with a couple of bigger beers like a Imperial ESB, double pale ale, Imperial Pilsner, IPA I enjoyed the schwartzbier and the IPA, the nut brown and dry stout were meh. I would go back if I was in the area, but wouldn't make a special trip.
★
1,279 characters

4.15
/5
rDev
+4.5%
vibe: 4 | quality: 4 | service: 4.5 | selection: 4.5 | food: 3
Visited boston beer works once or twice, but since I live in Lowell I get the chance to go here much more often. The atmosphere is pretty nice they have large windows so you can view the brewing tanks in the dining room, and usually on friday and saturdays they have some live music, and its nice because they know they are not a venue so they get some1 who plays guitar and sings which is nice cause you can still hear people you are with. Other bars in lowell get djs or full bands for even smaller areas. The beer is usually pretty fresh some of the styles they hit the nail on the head, others they go a little overboard on one character. The service is usually verry good, the food is ok, never had a really amazing meeal, but have had some disappointing ones. everything is reasonably priced.
★
798 characters
3.8
/5
rDev
-4.3%
vibe: 4 | quality: 3.5 | service: 4 | selection: 4 | food: 3.5
This place is a block from where I live. It's a great place if to go for okay crafty beer (not great). It's a chain part of of Boston Beer Works... you can go to Salem and Boston and have the exact same beer. The beer is acceptable... geared for the more timid. The beers top out at 5.9% alcohol. The food is good pub food. Service is fast, the bar tender is fairly knowledgeable but still a Bud drinker.
The kicker is... there is a "Beer Works" membership card (100% free membership), and the Beer Works (Lowell, Salem, Boston) give you $10 a month to spend at their locations. There is no maximum balance that can accrue on your card. You can redeem this money towards 1/2 of your entire bill beer included if you schmooze the bartender.
Absolutely a convenient, very customer friendly restaurant/brewery. Good place for an above average beer with frequently rotating seasonal taps.
A great alternative to your mass produced chain restaurant like the 99, Applebee's, Chilli's with better food and unbeatable prices.
★
1,022 characters

3.78
/5
rDev
-4.8%
vibe: 4 | quality: 4 | service: 4 | selection: 3.5 | food: 3
In the time that I have been drinking this place has gone through at least three iterations. First it was Lowell Brewing Co., then it was Concord / Rapscallion. Now, it seems like the well-known Beer Works brand (Salem and Boston) has come to town. They re-arranged the front "rotunda" area. It's opened up with more seating. (Great, cause I always prefer to sit in the bar). The thing about Beer Works is that their brews are always "average" at best. The food is also pretty consistent "bar" food. OK - it's better than totally sucking. The outdoor patio area is large and very nice. There is also a large indoor restaurant seating area.
★
639 characters
3.65
/5
rDev
-8.1%
vibe: 3.5 | quality: 4 | service: 3.5 | selection: 3.5 | food: 3.5
Newly renovated and very typical for a Beer Works establishment. Diamond plating, big booths, high-chair tables. A couple of TVs and some lousy music. Fairly stark and bare bones, but appropriate. Ample (free!) parking -- take that, Fenway.
Brews were good quality and served at the right temperature. Food selection was decent for pub grub. Since I was in the Fenway site just earlier that week, it was interesting to see the differences in offerings. Some good things that you didn't see in Boston, but there were a couple that I wanted to try that they were out of. Had a good selection of bottled brew as well (warm, in bulk, or in the cooler).
Service was so-so. Things picked up right after we were seated, but she was pretty much a ghost. Took a while to get our check, even with empty glasses on the table. Our server also needs to get a bit closer to her toothbrush - I mean, c'mon, we're ordering meals here-- and there's more old food caked up on your teeth than there was on our plates.
Food was decent but somewhat flawed. Onion rings were huge grease tires -- just not good at all -- seemed like the oil wasn't hot enough or they were just sitting around.
Prices were what you expect today, and were appropriate.
Overall, a decent place to stop, and it does have a different feel than Boston and Salem sites. Bigger college crowd at this one, and that was cool too. Worth a stop. Not the best brew pub chain out there, but very decent.
★
1,454 characters
4.45
/5
rDev
+12.1%
vibe: 4 | quality: 4.5 | service: 4.5 | selection: 4.5 | food: 4.5
Found this place last Saturday using BA. The beer selection was great. If you go at night on the weekend don't let the dance club next door scare you away.
All in all I was able to sample 11 beers. Very nice seasonal selection. The Pumpkin wasn't ready yet, but the October was. The Belgium Quad and the Imperial ESB were very impressive. Paul the bartender did a great job. The food was good too.
You can get four samplers at a time and one nice thing they do is give you a card with each sampler that lists the beers you ordered, the order they recommend you drink them in and a space for you to write your review of each beer. Makes it easy to keep track of things after 11 samples.
If you're in Lowell or just passing through the area this place is worth checking out.
★
776 characters

4.13
/5
rDev
+4%
vibe: 4 | quality: 4 | service: 4 | selection: 4.5 | food: 4
I've been a fan of the Boston and Salem BeerWorks locations for a while, glad to see them open up a branch in Lowell that's somewhat easier for me to get to.
Has the same industrial-type feel as the other locations, and has a patio for use in the summer. Plenty of flat-screens to watch sports or talk-yakkers during the weekday.
Usually have 10-15 styles of beer on tap. Depending on when you hit it, selection can be terrific or rather unremarkable. During the summer they tend to veer towards "light" beers to cater to the Lowell Spinners crowd.
Food menu is identical to those of the other locations - pub grub ranging from sandwiches and burgers to pizza and some proper entrees. Dinner salads and app's are usually the best bet.
Service is usually quick and friendly, although the young staff usually aren't well versed in the beer styles - no biggie in my book.
All in all, this is a comfortable place to have a casual meal and a few brews. My one nit-pick is why their prices are identical to those of their Boston (seemingly pricier) locations?
★
1,058 characters

4.65
/5
rDev
+17.1%
vibe: 4.5 | quality: 5 | service: 4.5 | selection: 4.5 | food: 4.5
A- Great brewpub atmosphere has usual beerworks decor . Lots of TVs . Good seating selection bar tables , nice dining room , good sized bar .
Q- Great quality decent prices with good beer samples available before you pick what you want
S- Service was excellent knowledgable , helpfull but not overbearing . Bartenders social quick to serve and highly knowedgable . Managment is even great there to .
S- Good selection of beer on tap though they have run out of a beer here and there they are still a young brewpub at this location. Love the cask here always something new on cask even if it is just a tweeked regular brew.
F- great food standard bar fare but done right just love it .
V- Good value , good prices and they even have discounts with their Beer Works card
★
769 characters
4.25
/5
rDev
+7.1%
vibe: 4.5 | quality: 4.5 | service: 4 | selection: 4 | food: 4.5
A: Great laid back atmosphere. A few TV's spread out through the dining area and bar make it a good place to catch the game.
Q: Good quality beer available on tap and in growlers. 12-16 different beers on tap and some available on cask.
S: Service was prompt and knowledgable. They make a point to tell you what they have and what they are out of before you place your drink order.
S: Selection was good. They had all the kinds of beer I wanted on this particular evening.
F: Food is very good. Large menu with everything from burgers to speciality seafood dishes at reasonable prices. A little something for everyone.
V: Very good value. 4.50 to 5.00 for a 16 ounce beer. Burgers and sandwiches between 8 and 12 dollars.
I really like this place and try to go as often as I can now that I have one close to home. Always liked the Beer Works at Fenway and in Salem, but never went there often enough because of the distance from home. A favorite spot for me and my wife as I try to get the wife into some good beer. Great menu and great beer selection keep me coming back 2 to 3 times a month. I recommend the chicken nachos and the meatloaf sandwich. Great place for dinner or just a beer. Usually crowded when the Lowell Spinners are in town.
★
1,251 characters
Lowell Beer Works in Lowell, MA
3.64
out of
5
based on
2,010
ratings.