Bad Monkey
| Yakima Craft Brewing Co.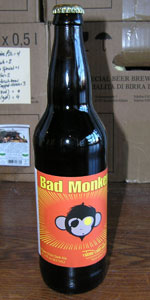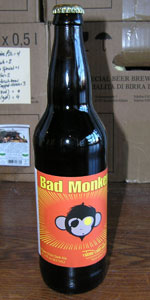 BEER INFO
Brewed by:
Yakima Craft Brewing Co.
Washington
,
United States
yakimacraftbrewing.com
Style:
Belgian Strong Dark Ale
Alcohol by volume (ABV):
8.21%
Availability:
Winter
Notes / Commercial Description:
No notes at this time.
Added by Jason on 02-05-2009
HISTOGRAM
Ratings: 10 | Reviews: 7
Reviews by beefandbean22:

More User Reviews:
3.58
/5
rDev
+6.9%
look: 4 | smell: 3.5 | taste: 3.5 | feel: 4 | overall: 3.5
Thanks to someone for sharing this at Freetail's most recent bottle release party. Sorry I don't remember who shared it.
2010 vintage.
The beer pours an orangish-copper color with a white head. I get a lot of dark fruit and cherry notes in the aroma. I also get a little bit of yeast and a tad bit of roasted malt, but overall the aroma is all about the fruit.
The flavor is sweet with a lot of cherry and grape notes, as well as a little bit of raisin. I also get some herbal and spice notes with some roasted malt notes mixed into the flavor. Overall, the taste is a bit muddled and a little bit strange. The alcohol is fairly well hidden.
Medium mouthfeel and medium carbonation.
689 characters
2.68
/5
rDev
-20%
look: 4 | smell: 3.5 | taste: 2 | feel: 3 | overall: 2.5
22 picked up at Brewforia tonight on the way home from work.. poured into my Delerium goblet... Thin dark tan head... no real lacing and the retention is only okay... The brew is a nice very clear polished mahogany.
Nose is heavily spiced.... cardamom and clove .. bits of pink bubblegum...
Flavor is hammered by the spices right out of the gate and linger to a 60+ second finish... there are hints of something that I guess are BSDA qualities, but they are squashed readily by the spices... a bit of malt sweetness is there, yet it just seems to bloom the spices.. there is little in the way of malt complexities... and if there actually is any yeasty phenols or esters, they are washed away by antiseptic spice notes.
Body is about right, but the carbonation is sharp and somehow seems to dissipate rapidly on the palate... nothing about this brew is "smooth".
I really wanted to like this one more, as I really only wanted one brew tonight, but I expect the rest of the bottle is going down the drain.
4/3.5/2/3/2.5
Edit: It is bad when the best thing I have to say about a beer is in the appearance.. and that was iffy. There are some cherry ester components that come out with room temperature warmth, but the spices are sooo overbearing I am sure I will still taste them after a good brushing.
1,306 characters


3.24
/5
rDev
-3.3%
look: 2.5 | smell: 3.5 | taste: 3.5 | feel: 2.5 | overall: 3
pours clear copper that is heavily carbonated, then the carbonation goes away quickly, no head, and not lacing.
smell is of roasted malt, corn syrup, a touch floral, some spice, and some burnt caramel.
taste is of cola, malt, caramel, roasted grain, and some spice, ends on the thin side.
290 characters

4.04
/5
rDev
+20.6%
look: 3.5 | smell: 4.5 | taste: 4 | feel: 3.5 | overall: 4
Wow...the aroma is of Juicy Fruit gum. Amazing.
Creamy palate.
Lots of spice-- pepper, clove, cinnamon, nutmeg.
Flavors of candied fruit, with hints of graham crackers and bananas.
Totally hidden alcohol.
Winter/rotating release. A great bargain at just over $5 for a bomber bottle. Would have it again.
308 characters
3.32
/5
rDev
-0.9%
look: 2.5 | smell: 3 | taste: 4 | feel: 3.5 | overall: 2.5
Very fruity aroma. Lots of things like cherries and plums and a bunch of yeasty esters. Lots of Candi sugar too. What I don't get in the aroma is any malt.
Deep amber, slightly cloudy and poured with no head at all. Did I get an old bottle? No way to tell from the bottle and I got it at a random central Washington store that I have no clue what their stock turnover might be.
Flavor is pretty nice all around. Spicy, added maybe, kind of cinnamon and Anise and some more fruity yeast esters. Nice base malt flavor and some dark crystal maybe. But it's pretty sugary on the back end.
Kind of flat. Very little carbonation and that makes it seem heavy and syrupy. Makes me wonder again about the bottle age. No noticeable alcohol which is good for an 8+ beer.
Based on the only bottle I've had, this could be a really nice beer. Some head would make it look better and some carbonation would make it seem more lively and maybe help with the over sweet flavors. As tasted, not something I would recommend but a little fix and they've got a good one.
1,053 characters
3.28
/5
rDev
-2.1%
look: 3.5 | smell: 3 | taste: 3 | feel: 3.5 | overall: 4
Served in 16oz goblet. Poured a slightly translucent mahogany color, with a thin cap of tan head that had very low (almost no) retention or lacing.
The aroma was mostly dark stone fruits, cherries and plums, and maybe a hint of grape. The flavor was also mostly fruit, with a hint of yeast, and a sharp, tangy finish.
The body was good, smooth and even. Drinkability was good it went down easy, but I'm not sure I'd have 2 in a row. Worth trying if you see it.
463 characters
3.82
/5
rDev
+14%
look: 3.5 | smell: 4 | taste: 4 | feel: 3.5 | overall: 3.5
22 oz. bottle from West Richland WA Beer and Wine poured into Chimay chalice 3.17. 2010.
Brownish amber with red notes clear body complex color when held up to the light. One finger brown head, very quick dissipation, decent lacing. Very complex notes, I picked up candi sugar, treacle, stone fruit and grassy hops. The taste is equally complex, a bit sweet, sweet, with a dry hoppy finish. Fairly smooth mouthfeel with good effervecence. Pretty good drinkability for the style, alcohol well hidden. To be honest, this is the best beer I've had from this brewery. They should consider working outside the box more. The road less traveled is quite tasty. I look forward to having this beer again.
697 characters
Bad Monkey from Yakima Craft Brewing Co.
Beer rating:
3.35
out of
5
with
10
ratings