Higher Standard
| Peekskill Brewery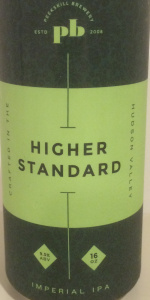 BEER INFO
Brewed by:
Peekskill Brewery
New York
,
United States
peekskillbrewery.com
Style:
American Double / Imperial IPA
Alcohol by volume (ABV):
8.80%
Availability:
Year-round
Notes / Commercial Description:
With Simcoe and Citra Hops added to our kettle, coolship, hopback, and then dryhopped twice in the fermenter, this smooth Triple IPA will satisfy your inner hophead.
Added by Billolick on 04-08-2013
Reviews: 13 | Ratings: 143

4.46
/5
rDev
+2.5%
look: 4.25 | smell: 4.5 | taste: 4.5 | feel: 4.25 | overall: 4.5
Poured from a 16oz can into a Speiglau IPA glass.
Look is incredible. Crystal clear amber highlighted golden yellow with a think frothy head that disappears immediately.
Aroma is resiny and pine that ends in a citrus punch.
Taste is dangerously smooth for a 9.5% alcohol beer. Underlying malt sweetness but with a big citrus hop taste.
Delicious.
353 characters
3.27
/5
rDev
-24.8%
look: 3.5 | smell: 3.25 | taste: 3.25 | feel: 3.25 | overall: 3.25
On tap at Peekskill.
Golden orange pour, fairly hazy, with a thin collar of white bubbles; a few dots of lacing on the glass. In the nose, oily hops and sweet bready malts, with solventy undertones. The taste was malt-forward, way too sweet for the style, with some citrus oils present, but too dense and too overpowered by the malt profile. Some fusel flavors were also present, which came out more as the beer warmed. Mouthfeel was dense and chewy, body was medium. Kind of messy overall, and not very good for a DIPA.
521 characters

4.46
/5
rDev
+2.5%
look: 4.25 | smell: 4.5 | taste: 4.5 | feel: 4.25 | overall: 4.5
12 oz. pour at the brewery into a tulip glass, unknown bottling/kegging date, drank over 30 minutes:
A: 3/3 - golden-orange coloration, murky (could not read or see through on initial pour); whitish rocky head settles into a a 1/2 finger head; moderate carbonation with islands and small eggshell-white carbonation; moderate alcohol legs
S: 10/12 - huge citrus and piney aroma on first detection; mild biscuity bready malts and some alcohol
T: 16/20 - the taste matches the nose nicely - sweet admixture of dank/piney and tangerine/orange peel flavors from the Simcoe and Citra; in the middle of the mouth, these flavors continue to develop with some slight biscuity/bready malts and alcohol; finishes dry and inviting subsequent sips
M: 4/5 - moderate-to-high body, moderate hop oils and alcohol fullness; appropriate carbonation for style
O: 9/10 - excellent West Coast-style DIPA: huge PNW hop aroma/flavor that finishes dry; the triple IPA moniker is definitely overstated at <10% but still very dry with high drinkability; super recommended for purchase and/or trade
TOTAL - 42/50
1,094 characters

4.4
/5
rDev
+1.1%
look: 4 | smell: 4.5 | taste: 4.5 | feel: 4.25 | overall: 4.25
Growler into a tulip (thanks again cavedave!) Pours a hazy glowing orange w/ a nice sudsy head.
Aroma is a big tropical burst of citrus, just the way I like my IPAs. Predominantly orange and grapefruit. Reminds me of Sculpin or Workhorse.
Taste follows nose. Nice citric acidity with a clean underlying sweetness. Finishes with a nice bitterness without scouring the palate with IBUs. Great balance. Juicy.
Mouthfeel is medium-bodied w/ a nice dry finish.
Overall, this is the real deal. A clean, dry, flavorful West Coast style IPA from the far Northeast. Highly recommended.
580 characters
4.69
/5
rDev
+7.8%
look: 4.5 | smell: 4.75 | taste: 4.75 | feel: 4.25 | overall: 4.75
I can't believe this is a Triple IPA. It's so drinkable and goes down like a traditional single IPA.
Pours a dark orange on tap at the source. One inch of fluffy, aesthetically pleasing head. Lattice work lacing down the glass.
Smells brightly and outstandingly hoppy. Tons of fruits are most evident on the nose, orange and pineapple particularly, with some pine.
Tastes incredible. Citrusy and resinously piney, with an underlying dank, earthy hop flavor. Very little malt to speak of, which is fine, because it lets the hop speak as loud as they can. Lingering but minor hop bitterness at the end of each sip.
Medium bodied, well carbonated, and crisp. Somehow this beer is refreshing. I don't know how that's possible, given the amount of ingredients used and the ABV.
Peekskill Brewery needs to be more recognized. They are a force to be reckoned with in the Hudson Valley, and the best brewery in our fair state.
923 characters

4.35
/5
rDev 0%
look: 4 | smell: 4.5 | taste: 4.25 | feel: 4.25 | overall: 4.5
From 07/29/13 notes. Was very happy to see this on tap at ABC Beer Co. on the LES in NYC as I've really liked the Peekskill beers I've had so far, and have heard great things about this one.
a - Pours a hazy bright burnt orange color with two fingers of fluffy off white head and moderate carbonation evident.
s - Smells of citrus hops, tropical fruits, pine hops, grapefruit, pineapples, fruity malts, oranges, and some earthy notes. Tons of fresh hops, especially pine...amazing nose. Love it.
t - Tastes of grapefruit, citrus hops, pine hops, torpical fruits, fruity malts, earthy notes, hay, grass, and floral hops. more grapefruit than the nose and a little less of that dnak pine, but only the tiniest bit of bitterness. Great taste, though not quite as great as the nose was.
m - Medium body and low to moderate carbonation, almost no bitterness. Pretty easy to drink.
o - Overall I'm glad this was on tap...I think this is the best of the 5-6 Peekskill beers I've had so far. I loved Eastern Standard and this seems like a bigger, hoppier version of that, full of fresh tropical fruits and pine hops. Loved this one, looking forward to having this again and trying more of their beers.
1,198 characters

4.84
/5
rDev
+11.3%
look: 4.75 | smell: 4.5 | taste: 5 | feel: 4.75 | overall: 5
The beer pours out in a very hazy amber color.
The aroma has tons of citrus and pine.
The flavor follows with a complex combination of juicy citrus, pine, grapefruit. Then the flavor calms down into a really good malt backbone with some sweetness and then it leaves some lingering bitterness.
This was actually my favorite of the hoppy beers at Peekskill, having tried almost 10 beers. Some of their other beers lack a bready malt to balance with the hops. What an amazingly balanced, yet super hoppy DIPA. Up there with the best DIPAs the East Coast has the offer.
568 characters

3.82
/5
rDev
-12.2%
look: 3.5 | smell: 4 | taste: 3.75 | feel: 4 | overall: 3.75
Served on tap at their brewery.
Appearance is a light amber color with a thin white head, doesn`t look as nice as some of its` peers. The nose contains oranges, pine, hard cheese, some hops. For the taste, I came across grains, grapefruit, hay, malts. The taste is a little richer than I would have liked, but still nice. Mouthfeel was very good, especially for a beer nearing 9%. It is medium bodied, good carbonation level, finishes clean. All in all, a very good beer, but it did not strike the same impression for me as it seems to have with some other reviewers.
568 characters
4.57
/5
rDev
+5.1%
look: 4 | smell: 4.5 | taste: 4.75 | feel: 4.5 | overall: 4.5
One of the best East coast IPA's I have had. Almost ranks up there with my beloved Oregon Imperial IPA's. The flavor is excellent. This beer is bitter but has a full bodied slightly sweet flavor and smooth creamy texture to very nicely counter the bitterness. I could drink this all day. You are almost eating this beer. And it looks as full bodied as it is with a great golden color.
384 characters

4.49
/5
rDev
+3.2%
look: 4.25 | smell: 4.5 | taste: 4.5 | feel: 4.5 | overall: 4.5
On draft at the brewery.
Poured a hazy bright brassy hue with a one and half finger frothy white head. There was very good retention and sticky lacing.
The smell featured balmy orange, pine and apricot aromas.
The flavor was certainly hop forward with waves of resinous pine and orange. A soft sweetness was detected as well.
The mouthfeel was full and smooth.
Overall an excellent user friendly DIPA.
406 characters

4.75
/5
rDev
+9.2%
look: 4.75 | smell: 4.75 | taste: 4.75 | feel: 4.75 | overall: 4.75
Picked up a growler from the brewery, bottom filled through tube into my Singlecut growler. Waited a week to drink it.
Great smell to this beer, hop-heads rejoice. Initial taste reminds me of Flower Power, no surprise since head brewer comes from there. Feels just a little thin. Finish is strong, reminds me of Ruination 10 as it wraps itself around my tongue.
I have had two beers from Peekskill, but they have a strong line-up that I still need to get to. Looks like since the arrival of "The Chief" New York has a brewery I can really get excited about!
559 characters

4.79
/5
rDev
+10.1%
look: 5 | smell: 4.75 | taste: 4.75 | feel: 4.5 | overall: 5
Somehow managed to miss this at TAP NY, so we took a drive down to the brewery this weekend. Serving type was on tap in a tulip.
A: A beautiful slightly hazy, golden-orange color. Minimal head, with noticeable lacing.
S: HOPS! Tropical fruitiness, slight bitterness. Mostly juicy, citrusy delicious hops.
T: More pure hop awesomeness. Super juicy, hoppy goodness. Bit of breadiness, bit of bitterness. But mostly carries over from the nose. Decent malt backbone, but most definitely a "hops in your face" beer. Tropical fruit and citrus. Just fantastic.
M: Noticeable carbonation, somewhat medium bodied. Scarily drinkable.
Overall: One of the best Double (triple?) IPAs that I've had. If you enjoy a tropical fruit hop bomb, then this is a beer for you. Would put this up there with any of the big DIPAs. A definite "must have"
834 characters

4.4
/5
rDev
+1.1%
look: 4.25 | smell: 4.25 | taste: 4.5 | feel: 4.25 | overall: 4.5
New one from PB, 32 ounce growler filled at the brewery last night and being enjoyed about 24 hours later.
Pours clouded darker clemintine, heavily hazed/clouded. Lite tan head, fluffy then goes to a nice looking tiny bubble film, and nice looking extensive fields of sheeting/lace. Nice looking beer.
Fresh and pungent hopped up citric nose. Smells like you just stuck your nose in a fresh bag of sticky hops.
Hop lovers rejoice. Hop, hops and more hops oozing out of this one. Fresh and flavorful. Grapefruit, oranges, tropical fruits, mint, basil, all sorts of aromatics and hoppy goodness, without biting, overboard or off putting bitterness.
Very well done, brewing craftsmanship all over this creation. More high quality beer from Peekskill Brewery.
Go get some....Cheers!
787 characters
Higher Standard from Peekskill Brewery
4.35
out of
5
based on
143
ratings.