Granite City Food & Brewery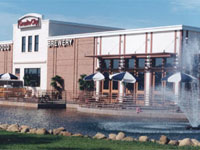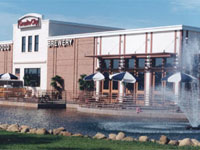 PLACE INFO
Type:
Brewery, Bar, Eatery, Beer-to-go
3945 2nd St S
Saint Cloud
,
Minnesota
, 56301-3792
United States
(320) 203-9000 |
map
gcfb.net
Notes:
No notes at this time.
Added by JeffreyG
HISTOGRAM
View: Beers | Place Reviews
Ratings: 14 | Reviews: 7
3.98
/5
rDev
+7.9%
vibe: 3.75 | quality: 4 | service: 4 | selection: 4 | food: 4
3.75
/5
rDev
+1.6%
vibe: 4 | quality: 3.75 | service: 3.75 | selection: 3.75 | food: 3.5


2.98
/5
rDev
-19.2%
vibe: 3 | quality: 2.5 | service: 4 | selection: 2.5 | food: 3
To avoid a very early morning drive to St. Cloud for the 8 am conference start the next morning, a group of us headed up the night before for some pre-conference socializing at Granite City.
Reading Granite City's history, I discovered that I've been to the first two locations of the chain: the original in St. Cloud, MN and their first expansion in Sioux Falls, SD. Because they serve a narrow range of beers with few seasonals, I rarely go there. For those that don't know of Granite City's fermentus interruptus system, the base wort is brewed in Iowa and then transferred by truck to locations to be finished at the local pub. Or, at least that's my understanding the last time I read about it. Their website avoids mentioning this except for an oblique reference via the Granite City tank truck in the article.
Started with the seasonal Berkey's Brown since it would be new. My friend Heather peaking above the draft said it was cloyingly sweet. Too me it tasted like under fermented homebrew. I was disappointed and moved on to the Brother Benedict's Bock before finding the best brew of the stop--Broad Axe Stout, which was still mediocre.
In between, I ordered the only vegetarian item on the menu: tomato basil flatbread. It was good, but not a full meal. The service was relatively good, though slow at times because the bar was full. The staff at the flagship seemed to be working very hard for the business, but the product just doesn't deliver. Fortunately, great friends made the night even though the beer left me flat.
1,541 characters
2.88
/5
rDev
-22%
vibe: 3 | quality: 3 | service: 3 | selection: 2.5 | food: 3
well, they give you a huge 25 ounce mug and 10% off food when you join the mug club. though there is not much else to say about this place.
the servers rarely know much about the craft beer they brew, other than what is written on the guide on the table. one server compared one of their beers to blue moon, not a good way to get me to try a beer.
i drink the ipa. it is rather bland, but it is better than the other three craft beers.
though this is the battle they fight at granite city. most beer drinkers in THE granite city would prefer bud, miller or coors and granite city obliges (not sure which it has on tap).
the company was recently bought out by a former mcdonalds exec. so we will se in what direction it goes.
the tvs are big, the bar clientele is mixed and the food is artery clogging.
i go here at least once a week.
841 characters

4.45
/5
rDev
+20.6%
vibe: 4 | quality: 4.5 | service: 5 | selection: 4 | food: 4.5
This is the original Granite City Brewery. This is my first visit, so I can't comment about how long it may have looked as it does today, but it is a massive place. It also feels a bit like a chain, which it now is, but is strange to find that feel to a first location. It is impeccably run; very clean, staff were all well very courteous and helpful even when I needed a seat near an outlet so I could work. I never even felt rushed when my work took me well beyond my two beers (after a taster set).
The beers were on the better end of brew pub, with a very solid Bock. I didn't quite get the idea of the taster set also including a couple of blends that were just so-so. The food was very tasty. This place is also family friendly, with plenty of seating away from the bar.
Edit: stopped back and had the pretzels and cheese dip. This is a MUST have if you stop in. This isn't hockey nacho cheese, this is a damn good cheese dip.
935 characters

4.05
/5
rDev
+9.8%
vibe: 4 | quality: 4 | service: 4.5 | selection: 3.5 | food: 4.5
Granite City is one of our favorite places to go out to eat when we want to be just slightly nice. Can get out of there for 15-20 a person with a beer and no appetizers, but can get up much higher.
As was said, everything here is big. Except the selection. But that's alright, what is had is good. Growlers are a good deal, $15 to buy, $10 to refill, but only $5 on Tuesdays.
Staff varies in understanding and knowledge. One told us the Brother Benedict Bock was "extremely hoppy" though it is hardly at all, but someone else talked to us at length about the usage and storage of our growler.
594 characters
3.7
/5
rDev
+0.3%
vibe: 4 | quality: 4 | service: 4.5 | selection: 2.5 | food: 3.5
Had been in St Cloud for a few months on business, decided to finally visit this GC location. Pretty visible and easy-to-get-to location.
The place has kind of an upscale look, lots of wood and stone, a good sized bar, very clean, good tv placement in the bar, and bad, bad music. Lots of space in here, but it comes off as a bit generic. Oh well.
The the people greet you as you walk in the door, the bartender is quick with a sample. In fact the service has always been good at any GC I've been to.
The selection is small, four standards (bock, stout, light lager, English IPA), plus their monthly seasonal (unfiltered hefe). They are all good, solid beers, but nevertheless unispiring. But, they come in true, 20 oz pints.
In fact, all the important stuff is big here. Lots of beer in the glass, lots of food on the plate. Say what you will about American calorie loads, but when I go out, damnit if I don't want a decent heaping of food, damnit! :) And it borders on a little expensive, but given the sizes, its pretty reasonable.
But as I was saying, the beers are good if not generic, the food is good but nothing I couldn't cook myself (which isn't saying much). But thats pretty much what they're going for, so you can't really hold it against them. Because in all, I always walk out happy.
1,303 characters
4.25
/5
rDev
+15.2%
vibe: 4 | quality: 4.5 | service: 4.5 | selection: 3.5 | food: 5
I was out visiting my girlfriend when she decided to show me some local "flavor" by going to Granite City. It's a modern establishment that was only scattered with people at the lunchtime hour I attended. Greeted by a very friendly and helpful staff.
The selection of brews is limited BUT what they do have on tap are very intriguing. The house pilsener and belgian tripel were extremely good. The strong point of this brewery is definitely the food. Even though I ordered from the lunch menu, I received the biggest piece of buffalo chicken on a sandwich I have ever seen. It was great! Needless to say, I left GC bloated but fully satisfied. All of the above for half the price I would pay back home in Boston! If you're ever in the St. Cloud area, Granite City is a must-visit!
783 characters
4.55
/5
rDev
+23.3%
vibe: 5 | quality: 4.5 | service: 5 | selection: 4 | food: 4.5
Granite City in St. Cloud is a slice of beer heaven in central Minnesota. The decor is modern and moderately upscale. The beer is very good, and although I have not tasted the food, I have seen it and it looks good. It is located as a stand alone building in the middle of a strip mall parking lot. The building is attractive, both inside and out. I highly recommend Granite City.
380 characters
Granite City Food & Brewery in Saint Cloud, MN
Brewery rating:
3.38
out of
5
with
1,392
ratings