Pumpkin Patch Pumpkin
| Shipwrecked Brew Pub, Restaurant and Inn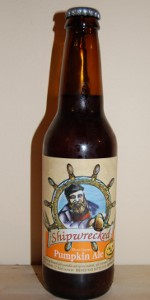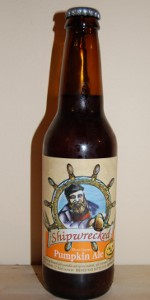 BEER INFO
Brewed by:
Shipwrecked Brew Pub, Restaurant and Inn
Wisconsin
,
United States
shipwreckedmicrobrew.com
Style:
Pumpkin Beer
Alcohol by volume (ABV):
not listed
Availability:
Fall
Notes / Commercial Description:
No notes at this time.
Added by cokes on 03-01-2005
HISTOGRAM
Ratings: 13 | Reviews: 7
Reviews by dbtoe:
4
/5
rDev
+32.5%
look: 4 | smell: 4 | taste: 4 | feel: 4 | overall: 4
12 oz bottle poured into a shaker pint glass.
This is not one of those pumpkin pie beers. At first I didn't even think I could tell it was a pumpkin beer. I think they must use roasted pumpkin because a nice smooth roasted flavor is what I get. The pumpkin I think is also used to give this a nice creamy body moreso than a pumpkin flavor. With a very mild hint of spice I think this is a great beer to drink.
Look is a fairly dark amber with a very nice creamy head that sticks around until the end.
Smell is mild with some roasted malt/pumpkin hints of bitterness.
Taste is a mild and smooth roasted malts or pumpkin with a hint of spice and some hop bitterness to finish.
Feel is smooth and a good amount of carbonation.
Drink I could have this as my every day beer. Wish I had more.
787 characters
More User Reviews:

2.85
/5
rDev
-5.6%
look: 3 | smell: 3 | taste: 2.5 | feel: 3.5 | overall: 3
Poured from a 12oz. bottle into a nonic pint glass
Pours a nice cloudy amber with a 2 finger head that dissipates into a small ring of bubbles surrounding the edge of the glass.
Smells very average, a hint of spice but if I had not known this was a pumkin ale I would have guessed it would be just an APA.
Taste was unremarkable. No pumkin and just a bit hint of some pie spices in there. Once again had I not known better I would guess this was an APA; and a very mediocore example at best. It is bitter upfront but ends actually very smoothly. I can tell that that smooth end is where the pumpkin taste SHOULD be but it is sadly absent.
The smooth finish makes for a very drinkable unoffensive pint.
This beer is wholly unremarkable and pretty much what I would expect from a small town brewpub; drinkable, average and unoffensive.
838 characters

2.89
/5
rDev
-4.3%
look: 4 | smell: 2.5 | taste: 3 | feel: 3.5 | overall: 2.5
12 oz bottle poured into a Sierra Nevada imperial pint.
"Brewed with pumpkin and spices (nutmeg, salt, cinnamon, allspice, ginger.)" No date or info.
A - A vigorous pour loads the beer with tons of sediment which haze the dirty apricot-colored beer considerably but, the head makes up for the beer's otherwise less-than-appealing nature. A giant cap of tan foam floats on the beer with great buoyancy, lapping at the pint with sticky, thick clumps of lace.
S - The label deems salt as an ingredient which seems an odd addition for a pumpkin beer and it appears in the nose, beckoning the question, "why?" Spicy ginger and nutmeg follow through with pumpkin purée as a mild component but malt presence is surprisingly missing. Very light hoppiness traces through the finish adding a touch of citrus buried on the back end but this beer just smells old.
T - Shipwrecked Pumpkin Ale suggests notes of amber malt with light toast and toffee contributions surrounding the faint spice and pumpkin profile. A touch of pine and citrus hoppiness finishes up for an odd but not quite offensive flavor.
M - Crisp and light bodied, this pumpkin ale has a nice smooth intro with a drying and carbonated follow through which allows for a trace of spiciness (and saltiness) to linger on the tongue. By far the beer's best attribute, though not saying much because it still seems a far cry from a pumpkin beer.
O - Shipwrecked Pumpkin Ale, I would caution, might be a deterrent for anyone who's never had a pumpkin ale returning to the style. It's jumbled spice additions (salt?), faint pumpkin, and bland base beer make for a less-than-stellar offering that, while fresh on the shelves, tastes like it was brewed last year.
1,714 characters

2.7
/5
rDev
-10.6%
look: 3 | smell: 3 | taste: 2.5 | feel: 3 | overall: 2.5
Pours a dark, amber color with very little head. The light tan head falls to nil with very little lace.
Typical pumpkin beer smell. Nutmeg, allspice.
Malty beer with mild spice. Cinnamon, nutmeg and allspice with no pumpkin flavor in sight.
Thin to medium bodied with very low carbonation.
Not that great. Love a pumpkin, not this one though.
350 characters

2.37
/5
rDev
-21.5%
look: 3 | smell: 3.5 | taste: 1.5 | feel: 2.5 | overall: 2.5
12oz. bottle poured into a nonic. Thanks to Beerwolf77 for this one!
(A)- Pours a clear orange color that produced some white bubbles.
(S)- Some light pumpkin & spice of nutmeg & cinnamon.
(T)- For the style, this is ridiculously bitter. Some heavy spice of clove and nutmeg. Subtle pumpkin in there somewhere.
(M)- A good carbonation level. Ridiculously bitter that kills off most of the flavor. Heavily spiced too, but it just might seem that way due to how bitter this tastes and feels.
(D)- This is just way too bitter. There is pumpkin in there somewhere, but I cannot tell.
588 characters
2.82
/5
rDev
-6.6%
look: 3.5 | smell: 4 | taste: 2 | feel: 3.5 | overall: 2.5
On draft at the brewpub. Served in a standard pint glass.
A: Slightly chill hazed orange gold, Tiny wisp of head is then result of a full to the top pour, tiny soapy lace ring.
S: Nice pumpkin profile in the nose. Cinnamon, clove, nutmeg and a touch of vanilla. Smells promising.
T: This is where most pumpkin beers suffer a similar fate. A huge dose of hops bring the pumpkin and malt sweetness to a bitter end. Literally. The spices are present but seem harsh and disjointed with the hop bitterness. The malts are an after thought.
M: medium to light body. Plenty of carbonation.
D: Overall just another misfire as far as pumpkin ales go in my book. It has plenty of company so it won't be lonely at the bottom of my list.
730 characters
3.32
/5
rDev
+9.9%
look: 3 | smell: 3.5 | taste: 3 | feel: 4 | overall: 3.5
I enjoyed this beer out of a little plastic cup as part of the sampler at the brewpub. Therefore, this won't be the best review and is mainly for my own recollection. This is only the 3rd pumpkin ale I have ever tasted.
Appearance: Nice amber hue. Very little head as it was in the small plastic cup and I don't believe the bartender knew why the head was important.
Smell: Slight cinnamon flavor.
Taste: Not my favorite pumpkin ale. However, I could definitely taste the cinnamon.
Mouthfeel: medium feel and went down smooth.
Drinkability: If I did order this beer, I probably wouldn't order more than one.
612 characters

3.38
/5
rDev
+11.9%
look: 3.5 | smell: 3 | taste: 3.5 | feel: 3.5 | overall: 3.5
4.24
/5
rDev
+40.4%
look: 4 | smell: 3.75 | taste: 4.5 | feel: 4.5 | overall: 4.25
Pumpkin Patch Pumpkin from Shipwrecked Brew Pub, Restaurant and Inn
Beer rating:
3.02
out of
5
with
13
ratings