Once Upon A Time 1832 XXXX Mild Ale
| Pretty Things Beer & Ale Project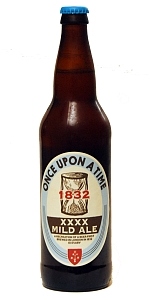 BEER INFO
Brewed by:
Pretty Things Beer & Ale Project
Massachusetts
,
United States
prettythingsbeertoday.com
Style:
English Pale Mild Ale
Alcohol by volume (ABV):
10.50%
Availability:
Limited (brewed once)
Notes / Commercial Description:
No notes at this time.
Added by smcolw on 12-15-2012
This beer is retired; no longer brewed.
Reviews: 6 | Ratings: 30

3.84
/5
rDev
+8.5%
look: 3.5 | smell: 3.75 | taste: 4 | feel: 3.75 | overall: 3.75
Poured from a 2012 bottle into the modified tulip glass.
A - Tangerine, honey colored, vibrant carbonation feeds a quickly dissipating cap. Lacing rings
cling perfectly to the glass.
S - Orange marmalade, strong citrus nose, honey on cracker, fascinating and complex, The age has
transformed this offering well.
T - Initial bitterness, trails off quickly, leading into an orange and white peach frenzy, dark flower honey
and some wonderful malt elements include warm toast.
M - Medium bodied slightly viscous and round on the palate. The coating is complete, with a linger that is a touch sweet, Wonderful feel and finish.
O - I have had this fresh, and now with a few years on the bottle, the trajectory has been fun to follow,
The offering is a 10% ABV hidden well. The offering has been a delight to explore over this time.
Cheers
835 characters
3.84
/5
rDev
+8.5%
look: 4.25 | smell: 4 | taste: 3.75 | feel: 3.75 | overall: 3.75
I'm a fan of English milds, but they're usually on the order of 3-4% abv and full flavored, but then again this follows the history of the style. I love that Pretty Things is doing that, so I hope this recipe is good.
Pours a nice large fluffy 2 finger head that sticks around for a while, reinforced by all the bubbles streaming from the etch at the bottom of the SA PP glass, fades eventually with nice layered and soapy thick lacing, quite clear amber-ish orange color.
Nose starts with a bit of booze actually, some phenols with that booze aroma, some golden blond style malts under that, fair amount of sweet malts, hint of citrus zest like and maybe a touch of clementine, hint of esters, mild grassy hops and grassy hay like malts even, fairly earthy like aroma.
Taste starts with malts this time at first, little grainy with grassy and earthy chewy malts, strange like malts actually, a bit of a golden blond style too. Then jumps into phenols, the booze with that, typical Belgian yeast like phenols and a hint of fusel booze, as well as a little estery. Fruits come along with those, mild green apple, touch of pear and tangerine. Hops cut in surprisingly as I didn't think they used that many hops back then, with slight herbal vegetal hop, typical hedgerow U.K. style like, little grassy and earthy as well, and fair bitterness. The bitterness turns spicy as it finishes, although not as dry as I expected, little sweet sticky, and some lingering golden and grassy malts, long lingering earthy herbal spicy hops, and some phenolic booze.
Mouth is med to fuller bodied, fluffy carb, plenty of warming booze but not quite tingly, maybe a bit too much carbonation.
Overall OK, but not great. Nothing by what could even closely resemble today's milds, although this is the XXXX variety, so strong and big. I do like the bite of booze bringing the phenols, and grassy herbal earthy hops are a nice touch although not my fav hops by any means, and fairly tasty but not amazing. Fairly balanced though for the booze, sweetness, and bitterness.
2,053 characters
2.99
/5
rDev
-15.5%
look: 4 | smell: 2.5 | taste: 3 | feel: 3.5 | overall: 3
Hard to rate this one according to style, since it's a recreation of a style that doesn't really exist any more. Rated more on how much.I enjoyed it.
Pours a hazy light copper with a solid white head. Good head retention.
Smells very malty and syrupy. Very little hop aroma. Not much of interest here.
Malty and sweet up front. Almost a barley wine character. Followed up by an assertive bitterness, but not too much hop flavor. A lot of alcohol heat in this one. Website claims its brewed without refrigeration, which might account for that. A bit of apple and grainy huskiness, but its really dominated by sweetness and alcohol heat.
Full bodied and bordering on syrupy. A bit of astringency and alcohol heat in the finish as well. Low carbonation.
Overall, an interesting beer for historical reasons, but I can see why such beers aren't brewed frequently today. Relatively simple maltiness and bitterness without a lot of flavors to fill it out. I really lke that pretty things is doing this project, but I wouldn't buy this again.
1,039 characters
3.41
/5
rDev
-3.7%
look: 4 | smell: 3 | taste: 3.5 | feel: 3.5 | overall: 3.5
Split a 22oz bottle poured into a pretty things stemmed beer glass.
A: pours a hazy orange amber with half a finger of white head after a standard pour. Recedes to a film, some decent lacing, nice looking beer.
S: some fruity malty sweetness, along with some earthy, bready, yeasty notes. Not a very pungent, or incredibly inviting aroma.
T: sweet citrusy malt and alcohol, with some earthy bready notes, reminds me of a pale barleywine almost. Some bitterness in the as well.
M: medium body with a bit of viscousness to it, moderate carbonation, again the mouthfeel is reminiscent of a barleywine to me. Dry and bitter on the finish
O: this is an interesting beer, with an interesting story, and I am glad to have tried it, but i don't see myself rushing back for seconds on this one and I'm glad I split the bottle w/ someone.
833 characters
3.58
/5
rDev
+1.1%
look: 4 | smell: 3.5 | taste: 3.5 | feel: 4 | overall: 3.5
Pours dark gold with a good cream colored head and some lace.
Fruit, booze, woody notes in the nose. A little wet newspaper.
Boozy beer. Dry bitterness with some brown/over-ripe stone fruit. But the sweetness is instantaneous and gone in a flash. Dry, booze and bitterness that is a bit like boiled grain or...wet paper. Odd finish is not particularly enjoyable.
Dried out and a bit astringent. Medium bodied. Ok carbonation.
Not bad. The alcohol helps this one along, but this is a drink that is heavy with bitter mush. Worth a try for something unique.
558 characters
3.4
/5
rDev
-4%
look: 4.5 | smell: 2 | taste: 4 | feel: 3.5 | overall: 3.5
Bottled in November, 2012
Large, nearly pure-white head. Settles in a rocky fashion leaving plenty of ring lace. The broth is orange-amber with a bit of a haze.
There's a strong, unattractive earthy smell. Without being too cruel, it smell a bit like a baby's diaper. Slightly sour.
Thank God the flavor is a dramatic improvement. It starts with a neutral pale malt begin. There's a bit of hot pepper in the background. Notable alcohol in the swallow while the aftertaste is strongly bitter. I wouldn't describe this as balanced but rather that this beer takes you through a taste journey. The body is neutral but not oily from the alcohol level. Plenty of carbonation.
Overall, if you can get by the smell, you'll likely enjoy this beer.
742 characters
Once Upon A Time 1832 XXXX Mild Ale from Pretty Things Beer & Ale Project
3.54
out of
5
based on
30
ratings.