Schnee-Bock
| Lahnsteiner Brauerei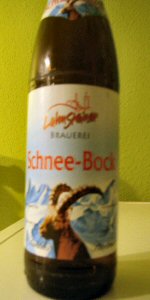 BEER INFO
Brewed by:
Lahnsteiner Brauerei
Germany
lahnsteiner-brauerei.de
Style:
Doppelbock
Alcohol by volume (ABV):
7.20%
Availability:
Winter
Notes / Commercial Description:
No notes at this time.
Added by Absumaster on 12-06-2008
Ratings: 11 | Reviews: 7
Reviews by stevoj:
4.18
/5
rDev
+10.6%
look: 4 | smell: 4 | taste: 4.25 | feel: 4.25 | overall: 4.25
From 2012: Thanks to bierkrug fro the recommendation. This tasty dunkelbock poured a nice deep brown with beige one finger head. Nice and roasty flavor, smooth on the palate with just a touch of bitterness. I'm likin' it!
225 characters
More User Reviews:

3.76
/5
rDev
-0.5%
look: 4 | smell: 3.5 | taste: 3.75 | feel: 4.25 | overall: 3.75
500ml bottle, 7.6% ABV. A bit of a strange time of year to see this new to the shelves in Alberta, but whatevs - the cool mountain scenery is a sort of salve to this hot summer day. The label also refers to this as "Dunkles Starkbier" - "Strong Dark Beer", I guess.
This beer pours a clear, dark bronzed amber hue, with two fingers of densely puffy, kind of rising cake-like eggshell white head, which leaves some broad swaths of spectral, ghoulish lace around the glass as it duly recedes.
It smells of somewhat subtle caramel/toffee malt, soft vinous black fruit, a hint of cinnamon and cardamom, a slight wet stone mineral character, and very tame earthy, musty hops. The taste is more rounded, malt-wise, with some persistent biscuity caramel, soft, dark breadiness, and crystallized toffee. A mildly metallic, understated orchard fruitiness peeks out from below, with some faint alcohol notes pricking at the well-lulled noble hops.
The carbonation is adequately peppy, the body a decent medium weight, and mostly smooth, the booze sneaking in a bit, but not enough to deter a burgeoning creaminess. It finishes well off-dry, bordering on sweet, but for the lingering biscuit essence, not to mention the mildly testy booze and rather quiet hops of servitude.
A pretty agreeable strong bock, the booze keeping it down for the neighbours' sake, and the malt getting all crisp and enjoyably complex on us. Worthwhile, it would seem, at any time of the year.
1,463 characters

3.63
/5
rDev
-4%
look: 4 | smell: 3.5 | taste: 3.5 | feel: 3.5 | overall: 4
Bought a bunch of bockbeers. This one looked like the most interesting purchase to me.
Colour pretty dark brown, good off-white head. Nice contrast there.
Smell and taste are a bit bland. It's got some roasted character malts, maybe a bit of coffee and nuts too, a bit hop bitterness, but not very pronounced.
Aftertaste is a bit bitter.
Good drinkability, because of the carbonation. The alcohol is well masked.
All in all an ok bockbeer. I had hoped for a more complex and flavourfull example, but it's not bad to try this.
527 characters
3.66
/5
rDev
-3.2%
look: 4 | smell: 3 | taste: 4 | feel: 4 | overall: 3.5
found it in a local store, was made curious by the name (snow bok), being a fan of ijsbok (ice bok) Definetely not disappointed, would like more of it.
Smell was quite flat, got better later on.
color was nice, bright almost sparkling.
I liked the taste alot, you can taste the base of clear mountainwater, although never watery.
It had hints of spices, it reminded me slightly of a coffee taste in a nice but not dominant way.
Being serves in a 500 CC bottle it kept me busy all the evening, but certainly kept me interested to. Lovely bok.
546 characters
3.68
/5
rDev
-2.6%
look: 4 | smell: 3.5 | taste: 3.5 | feel: 4 | overall: 4
A dark brown, copper beer with amazing lacing and creamy foam.
Smell is mild roasted with sweet malty notes. Some woody and very light red fruit notes.
Taste is mild roasted with a deep malty base. A nice maltbitterness that goes well with the munich-kind of maltiness. The yeast adds a bottom-fermented taste that is clean and maybe a little mineralic. A nice mouthfeel that is not too sweet, but does give a sticky feel on my lips.
441 characters
3.38
/5
rDev
-10.6%
look: 3.5 | smell: 3 | taste: 3.5 | feel: 3.5 | overall: 3.5
Got this at Bert's Bierhuis in Utrecht.
From a bottle into a mug.
APPEARANCE: Pours a 1 finger medium-thick off-white head. Medium carbonation evident. Colour is dark brown, like auburn or raw umber. Head fades but a nice film remain, and some of it remains until the end. Minimal to no lacing on the glass.
SMELL: A slightly weak nose. Caramel malt and toffee with some light red fruit and a touch of sweet wood in the back. Weak, but pleasant.
TASTE: Sweet caramel malt and toffee up front, with some red fruit as well, and a bitter-sweet finish at the end. A mild but long lasting bitter-sweet aftertaste of some sweet wood rides out the end, and a bit of spicy alcohol wraps it up nicely.
PALATE: Medium-light body with medium carbonation. Goes down pretty smooth, no bite, and finishes rather dry on the palate but sticky on the lips. Pretty nice here.
OVERALL: Not bad. Drinkable and enjoyable enough, but not worth writing home about. I'd have another, but wouldn't go out of my way.
1,002 characters


3.88
/5
rDev
+2.6%
look: 4.25 | smell: 3.75 | taste: 4 | feel: 3.75 | overall: 3.75
I bought this under the name of Schnee Bock "Winterliches," and I presume it's the same beer listed here.
This pours a ruddy caramel color. I get an aroma of a sharp caramel malty sweetness with some chocolate undertones. Tastes sharply caramely with a touch of chocolate syrup.
284 characters
Schnee-Bock from Lahnsteiner Brauerei
3.78
out of
5
based on
11
ratings.