Wollaston Wheaty
| The Flying Horse Bar & Brewery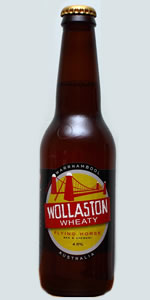 BEER INFO
Brewed by:
The Flying Horse Bar & Brewery
Australia
theflyinghorse.com.au
Style:
Hefeweizen
Alcohol by volume (ABV):
4.60%
Availability:
Year-round
Notes / Commercial Description:
No notes at this time.
Added by laituegonflable on 12-01-2009
Reviews: 3 | Ratings: 4
2.28
/5
rDev
-25.7%
look: 3.5 | smell: 3 | taste: 2 | feel: 2.5 | overall: 1.5
Had this on tap from the source a year ago & it was BEWDIFUL...at that stage they weren't bottling & I couldn't wait for them to start.
Sadly it was not worth the wait. This looked fine...smelt not too bad (but not too interesting)...& tasted very average (not even), was not impressed with it's sweet sourness...only had hints of cloves, banana's etc...just didn't seem to be ready yet.
Struggled to get through this, but if you can, try to get it on tap...waaay nicer
471 characters
2.39
/5
rDev
-22.1%
look: 2 | smell: 3 | taste: 2 | feel: 2.5 | overall: 2.5
Pours cloudy amber with a huge head. Too huge.
Nose shows classic doughy wheat with hints of cloves. Little else. Simple but still nice.
More wheat flavour with lots of tangy lemon that's quite annoying. Quite sweet.
Carbonation is too high. Very high...
254 characters

3.86
/5
rDev
+25.7%
look: 5 | smell: 4 | taste: 3.5 | feel: 4 | overall: 4
Pours a lovely banana flesh colour with great, opaque haze throughout. It's a little yellow glob, like a lemon jello shot. Head is very impressive, dense and white, dissipates leaving a nice white crown. Steady but light bead, and leaving some thick, sticky lace. Excellent - even exameplary - hefe appearance. As good looking as Weihenstephaner. There, I've said it.
Good wheaty nose. Lots of clove and herbs, with a very healthy banana aroma and hints of rosewater, cinnamon, fresh berries and lemon. Smells delightfully sweet with great spice aspects, like a fruit pudding. If there is a fault it's that it's too sweet, and the spice doesn't have enough of a kick to it.
Taste starts a bit tangy and then launches into a strong dose of banana esters, with hints of vanilla and a bit of a puff pastry character. Mid-palate lasts for a nice long time and then disperses slowly, leaving a nice allspice king of aftertaste, with slight clove at the front. Again, maybe needs the spice more at the foreground, mostly a tangy banana flavour, but still good. Well balanced hefe flavour.
Mouthfeel has a good sedimenty roughness, full and slow and chewy through the mouth.
The bar manager at the Flying Horse talked of this beer as a less successful one (talking in terms of medals and awards), and while it's not doing anything special, I have to say it's a really good, solid hefeweizen. It actually excites me that a small country brewery in Aus makes such an exemplary and nicely-balanced beer.
1,505 characters
Wollaston Wheaty from The Flying Horse Bar & Brewery
3.07
out of
5
based on
4
ratings.