Aass Original Lager
| Aass Brewery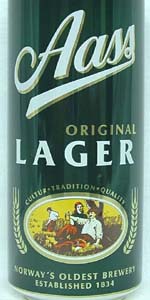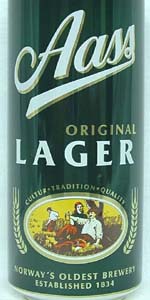 BEER INFO
Brewed by:
Aass Brewery
Norway
aass.no
Style:
Euro Pale Lager
Alcohol by volume (ABV):
5.00%
Availability:
Year-round
Notes / Commercial Description:
No notes at this time.
Added by BeerAdvocate on 04-15-2002
This beer is retired; no longer brewed.
HISTOGRAM
Ratings: 10 | Reviews: 8
Reviews by tavernjef:

3.85
/5
rDev
+7.2%
look: 3.5 | smell: 3.5 | taste: 4 | feel: 4 | overall: 4
Color is clear golden yellow with a creamy-like head that was just over a finger high leaving nice sheets of light lacing as it settled. Smell is faintly of a grainy malt thats a tad sweet and has a floral grassy/hay like hop note in the back. Taste is clean and sweet of a lightly roasted malt, held back, tamed crispness thats balanced in well with a hop thats a floral, bittering, piney dryness. Feels smooth and clean, slightly acidic, light to medium bodied with a good hold of light sweetness and piney tang dryness thats very easy to handle. Everything about this beer states balance, balance between sweet, crisp, dry, with smooth, tart, clean, just about all this beer emcompasses in its flavor and feel just makes it a very easy, smooth, and good drinker.
765 characters
More User Reviews:
3.9
/5
rDev
+8.6%
look: 3.5 | smell: 3.5 | taste: 4 | feel: 4.5 | overall: 4
Presentation: 16.9 oz can with a couple of farmers taking a beer brake in the label.
Appearance: Pale yellowish blond with a wispy white lace from an effervescent carbonation.
Smell: Grassy grain aroma with hints of hops and alcohol.
Taste: Moderately bodied with a crisp carbonation, good clean biting hop bitterness rides on top of the grainy palate. A little grassy and lemony from the hops and malt leaving a light refreshing twang. Immaculate drying finish with some faint husk.
Notes: A fun loving lager from Norway … lively and thirst-quenching. Perhaps one of the best lagers in a can! A beer when you want more than just one in my opinion.
666 characters

3
/5
rDev
-16.4%
look: 3 | smell: 3 | taste: 3 | feel: 3 | overall: 3
This is an unusual lager. Pours with a good head. Color is dark for a lager. Taste is somewhat fruity, as is the smell. Taste is strong with malt and floral accents. It goes down with a linger of malt and alcohol. This is a very dry, malty brew. I liked it. It came in tall cans, which adds to my belief that canned beer can be better than bottles.
348 characters

3.6
/5
rDev
+0.3%
look: 3.5 | smell: 3.5 | taste: 3.5 | feel: 3.5 | overall: 4
Clear golden color and a 1/4 inch head of some duration if not shape holding ability. Muted aroma. A little fruitiness to the malt and the hops are reserved. Balance is pretty good. Not over carbonated, decent mouth impression for its light body, and a pleasant but slightly medicinal aftertaste. To me, its OK...
318 characters
3.9
/5
rDev
+8.6%
look: 3.5 | smell: 3.5 | taste: 4 | feel: 3.5 | overall: 4.5
The Aass brewery is Norway's oldest brewery, founded in Drammen in 1834. They have a reputation for producing quality beers, and this is no exception. It pours a clear, yellowish gold body that's topped by a creamy white head that holds fairly well before dropping to a nice collar and whispy surface foam. It's pleasantly aromatic with a combination of sweetish, grainy malt and floral/lightly grassy hops. It's medium/light body is accentuated and enhanced by a very fine and moderate carbonation which leaves it gently crisp and then smooth across the palate. The sweetish, grainy malt of the aroma is the main characteristic of this beer, but it's well-infused with floral/mildly grassy/lightly citric hops and a firm bitterness. Very well balanced! It's just complex enough to make it compelling. The flavor lingers in the mouth in a long, dry, and very mildly tart finish that beckons you to taste again! Very nice! Highly drinkable.
939 characters
3.74
/5
rDev
+4.2%
look: 4 | smell: 2.5 | taste: 4 | feel: 4 | overall: 4.5
Appearance: pale straw color, slightly cloudy, lots of rising bubbles, 1/2 inch pure-white cap of foam with good retention
Aroma: fruity/floral hop nose, some malt in background, a bit of tinniness from the aluminum can
Flavor: slightly tart, mellow malt flavor, an green-apple-like crispness, well balanced, mild hop flavor and a subtle bitterness only in the finish; the tartness provides an unusual, but pleasing, refreshing quality to the beer almost like that of a Belgian wit
Mouthfeel: light body, crisp carbonation
Drinkability: great, fantastic lager, refreshing, has its own personality (the tartness) to make it stand out, great for "quaffing"
666 characters

3.19
/5
rDev
-11.1%
look: 4.5 | smell: 3 | taste: 3 | feel: 3 | overall: 3.5
chill haze gold in color. nice foamy head and a whole lot of lace that sticks surprisingly well. very grainy, grassy, earthy aroma. tastes of malt and grain, a bit of earthy and slightly spicy hops. a quite crisp mouthfeel, not really smooth at all but that's ok. just a hint of tinny flavor left on the palate, perhaps from the can. not the best tasting lager, but i don't mind in the least after a hard skate. i'm damn thirsty!
429 characters

4.25
/5
rDev
+18.4%
look: 4 | smell: 4 | taste: 4 | feel: 4.5 | overall: 5
When I sampled this for the first time, 2 years ago, I declared that I could drink it for breakfast, lunch, and dinner. Now. I was probably trying to get on the good side of the pretty girl who poured it for me, but I was impressed, though I'm an ale man, and I really coouldn't down too many lagers in a row, unless forced to do so...
Thin, white bubbly head forms a small ivory ring over a typical lager hue, pale yellow. Aroma greets the nose happily, with dry, floral, citrusy notes, lots of lemon. Highly aromatic from the moment the can is opened. Mouthfeel is straightforward, unintrusive, clean, pleasant. A sweet and happy finish that walks along your tongue, taking it's time. Light body, very tasty. Just what you need in a lager.Excellent on draft, too!
766 characters
Aass Original Lager from Aass Brewery
Beer rating:
3.59
out of
5
with
10
ratings