Berliner Metro Weiss
| Devils Backbone Brewing Company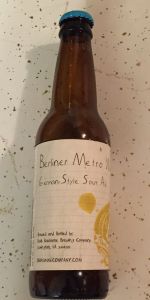 BEER INFO
Brewed by:
Devils Backbone Brewing Company
Virginia
,
United States
dbbrewingcompany.com
Style:
Berliner Weissbier
Alcohol by volume (ABV):
3.80%
Availability:
Rotating
Notes / Commercial Description:
No notes at this time.
Added by billab914 on 03-07-2012
Reviews: 7 | Ratings: 35
3.83
/5
rDev
-2%
look: 4.25 | smell: 3.75 | taste: 3.75 | feel: 3.75 | overall: 4
Devil's Backbone Brewing Co. "Berliner Metro Weiss"
12 fl. oz. brown glass bottle, "BONED 20:22 09.12.16 81" and sampled on 01.24.17
Notes via stream of consciousness: Great appearance: clear golden body with hundreds of tiny bubbles racing upwards beneath a creamy bright white head, bolstering it so that it holds fairly well. The smell is malty, and cheesy (probably from butyric acid built up during the sour mash), with a mild tart fruitiness. It's zesty and light bodied across the palate. Lively! The flavor is tart, but not overly so, and the malt comes through along with a bit of a candyish note - I thought I even sensed some passing vanilla. It's not sweet though. I guess the sweetness that's there fights it out with the acidity until it finds a balance, and then the acidity wins in the dry finish. It's decent. It's not fabulous, but it's not lacking. Listed on the label as 3.9% ABV. For fans of the style it's definitely worth trying.
953 characters

3.54
/5
rDev
-9.5%
look: 4 | smell: 3.75 | taste: 3.25 | feel: 3.5 | overall: 3.75
Beer by itself was tart and sour, like it's supposed to be. I don't much care for the style/taste. But, true to Berliner custom, I added some berry syrup to it. It made it very tasty. I need some Waldmeister syrup to try it again.
234 characters

3.71
/5
rDev
-5.1%
look: 4 | smell: 3.5 | taste: 3.75 | feel: 3.75 | overall: 3.75
A: Crystal clear brew, light yellow in color with a modest white head that dissipates fairly briefly.
S: Lightly tart, with just a little bit of funk. Slightly earthy as well as perhaps a touch of sea mist.
T: Delightfully tart with a hint of almond, and cherries. Light fruit and some fairly tame bread.
M: Medium light in body, with medium high carbonation, and a somewhat dry finish.
O: A pretty interesting brew. Some nice tartness, but I'm not in love with the aroma. Still a sharp, tart brew that is an interesting sipper.
538 characters
4.35
/5
rDev
+11.3%
look: 4 | smell: 4 | taste: 4.5 | feel: 4.5 | overall: 4.5
This is my first sour beer but my third time tasting it.
A: Off yellow color with very small head that quickly disappeared.
S: Very little aroma aside from very faint lightly sour funky smell. Only noticeable when attempting to really smell the beer.
T: Sour similar to a mild sour candy. Not over powering and surprisingly refreshing. Tang present after swallow but quickly dissipates. No hop flavors and just enough sweetness to balance the sour.
M: Crisp and thin. Fizzy on the tongue.
O: This is not what most people would imagine beer as but each glass is surprisingly good. It provides a nice break from the ever present IPAs, stouts, and porters. I would definitely buy more if ever released as a stand alone product.
729 characters

4.11
/5
rDev
+5.1%
look: 3.75 | smell: 3.25 | taste: 4.5 | feel: 4 | overall: 4.5
On tap at Mancinis Huntington
A- pours a hazy pale golden yellow with a foamy white head that has good retention
S- smells of toasted wheat, lacto, green apple skin and grape, undertones of vomit
T- light and tart with just enough sour up front, mid palate gives light fruit notes of sour apple, white grape. The finish is clean and toasty with a light longer if wheat
M- light body with medium carbonation leads to a foamy mouthfeel and a crisp dry finish
O- outstanding Berliner with is going down way to easy on this 90 degree day
539 characters
4.06
/5
rDev
+3.8%
look: 4.25 | smell: 3.75 | taste: 4.25 | feel: 4 | overall: 4
Served on-tap at the Devil's Backbone in Roseland, VA
A: Pours a hazy light to medium straw yellow in color with light amounts of visible carbonation and some golden yellow highlights. The beer has a finger tall dense fizzy bright white head that reduces to a medium sized patch of very thin film and a medium thick ring at the edges of the glass. Moderate amounts of lacing are observed.
S: Light to moderate aromas of tartness with hints of green apple and lemon citrus.
T: Upfront there is a very light hint of grainy malts that is quickly overtaken by lemon citrus and green apple. There is a moderate amount of gentle tartness that is quite refreshing and some light to moderate notes of acidity.
M: Just heavier than light bodied with moderate to heavy amounts of carbonation. Moderate amounts of acidic prickliness.
O: I enjoyed the snappy tartness to this beer as it was really refreshing on this hot summer afternoon (after spending quite a few hours in a car with no AC). Very enjoyable and a style that I like quite a bit - they offer it with syrup but I had mine plain.
1,086 characters

4.5
/5
rDev
+15.1%
look: 4.5 | smell: 4.5 | taste: 4.5 | feel: 4.5 | overall: 4.5
On tap at the brewpub the weekend of 2/18. Served with Woodruff syrup on the side. It poured a pale orange color before any of the syrup was added. The syrup gave it a really cool green apple like tint. Great looking beer, I love the green color the syrup gave it.
The aroma has a tart fruit quality to it with a little sour apple and grape coming out at first. I get a pale, crisp, graininess to it as well. Once the syrup was added it added a little balancing sugary sweetness and a little herbal grassiness to it. Very tart but also refreshing. The Woodruff addition was also very good and complimented well. Great aroma for the style.
In the taste I get more tart, crisp grains up front with a fruity, crisp, slightly sour apple flavor in finish. The syrup again balances it nicely with a little sugary, candy and slightly grassy flavor. Loved the sour apple favors to it.
The mouthfeel was light with moderate carbonation. Great mouthfeel for the style. Overall I thought it was an awesome beer. I loved the crisp, tart, sour apple flavors the base beer had but was also really impressed by the Woodruff syrup. I've had the style plenty of times before but never had it with the syrup. I thought they really nailed the style, this was one of the best versions I've had and probably the best version by an American brewery that I can recall. I really hope they continue to make this, and maybe one day distribute it. We get plenty of IPA's in the VA market, this right here is what the market is missing. Out of all the beers we tried at the Brewpub that day, this is the growler we left with.
1,609 characters
Berliner Metro Weiss from Devils Backbone Brewing Company
3.91
out of
5
based on
35
ratings.