Naughty Nancy's Nut Brown Ale
| Manchester Brewing, LLC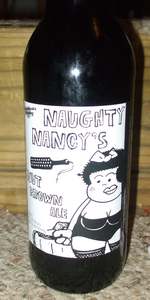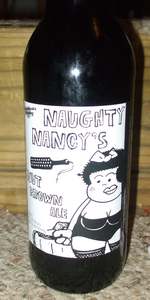 BEER INFO
Brewed by:
Manchester Brewing, LLC
New Hampshire
,
United States
Style:
American Brown Ale
Alcohol by volume (ABV):
not listed
Availability:
Rotating
Notes / Commercial Description:
No notes at this time.
Added by mikesgroove on 10-14-2009
This beer is retired; no longer brewed.
HISTOGRAM
Ratings: 14 | Reviews: 12
Reviews by puboflyons:
4.05
/5
rDev
+3.3%
look: 4 | smell: 4 | taste: 4 | feel: 4.5 | overall: 4
From the 1 pint 6 fl. oz. bottle. Sampled on November 23, 2009. It pours extremely dark to the point that it is more black than brown. The creamy tan head is about a half-inch thick but quickly dissolves. The aroma comes across more like a Porter than the taditional Brown Ale with a bit of smokiness and chocolate malts. A bolder mouthfeel full of stability. While there is a tiny dash of nuttiness in the taste it tends to be more of a chocolate malt sensation with a sour-to-tart mixture and bitter hops in the background. This was a decent enough beer.
556 characters
More User Reviews:

3.92
/5
rDev 0%
look: 3.5 | smell: 4 | taste: 4 | feel: 3.5 | overall: 4
22 oz bottle into several glasses.
Pours a nice black look in the glass for a Brown Ale, being topped with a thin covering of dark and burnt mocha head. Retains with a fairly rich look around the edges, leaving some light spotty foam behind. The aroma is very nutty and roasty feeling in the nose, along with some sweeter chocolate and caramel tones. A touch of earth and spicy gives this a bit of hoppy edge.
The taste is deeply roasted feeling overall but some lighter tones of green citrus, chocolate, and toffee sweetness help bring the flavor down a bit. A deep nutty feel and earthy hops linger along the back. The mouthfeel is medium bodied, with a very sharp feel to the carbonation that almost borders on being a little overly so at times. Some of that dark chewier sweetness sits more towards the back of the feel.
Surprising amount of dark flavor here for a Brown but luckily this stayed fairly well balanced. A little too much crispness to this at times but it didn't impact the overall drinkibility a whole lot. This was a solid intro for me to the Manchester Brewing portfolio of beers.
1,106 characters
3.91
/5
rDev
-0.3%
look: 4.5 | smell: 3.5 | taste: 4 | feel: 4 | overall: 4
Picked up this one along with a bunch of other New England goodies lately and really could not have been happier with what I found. Split this one with my brother in law and served between two pint glasses, consumed on 10/13/2009.  
Near perfect pour here. Rich dark brown in color with hardly a drop of light shining through at all with the exception of a touch around the sides and bottom of the glass. Big head of tan coming up and over the top to a height of around two inches before settling back down into a thin, but firm cushion that stayed with it throughout the session. Nice aroma of caramel and brown sugar leads the way, but warming makes it tend to drop off a bit and become slightly muddled, bringing in some musky roasted malt smells and a touch of smoke which just seems to be a bit off given how we started. As I take the first sip I noticed a smooth, even body to it. Bordering between full and medium bodied it gave off quite the impression I have to admit. Light taste of cocoa, lots of smoky notes especially in the finish and a nice healthy nuttiness all blend together rather well. Smooth, creamy feel leads to a nice finish that is semi sweet and leaves that nice touch of smoke on the tongue long after the last sip and follows it with a quick hop kick.  
Overall this was pretty solid brown ale. I really don't have many complaints about it save for the aroma, but even that is minor. Pretty solid introduction here for me and I would do this one again.
1,490 characters

4.12
/5
rDev
+5.1%
look: 4 | smell: 4.5 | taste: 4 | feel: 4 | overall: 4
Have to start by saying this is one of the best beer labels EVAR (sic)!
Pours a dark brown, almost black color, thin wispy head that fades fast and leaves no lacing.
Smell has a very nutty aroma with a good amount of roasted malt.
Taste is primarily roasted malt with a good amount of nuttiness in the aftertaste, mouthfeel is a bit slick and buttery, carbonation is spot on by being soft yet quite present.
A very good nut brown ale (with an awesome label), also the bombers are fairly cheap at around $4 (the only other nut brown that tastes better at the same price is Oak Pond).
586 characters

3.68
/5
rDev
-6.1%
look: 4 | smell: 3.5 | taste: 3.5 | feel: 4 | overall: 4
Pours a two finger light brown head that fades quickly to a ring leaving no lace. Black color, no highlights. Light-medium carbonation and medium bodied. Roasted coffee nose. Flavor is almost sweet roasted, smokey coffee. $4.49 for a 22oz bottle from Barb's Beer Emporium Concord, NH.
284 characters


4.1
/5
rDev
+4.6%
look: 4 | smell: 4 | taste: 4 | feel: 4 | overall: 4.5
Bottle received from Tutes3 in a trade awhile back. Pours a very thick dark black. No light comes through this at all. This is the thickest brown ale I think I have ever seen. A huge creamy mocha-colored head rests on top. Retention is fair. Leaves no lace at all. Scents of walnuts, cocoa, and roasted malts waft out.
The body is thick and creamy with a touch of carbonation play on the tongue. Big chocolate malt presence in this beer. Not as nutty as expected. Mild dark bread in there, finishing with a charred aftertaste. This was a really good brown ale. Wasn't what I quite expected, but it surpassed my thoughts. Good beer.
633 characters

4.12
/5
rDev
+5.1%
look: 4 | smell: 4.5 | taste: 4 | feel: 4 | overall: 4
22Oz Bomber.
Pours a very deep brown, almost black but with deep red highlights when you hold the glass to the light. Head is small, about 1/2 inch and quickly dissipates with no lacing.
Aroma is of nuts, chocolate and malt... roasty malt
Taste is good. Nice complexity. Chocolate, nutty, roasty malt with some hops bitterness.
Medium body
Overall, very drinkable. It may cross the line between a brown ale and a robust porter but it is good. I will buy again next time I am in the area.
493 characters
3.61
/5
rDev
-7.9%
look: 4.5 | smell: 3.5 | taste: 3.5 | feel: 4 | overall: 3.5
Thanks to VanillaMike for sending this as part of my SNF winnings!
A-This has a great appearance. Very dark brown-nearly black body that pours with a 2-3 finger foamy tan head. Head eventually subsides to about 1/2 finger but has perfect retention from there.Body is opaque when held up to the light.
S-Even a huge frothing head only reveals a mild nose. This nose consists of roasted malt, caramel malt, and a hint of chocolate.
T-Upfront a moderate flavor of sweet molasses, roasted malt bitterness, and a nice caramel malt tone. The finish is a blast of caramel malt and toffee sweetness. What lingers on the palate is a mild to moderate roasted malt bitterness and a mild taste of sweet toffee and caramel.
M-Carbonation is moderate and tingly. Body is medium weight. Somewhat smooth and creamy.
D- This is a pretty good brown ale. Its a little bit thicker than most and seems to have more of a porter or Scottish ale consistency -but pretty good. At 22 oz this is a nice, drinkable local ale. If it were my local I'd be all over it. The label, by the way, is very amusing. Happy to try this one and the bottle sure is amusing-but I don't think I'll trade for it again.
1,179 characters
4.2
/5
rDev
+7.1%
look: 4 | smell: 4 | taste: 4.5 | feel: 4 | overall: 4
A surprisingly good brown ale, a style that I have been growing fond of. The label art on this one is priceless, I cannot believe that it got approved! Another thing I wanted to comment on was the line that this one might of been crossing into the 'porter' category. I will explain:
The appearance is an almost black color that has dark cocoa edges. It has a fluffy tan head that sticks around for a minute or so. Its head has a light lacing on the sides, pretty good looking. The color of the beer is not brown at all, very dark for this style.
The smell is of roasted grains and chocolate with a lot of pecan and spiced smell. It has a bouquet of nutty earthy smells that is very inviting.
The taste is great, lots of nutty flavor with a great grain flavor. The nut I pull out the most is pecan, a great roasted pecan flavor paired with a bit of chocolate.
A very thick mouthfeel makes this a bit of a sipper, but its totally enjoyable. I was very surprised how much I enjoyed this bottle, for the artwork kind of turned me off. Might be more of a nutty porter or stout, but delicious none the less.
J
1,112 characters
4
/5
rDev
+2%
look: 4 | smell: 4 | taste: 4 | feel: 4 | overall: 4
I'm not overly fond of brown ales, but this one worked perfectly as an accompaniment to the bacon explosion we grilled up this past weekend.
Extremely dark oak pour practically borders on black, and makes this one of the darkest brown ales I've ever had. A large bubbly tan head is thrown up by the pour, and leaves some sticky globs of lace as it collapses to a film. Huge malt aroma hides all hops. There's a strong brown bread component that ties everything together, and allows coffee and dusty cocoa notes to meld in perfectly. Likewise the flavour is all about the malt, and again the brown bread dominates. Stale coffee grounds join with cocoa and roasted nuts to round things off. Very limited bitterness, and while these is a hint of brown sugar, the overall sweetness is though. Medium body and carbonation.
Brown ales like this could win me over. Thanks again to Eric for sharing, and suggesting this as a pairing to our grilled monstrosity. It all worked out perfectly!
983 characters
3.26
/5
rDev
-16.8%
look: 4 | smell: 3 | taste: 3 | feel: 4 | overall: 3.5
Appearance: Poured a completely opaque black color. 1.5 finger chocolate mousse colored head, with good body. Decent retention, taking a few minutes to completely go away. No carbonation visible. No lacing.
Smell: Very mild nose, with not much at all. Mild smoky/chocolately/nutty smell down deep, with not much else.
Taste: Mild again, like the nose. Nutty and smoky malts, without much bite. Sweetness was moderate. The smokiness lasted the longest. Very average.
Mouthfeel: Medium bodies and very smooth. Nice carbonation bite as well.
Drinkability: A very average nut brown ale. It was good, but not more than average in most ways. Very drinkable, but easily forgettable.
Would buy again: Yes.
702 characters
3.42
/5
rDev
-12.8%
look: 3 | smell: 3.5 | taste: 3.5 | feel: 3 | overall: 3.5
Thanks to Kegatron for sharing this bomber on 2/13/10.
A - Poured a deep brown (certainly quite dark even for a brown ale) with a hint of brick red hues around the bottom edges and a bubbly beige head that completely disappeared and left no lacing behind.
S - Aroma is extremely nutty with a dominant roasted malt character. Hints of coffee and earthy hops are also apparent, as well as woody and herbal notes. A faint chocolate character hides in the background.
T - Quite roasty and malty with a hint of coffee and nutty astringency. Finishes with an earthy hop bite.
M - Medium bodied with extremely lively carbonation resulting in a big swish of bristle on the tongue. Finish is very dry with a tinge of hop bitterness on the palate.
D - Nice and roasty for a brown ale, but this also possesses the requisite nutty character. I found it to be rather dull looking and too carbonated, but otherwise it was pretty solid.
927 characters
Naughty Nancy's Nut Brown Ale from Manchester Brewing, LLC
Beer rating:
3.92
out of
5
with
14
ratings