India Pale Ale IPA
| Milwaukee Brewing Company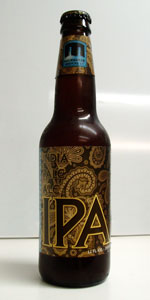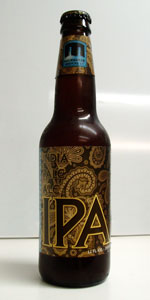 BEER INFO
Brewed by:
Milwaukee Brewing Company
Wisconsin
,
United States
mkebrewing.com
Style:
American IPA
Alcohol by volume (ABV):
6.50%
Availability:
Rotating
Notes / Commercial Description:
No notes at this time.
Added by crossovert on 03-11-2010
HISTOGRAM
Ratings: 14 | Reviews: 6
Reviews by cokes:
2.99
/5
rDev
-10.7%
look: 2 | smell: 3 | taste: 3 | feel: 3.5 | overall: 3
Blurry tea colored with abundant clots of suspended particles. I'm half tempted to strain it. The moderate off-white head is decent enough, and leaves some lace.
The nose brings caramelized malts, apple peels, dates, milkweed, and lemon oil. It's not exactly harmonious, but there's enough hop life left to make me believe that it's not an old bottle, as the appearance had me thinking.
It knocks around between the teeth, bringing toasted grain, caramel, brandied pears, old pennies, apple cores, Fig Newtons, mint oil, lemon zest, pulled weeds, and dry brush. To it's credit (and probably by accident), the complexity score is relatively high per the style, but that doesn't matter much when it fails to stick the landing.
Medium in feel and carbonation. The mouthfeel is sturdy and appropriate. It's everything else that's weird.
It's hard telling how old this bottle is. I'm sure it's not brand new, but unless the new stuff is a bitter weedy astringent mess, this can't be way past its prime.
I've gradually teased my ratings up as I drank this (up from rock bottom, as there way a moment where I thought about drainpouring it). A lot of things here don't particularly work well together, or even work within an IPA style, but some of the ensuing cacophony I found a bit intriguing...though not enough to recommend.
1,322 characters
More User Reviews:
3.33
/5
rDev
-0.6%
look: 3.5 | smell: 3 | taste: 3.5 | feel: 3 | overall: 3.5
12 oz bottle poured into a Sierra Nevada imperial pint. No date or info. [Review moved from Milwaukee Ale House]
A - Suspended particles of sediment floating in the bottle make their way into the beer giving it a very cloudy appearance. The dirty apricot orange color looks a bit off-putting as it's filled with yeast. The head on the other hand looked great! Three fingers tall and bone white with good retention and some thick, patchy lace score the IPA some attraction points but not enough to help the hazed-over beer.
S - Hops burst from this beer, smelling heavily of pine, but eventually mellow out to a green, floral nose with a small splash of citrus. The hop aroma started out with promise but just became mundane. The malt backing has notes of honey-drizzled biscuit but is otherwise not engaging. A basic IPA aroma really.
T - The pine that disappeared in the aroma came back full-force to punch you square in the teeth. Tons of pine resin-flavored hops give this IPA a punch of strong bitterness. Floral and herbal notes add a bit of depth but seem like an afterthought. The malts also seem this way a little bit too. Touches of caramel appear but a biscuit plain-ness is the real flavor component. It's definitely better cold too. The flavor becomes less distinct as it warms.
M - IPA lands smack in the middle as a medium-bodied beer. Probably the best part of this beer though is it's initial searing bitterness that caught me off guard. It leans to the bitter-hoppy side but still keeps a decent balance to it. Medium carbonation, which seems a little low, makes it feel a little fuller as well as the sediment.
D - The flavors really seem to blend together too much. Pine stands out heavily but nothing else really does. It's middle-of-the-road IPA that could use some work in flavor separation. It's not bad per se, but changes need to be made.
1,868 characters


3.66
/5
rDev
+9.3%
look: 4 | smell: 3 | taste: 3.5 | feel: 4 | overall: 4.5
Labeled as IPA or India Pale Ale. No date or abv. I believe this is brand new to bottles.
Pours a deep darkish amber with hints of orange and brown. It has a nice 2 finger white head that has nice retention and recedes to some nice lacing
The smell is very reminiscent of English IPA the hops are slightly piney but it also has that indescribable British ale aroma. The yeast and malt is at work here too.
The hops are amped up in the flavor, I kinda disagree with the malt flavor in this one, it isn't sweet enough to complement the hops or flavorful enough to replace them. The hops are predominantly piney with a hint of grassy bitterness. They are prevalent but perhaps a bit one deimensional, you get the same decent piney bitterness each sip.
The mouthfeel is very nice though, moderate carbonation with a nice fullness. The drinkability is also high, It seems very sessionable.
Perhaps a DIPA or a more hop oriented IPA is in the wings for this brewery but as a session ipa this one works well.
Overall it is good, but could be better, this brewery seems like it could do big things in the future.
1,128 characters

3.15
/5
rDev
-6%
look: 3.5 | smell: 3.5 | taste: 3 | feel: 3 | overall: 3
Bottle given to me by my cousin, thanks Ryan!
A- Looks very amber for an IPA. Quick finger of white head then just a ring around the outside and a few bubbles in the middle
S- Some faint sweet hops. Little bit of pale malt in the background but this one is certainly lacking
T- Falls short again. Pretty watered down with some floral bitterness. The pale malts are tasty but the rest of this beer is a let down.
M- Very light. Almost comes accross as an APA
O- Really wanted to like this one but it's just a pedestrian IPA. Hopefully these guys get it together as I would love to see another successful midwest brewery
624 characters
3.23
/5
rDev
-3.6%
look: 4 | smell: 3.5 | taste: 3 | feel: 3.5 | overall: 3
12 oz paisley laden bottle purchased as a single and dumped into a tulip
Reddish-orange with a small billow that dashes to a thin collar along with a steady crawl of tiny bubbles from the deep
Clash of malt and a dash of citrus and forest
Bready malts hard up front meet a wall of bitter. While these two showboats strut their stuff, any semblance of citric hops is banished to the land of wind and ghosts to reside with Mr. Sparkle.
Mouthfeel is medium bodied and fizzy. Nothing particularly wrong here, but also nothing memorable either. My kingdom for a readily available local ass whompin' IPA.
602 characters

3.54
/5
rDev
+5.7%
look: 4 | smell: 5 | taste: 2.5 | feel: 4 | overall: 3.5
A - Roasty copper body with a nice haze to it. The head starts out big (more than three inches) before it recedes to a half inch top.
S - Very nice leafy, citrus and pineapple hop aromas with a sweet malty presence.
T - Mild bitter hops with a sweet malt. The first is a bit rough... but it gets better.
M - Thick and rather chewy for an IPA. It goes down smooth.
~ The brew has a nice 'head' and leaves little to guess upon. I'm a fan, but only after the first couple pulls.
480 characters


India Pale Ale IPA from Milwaukee Brewing Company
Beer rating:
3.35
out of
5
with
14
ratings