Black Iron
| Milwaukee Brewing Company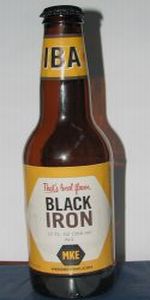 BEER INFO
Brewed by:
Milwaukee Brewing Company
Wisconsin
,
United States
mkebrewing.com
Style:
American Black Ale
Alcohol by volume (ABV):
7.40%
Availability:
Fall
Notes / Commercial Description:
No notes at this time.
Added by Ryan011235 on 10-22-2012
Reviews: 9 | Ratings: 38
3.99
/5
rDev
+5%
look: 4.25 | smell: 4 | taste: 4 | feel: 3.75 | overall: 4
Pours black with a creamy tan head. Lacing sticks.
The smell is of citrus/pine with chocolate.
The taste is hop-forward. Chocolate cake supports it and blends well with the tropical fruits and hint of pine. It has an herbal, bitter finish.
It hits full-bodied, though the carbonation is slightly aggressive. Still it does have a smooth character.
Hop-forward, but with a firm dark malt backbone. It blends well (which it doesn't always do with this style, IMO.) Pretty complex. Nice long finish. Well-done!
510 characters

3.88
/5
rDev
+2.1%
look: 4 | smell: 3.5 | taste: 4 | feel: 4 | overall: 4
12 oz. bottle, with no apparent bottled on date present. Another new beer to me from Milwaukee Brewing Co. I think this might be my fourth beer from them. Expectations are less than excellent based on my previous run-ins.
Poured into a clear balloon snifter.
A - Pours a dark woodsy chocolate brown; opaque black in the glass with a finger and a half of thick fluffy mocha head. Decent head retention. Scattered lacing. Looks pretty nice.
S - Smell is of dark barley malt roast, hints of chocolate, caramel malt, herbal spice rack notes, and some earthy / herbal hop presence.
T - Taste is of bittersweet chocolate / cocoa, hints of vanilla / cream, lactose sugars, coffee bean roast / bitterness, some burnt / char elements, and mild hints of earthy / herbal / piney hoppiness.
M - Feel is smooth and crisp, with some dark bitter roast lingering on the palate. Mildly sticky finish. Medium-bodied with good carbonation.
Overall, I was pleasantly surprised by this offering from Milwaukee Brewing Co. Nothing extraordinary or groundbreaking, but a solid, well-made example of the style. Of all the beers I've had from this brewery so far, this one is probably the most likely contender for repeat drinking.
Milwaukee Brewing Co. Black Iron ---4/5.
1,254 characters
3.66
/5
rDev
-3.7%
look: 4 | smell: 3.5 | taste: 3.5 | feel: 4.25 | overall: 3.75
Pours dark black with a 1.5 finger tan head that has great retention. Looks decently thick.
Smell is good Some chocolate like roasted malt give this a nice creamy character to it overlaying some more roasted malt, piney and floral hops.
Taste follows the nose with nice rich chocolate like roasted malt and a mild a spicy piney hop bitterness.
Mouthfeel is good, medium bodied with moderate carbonation and some slight roasted bitterness and hop bitterness. Velvety and smooth.
481 characters

3.77
/5
rDev
-0.8%
look: 3.75 | smell: 3.5 | taste: 4 | feel: 3.5 | overall: 3.75
A: Two finger head with good sustain poured from the bottle in a darker khaki color and laced the side of the glass with a thick coat. The beer, opaque black in color, no light shines through even when held to a light source, only a dark dark red brown hue.
S: Roasty and baking chocolate dominate the nose along sweet caramel/toffee malts. In the background sits some pine and earthy hop notes.
T: A strong chocolate sweetness washes over first with clean assertive bitterness. A piney, slightly tropical hop flavor balances out the sweetness in the middle, but the end it gets over powered by the chocolate and roasted malts. As it warms up the chocolate comes out even more making it more stout like than IPA/APA.
M: Thick and chewy with lower carbonation. Just a slight mouth drying affect when it warms up, but its not harsh.
O: What every you want to call it IBA, BIPA, BPA, ABA, the beer to me was more like stout with a more noticeable hop presence (but I guess that's the idea.) Not a bad beer but when I want a stout or and IPA I'll have one and not mix.. I may change my mind if I have a better example, but it was worth a go either way.
1,154 characters
4.5
/5
rDev
+18.4%
look: 5 | smell: 4.25 | taste: 4.5 | feel: 4.75 | overall: 4.5
12 oz bottle poured into a MKE tulip.
7.4% ABV, 48 IBUs, no date.
A - Pitch black in color, Black Iron is as menacing as they come, brooding with a tall mocha head which slowly collapses into the abyss, caking the tulip in thick sheets of chunky lace.
S - Torn every which way, my olfactory senses reel from roasted malt attributes of dark chocolate and coffee with dusty cocoa sprinkled in to sharp American hops, applying earthy pine notes and citrus undertones. Suggestions of a heat spice emerge as well, though not from addition but the combination of ingredients.
T - Heavy roasted malts continue to pummel the senses with dark chocolate and coffee notes, shifting from a (very) slightly sweet aroma to a full-on bitter flavor. Hops push fourth with bitterness adding sticky pine cone and lingering citrus nuances.
M - Black Iron is an enigma when it comes to the feel. One might think, based on the aroma and heavy flavor (ignore how dark it is) that it would be a really heavy beer. That's not the case though! The hoppiness and roasted malt qualities "thin" the beer out for a more medium-full feel that's easily drinkable without feeling full. Black Iron is smooth, however, really allowing the roasted malt and hoppy bitterness to come together for a delightfully dry, bitter finish.
O - One of Milwaukee's finest beers, Black Iron wonderfully captures the combination of heavy roasted maltiness and IPA-like hop additions with no ill-effects. It's nuanced if you want to dive into it but straight-forward and in-your-face if you want a bold beer.
1,563 characters
4.01
/5
rDev
+5.5%
look: 4.5 | smell: 4 | taste: 4 | feel: 3.75 | overall: 4
Looks exactly like you would expect an IBA to look, black with an off-white head. Nice taste that manages a solid roasted aftertaste to balance the strong hop flavor, The only complaint is with the mouth feel, it comes off a little on the watery side and could use a little more of a malt backbone. It's no New Glarus Black Top, but it's still a very good beer.
361 characters
4
/5
rDev
+5.3%
look: 4 | smell: 4 | taste: 4 | feel: 4 | overall: 4
Beer pours a deep brown almost opaque with frothy foam that laced. The smell carries pine and grapefruit with roasty malts and touch of espresso. The taste is very similar to the smell with the roast dominating more than the hops. The body is a light medium, with a smooth carbonation and a generally decent body. Overall, this beer turned out to be one of the a good black IPAs. I would drink this again.
405 characters

4
/5
rDev
+5.3%
look: 4 | smell: 4 | taste: 4 | feel: 4 | overall: 4
Served in a Lagunitas mason jar.
Maybe it's just me, but this beer sounds like it would be an entertaining blaxploitation film... Anyway, this stuff pours a deep black-brown topped by a couple o' fingers of cream foam. The nose comprises bright pine needles and grapefruit zest floating within a sea of darkly-roasted malts and coffee. The taste brings in more of the same, with the pine seemingly dropping out...until it returns all dramatic and whatnot near the finish. The body is a light medium, with a light moderate carbonation and a generally smooth feel. Overall, this beer turned out to be one of the better black IPAs I've had in a long time. Not bad at all.
669 characters

2.81
/5
rDev
-26.1%
look: 4 | smell: 3 | taste: 2.5 | feel: 2.5 | overall: 3
Poured into a Delirium snifter on 10/21/12
Dark, inky brown; pretty close to black in the glass. Ample two finger head dissipates slowly. Swaths and trails of lace remain (quite a lot of lace at by the end of the glass).
Aroma-wise, this is straightforward: pine, roasted dark grains and bakers chocolate. Earthy notions drift about. The taste has modest pine hops, though there is a lot of rough coffee and dark cocoa bitterness. There isn't a lack of roast or dryness here. The taste starts off ok, but the finish has an odd metallic/vegetal combo; kind of dirty, too. The body is thin and easily overrun by the vigorous, prickly carbonation.
Overall impression: Black Iron failed to impress me. Sure, there are worse beers out there, but this is kind of boring. It's not so bad as to dump the glass, and I reckon I enjoy it more with warmth.
854 characters
Black Iron from Milwaukee Brewing Company
3.8
out of
5
based on
38
ratings.