Juicy Double IPA

Garrison Brewing Company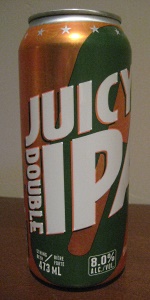 Write a Review
Beer Geek Stats:
| Print Shelf Talker
Style:

ABV:

8%

Score:

Avg:

3.93

| pDev:

8.65%

Reviews:

12

Ratings:

From:

Avail:

Rotating/Seasonal

Wants

Gots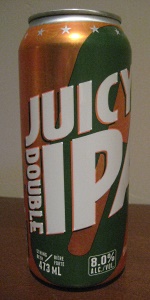 Notes: This ridiculously hoppy East Coast Double IPA uses end-of-boil hop bursting to create maximum effect with minimum bitterness. The resulting beer has citrus, pineapple, mango & berry notes that can only be called "Juicy"

cbutova from Massachusetts
4.06
/5
rDev
+3.3%
look: 4.5 | smell: 4 | taste: 4 | feel: 4.25 | overall: 4
A- 16oz can pours into a snifter with a mostly clear golden orange body and a very thick cap. The crown has a puffy texture with great retention and big pillows of lacing form around the glass.
S- Sweet malts and citrus hops give that classic candied zesty orange feel here and it makes up most of the aroma. Malts have a moderately high presence for the style with bready, sweet and slightly toasty notes. A touch of sweet tropical fruit.
T- Big citrus and pine hops with pretty much equal malt strength. The oranges are very strong with this one with both the sweet and the bitter zesty peel, grapefruit also with strong pine, hints of tropical and floral hops as well. Malts are sweet with bready, slight caramel and bready hints.
MF- Big and pretty thick on the palate. As the head suggested this one is creamy and very smooth and silky. Ends with a strong bitterness.
The classic oranges, grapefruit, pine and semi strong malts that bring some strength but don't throw the hops out of kilter much.
Oct 31, 2019

mactrail from Washington
3.9
/5
rDev
-0.8%
look: 4 | smell: 4 | taste: 3.75 | feel: 4 | overall: 4
Here is another "New England style" IPA with no haze at all. The brewer says it's made with NE Ale yeast, but it doesn't seem to have the raw grains and murky stuff. It tastes like a really clean and clear DIPA. Color is orange-amber with lots of foam in the tumbler. Tangerine in the aroma along with some peach. Strong and malty and moderately sweet.
Flavors of citrus peel, orange, and a touch of pineapple. Moderate but distinct bitterness in the aftertaste. Spritzy on the tongue and well carbonated. Not overly acidic, but certainly tangy. Here is another really good IPA from the Maritimes. From the 473 ml can purchased at the brewery restaurant on Halifax harbor.
Jun 21, 2019

CanConPhilly from Pennsylvania
3.79
/5
rDev
-3.6%
look: 4 | smell: 3.75 | taste: 3.75 | feel: 4 | overall: 3.75
L - 3-finger beige head atop a translucent orange body.
S - oranges, pine, cotton candy.
T - oranges and cotton candy, wrapped in dank. Low bitterness, moderate sweetness, low booziness.
F - medium body and carb.
O - rather enjoyable, just a little too sweet.
Jul 15, 2018

CAMRAhardliner from Canada
3.93
/5
rDev 0%
look: 4.5 | smell: 4 | taste: 3.75 | feel: 4 | overall: 4
Pours bright orange with a frothy everlasting head. The aroma is citrusy with some tropical fruit and pine. Huge grapefruit, lemon and mango hop flavors explode in the first sip. A sturdy caramel malt profile is quite prominent, providing lots of balance. The mouthfeel is full bodied with lots of creamy carbonation. Medium to high bitterness in the grassy, long finish.
A fantastic 'East coast' DIPA. Super dank and complex, and also balanced. I'd get it again.
Jun 26, 2018
patre_tim from Thailand
4.34
/5
rDev
+10.4%
look: 3.75 | smell: 4 | taste: 4.75 | feel: 4.5 | overall: 4
Copper, filtered with ginger ale like carbonation, and topped with 4 fingers of rocky, white head.
Smells of oranges, mango, creme brulee, tangerine, and orange skin.
Loads of tropical fruit including jackfruit, durian, pineapple, soursop, a solid sweetness which I'd expect from a double IPA, and patches of dank kale and green vegetables. Oranges and tangerines as well.
Medium body that feels really light on the tongue for the ABV, with little carbonation.
Got this at LCBO, drinking in Muskoka April 10, 2018. Excellent brew from Garrison. Must be tried by beer geeks.
Apr 11, 2018
Cramshawbar from Canada
4.45
/5
rDev
+13.2%
look: 4.5 | smell: 5 | taste: 4.25 | feel: 4.25 | overall: 4.25
I think Garrison brews are somewhat underrated. This is so lovely and is right up there with the best IPAs Canada has to offer. My only problem is the butt ugly design on the can.
The nose is one of the nicest out of all the IPAs I have supped, the head has perfect retention and the taste is the type of fruit/pine mix that I enjoy the most.
This is very good.
Mar 12, 2018

taxandbeerguy from Canada
3.97
/5
rDev
+1%
look: 4 | smell: 3.75 | taste: 4 | feel: 4.25 | overall: 4
473 ml can served cool into a pint glass. An LCBO purchase for $4.55 CDN.
Appearance - clear and golden with some orange ness. An impressive finger and a half of sticky white head is poured. Very good retention and loads of lacing cling all around the glass.
Smell - relatively piney with hints of citrus, orange and grapefruit most prevalent. Health dose of malty goodness in the nose too. Not as tropical as a juicy DIPA would normally smell
Taste - some juiciness in the form of mango and grapefruit with some piney bits added for good measure. Lots of malt include in balancing this brew. Pretty damn good across the board.
Mouthfeel - smooth and slick, dense beer, heavy bodied, with a healthy ABV. Carbonation is modest but appropriate to this sipper.
Overall - a good if not great DIPA with some piney qualities to alongside a ripe fruit tangent. Worthwhile while the presumably limited supply is in stores
Mar 03, 2018

thehyperduck from Canada
4.14
/5
rDev
+5.3%
look: 4.25 | smell: 4 | taste: 4.25 | feel: 3.75 | overall: 4.25
473 mL can from the LCBO; dated Jan 2 2018 and served slightly chilled. Not too often you see something new from Nova Scotia in these parts.
Pours a hazy golden color, with flecks of hop debris visibly hovering throughout the liquid. An inch of frothy, foamy white head disappears at a slow but steady pace, lasting five minutes or so before being reduced to a wide collar and a patchy cap. Lots of gorgeous lacing, too; a very good start. The aroma is fruity as advertised - lots of juicy tangerine, as well as varyingly potent notes of lime, papaya, pineapple juice, pink grapefruit and honeydew melon.
There was no misdirection on the nose - this one is just a barrage of hop derived fruity goodness. Pineapple juice, papaya, tangerine and grapefruit are most noticeable to me, although there are also suggestions of lychee, lime, and syrupy fruit salad melon chunks. The caramelized malt backbone occasionally peeks through to the surface, but the hops are simply in full control of the profile. There's a brief blast of resiny, piney hop bitterness at the finish, but the aftertaste reverts to fruit salad, with fading hints of citrus pith, berries and stone fruit. Medium full in body, with moderately low carbonation levels that lightly agitate the palate. Feels slick, smooth and oily on the tongue, with a satisfying texture which aids it's drinkability. The alcohol does become noticeable as you sip your way into the glass, but also integrates fairly well.
Final Grade: 4.14, an A-. An aptly named beer, if nothing else, Garrison Juicy! Double IPA is an East Coast style IPA in the literal geographic sense - but stylistically, they might have been marginally off-target. I love the citrusy, juicy tropical flavors, but the resiny back end and stronger ethanol presence remind me more of an O.G. DIPA. Great stuff either way; the price ($4.55 in this market) is on par with most of the local equivalents, so I expect I'll be buying at least a few more of these while they're here.
Feb 27, 2018
biboergosum from Canada
3.77
/5
rDev
-4.1%
look: 4 | smell: 3.75 | taste: 3.75 | feel: 3.75 | overall: 3.75
473ml can - an East Coast version of the style. I am not going to drink it from the can, but thanks for the suggestion!
This beer pours a clear, medium copper amber colour, with three fingers of puffy, rocky, and chunky eggshell white head, which leaves some decent dissipating fog bank lace around the glass as it quickly sinks away.
It smells of dank pine resin, grainy and crackery caramel malt, some muddled tropical fruitiness, mild yeasty notes, and more leafy, weedy, and floral green hop bitters. The taste is bready and grainy caramel malt, some pineapple, guava, and kiwi exotic fruity esters, indistinct domestic citrus rind, a hint of earthy yeast, and more testy leafy, herbal, and piney verdant hoppiness.
The carbonation is adequate in its workaday frothiness, the body a solid middleweight, and generally smooth, as the heady hops exact a minor tithe here. It finishes off-dry, the complex fruitiness and malt keeping the lingering hop bitterness at bay.
Overall - this is a pleasant enough big IPA, even if it doesn't exactly approach the New England ideal. Fruity, and just a tad bitter, with a well-masked 16-proof booze factor, it's pretty easy to put back, and I am certainly not going to bitch about the lack of haze.
Dec 14, 2017

Smakawhat from Maryland
4.27
/5
rDev
+8.7%
look: 4.5 | smell: 4.25 | taste: 4.25 | feel: 4.25 | overall: 4.25
Poured from the can into a Spiegelau IPA glass.
Copper bright, with a real nice orange amber body color, that is quite clear. Edges give a nice lemon glow, with a big solid soapy three finger tall off white head that doesn't want to budge. Island capped, and bubbly lacing as the beer settles, with fine and slow rising carbonation. An excellent looking IPA.
Real nice aroma. Soft pine with touches of floral hop notes, dank, and a faint touch of yes.. Juicy fruit quality. Goes with tropical slightly, but a little indistinct, as the other hop qualities seem to dominate. A faint touch of caramel gives a hint of balance, but it's the hops that shine and they deliver.
Real nice and memorable palate. A full rich and juicy thick body without the syrupy thickness. First quaff is a good blast of light tropical but also thick pine light aromatics and bitterness. Stinky mud earthy finish on the swallow, and flirts with dank qualities. A good mild sensing malt sweetness that gives an excellent contrast and backbone for the hops to jump off of.
A sort of East/West coast quality to the beer, and a memorable one at that. Good stuff.
Oct 14, 2017

D-HopSupreme from Canada
4.11
/5
rDev
+4.6%
look: 4 | smell: 4.25 | taste: 4.25 | feel: 3.5 | overall: 4
Pours a fairly clear copper-orange body with two fingers of creamy head that lace around the sides. On the nose, it's fairly piney, with some orange, pineapple, and grapefruit along with a dank, garlicky flair. The beer is medium carbonated, with a lovely creamy feel and big tropical fruit with a sharp hoppy ping kicking you off the back. Finishes with a bit of a harsh earthy tone though, which is a bit off putting. Other than that, it is a good beer
Aug 10, 2017

PorterPro125 from Canada
4.18
/5
rDev
+6.4%
look: 4 | smell: 4 | taste: 4.25 | feel: 4.25 | overall: 4.25
Serving Type: 473 mL Can
L- Slightly Hazy copper-ish yellow topped by a 1 finger white head. Lots of sticky lacing.
S- A fantastic, juicy mixture of grapefruit and pine. Classic stuff!
T- Identical to the taste, with the grapefruit being the domineer.
F- Medium body and moderate carbonation. Perfect for a DIPA.
O- A fantastic, juicy Double IPA that goes very well on a hot day. Top notch stuff!
Jul 25, 2017
Juicy Double IPA from Garrison Brewing Company
Beer rating:
89
out of
100
with
37
ratings