Black Lager
| Garrison Brewing Company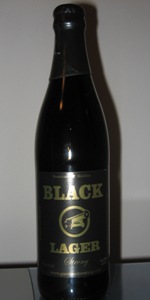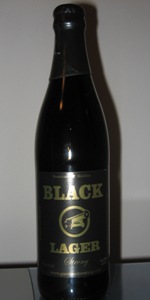 BEER INFO
Brewed by:
Garrison Brewing Company
Nova Scotia
,
Canada
garrisonbrewing.com
Style:
German Schwarzbier
Alcohol by volume (ABV):
8.30%
Availability:
Limited (brewed once)
Notes / Commercial Description:
No notes at this time.
Added by demcorhip on 12-21-2007
This beer is retired; no longer brewed.
HISTOGRAM
Ratings: 10 | Reviews: 10
Reviews by markaberrant:

4.35
/5
rDev
+7.1%
look: 4 | smell: 4 | taste: 4.5 | feel: 4.5 | overall: 4.5
A - I could see lots of red while pouring, but sitting in my snifter, it's opaque black. Pours a big dark tan head, very creamy, eventually settles to a splotchy cap without much lacing. And speaking of appearance, the bottle looks badass with the black label and thick coating of black wax.
S - roasty, chocolate milk, coffee, smoke, complex and enticing
T - quite a bit of coffee upfront, but finishes surprisingly sweet and boozy. Aftertaste slowly turns smoky. Overall taste is extremely unique.
M - thick and chewy body, creamy, instant warmth in the back of the throat, but not at all hot. Carbonation is low.
D - I'm going to have a hard time holding myself back from drinking my other bottles of this, it's that good, but I can only imagine what some aging might do.
I would almost dare to say that I like this even better than the Imperial Pale. The smoke character is very subtle at first, but slowly creeps up on you. I can't think of another beer that this reminds me of, it is truly unique.
Huge thanks to NASH!
1,030 characters
More User Reviews:
3.8
/5
rDev
-6.4%
look: 4 | smell: 4 | taste: 3.5 | feel: 4 | overall: 4
Fresh bottle shipped from the brewer. 500 ml bottle with wax cover to be peeled by knife. Black with dark head too. Mollasses and good roasted barley in aroma. Taste is lagerish creamy mouthfeel medium plus with a mix of the roast coffee, chocolate offset and sweetish caramel mollasses finish. High ABV for a shwartz.
Second tasting of it a week later and just as great.
371 characters
3.97
/5
rDev
-2.2%
look: 3.5 | smell: 4 | taste: 4 | feel: 4 | overall: 4
Big thanks to NASH for this bottle sent for CanLIF 4.0! Waxed 500 ml bottle.
A Schwarzbier??? No, this is a Baltic Imperial Porter or maybe a Baltic Russian Imperial Stout :-P It's far to heavy to be called a Schwarzbier. Whatever you call it, its extreme.
Pours a heavy dark black, some head that dissipates down to nothing, no lace. Aroma of roasted barley, cocoa, coffee bean and black patent malt, a bit of grape but not much esters associated with stouts or regular porters.
Flavor is roasted barley, hints of burnt caramel malts and alcohol. This stuff taste very much like a RIS but with a very clean yeast profile. Exellent brew, wonderfully well crafted, this stuff is out of the box! Unusual and recommended!
721 characters
4.32
/5
rDev
+6.4%
look: 4 | smell: 4.5 | taste: 4.5 | feel: 4 | overall: 4
Another great beer from Nova Scotia thanks to MMansfield. Pours a dark black, almost no light gets through this one. The head is small and leaves a few traces of lacing as it dies.
The nose starts of with lots of roasted/smoked malt then some dark fruits, cocoa and molasses join the party.
The taste follows the nose, smoked/roasted malts, molasses, light hop bitterness and a faint/well hidden alcohol to warm my cheeks. This was great after a long cold day.
462 characters

4.02
/5
rDev
-1%
look: 3.5 | smell: 4 | taste: 4 | feel: 4.5 | overall: 4
Viggo shared this one. thanks eric!
500ml bottle topped with black wax.
pours deep brown with a small very dense off-white head. the head drops quickly to a ring around the glass and leaves no lace.
aroma is good. big toasty bread and biscuit malt. nice light smoky character. touch of alcohol. a bit earthy. light caramel.
taste is nice. caramel. over-toasted wheat bread. bit of biscuit. nice smoky character. bit of alcohol. crackers. nice roasty character.
mouthfeel is good. medium-low carbonation level. medium-light body. silky smooth.
drinkability is good. well balanced. i like this smoke level, though it's a bit lower than i expect from my limited experience with the style.
691 characters
4
/5
rDev
-1.5%
look: 4 | smell: 4 | taste: 4 | feel: 4 | overall: 4
Got a bottle of this in the Heavy Metal BIF from Viggo. Thanks, Eric! Into my Sam Smith pint glass
A: Black pour with reddish brown highlights atop which sits a solid light brown head with good retention. Surprisingly, there's no real lacework. Oh well
S: Pretty good! This is an amped up schwarzbier. Solid roasty aromas up front with coffee, a little bit of dark chocolate and the classic German yeast aroma.
T: On the palate, this beer is quite full with plenty of dark chocolate bitterness up front with the flavor of coffee grinds coming through. Mid-palate, there's a combination of flavors that I can best describe as German lager yeast - mildly bready, malty and finishing clean with mild bitterness.
M: Surprisingly big, I'm imagining a Baltic Schwarzbier, rather than the airy and enjoyable Death and Taxes type. Still good, though, with soft carbonation and a rather fantastic finish
D: At 8.5%, I'm not going to reach for another in a hurry. I won't be able to either, 'cos I can't seem to find anything from these guys anywhere around :-(
1,056 characters
4.12
/5
rDev
+1.5%
look: 4 | smell: 4.5 | taste: 4 | feel: 4 | overall: 4
If you can find them, this beer is drinking phenominally right now. The beer has all the halmarks of a big Schwarzbier and an English Old or Strong Ale. The nose is chocked full of sherry, dates, raisons, figs, prunes, plumbs, grapes, and a hint of chocolate and soy sauce. Very complex and characterful. The flavors are not as bold as the nose but exhibit all the wonderful aged notes experienced in the aroma. Medium weighted (probably too high for a Schwarz) but quite creamy and airy up front with a consistent fade into a powdery dry finish. Yea, a bit tough for a Schwarz but a fantastic beer that defies styles.
Thanks Skizzits!
636 characters
4.2
/5
rDev
+3.4%
look: 4 | smell: 4 | taste: 4.5 | feel: 4 | overall: 4
Many thanks to the fine trading brewer Greg Nash (NASH). This lager comes in a simple yet elegant 500ml black glass bottle, with the neatest black wax job I've yet to see. Suppose i should try to add a pic, unless someone beats me to it.
Words straight from the brewer posted in a thread on this brew:
Grist bill consists of 15% Weyermann Rauch malt, gives it a hint of smokiness. Call it what you want, I've dubbed it an Imperial Rauch Schwarzbier but whatever, it's black, it's strong, it's lager - and it tastes good, that's all that counts :)
Needless to say I've been looking forward to trying this brew!
Poured into a snifter. A nice looking, opaque black body, even around the edges. Decent, tight one finger tan head, settles to leave a foamy island and a thin collar of lace. Fine, intricate, and sticky clumps of lace present.
Hints of smoke and roast waft up to the nose. More substantial malty aromas follow, nutty whole grains, caramel, and hints of toffee. Hints at stewed veggies from the lager yeast, and a light touch of floral Noble hops.
This is a lager for winter. Rich malts as in the nose, accentuated by the slight roast character with flavours of espresso, and the Rauch malts, with a slightly more than subtle amount of smokiness. Light touch of hops with floral notes, adds to the whole earthiness of this big lager. Slight amount of cooked veggie present to remind the drinker that this is a lager.
Medium bodied lager. Somewhat rich malts balanced by rauch, roastiness, and pretty clean, slightly bitter, floral hops. Almost creamy in feel, with lingering wisps of smoke and roasted malt. This is a pretty big lager, and certainly complex, some alcohol warmth present to remind those who enjoy to try to do so moderately.
Certainly not session fare. Would make a great pairing with a dinner of Black Forest ham, or probably any smoked or barbequed meat. This beer was made for sipping and savouring, enjoying the complexities, interplay, and nuances of its tasty flavours. That said, it would be nice to have enough to do so all night long. This is a beer for the adventurous beer drinker, and may be too much of a shock for the Molbatt's/BMC drinkers. A great, rich lager for winter. I'm looking forward to seeing how my other bottle ages.
Lucky Haligonians! Between this and Garrison's Imp Pale Ale you are getting some damn fine beer!
2,373 characters
4
/5
rDev
-1.5%
look: 4 | smell: 4 | taste: 4 | feel: 4 | overall: 4
500 ml bottle courtesy of NASH. Nice looking bottle/label, classy black wax job on the neck.
Pours a cloudy dark brown/orange, thick off white head forms, quickly settles to a thin ring around the glass, some bubbles in the centre, bit of lacing, good retention. Smell is chocolate, bread, some toffee, very malty, some spice, oats, bit of tang, quite nice. Taste is similar, rich chocolate note, very bready, almost rye like spice to it, toffee, dry grains, sweet finish, treacle, nice. Mouthfeel is medium bodied with medium carbonation, some warmth but quite smooth.
570 characters
3.87
/5
rDev
-4.7%
look: 3.5 | smell: 4 | taste: 4 | feel: 4 | overall: 3.5
Black color, quite dark, struggles to build much foam during the pour, it isn't very active with carbonation. The smell has a very smoked/charred chocolate character. Not bad.
Very nice first sip, starts out with light smoke flavor, not much sweetness, then becoming somewhat drier with toasty malt giving it a bit of depth at the back end. After while a light cherry fruitiness becomes evident, and I think I may have noticed this in the aroma too. Overall a decent range of flavors to make it interesting. The body is not very thick, carbonation is actually adequate though it doesn't look it.
Not a bad selection. Although the dry roasted character is satisfying, the more I drink it the more I realize the sweetness and alcohol are slightly too much for the style. Thanks to demcorhip for the bottle...
810 characters
Black Lager from Garrison Brewing Company
Beer rating:
4.06
out of
5
with
10
ratings