Dismiss Notice
Flying Dutchman Wit Bier
| The Caledonian Brewing Company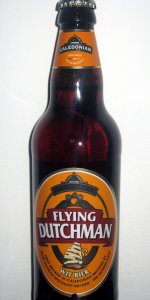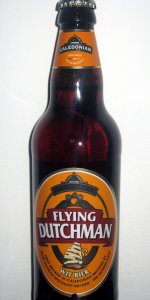 BEER INFO
Brewed by:
The Caledonian Brewing Company
Scotland
,
United Kingdom
caledonian-brewery.co.uk
Style:
Witbier
Alcohol by volume (ABV):
4.50%
Availability:
Limited (brewed once)
Notes / Commercial Description:
No notes at this time.
Added by soulgrowl on 05-03-2009
This beer is retired; no longer brewed.
HISTOGRAM
Ratings: 11 | Reviews: 8
Reviews by thepeter:
2.91
/5
rDev
-12.9%
look: 2.5 | smell: 4 | taste: 2.5 | feel: 3 | overall: 2.5
Pours an orange color that I was not expecting of a Wit Beer. Not much of a head either and what there was did not last. Smelled pretty good, got the orange peel and the spicy yeast all up in the nose. The taste lacked a lot of what was good about the smell. the orange was there but the zesty yeast was overpowered by a Lagerish flavor which I do not mind but wanted something closer to a Wit. Very dry on the back end which was nice in a way and wish the yeasty zest was there to accompany it. Palate was light dry and airy, nothing to brag about but the carbonation could have been better, smaller bubbles and a smoother feel would have been nice. Overall not one I really liked but was glad to try it.
705 characters
More User Reviews:

3.19
/5
rDev
-4.5%
look: 2.5 | smell: 3.5 | taste: 3 | feel: 4 | overall: 3
A 500ml bottle with a BB of Aug 2012. Bought as part of Sainbury's british beer hunt. The label mentions that this was produced in collaboration with Henk Oexman, a dutch brewer from Heineken.
Poured into a Sam Smith's pint glass. An orange-amber hue with medium carbonation and very faint haze. Yields a large head of creamy white foam that subsides after a couple of minutes. The aroma is a subtle blend of yeasty esters, stewed leaves, sweet fruit peel and hints of spice - rather dry.
Tastes of light malt with a dry, yeasty finish. Notes of grain, yeast esters, stewed leaves, mild spiciness and a weak background hint of diacetyl. Slightly bitter. Mouthfeel is astringent and tingly, with good body and a dry finish. Aftertaste of yeast and an acrid, stewed-leaf bitterness.
Unusual, but OK. Doesn't look like a wit - there's no visible yeast and I'm not even sure if this is bottle conditioned (though it looked alright for an ale). The fruit/spice notes could have had a stronger presence, and the stewed bitterness wasn't great. However, the flavours make it a bit better than some of the other offerings from this beer hunt. Not sure I'll have it again though - there are plenty of better beers out there.
1,218 characters
3.57
/5
rDev
+6.9%
look: 3 | smell: 3.5 | taste: 4 | feel: 2.5 | overall: 3.5
Brown 500ml bottle, this beer was brewed with the help of Henk Oexman from Heineken.
Poured into two half pint UK sleeves: clear golden colour, lager like in all ways (no cloudiness or haze), including a white head that didn't stay.
The beer had something about it, not very 'Witbier' maybe but certainly not as lager like as it looked. It had a different feel, some butterscotch and all spice it there somewhere.
Fairly thin in the body depth, no matter what style it sits in. I however quiet liked the
506 characters

3.33
/5
rDev
-0.3%
look: 3.5 | smell: 3 | taste: 3.5 | feel: 3 | overall: 3.5
Pours at best a euro lager looking pint with glden body with orange tones and big frothy floppy head.
Muted aromas of tin and hints of golden syrup some notes of orange peel and malt.
Not the taste I expected caramel and yeast with a metallic notes unfortunately forcing it's way through.
Thin mouthfeel with a spritely carbonation makes a refreshing interesting beer that whilst isn't really my thing isn't too bad.
419 characters
3.74
/5
rDev
+12%
look: 3 | smell: 4 | taste: 4 | feel: 3 | overall: 3.5
Served in a half-pint glass in Scotland. From notes. Reviewed March 2011.
A: Clear yellow. Very clear. Creamy head with some tracing on the surface.
Nice, sweet, and creamy. Traces of banana? I think so, along with some spiciness.
T: Banana indeed, and quite creamy. It tastes a bit like a spiced ale with some wheat thrown in as an afterthought. The spice (predominantly cloves, with some cinnamon and/or nutmeg) is a little overbearing, but the flavour is nice. The aftertaste is flattish.
M: Medium-bodied, medium-good. A bit flat.
O: Pretty good for a cask beer...fairly recommended. I'd have another.
610 characters
2.89
/5
rDev
-13.5%
look: 3.5 | smell: 2 | taste: 3 | feel: 4 | overall: 3
Bottle #2 of Sainsbury's Beer Hunt 2011! Poured from a 500ml bottle into a pint glass.
Pours a coppery bronze colour with nice head retention, and good lacing.
Smell is not very strong, and to me with a cold developing it is non existent.
Taste is dominated by banana and wheat. Some spices are present, but they are overrriden as you drink by a bland and weak banana/starchy taste.
Overall a half decent beer, though I would not drink it regularly, and to be honest not a very good representative of the style.
517 characters
3.4
/5
rDev
+1.8%
look: 3.5 | smell: 3.5 | taste: 3 | feel: 3.5 | overall: 4
Deep orange color, with white foam, one finger, average compactness.
Spices in the smell, coriander, some tangerine-orange notes, pleasant.
Not a classic witbier, anyway.
Coriander at the taste again, cereal (wheat) and citrus fruits. Maybe a hint of pepper.
Good, drinkable, fresh, spicy.
289 characters
4.16
/5
rDev
+24.6%
look: 3 | smell: 4.5 | taste: 4 | feel: 4 | overall: 4.5
I'm not sure if this is meant to be an actual Belgian wit, but it doesn't really look like it, with an only slightly hazed brassy yellow body and patchy white head. The aroma is more enticing, deliciously aromatic, floral and soapy (in a good way). Very pleasant lavender and wisteria aromas seated in front of a honeyed, somewhat biscuity and buttery malt base reminiscent of pancakes. Light and vibrant on the tongue, yet there is a full, hearty wheat flavor to it - Weetabix comes to mind. The malts are nicely offset by lemon/orange zesty spice and subtle coriander. Spritzy and fine carbonation and a dry finish add to an overall refreshing character. This is an interesting experiment with nice results. Ordinarily I like my witbiers colder than real ale temperature, but the cask does bring some interesting depth to the table.
834 characters
Flying Dutchman Wit Bier from The Caledonian Brewing Company
Beer rating:
3.34
out of
5
with
11
ratings