Collapsar Oatmeal Stout
| Empyrean Brewing Company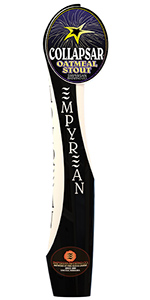 BEER INFO
Brewed by:
Empyrean Brewing Company
Nebraska
,
United States
empyreanbrewingco.com
Style:
Oatmeal Stout
Alcohol by volume (ABV):
5.70%
Availability:
Year-round
Notes / Commercial Description:
Can you escape the pull of our Collapsar Oatmeal Stout? Coffee-like roasted flavors are smoothed by the addition of oatmeal. Like our Irish brethren, we infuse our stout with nitrogen gas for a creamy head that "collapses" when poured. Brewed with American, Canadian and English grown barley and American hops.
22 IBU
Added by bditty187 on 08-11-2002
Reviews: 8 | Ratings: 34
3.55
/5
rDev
+16%
look: 4.25 | smell: 3 | taste: 3.5 | feel: 4.25 | overall: 3.75
On tap at the brewery.
Dark chocolate black with brown edges, a 2 finger head, creamy and nitro looking.
Thorough agitation only yields faint roast barley and dark chocolate malts. Maybe a hint of dry oats.
Bitter chocolates meet small spurts of lactose and dry roast barley. A light oat/nuttiness on the finish.
Feel is the best part coming forward with capable creaminess, a wet palate, and closing up with a light dry roastiness.
Overall, a very sub par stout in any instance. Nothing really stands out here. Drinkable, yes, but if I brewed it myself I'd be disappointed.
★
579 characters
3.28
/5
rDev
+7.2%
look: 4 | smell: 4 | taste: 2.75 | feel: 2.75 | overall: 3.5
I was excited to try this, but boy was I let down. Expected more flavor on the back end, but it was just too sweet for me from the oatmeal.
Not my favorite.
★
158 characters

3.05
/5
rDev
-0.3%
look: 3 | smell: 3 | taste: 3 | feel: 3.5 | overall: 3
Pours a light tan head. Nice lace. Color is a dark copper brown.
Aroma: Creamy chocolate. Light roast. Sweet and malty. Milky.
Taste: Roasted malts, coffee, chocolate and caramel. Sweet, milky, and creamy.
Mouthfeel: Smooth and creamy. Medium bodied with a medium amount of carbonation. Ends with a rootbeer flavored aftertaste.
Overall, this was pretty easy to drink. It was very light. Not as flavorful as other oatmeal stouts, however.
★
442 characters

3.15
/5
rDev
+2.9%
look: 3.5 | smell: 3.5 | taste: 3 | feel: 3 | overall: 3
A: Black with a small but steady head; lacing is an even coat down the glass
S: Roasted malts and oat presence up front; a slight coffee presence; not too dominating but somewhat pleasant--a bit boring
T: Oats and slightly burnt roasted malt up front--very smooth but flavors are fairly muted; there is a nice oat presence in the back of the tongue--but an annoying sweetness pervades and creates a fairly unbalanced flavoring
F: Creamy with an even mouth coat--too thin on the back end
D: Drinkable and smooth but the sweet oat quality is a bit wearing in the end
★
568 characters

2.93
/5
rDev
-4.2%
look: 4 | smell: 3.5 | taste: 2.5 | feel: 2.5 | overall: 3
From scribble notes.
Appearance: Poured for me into a pint glass (I think that is the only type of glass I have ever had) with the usual 1/4 inch head. The beer is nice looking. Near black. The tan head lasted for a little while, some decent lace.
Smell: Touch of roasted malt, kinda like burnt oats. Some coffee-like aroma as well.
Taste: Bluntly - a watered down stout. Some roasted malts, a little sweet even. Not anything speaking of "oatmeal". The better oatmeal stouts I have had let me know there was something to them.
Mouthfeel: Thin and a touch watery. Again the better oatmeal stouts I have had are full bodied, sometimes chewy. This was like a plain old stout.
Drinkability: Easy to drink, although some may be put off by the color, this is really a lite stout. Good to look at, ok to smell, then its all downhill from there for me. Try something else first.
★
885 characters
2.52
/5
rDev
-17.6%
look: 4 | smell: 2 | taste: 2 | feel: 3 | overall: 3.5
Poured on tapo at old chicago in omaha.
This one pours up ok. The typical frothy nitro head is present giving way to a smooth first sip. The aroma is non-existant very poor...even in the cubical driven cookie cutter world of old chicago you can tell this one is subpar. The taste is ultra sweet, with a finish like water and suger. There is a bit of smokey haze in the background but not enough to add any sort of character. This one is very ok at best. A good stout to make someone who doesn't like guiness or Goose Islands Oatmeal because it is "to heavy for me" feel good.
★
578 characters
2.64
/5
rDev
-13.7%
look: 4 | smell: 2.5 | taste: 2.5 | feel: 3 | overall: 2.5
Had this on tap at Lazlo's in Lincoln.
Well, it LOOKED good. Nice color, a lot like guiness with a nice tasty looking head. Not much odor, which i attribute to the overly cool serving temperature. Taste was dull. a bit of flavor but really i expected more from a beer that looks this good. almost as if they'd diluted a real oatmeal stout by 50%. i dont recommend ordering this fella.
★
387 characters

2.74
/5
rDev
-10.5%
look: 4 | smell: 2.5 | taste: 2.5 | feel: 3 | overall: 3
Opaque, black hue. Creamy nitro-induced tan head, excellent retention, no lace though. No aroma. Weak and watery… boring palate with only a faint hint of "roasted" malt, sweetness, oatmeal… maybe. Slick and creamy mouthfeel. Hollow. Clean and abrupt finish, lackluster. Lousy overall. Easy to drink, in a negative way. It was served too cold; this fact did not aid any of the beer's attributes.
I have no idea why this beer is still a permanent member of the Empyrean Ales/Lazlo's family of beers. Skip it.
★
515 characters
Collapsar Oatmeal Stout from Empyrean Brewing Company
3.06
out of
5
based on
34
ratings.