Peachicot Blonde Ale
| River Company Restaurant & Brewery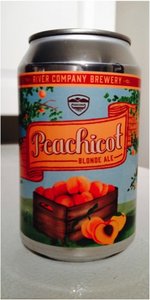 BEER INFO
Brewed by:
River Company Restaurant & Brewery
Virginia
,
United States
therivercompanyrestaurant.com
Style:
American Blonde Ale
Alcohol by volume (ABV):
5.00%
Availability:
Year-round
Notes / Commercial Description:
No notes at this time.
Added by legatovibrato24 on 05-30-2011
Reviews: 7 | Ratings: 23

3.43
/5
rDev
-9%
look: 3.5 | smell: 3.5 | taste: 3.25 | feel: 3.75 | overall: 3.5
Straw color, a slight gold tint. White head that rises quickly, and quickly dissipates. Nose - peach! and yeast. Some other fruitiness that is presumably apricot. Maybe a little grassiness as well. Taste starts mild, then malts and a little tingle follow, but it remains fairly unassuming other than the peach. The fruit flavor is there but does not dominate as it does in the nose. A few hops appear briefly. Mouthfeel, the slightest oiliness, otherwise minimal. Overall, this ale is an easy drinker with the peach flavor adding a sort of novelty attraction. Not a big flavor.
★
577 characters

3.74
/5
rDev
-0.8%
look: 3.5 | smell: 3.75 | taste: 3.75 | feel: 3.75 | overall: 3.75
Golden orange in color with a 2 1/2 finger off white head from a hard pour that quickly recedes leaving a bit of lacing. Semi-transparent.
Smell of peach and apricot, not surprisingly. sprightly floral hops balance it out.
The taste follows suit with the peach and apricot vying for attention, and an earthy, but light, bitterness. It's more tart straight out of the fridge, but the sweetness seems to grow as it warms.
Moderate in feel with light carbonation. A bit drying and lightly sticky.
Last half of my six pack. I actually like it better than the first half. The fruitiness come through more now, probably because I'm taking more time to drink it. A great summer brew.
★
685 characters
3.7
/5
rDev
-1.9%
look: 3.5 | smell: 3.5 | taste: 3.75 | feel: 4 | overall: 3.75
Poured from a growler into a 14 oz "pint" glass. Pours a translucent orangish straw color with a small white head. Smells of peach and sweet grain, a nice balance, but weaker than anticipated. Tastes of peach but a little fake, and a slight grain profile, but as expected, the peach dominates. Beer finish very clean for a light body with just the right amount of carbonation. Overall, an above average beer.
★
408 characters
3.83
/5
rDev
+1.6%
look: 4 | smell: 3.5 | taste: 4 | feel: 3.5 | overall: 4
Poured from the growler into a tasting snifter.
Appearance: Pours a clear golden with a layer of off white head. The head fades to a ring and leaves some mild lacing on the glass.
Smell: More peach than apricot. Sweet and just a bit floral. The smell is rather light.
Taste: Light and fruity. This would be a very nice beer to have on a warm day. Peaches are the star here with some light malt. A bit pils like in the finish.
Mouthfeel: The body is medium with fluffy carbonation and a finish that is a bit dry.
OVerall: This was quite easy to drink. I enjoyed the fruit even if the apricot was a bit overshadowed. I enjoyed this more than most blonde ales.
★
663 characters

3.32
/5
rDev
-11.9%
look: 3 | smell: 3.5 | taste: 3.5 | feel: 3 | overall: 3
Growler shared by ygtbsm94. Thanks Brad,
The beer is golden and crystal clear with a small white head. The aroma offers sweet peaches, floral hops. The flavor follows a suit. Light carbonation with a thin body. The flavor is sweet and best in small doses. Refreshing and reminiscent of peach juice. Overall, this was ok.
★
321 characters
4.36
/5
rDev
+15.6%
look: 3 | smell: 4.5 | taste: 4.5 | feel: 4 | overall: 4.5
Clear golden body. A bt of whitish head.
Nose contains both peach and apricot, really pleasant and not artificial at all. Slight rich character, maybe muscat grape? Reminds me of Dogfish Head Midas Touch a bit.
Excellently balanced. Dryish, not too tart, and with an awesome peach-apricot taste that again, tastes totally natural.
Light body, nice, bright and refreshing.
Really outstanding; peach apricot seemed like a flavor that would be easy to botch and I had never heard of the brewery. I couldn't have asked for better.
★
531 characters
4.23
/5
rDev
+12.2%
look: 4.5 | smell: 4 | taste: 4.5 | feel: 4 | overall: 4
From a pint glass, this ale is deep gold in color and clear with carbonation appearing moderate. Minimal head, I would guess dissipating to a thin layer from the bar to our table.
A slight sweetness, among the smell of apricot and malt. The nose is not overpowering, but serves this ale well in totality.
On first sip, the apricot is right in front. Even though the fruit and sweetness is prevalent, it is very well balanced with the presence of a two row brewers malt backbone.
Overall a great late spring/early summer offering, I would highly recommend this to any lover of Magic Hat #9 or Dogfish Head Festina Peche. There is only one problem; after a few of these it may be hard to leave without taking a growler along with you!
★
741 characters
Peachicot Blonde Ale from River Company Restaurant & Brewery
3.77
out of
5
based on
23
ratings.