Dismiss Notice
Fleurac La Triple Brune IPA
| La Brasserie de Fleurac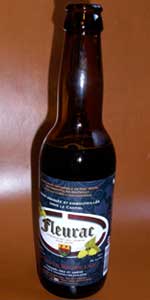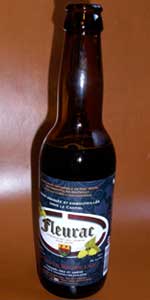 BEER INFO
Brewed by:
La Brasserie de Fleurac
France
brasserie-fleurac.com
Style:
American Black Ale
Alcohol by volume (ABV):
8.00%
Availability:
Year-round
Notes / Commercial Description:
No notes at this time.
Added by mduncan on 06-27-2010
HISTOGRAM
Ratings: 11 | Reviews: 9
Reviews by Intrinsic:
3.67
/5
rDev
-10.5%
look: 3.5 | smell: 4 | taste: 3.5 | feel: 4 | overall: 3.5
The thick caramel colour and ample light head of Fleurac La Triple Brune IPA are a sure sign that I'm about to experience a great beer. For an unfiltered beer its incredibly clear.
The smell is dominated by the hops, which unfortunately are not listed on the bottle. There are also hints of malt as well, and interesting earthy tones - but not much else. Despite this, it definitely smells like it will be quite tasty.
Hops are abundant in the flavour, with malty molasses notes that balance out very well. But it seems like a little something is missing. The earthy smell does not at all translate to the taste, and its slightly watery. Its quite good, but could use something to liven it up. I have a hard time believing this is actually 8% ABV.
La Triple Brune IPA has a very light mouthfeel and is very bubbly. Overall I would definitely drink this again, but it hasn't quite made it into my 'hall of fame'.
914 characters
More User Reviews:
4.43
/5
rDev
+8%
look: 4.5 | smell: 4 | taste: 4.5 | feel: 4 | overall: 5
This dark IPA reaches his goal. The balance beetween the sweetness of the malt and the bitterness of hops is impressive. The floral notes mix well with the very subtle caramel notes. It is not an extreme IPA but a delicate brew. Actually it would be a perfect introduction to the style or the fine brew to convert dark ales amateurs to the joys of hopped brews.
361 characters
3.8
/5
rDev
-7.3%
look: 4 | smell: 4 | taste: 3.5 | feel: 4 | overall: 4
Appearance: Pours a crystal clear amber color that verges on ice tea brown; the modest head descends to a ringlet and archipelago, while leaving a few strands of lace
Smell: Toasty aroma with a bit of a piney character but the hops are understated for the style
Taste: Malty, up front, caramel and toasted flavors; by mid-palate, the hops take their place, with the Amarillo being prominent with aspirin tones; in the finish, the hops take a back seat to the malts, with an interesting twist inserted by the spicy yeast
Mouthfeel: Medium body with moderate to high carbonation
Overall: Another interesting French beer from La cave à bulles; to me this is more like a hoppy brown ale with a Belgian yeast twist than a DIPA or even an American Black but that is what the brewer claims to be shooting for; nice flavors yet very different from what we are used to in a hoppy beer on this side of the pond
905 characters
4.43
/5
rDev
+8%
look: 4.5 | smell: 4.5 | taste: 4.5 | feel: 3.75 | overall: 4.5
33cl brown bottle purchased from Cave à Bulles in Paris.
Pours a deep dark brown, fine but solid in the body. Head is a gorgeously creamy crest of pale beige that leaves monumental lacing. Carbonation is tiny and powdery, although it streams quickly through the body. Overall, though, it's a damn good-looking beer.
Nose is very nice: very solid hop fragrance from the West Coast IPA School of Fucktons of Hops. Bright, citric, juicy with resin, touches of green pepper. This is balanced though, by a really nicely crafted brown malt backbone, that gives it a thick sweetness and a roasted roughness to set up a layer of complexity underneath. It's really very nice indeed.
Taste is also extremely good. Beautifully balanced combination of hops and roasty malt that combine to give that glorious melange of dark and bright that only the best IBAs achieve. It's nutty and wholesome, but with citric and fruit overtones that confuse your perceptions even as they reconfigure them. Bitterness is perfectly weighted—it cuts through the malt, but doesn't linger too much, which would make the beer ashy with the roasted overtones.
Feel is a little weak: it makes it seem a little lighter, which does help with the balance, but I think it could go a couple of notches higher and be even better.
Overall, though, this is superb stuff. This is just about one of the best IBAs I've had from anywhere in the world. The balance is just right, the flavours so contrasting but so complementary, and the drinkability is off-the-chart, especially given it weighs in at 8% ABV. Highly recommended—one of the must-try beers from the French craft scene.
1,645 characters

3.98
/5
rDev
-2.9%
look: 4.5 | smell: 4 | taste: 4 | feel: 3.5 | overall: 4
I got this bottle some months ago from my buddy Brandon (pixieskid) and his misses Emily. Thanks for this opportunity Brandon!
Poured in my Struise glass the beer looks very nice. Very darkbrown coloured beer and a big broken white to lightbrown head which disappears after a long long while.
Great smell, somewhat sweet and caramellic. The same with the taste. The 8 percent alcohol is well hidden in the flavour.
The mouthfeel is a bit less than the rest. There is a light bittertaste at the end of each sip. All in all though a great beer!
545 characters

3.83
/5
rDev
-6.6%
look: 4 | smell: 3.5 | taste: 4 | feel: 3.5 | overall: 4
Beer bottle (33 cl.) purchased from Bières & Chopes and tasted in 2012.
Appearance : dark color, with tan foamy head.
Smell : roasted malts aromas.
Taste and mouthfeel : full coffee presence, with dry hoppy and bitter finish.
Drinkability : a good beer in the style black IPA.
For the year 2012, the brewery Fleurac will launch a range of unique beer brewed only once, with a touch of madness. A very intesting initiative.
424 characters
4.47
/5
rDev
+9%
look: 4 | smell: 4.5 | taste: 4.5 | feel: 4.5 | overall: 4.5
Picked this beer up at la cave de bulles in Paris. Thanks for the recommendation Simon. This IPA is awesome. Perfect amount of malt and hops.
A - dark...opaque...darker than most American IPAs. Lots of yeast floating in this bottle conditioned brew.
S - very sweet. You can smell the Belgian in this French IPA.
T - lots of carbonation but expected for a Belgian style IPA. I love the taste of this beer.
M - great! Perfect mouthfeel.
D - very drinkable. Lots of hop in the aftertaste.
Next time I go to France I will for sure pick up some more La Triple Brune IPA.
572 characters
3.33
/5
rDev
-18.8%
look: 4 | smell: 3.5 | taste: 3 | feel: 3.5 | overall: 3.5
A: Dark black with a large and relatively stable light beige head that takes a few minutes to settle. Some spotty lacing. One disturbing thing I've noticed with these beers is that they're either A. infected to various degrees or B. very easily disturbed, because this one gushed a little after I opened, even though it had been sitting quietly in the fridge for a good 3 hours after I bought it. Not enough time? Maybe...
S: A wave of fruity hops hits first, but fades very quickly, followed by caramel and chocolate malt notes. A hint of licorice –maybe the house yeast?– is also apparent. That's about it though.
T: Very caramelized and surprisingly sweet, especially on the tip of the tongue, the beer does benefit from a decent bitterness in the beginning and middle of the sip, though it fades a little too quickly. Some burnt and chocolate malt character blends with a mild herbal hoppiness to give the beer some flavor complexity. Things get a little muddled in the middle though (try saying that three times fast), as the sweet and burnt/roasted malt overwhelms the hops in a juggernaut of unimpressive flavor. A very faint fruitiness from the yeast is easily crushed as well. The hops show back up in the finish for a little bit, adding flavor to a relatively sweet finish that leaves a bit of a burnt flavor once its finally subsided.
M: Very frothy carbonation and a surprisingly weak mouthfeel for such a big beer. Except for a little warmth on the finish, the 8% alcohol is well-hidden.
O: Eh, I just wasn't feeling this one. Maybe it's my imminent return to the States, but I found it hard to appreciate this as a serious Black IPA (which I believe is what the brewer was trying for). The flavor is bold but one-dimensional and the whole beer is rather unpredictable in an odd way: some sips taste very well-balanced, whereas as others are pure bitterness or cloying sweetness. If you're stuck in France for a few months, you might want to try this for the novelty, and I might consider picking it up again to see if my first impressions were true, but otherwise I don't know if I'd really recommend this one.
2,132 characters

4.17
/5
rDev
+1.7%
look: 3.5 | smell: 4 | taste: 4.5 | feel: 4 | overall: 4
Poured 12 ounce bottle into snifter. Recommended to me by Simon while I was at his shop, Cave a Bulles, in Paris.
A: Off-white, foamy 2-finger head that dissipates quickly with little lacing. Bubbles visible on the side of the glass (is the glass dirtier than it should be then?). The beer is dark brown, but when held to the light, it's a dark burgundy.
S: Slightly boozy red wine, raisins, and dark chocolate.
T: At first, I get a fair amount of dark chocolate, which is followed by some alcohol. The chocolate comes back, though, and lasts in a good way. I'm not getting the amount of hops that I was expecting from an Imperial IPA, so that's kind of disappointing. Some more hops would take this beer from delicious to really damn delicious.
M: Coats the mouth and hangs around for a while, allowing me to keep tasting the chocolate notes. Nice.
D: This beer has gotten better as I've drank down my snifter, though calling it an IPA is a bit misleading--at least to me. It tastes more like a pale ale/porter hybrid (is there such a thing and if there is, where can I get one?). So, as far as IPAs go, the drinkability isn't great, but I could definitely see myself having another one of these (so I gave it a 4 to be fair to the beer). It's too bad I'd have to fly 9 hours to Paris to get one, though.
1,311 characters
Fleurac La Triple Brune IPA from La Brasserie de Fleurac
Beer rating:
4.1
out of
5
with
11
ratings