Mellow Mushroom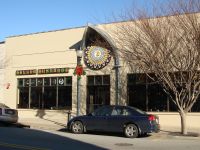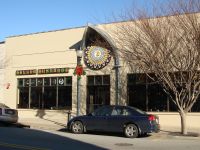 Bar, Eatery
609 S Elm St
Greensboro
,
North Carolina
, 27406-1327
United States
(336) 235-2840 |
map
mellowmushroom.com
Notes:

4.54
/5
rDev
+11%
vibe: 4 | quality: 4.5 | service: 4.5 | selection: 4.75 | food: 4.75
Mellow Mushroom has a very cool vibe.
They have a wonderful selection of beer, something to please everyone. A lot of bottles, and a great selection of taps. The staff is very friendly, and from what I have come across, very informative!!
Their pizzas are very good. I recommend the homemade pretzels. Order them when you first sit down, they take a little be to get, made fresh to order.
391 characters

4.35
/5
rDev
+6.4%
vibe: 4.5 | quality: 4 | service: 4 | selection: 5 | food: 4.5
Place - This is one place I wish that I could visit more often. Located on Elm st in downtown GSO in an older building that has been refurbed really nice. Big open restaurant with the bar on the left as you enter, the bar is long with plenty of seats at and in the bar area.
Service - The current beer dude at large - Clayton is knowledgeable, helpful and always happy to talk beer. The rest of the bar staff also seem knowelegable and helpful.
Selection - great combination of locals (Foothills, Olde Hickory, Nattys, Highland, Lonerider, Redoak, Duck Rabbit)national crafts (Ballast Point, Great Divide, Bells, New Belguim, Stone, Founders, UNITA) and rarity's on draft also a quite good bottle selection ( not far off retail $$ ). Lineup changes frequently this is what was on when I was in.
Food - Pizzas, Calzones, salads, all are good.
Overall a great place in GSO and if it keeps a good beer manager it will be the best place to grab a pint .
956 characters
4.5
/5
rDev
+10%
vibe: 4.5 | quality: 4.5 | service: 4.5 | selection: 4.5 | food: 4.5
I made my 2nd foray here on Christamas Eve after hitting up Pipe & Pint and Bestway for some take home brews. Both times that I have been here with my wife we have had a great experience, from the atmosphere, to the wait staff, to the bartender, and to the food and brews in my opinion; it's been top rate. On this particular trip I ordered a Highland St. Terese's from the bar and took it to the table wherein we ordered tortillo soup (which was outstanding) and a small phylosophers and a small house special pizza with anchovies (both were great). Our waitress was attentive and very knowledgeable about the beers on tap. Half way through the meal I ordered a Highlands Cold Mountain Winter Ale and it arrived quickly. Even though it was Christmas Eve and they closed at 4 pm, there was a decent crowd eating and enjoying the numerous brews. I like this place, nice music, nice decor, as well as the afore mentioned attributes. I highly recommend stopping in if you are in town or live in town. For the food, the brews, the staff, and the atmosphere this beats Brixx hands down IMHO.
1,086 characters
4
/5
rDev
-2.2%
vibe: 4 | quality: 4 | service: 4 | selection: 4 | food: 4
Just like most Mellow Mushrooms I've been to the one is Greensboro is no exception, it's probably going to be an enjoyable time with good pizza and better beer. The establishment in Greensboro has some pretty good beer specials ($6 craft beer pitchers, $2.50 pints) most days of the week. Service is friendly, wait staff is pretty knowledgeable and doesn't rush you if you want to stay and drink after eating. A nice selection of South East and local brews represented at this one with a few taps dedicated to barrel-aged brews. The beers rotate quickly so there's always something new to try when one goes back.
612 characters
4.55
/5
rDev
+11.2%
vibe: 4.5 | quality: 4 | service: 5 | selection: 5 | food: 4
MELLOW MUSHROOM DOES NOT HAVE THE MOST TAPS IN GREENSBORO!!!
That being said:
Great staff; they remember your name (sometimes) and what you usually order (food wise...sometimes). Awesome rotating selection. Occasional Casks. $3.50 Brewery of the month (changes monthly) pints on tuesdays and thursdays with KEEP THE GLASS night every thursday for beer club members. Cool events. Have had a Randall with some fun stuff in it.
The Pourhouse currently has the most taps in Greensboro, NC with 62. The atmosphere and food do not compare to Mellow Mushroom, though. Somewhat of a sports bar, the night to go is Wednesdays when every beer is 1/2 off. (used to be all beers $2.00, but with Golden Monkey, Red and White, Pumpking, etc. on tap, i guess they got wise to that.
772 characters
4.45
/5
rDev
+8.8%
vibe: 4 | quality: 4.5 | service: 4.5 | selection: 4.5 | food: 4.5
What's not to like here?
First, the service has always been excellent, no more so than our visit last night. We ate at the bar and chatted with a very knowledgeable gal who had plenty to offer, regarding info on the beer and food. The beer selection is excellent, the best I've found in this town, and always rotating. They've always got something new, and our barkeep told us Southern Tier's Pumking would soon be on tap, which is going to be an event for me personally (my favorite pumpkin ale, by far).
The pizza was incredible, the best I've had at any M.M. It was a shiitake pizza, and the aioli sauce drizzled over the top put it over the edge, flavor-wise. Beer-wise I had a Tommyknocker Black IPA, a Petrus Aged Ale, and a Dogfish Head Black & Red. Funny thing about the latter -- my friend spotted a fully poured glass of beer sitting there in the cooler with all the beer bottles, asked our bartender what that was all about, and she said it was an "overpour" or something, and said, "do you want it?" and gave it to us for nothing. Pretty cool.
A little surprised they even offer frosted/frozen glasses for their beer, but at least our bartender asked us which we preferred, frozen or room temp. But seriously, how can a place that takes their beer seriously offer frozen glasses? I guess that's for the folks who order Bud Light or Michelob Ultra, which they also stock. Whatever, such a minor gripe, and easily fixed/ignored with a "just say no." Excellent, excellent, excellent place to visit when you're in Greensboro. This is one large chain that's doing it all right.
1,588 characters
4.13
/5
rDev
+1%
vibe: 4 | quality: 4 | service: 4.5 | selection: 4 | food: 4
Stopped in here after the Summertime Brew Festival in Greensboro. Upon arriving in the cab you could clearly see the lettering for the estiblishment to let you know you were there. When walking in I was blown away with the space that they had inside of this place. Seating on both sides and a nice sized bar off to the left. We grabbed a table and went and sat down. The servers were very nice and attentive. Just glad they had a sense of humor as some of my guests were pretty hammered. When looking over the beer list I noticed a very nice selection as others have said with a big spotlight on local brews which is always nice to see. Did not order any food but did get to try a pizza a friend ordered. It was quite awesome to say the least. This location is a must stop for anyone in the area if you are looking for a good place to grab a bite to eat or have a beer or two.
876 characters
4.2
/5
rDev
+2.7%
vibe: 4 | quality: 4.5 | service: 4 | selection: 4 | food: 4.5
Located in a fairly unassuming neighborhood on the edge of downtown Greensboro this is my first visit to a Mellow Mushroom. I am quite pleased. Had half an avacado hoagie and half a ham & cheese hoagie. Both were melt in your mouth good. The place is big and attractive with artsy stained glass windows, a generally simple, modern look but casual in feel with faux stone around a modest sized bar and lots of dining area. Then there's a slection of 30+ beers on tap with not a loser to be found. Plenty of locals like Natty and Red Oak, Highland, Foothills and Big Boss. Very nice variety of styles including seven excellent "high gravity" brews for $5 per 12 oz. Glass. All others are $4 per pint. Many of the big micros like Stone, Dogfish, Sam Adams and Bell's but a few lesser known like Atwater of Detroit. A very nicely selected variety. No shockers perhaps, but top notch. The bartendress was attentive, and helpful while offering free tastes readily. The music is very eclectic, I generally approved. Only one TV from what I could see but at least I could see it sitting at the bar. I have no complaints here and hope to visit more MM's in the future! Seems to be the best beer hang out in Greensboro now, despite a few other decent choices.
1,249 characters
4.13
/5
rDev
+1%
vibe: 4 | quality: 4 | service: 4 | selection: 4.5 | food: 4
I always make it a point to stop into any Mellow Mushroom that I see so I knew I needed to stop for dinner and picked this spot for tonight. Natty Greens for tomorrow for sure. That being said. Great selection here which represented th wide range of what is available in NC. Great food as always and the staff is always very chill. Had a decent time sitting up at the bar by myself. Overall I have to say it was not bad at all and as always, a very solid choice whenever there is one in town. Solid choice, cannot wait to explore the rest of the area
550 characters

4.08
/5
rDev
-0.2%
vibe: 4 | quality: 4.5 | service: 3 | selection: 4.5 | food: 4.5
Excellent pizza place that doubles as a beer bar. The gourmet pizza is quite good. I also recommend their bruschetta. They have a great selection of beers on tap as well as in bottles. They always have a nice local selection as well as some hard to find options. The beer samplers are a great way to try some new stuff without ordering a whole pint. I'll always remember this location as the first place I had a bottle of Chimay Blue. They served it in a Chimay goblet and it was bliss. If you don't sit at the bar, the wait staff is probably average at best. I would definitely recommend Mellow Mushroom in Greensboro.
619 characters

4.18
/5
rDev
+2.2%
vibe: 4 | quality: 4 | service: 4.5 | selection: 4 | food: 4.5
Stopped here for a late lunch, sat at the bar. I like the look of this particular MM. Not as hippy-esque; definitely more modern-looking. The girl behind the bar was excellent. She really cared about beer, and knew alot about it. I could tell she loved quality brew by the way she talked. Ordered a Cold Mountain Winter Ale. Very good. Also had the jerked chicken hoagie. I am never disappointed with the food at this place. If it wasn't for their lackluster service at most stores (excluding this one), this would be one of my favorite chains. They had a couple dozen craft brews on tap, including Brooklyn Black Choco Stout, and Foothills Seeing Double. I'm glad I stopped in. Great place.
691 characters
4.4
/5
rDev
+7.6%
vibe: 3.5 | quality: 4.5 | service: 4.5 | selection: 4.5 | food: 4.5
I've been to two other Mellow Mushrooms (Asheville, NC and Durham, NC) and was surprised at how trendy and antiseptic this one is. What, no seven foot tall fiberglass mushroom creatures? Just lots of glass, stainless steel and muted colors. It's very nice, don't get me wrong, just more 'corporate'.
When you walk in, one of the first things you see is the bar area. There are numerous taps on the wall (I can believe there are 32, with only a few macros), and the selection was fantastic! They probably had 10-12 local beers (Natty Greene, Highlands, Foothills, and Red Oak for sure). One of the managers was sitting at the bar filling out the week's schedule, introduced himself when I mumbled "damn, what a selection", and told me to start sampling anything I wanted! So, I tried all of the IPAs they had, and ordered the first of two Foothills Seeing Double IPAs (utterly fantastic, btw). I too had the minor issue of the beers arriving in frosted mugs.
The place was crowded, but we were seated in about 30 minutes. The server was very friendly, knowledgeable about the various pizzas (they have salads, calzones, and subs too) and was very attentive to my kids. The pizzas took a while to arrive (again, it was really crowded), but they were out of this world! I had the "Mightly Meaty" with pepperoni, sausage, ham, bacon, and ground beef.
Don't hesitate to go just for the beer selection alone! How can you go wrong with so many great local beers and fantastic pizza. I will gladly go back to this place.
1,515 characters
4
/5
rDev
-2.2%
vibe: 4 | quality: 4 | service: 3.5 | selection: 4.5 | food: 4
Went to this place after reading about its opening in BA. As stated by the previous 2 reviews they have 32 or so beers on tap. Asied from their original list they had added 3 others and it seems like they are going to expand being that they had tap handles open with an assigned beer. What I liked most about the beer was that 1. they had numerous local stuff on tap. They had 3 or 4 Natty Greenes, 2 Foothills, 2 Highland and a Red Oak. The great hing about the local stuff was that they were all different styles. They were all local but there was no repetition within those selections. 2. They had great selections from all over the country/world. There was Rogue, Abita, and Chimay. Great stuff that seems to be stables of their beer selction. The food was decent but being not only a beer snob but more importantly a pizza snob the pizza lacked a little flavor but there was enough selection to keep you occupied while drinking a beer. Also there is smoking allowed in the 'bar' area even though there are no partions between the bar and eating area. It smelled a little like smoke but with the high ceilings it wasn't too bad.
One note on the service, I had previously read that other BA's had to ask for non frosted pint glasses when ordering however when I asked mu waitress for a Foothills Seeing Double IPA
her next question was whether I wanted a cold or room temp glass. So it looks like they might be learning on the fly. Seems they know about their good tap selection and fellow BA's are heading out there.
1,521 characters
3.78
/5
rDev
-7.6%
vibe: 4 | quality: 4 | service: 3 | selection: 4.5 | food: 3
Their are 32 taps, the most in greensboro. The Taps were pretty diverse. the atmosphere was good, it felt like a church to me. We sat at the Bar, and the bartenders didn't know much about the beer they were serving. the beer list is great, and I think i counted in the mid 40's including bottled beer.
The Pizza was not very good. the service was decent, but the beer was great. I had a Sierra Nevada Harvest Ale (had to ask for a room temperature glass though), a Rouge Dead Guy (again with the glass problem), a foothills Pale Ale (yup...cold glass again...)and a Stone IPA (actually got asked if I wanted a room temp glass this time!).
You should go check this place out in Downtown Greensboro. Downtown greensboro has its own vibe, and this place will help add to it.
If you like this place you should check out Natty Greenes, Vintage 301 (both in downtown) and Brixx Pizza, they make the 4 best spots in Greensboro to go for a great beer!
943 characters
4.18
/5
rDev
+2.2%
vibe: 4.5 | quality: 4 | service: 4 | selection: 4.5 | food: 4
One in the chain of mellows, beer and pizza joints. I like the setup of this one a bit more than others I have been too. Looks like a combo of modern/hippy makeup. The menu is basically the same as all the others. So, that brings us to the beer. Lots of taps, maybe 20? At present they had of note, Highland Cold Mountain and Gaelic, Stone IPA, Rogue Chocolate Stout and Dead Guy, Avery IPA, and several high gravs including Flying Dog Double Dog, DFH 90 min., Victory Storm King. Others included Abita Turbodog and Purple Haze, Magic Hat #9, Red Oak, Nattys Golden, Brown, Buckshot, Pilsner Urquell, some pear cider/perry, about half were average, a few weak ones and quite a few good options. Recommended, but as it's just opened, it's been very busy and crowded. We popped in there at 6:30pm last night, and it was a 30 min. wait and no seats at the bar. Smoking at the bar is annoying if you're eating there.
cheers...
923 characters
Mellow Mushroom in Greensboro, NC
Place rating:
4.09
out of
5
with
24
ratings