Cortland Wheat
| Spilker Ales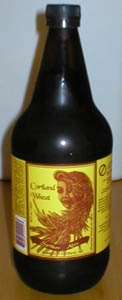 BEER INFO
Brewed by:
Spilker Ales
Nebraska
,
United States
spilkerales.com
Style:
Witbier
Alcohol by volume (ABV):
not listed
Availability:
Year-round
Notes / Commercial Description:
Offically retired as of early 2006.
Added by PhantomVodoo on 10-26-2002
This beer is retired; no longer brewed.
Ratings: 8 | Reviews: 7
Reviews by PhantomVodoo:
3.62
/5
rDev
+2%
look: 3.5 | smell: 4 | taste: 3.5 | feel: 3.5 | overall: 3.5
Off-white head that faded quickly. Light caramel colored beer.
Aroma dominated by spices and yeast. Bready malt and wheat as well.
Taste is a bit too sweet and spicey for my liking. Coriander and orange peel used in this one. Plenty of spice and yeast in the flavor. Bready malt and wheat. Mild hop presence falls short of balancing this one. Not much tartness is detectable either.
Decent to solid mouthfeel and drinkability.
Overall, a solid witbier that's heavy on the doughy, spicey flavor. Big thanks to bditty for the bottle!
542 characters
More User Reviews:
3.85
/5
rDev
+8.5%
look: 3.5 | smell: 3.5 | taste: 4 | feel: 4 | overall: 4
Pours a crystal-clear golden body with an orange cast; topped by a short-lived but creamy white head. The nose delivers a sweet wheat-based malt that's laced with orange, other mild citrus (lemon?), citrus peel, and a mild touch of spice. The body is medium; and it's smooth across the palatte with a very fine carbonation that gently caresses the tongue. The flavor mirrors the aroma with a lightly honeyish wheat-malt that's infused with orange flavor and tempered by gentle spice and a soft yeastiness. It finishes with a short lived note of sweet malt that's reminder enough to keep you reaching for your glass. Nicely done.
628 characters

3.77
/5
rDev
+6.2%
look: 3 | smell: 3.5 | taste: 4 | feel: 3.5 | overall: 4
Brilliant reddish-gold hue, translucent, small white head, fairly quick to dissolve, minimal lace. The nose is small for a Wit, the coriander, orange, wheat, and a kiss of floral construct the bouquet. The palate is similar; the flavors are more pronounced though… nicely spicy, orange backdrops, wheat… it does lack the depth of many Wits though. Medium-light mouthfeel, well carbonated... easy to drink. This is an admirable introducing to the style. This is a beer that I do quaff often; it is a pleasant drink.
It comes in a Big-ass 32 oz. bottle now.
-Freshness Date on the label.
592 characters
3.8
/5
rDev
+7%
look: 3 | smell: 3 | taste: 4 | feel: 4 | overall: 4.5
Pours a bright orange, very thin head, some carbonation noted. Some citrus and spices on the nose, but thin at best. A pleasant taste, wheat hops and light citrus, lemon dominated flavor. Mildly complex flavors come through in the form of orange peel and spices. Light bodied, clean, refreshing and tasty. What more can you ask for in a wheat? Thanks to bditty187 for this one.
377 characters


2.4
/5
rDev
-32.4%
look: 2.5 | smell: 2.5 | taste: 2.5 | feel: 2.5 | overall: 2
Cortland Wheat pours a fantastick amber with a very large amount of foam the disappears like an alien abduction!
Pallet is a flat wet wheat that is no where near a world class wheat or any other class wheat for that matter.
The color is too dark for a real wheat like Paulaner or a Franziskaner and the taste real lacks any credibility.
I may buy this brew again... and then again, I might not.
Yes, I can taste the coriander, but so what!
451 characters
3.33
/5
rDev
-6.2%
look: 3.5 | smell: 3 | taste: 3.5 | feel: 3 | overall: 3.5
Pours a clear golden amber color with a tall white head that quickly dissipates into a faint trace of lace. Nose is rather subdued with notes of fruity citrus and spice. Light in body and quite crisp. Taste is sweet malt and honey up front followed by some drier notes of fresh grains and bread along with a bit of a lemon twang towards the end. An easy drinking beer and certainly enjoyable on a hot day. Thanks to bditty187 for the sample!
441 characters

3.72
/5
rDev
+4.8%
look: 3 | smell: 3.5 | taste: 4 | feel: 3 | overall: 4
32oz bottle, with a label adorned with a portrait of a comely lass, one eye covered, a la Veronica Lake, by her golden, wheaten tresses. How does she comb that mane? Only her hairdresser knows.
I've poured this into an Aventinus glass to acheive maximum head, but the effort didn't pan out. It works for a moment, but soon the foam dims down, and the color is the typical hazy gold of a hefe weizen, lighter at the foot of the glass.
Aroma gets things off to a better standing, with a nice blast of citrus, like a lemon bonbon bouquet, with a extra touch of orange and spice.
On the tongue, bold, spicy, fruity, but very mellow thereafter. Body is light and breezy as a summer day, texture is good and grainy. Citrus flavor keeps ringing through and through. Eschew the lemon, if you please.
After some time, and this is a loooong drink!, the body feels a bit thin, but not moreso than other average American wheats I've tried. It drinks down nice and smooth, though.
Much thanks to bditty 187 for the wee sample!
1,019 characters
Cortland Wheat from Spilker Ales
3.55
out of
5
based on
8
ratings.