The Trip XIV (Fresh Hop Imperial IPA)

New Belgium Brewing Company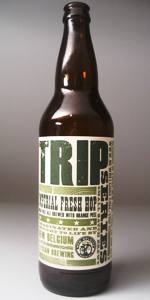 Write a Review
Beer Geek Stats:
| Print Shelf Talker
Style:

ABV:

8.5%

Score:

88

Avg:

3.76

| pDev:

17.55%

Reviews:

11

Ratings:

From:

Avail:

Retired (no longer brewed)

Wants

Gots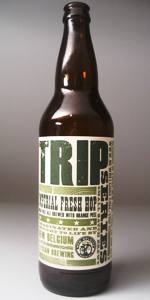 Notes:
Reviews: 11 | Ratings: 27
3.28
/5
rDev
-12.8%
look: 3.5 | smell: 3 | taste: 3.25 | feel: 3.5 | overall: 3.5
Served in tulip. Poured A nice, clean, clear, coppery amber color with 1/2 inch of white head that had OK retention and good lacing.
The aroma, while nice enough, was a fairly subdued blend of floral and pine notes, with no real malt backbone showing up. The flavors were basically the same, although the hops were a bit brighter than in the nose.
The body was pretty typical for the style, and had a nicely bright finish. Drinkability was OK, it went down easily & enjoyably enough. Overall, a pleasant enough brew, one worth trying if you see it.
550 characters
4.23
/5
rDev
+12.5%
look: 4.5 | smell: 4 | taste: 4.5 | feel: 4 | overall: 4
From 22 oz bomber to Mikasa Tulip glass
A: Copper-tan in color, cloudy-haze with with a nice, cavernous 2-inch head that leaves lacing everywhere
S: Citrus-y hops resonate nicely with the added orange peel, with fresh pine in tow. The brew has big malt character, honey-sweet and rich. Alcohol is present but not overwhelming...really clean bouquet.
T: The citrus notes and orange zest hit the palate first, nicely balanced by sweet and toasty malts. Hop essence dries the palate, revealing subtle nuances and a peppery undertone. Lemongrass, earthy tea and coriander are noted. Warming alcohol blends nicely with the hop astringency. Relatively short, balanced finished.
M: Rich and chewy, but ample carbonation keeps the palate clean between sips. Heavy-medium mouthfeel.
Bomb. Really surprised how much I liked this. I love New Belgium, but their IPA's are a notch better when they collaborate (think Super IPA, although that was really Alpine's recipe). I'd put this up there with some of the better IPA's I've had of 2012, and there were some great ones.
1,064 characters
4
/5
rDev
+6.4%
look: 4 | smell: 4 | taste: 4 | feel: 4 | overall: 4
A - Nice orangey/amber with a little bit of sediment floating around in the hazy brew. Slightly off white, one finger, head leaves some nice lacing on the glass.
S - Lots of orange peel (who would have guessed), lemon, very heavy hop aroma. Not a lot of pine or sweetness. Smells like it's going to drink heavy.
T - Wow, the orange peel hits you right across the face. Very bitter without a malt in sight. Once the bite wears off it leaves a lot of orange flavor on your tongue, almost like right after you eat a fresh orange. It's not overly exciting in flavor, but they really executed the idea well.
M - A little bit of booze in the after taste, and this thing is really oily and heavy for a IPA. Average carbonation.
O - Nice imperial IPA that offers you something a little bit different. I think they pulled this off a little bit better than the Stone 16th.
866 characters
4.2
/5
rDev
+11.7%
look: 3.5 | smell: 3.5 | taste: 4.5 | feel: 4.5 | overall: 4.5
First enjoyed this beer at the Hood River Hops Festival (draft version), back at the end of September. Wow, how time flies! Here we are at Christmas Eve and I just found a lone bottle tucked in our fridge - bought it back in mid-October. Those fresh hops won't be getting any fresher, so let's not take this into 2013...
Split a 22 oz. bottle to two pints - one for me in the kitchen, one for my wife as she wraps Christmas presents in the basement.
"Imperial Fresh Hop India Pale Ale brewed with Orange Peel ~ Imaginated and Brought to Life by New Belgium and Elysian Brewing"
Number 14 in this Small Batch series.
A: Cloudy copper - mine is a little deeper/more 'leathery' than the glass I poured first... think there's an unfiltered sediment that deepens the hue (but also enlivens the smell and taste). Short head, creamy and off white. Etching in the glass helps the small billowing carbonation strings; good lace, patchy cobwebs.
S: Still smells really nice: luscious citrus (juicy orange) and a damp green-ness. Aging for a couple months does show, but the strength and balance are still fine.
T: An unusual tangy/grassy hopping that is as good tonight as it was three months ago. Besides the loaded orange/tangerine sweetness, there's ample caramel and a shortbread doughiness beneath. What throws me off (but compels me) is the sharp peppery tang; it's a counterbalance to the upfront sugars to have such a harsh 'bitter green'/pithy rind bite. For whatever reason this really works on my palate.
M: Smooth, velvety feel... not a lot of carbonation and that's just fine with me. Hop oils coat wonderfully, leaving a sheen that is about as saliva-inducing as I can recall. Medium body, but a tickle of alcoholic heat lets you know there's strength here (8.5% in fact)
O: Enjoyed this in September, still enjoyed it in December... would I continue to do so in March, or June, or...? It's a moot point, as this is probably the last chance to taste this seasonal/one-time beer. Loved the contrast of bitterness and sweetness in the flavor and found the mouthfeel to be beautifully refined. Other aspects were fading slightly in this bottle. Overall, though, an excellent one I'm glad to have tried tonight and a few times in the fall. Cheers to NBB & Elysian!
Edit: After my review was posted, I scanned a few others and see that this is a polarized mix of low & high scores. My 'Had' score after the Hops Fest was a 4.25, so this is identical. Overall, really enjoy this beer, whether on fresh draft or a couple months later in a bottle (hops are mellowing...)
2,575 characters

2.39
/5
rDev
-36.4%
look: 4 | smell: 2.5 | taste: 2 | feel: 2.5 | overall: 2.5
22 oz. Bottle purchased @ Chuck's 85th Hop Shop in Ballard, Seattle, Washington for $6.99 + Tax. Fizzy thin lace white head. Clear bright thin amber hint gold color. Spicy aromatic odd peppery orange peel clashing hop front. Spicy dry hot mild sweet medium light textured crisp herbal light malt flavored body. Spicy mildly hot hop spice bitter end. Rather unbalanced. (2.75 / 5.0).
382 characters

4.03
/5
rDev
+7.2%
look: 4.5 | smell: 4 | taste: 4 | feel: 4 | overall: 4
Bomber served cold in a pint glass.
The Trip XIV (I had no idea there were so many) is a slightly hazy golden amber color with thick white head. It has good retention and excellent lacing.
Aroma is mildly hoppy and very unique. Lemony sweet like iced lemon cake.
Flavor is also unusual and unique with sweetness up front and a good hit of bitterness towards the end. It's balanced and drinkable for a strong DIPA which is also somewhat unusual. It has a bit of lemon vodka quality to it. Not a knock but an observation.
Mouthfeel is medium bodied and nicely carbonated.
Overall a good DIPA but probably only worth a try if you like lemons. And vodka.
657 characters

3.08
/5
rDev
-18.1%
look: 3.5 | smell: 3 | taste: 3 | feel: 3.5 | overall: 3
Poured a dark auburn colour, with a tanned head. The aroma was citrus and pine and astringency. Taste was piny, with plenty citrus, but again, just an assault of boozy astringency. The feel was creamy and medium bodied and well decent. A bit lower on the drinkability side. It was hoppy, fresh, but the astringency kinda took it down.
334 characters
2.25
/5
rDev
-40.2%
look: 4.5 | smell: 2 | taste: 2 | feel: 3 | overall: 2
22 oz bottle. Pours slightly hazy golden orange with a medium frothy white head that retains well and laces the glass.
The aroma is subdued - caramel malts and some fruit and some spicy floral hops.
The flavor is pretty subdued too. Some sweet caramel malts, a little fruit and some weird plasticky bitterness. The mouthfeel is medium bodied with low carbonation.
Overall, it has good bitterness, but everything is subdued and the flavor is kind of plasticky.
462 characters

4.5
/5
rDev
+19.7%
look: 4.5 | smell: 4.5 | taste: 4.5 | feel: 4.5 | overall: 4.5
A: 1/2" white head over cloudy amber liquid.
S: Honey, orange peel, lemon, grapefruit, flowers.
T: Orange peel, lemon, pine, grass, honey, biscuits, flowers, and pepper.
M: Somewhat dry medium resinous viscosity and a medium level of fine carbonation.
O: Extremely drinkable and complex, I quite enjoyed this one.
317 characters

4.2
/5
rDev
+11.7%
look: 4 | smell: 4 | taste: 4.5 | feel: 4 | overall: 4
Poured into a Dogfish Head pint glass. Pours a medium orange copper amber with a two finger white head with good retention and great lacing. Aroma of bready malt with citrus hops and light grapefruit and orange. Flavor and interesting hop blend with citrus and piney hops with some floral elements supported by a good sweet malt backbone. Nice orange and grapefruit fruit flavors. Finishes with aromatic hops, fruit juice and nice bittering hops. Medium bodied with some creaminess. Very nicely made and fun to drink. A quite different flavor profile that hit all the IPA notes while remaining unique.
601 characters
2.79
/5
rDev
-25.8%
look: 4 | smell: 2.5 | taste: 2.5 | feel: 3.5 | overall: 3
Nice golden color with sheet of white foam and a centrally located dome. Smells of alcohol, vines, mint, weed, grass and peppercorns. Tastes sweet, alcoholic, some bitterness, some grass and some melons. Medium bodied with low carb and semi slick. Meh, not nearly my favorite of the series.
290 characters
The Trip XIV (Fresh Hop Imperial IPA) from New Belgium Brewing Company
Beer rating:
88
out of
100
with
27
ratings