Anti-Matter Golden Ale
| Blue Hills Brewery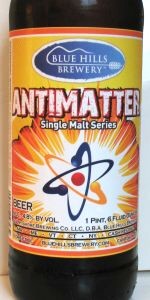 BEER INFO
Brewed by:
Blue Hills Brewery
Massachusetts
,
United States
bluehillsbrewery.com
Style:
American Blonde Ale
Alcohol by volume (ABV):
4.80%
Availability:
Limited (brewed once)
Notes / Commercial Description:
No notes at this time.
Added by morebeergood on 07-17-2011
This beer is retired; no longer brewed.
Ratings: 10 | Reviews: 4
Reviews by DrinkingDrake:
More User Reviews:
3.47
/5
rDev
+1.2%
look: 3 | smell: 3.5 | taste: 3.5 | feel: 3.5 | overall: 3.5
From BeerAdvocate magazine Issue #58 (November 2011):
LOOK: Pale golden
SMELL: Sweet, faintly biscuity, yeast, ripe pears, herbal
TASTE: Toasty, biscuity, grainy, husky, some sweetness, spicy hop, nutty yeast, touch of fruit, green tea, earthy, herbal
Experimental beers like this are great for everyone, from the novice beer drinker to the seasoned veteran. This one offers a chance to be able to taste a single malt and hop combo: Vienna malt and Calypso hops, which meld together well. We look forward to trying future releases from this series.
553 characters
3.51
/5
rDev
+2.3%
look: 3.5 | smell: 2.5 | taste: 4 | feel: 4 | overall: 3.5
Pouring from a 22oz bottle into a 12 oz Sam Adams Boston Lager glass.
Appearance - Not very much of a head, and a nice pale color somewhere between golden and straw. Looks inviting for sure, but nothing too out of the ordinary.
Smell - A slight smell to it. Certainly the pale malt is present, and if you know to look for them the calypso hops come through just a little bit. (As always, it should be noted that my nose is far from expert).
Taste - A crisp, fairly plain grain taste comes through, with a hint of breadiness to the taste and an ever so slight bitterness on the swallow, but it was difficult to pick up the hops in any other place during the experience. Simplicity is good for the single malt / hop style, and the Vienna malt is allowed to come through plenty here. The hops play too much in the background for my taste, especially compared to the previous anti-matter.
Mouthfeel - A fairly high rate of carbonation (can be difficult to 'taste through the bubbles') adds to the slightly fuller than expected but still not too full feel of the beer. Certainly not as light as the color implies, but certainly not full.
Overall - This is a really simple beer. It tastes good, but does little to set itself apart. I would consider a session with it. Not sure the calypso hops were the way to go.
1,313 characters




3.44
/5
rDev
+0.3%
look: 2 | smell: 3 | taste: 4 | feel: 3 | overall: 3.5
22oz into imperial pint glass. Single malt series, vienna malt and calypso hops.
A- Pale gold, lively carbonation but not much head. really settles out to not much of anything.
S- Aromatic here, lots of sweet malt, a bit doughy, like fresh bread. Sweet fruity hops.
T- I don't know much about calypso hops, but they are tasty. Pretty fruity and lots of flavor, moderately low amount of bitterness. Malt is light and sweet, and rounds the beer out pretty well.
M- Thin, high carbonation, not much here. Refreshing, I suppose.
O- Nothing too outstanding but I like it. I like the single hop/single malt series, and will buy the next one. Good stuff, if not exciting.
674 characters

3.47
/5
rDev
+1.2%
look: 3 | smell: 3.5 | taste: 3.5 | feel: 3.5 | overall: 3.5
Picked up a bomber of the new Antimatter beer at the brewery this weekend. This is the second release in the Antimatter series. Poured from the bottle into a regular pint glass. Very bright and clear yellow colored body. Lighter than I expected since they used Vienna malt. Quick surge of carbonation forms a head, but then that fades off quickly. Looks rather flat after a while. Smell had some nice aromas of lemon and tart apple. Flavor is surprisingly hoppy. Calypso are what is used exclusively in this brew, and I enjoyed being introduced to this relatively unknown hop. The label says this is a dry hopped golden ale, and the hops really come through. Most noticeable right on the tongue, but finishes off quite smoothly on the palate. Mouthfeel is crisp and very dry. Low alcohol would make this beer a nice session ale for a a hop head. A hoppy golden ale with a low abv is an interesting combination that works well for this beer. Another very interesting and successful beer from BHB.
995 characters
Anti-Matter Golden Ale from Blue Hills Brewery
3.43
out of
5
based on
10
ratings.