Comet Tail Pale Ale
| Blue Hills Brewery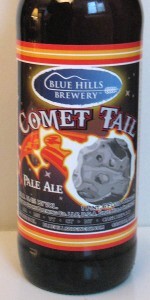 BEER INFO
Brewed by:
Blue Hills Brewery
Massachusetts
,
United States
bluehillsbrewery.com
Style:
American Pale Ale (APA)
Alcohol by volume (ABV):
5.40%
Availability:
Year-round
Notes / Commercial Description:
No notes at this time.
Added by morebeergood on 03-03-2012
This beer is retired; no longer brewed.
Reviews: 6 | Ratings: 41

4.32
/5
rDev
+14.6%
look: 4 | smell: 4.5 | taste: 4.5 | feel: 4 | overall: 4
It honestly is a real treat every time I get to drink a beer from the Blue Hills Brewery. I have taken a few tours and have hiked the Blue hills many times and is a pleasant experience whenever I get the opportunity to visit the area. As far as I know this is a new beer by the Blue Hills, so lets dig in.
A: This beer pours a hazy, golden, lager color with a solid 1-in soapy white head that is slow to dissipate, so hard to tell any lacing at this point.
S: I get some sweet malts and earthy notes up front that consists of a slight hint of passion fruit and clove with some spice at the end.
T: Taste up front is a strong, sweet herbal flavor like a basil or parsley flavor. Through the middle I get some spice, a little malt, and some citrus hops. The finish is of dry yeast and gives off a bready aftertaste.
M: Very earthy with an enigmatic variety of flavors, full bodied but not much carbonation to speak of. Very drinkable for me.
O: A very good pale ale, not too dry and very full with its flavors. I only got a 12oz bottle, but I would definitely love a bomber of this. Prices for these beers are more expensive in stores, but if you get a chance to visit the brewery, you can get a 220z for $3.00. Never had a bad beer by this brewery which is very underrated. Once again, another solid brew from the Blue Hills!
1,330 characters
3.21
/5
rDev
-14.9%
look: 2 | smell: 3.5 | taste: 3 | feel: 3.5 | overall: 3.5
I purchased this in a 22 oz. bomber at my local package store in Dorchester. I poured it into a pint glass.
Appearance is a golden brown to orange color with no head to speak of. It is rather opaque and appears to be unfiltered. This is not the nicest looking pale ale.
Fragrance is mostly of the dirty malts, with a hint of coconut fruitiness sneaking through that is actually quite pleasant.
Mouthfeel is smooth with carbonation at a minimum.
Tastes very malt forward with hints of caramel and dirt. The hops are sneaking just slightly at the finish along with the coconut again. The fruitiness of the esters along with the hops at finish is very pleasant even if I would have preferred a bit more hop flavor.
This is my first BA review and without thinking too hard about this beer I might have dismissed it as being not hoppy enough. Thinking more I enjoyed the simplicity of the malt and the slight sweetness along with the muted hop finish. It's not perfect, but I enjoyed it.
988 characters
3.24
/5
rDev
-14.1%
look: 3 | smell: 4 | taste: 3 | feel: 3 | overall: 3
A: Pours a slightly hazy golden brown with a .25 finger worth of super bubbly white head. Tons of sediment floating in this one, and even though I prefer an unfiltered beer, this is a turn off.
S: Mostly sweet malts mixed with a little bit of fruitiness. Some pineapple maybe, some coconut, and a little spice. Some passion fruit too. Not a lot of hops to smell here. Not bad for a Pale Ale, though.
T: Taste kind of like dirty malts. There is some sweetness, some fruitiness, but the dirty, sweet malts overshadow all the other flavors to me. There is some spice in here too. First taste was kind of nasty, but the palette has adjusted to some extent. Not terrible, not great. Tasting a bit soapy later on.
M: Medium body. Medium carbonation. Decent oily feel. But, even the feel is a little ho-hum. Can't really find anything to rave about here. This is average.
O: To me, this beer is poised to be pretty good, but falls shorts in some critical areas. Clean up the body a bit, and tweak the flavor, and this beer jumps considerably. As it is, it's really an average Pale Ale. Would recommend several others before this.
1,127 characters

4.05
/5
rDev
+7.4%
look: 3.5 | smell: 3.5 | taste: 4.5 | feel: 4 | overall: 4
Poured a reluctant 1/8" off-white head which faded pretty fast. The body in masstone looked like ice tea but held to the light it's a pretty hazy apricot. It smells nicely of toasted malt but not much else. The tast has the nice toasted malt and also some cocoa butter and a bit of a rye aftertaste. Fairly long bitter but pleasant finish. Frankly I quite enjoyed this.
369 characters
4.02
/5
rDev
+6.6%
look: 3.5 | smell: 4 | taste: 4 | feel: 4.5 | overall: 4
Bomber that my wonderful wife brought me home from the brewery.
Pours orange with a good clarity. Big head that dissipates slightly faster than average. Moderate lacing.
Light malts are very prevalent in the smell. Not picking up much beyond that, but I like it.
Initial taste matches the smell... aggressive light malt flavor. Caramel in the midtaste and the hops show up at the end. Not overpowering in any sense and goes down very easy.
Really like the smooth, slightly creamy mouthfeel.
I really like this beer. The assertive malt character is different from a lot of APAs. A pleasant surprise for a guy who likes malty Oktoberfests and such. Very nice addition from a favorite local brewer.
700 characters

3.88
/5
rDev
+2.9%
look: 4 | smell: 3.5 | taste: 4 | feel: 4 | overall: 4
I had a bomber tonight of the newest release from Blue Hills. Poured into an Irish style pint glass. Hazy orange body. Thick white heads forms with a heavy pour. Some lacing, but not much. Smell had a really malty character to it. Great flavor. Lots of malt up front, with notes of caramel and toffee. Then the blend of hops hits the back of your throat at the end. Super smooth mouthfeel, with a creaminess that made this beer easy to drink. Low abv aided with the drinkability too. Great beer for a session or for someone looking for a nicely hopped APA. Easily could enjoy a growler of this one night. Great new addition to the Blue Hills lineup.
649 characters
Comet Tail Pale Ale from Blue Hills Brewery
3.77
out of
5
based on
41
ratings.