Pepin The Short Porter
| Inland Empire Brewing Company
BA SCORE
78
okay
11
Reviews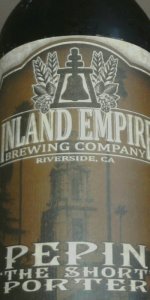 BEER INFO
Brewed by:
Inland Empire Brewing Company
California
,
United States
iebrew.com
Style:
American Porter
Alcohol by volume (ABV):
5.80%
Availability:
Rotating
Notes / Commercial Description:
No notes at this time.
Added by womencantsail on 04-16-2011
Reviews: 11 | Ratings: 24
2.61
/5
rDev
-17.1%
look: 3.5 | smell: 3.75 | taste: 2 | feel: 2 | overall: 2.5
22 ounce bottle poured into a pint glass
A: Pours a dark brown with a tan colored head, lots of light comes through, some lacing, not seeing much carbonation, no head retention.
A: Coffee, hops, roasted malts, I'm getting lots of hops for a porter, no alcohol on the nose.
T: Hint of roasted malts and coffee, some hops, moderate amount of bitterness in the middle, very dry like roasted coffee dry, this beer has a very strange taste in it, not sure how to describe it but it really ruins the beer.
M: Light, very dry finish, low carbonation.
O: This is not good, it's a mess, needs more balanced flavors and the strange taste, like day old coffee needs to be ridden of, not a good beer.
694 characters
3.61
/5
rDev
+14.6%
look: 3 | smell: 3.25 | taste: 3.75 | feel: 4 | overall: 3.75
On tap at Inland Empire Brewing Company in Riverside, CA.
Pours an opaque black with a foamy dark khaki head that settles to wisps of film on top of the beer. Small dots of lace slowly drip into the remaining beer on the drink down. Smell is of dark roasted malt, burnt cocoa, cookie dough, and a slight funky aroma. Taste is much the same with cocoa and coffee flavors on the finish. There is a medium amount of roasty bitterness on the palate with each sip. This beer has a good level of carbonation with a crisp mouthfeel. Overall, this is a pretty good beer with some solid flavors.
588 characters

3.49
/5
rDev
+10.8%
look: 4.5 | smell: 4.25 | taste: 2.75 | feel: 4 | overall: 3.5
22oz bottle courtesy of GT2. Thanks!
A: RIS worthy black color with a sludgy pour. Thick pock-marked mocha head recedes to thin lacing.
N: Dark chocolate - 60% range and ground espresso start the nose. Graham cracker, biscuit, and ground black pepper. Earth from the hops, I'm guessing. Hints of vanilla and dirt. Great start to this one.
T: Chili pepper, chocolate and coffee. Very earthen and dirty. Lactose here, and the vanilla and graham cracker. Which is great, except as this warms, an awful black olive flavor starts to dominate, knocking down the score substantially.
M: Soft on the palate and medium bodied. Alcohol is well hidden.
O: A beer better served cold, when it's a 5.8% beer drinking like a 9% RIS with all the fudge and coffee flavors. Because when this warms, it becomes acidic and overwraught.
829 characters
3.16
/5
rDev
+0.3%
look: 2 | smell: 3.5 | taste: 3.5 | feel: 2 | overall: 3
The Inland Empire brewing scene has risen in the past few years. Inland Empire Brewing is just one example of this phenom. 22 ounce bottle, on to the beer:
Glossy obsidian colored with a hint of brown at the edges. If only it could produce a head and not mere whisps of lace, this could be a pretty beer. Strong espresso-like aroma at first, which does lose some intensity. Chocolate liqueur and molasses make their way into the nose.
Tastes pretty good. Sweet molasses is the dominating force, caramel candies sit in back. Soft roasty notes. Gentle brush of hops. And it could have been better; this beer is vastly undercarbonated, which gives the beer a nearly flat, somewhat thin feeling. Nonetheless the overall package does hold enough interest.
Pepin "The Short" Porter is a mixed bag. In this one, you will need to take the bad (lack of foam and lace, undercarbonation) to be rewarded with the good (aroma and taste).
929 characters
3.21
/5
rDev
+1.9%
look: 4 | smell: 3 | taste: 3.5 | feel: 2.5 | overall: 3
A bottle left over after GABF judging and given to me as a reward for my volunteer efforts. Pours a two finger brown head over a pitch liquid with a mahogany edgings when held to light. Smells roast, dry chocolate, grassy hops, figs, and salt.
Tastes roast, cherry, mild chocolate, and blackberry (like one gets from Northern Brewer hops)...but this is all penetrated by an over-cooked coffee astringency. Ashy burnt. Not very pleasant mouthfeel. Moderate carbonation and an aftertaste of grassy hops and dry roasty grains.
524 characters

3.1
/5
rDev
-1.6%
look: 3.5 | smell: 3.5 | taste: 3 | feel: 2.5 | overall: 3
(Got in trade... crappy deal)
Pours a decent dark brown with a bit of nice head, but almost no lacing. Okay scent with some decent coffee aromas under roasted grains. Average taste; some decent roasted grains, a little coffee, but overall it was a bit thin and weak. Went down alright, but no real thickness to it; much too thin.
329 characters

1.37
/5
rDev
-56.5%
look: 3 | smell: 1 | taste: 1 | feel: 2.5 | overall: 1.5
Bottle into glass at Eureka! Redlands.
A: Dark brown, translucent. A white head that disappears in seconds. No lacing
S: Chlorine, toasted malts, and chocolate. Wait chlorine? I think they didn't treat their water and the riverside water is now going to bite then in the butt. This is not going to go well.
T: Chlorine, the cruddy riverside tap water flavor dominates the palate. Any dark malt flavor is muted. Most disgusting porter I have ever tried.
M: The chlorine is affecting the mouthfeel and making it gritty. Not that pleasant.
O: This beer is utterly horrible. I'd prefer a BMC light lager over this. Porter is one of my favorite styles and the bad water treatment did this one in. I only drank half the bottle before walking away. IEBC needs to clean it up or their beers will end up as sewer water.
815 characters

3.22
/5
rDev
+2.2%
look: 3 | smell: 3.5 | taste: 3 | feel: 3 | overall: 3.5
22oz bottle poured into glass - thanks to gcphilli for the extra
Pours a deep clouded brown color, almost black. Thinner head fades quickly, little retention or lacing on the glass.
A fair amount of roasted coffee and ground beans in the nose with some sweeter cream and chocolate. Roasted malt and a bit of sweetness.
Some coffee and nuttiness up front with slight hop bitterness. Notes of cream and milky chocolate. A bit of sweetness followed by darker roasted malts. Finishes a bit thin with some lingering hop touches.
Lighter medium body, lower carbonation, feels a bit to thin and light for the style. Not necessarily awful but not something I'd really want again.
678 characters
3.21
/5
rDev
+1.9%
look: 4 | smell: 3 | taste: 3 | feel: 3.5 | overall: 3.5
Poured from a bomber into an Inland Empire Brewing pint glass...
A - Pours brown with light brown hues, and a two finger tan head on a fairly passive pour. Head retention is solid, and there is some lacing to be had...
S - Good amount of sweet notes come through. Caramel, brown sugar, and some roastiness....
T - Starts out following the nose with sweet malts, caramel, and brown sugar. Roasted malts follow and take center stage. Finishes on a slight hop note with some lingering roastiness. Something is off about this one. The flavors don't meld very well, and are unbalanced...
M - Light and creamy. Medium bodied with a moderate amount of carbonation...
O - Had this on tap a few months ago, and while it was nothing spectacular, I remember it being a little more balanced. Probably not something I will be purchasing again...
Cheers...
848 characters

2.86
/5
rDev
-9.2%
look: 4.5 | smell: 3.5 | taste: 2 | feel: 3.5 | overall: 3
430th review on BA
Bottle to mug
22 oz.
App- Big bottom up filling two and a half finger head. Lighter brown with some dark brown to amber highlights. Spotty cling but as it warms becomes a wall of sheeted cling.
Smell- Roasted malts with more espresso on each whiff.
Taste- This has one of the most awkward tastes I've ever had. Ill call it Lobster with some soap. That's the only way I can say it. Just off putting.
Mouth- Medium bodied with medium carbonation and deep toasty malts on the after taste.
Drink- Overall the look, smell and mouth are the best things about this beer. The taste is just so off. It's very different to have 3 pretty good qualities and then a beer to taste like lobster. I won't come back to this one.
735 characters

3.55
/5
rDev
+12.7%
look: 3.5 | smell: 3.5 | taste: 3.5 | feel: 4 | overall: 3.5
On-tap at Eureka!Burger Claremont
A: The pour is dark brown, but just barely. A tan head sits on top.
S: Roasted malts and dark chocolate make up the bulk of the aroma. There's a bit of coffee and some earthy hop notes to the beer as well.
T: Similar description for the flavors. Quite roasty with some dark chocolate, both of which give the beer bitterness. Some coffee notes and the same earthy hop character from the nose. The flavor is sweeter than the nose lets on, however.
M: On the lighter end of medium in body with a moderate carbonation.
O: Not my favorite porter. The flavors just aren't quite right.
627 characters
Pepin The Short Porter from Inland Empire Brewing Company
3.15
out of
5
based on
24
ratings.