Territorial Reserve Bourbon Barrel Aged Rye Wine Ale

COOP Ale Works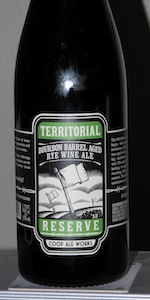 Write a Review
Beer Geek Stats:
| Print Shelf Talker
Style:

ABV:

11%

Score:

Avg:

3.99

| pDev:

9.77%

Reviews:

11

Ratings:

From:

Avail:

Rotating/Seasonal

Wants

Gots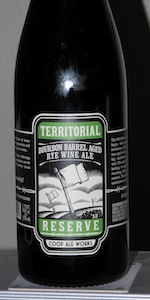 Notes: The Rye Wine Ale began with several extended days in the brewhouse. Following fermentation, the ale was aged in barrels for more than a year. This big, malt-forward beer is well worth the wait. The nose is filled with oak and caramel, leading to a superb mouth feel and intense, warming notes of toffee and toasted coconut. This beer has much to do offer the taste buds now, but will surely age quite well.

CraftFan5 from New Jersey
3.94
/5
rDev
-1.3%
look: 3 | smell: 4 | taste: 4 | feel: 4 | overall: 4
24 March 2020 - Beer #57
Corona Day #12
Price: $19.99 at Craft Beer Cellar in Washington, D.C.
Appearance: 3 - ugly like a barleywine. Murky, dark brown. Nearly no head, and there's an oil slick on the top.
Nose: 4 - smells like a barleywine, but a bit hoppy and bitter. I prefer sweet, but this is not bad at all.
Taste: 4 - very interesting. Slightly acidic and very fruity. Not like actual fruit, but like a fruity wine.
Mouth: 4 - thick and chewy, but a little flat. Round.
Overall: 4 - quite pleasant. Pulled the trigger on a whim, and I am not displeased.
Be safe!
Cheers!
Apr 01, 2020

Ozzylizard from Pennsylvania
4.37
/5
rDev
+9.5%
look: 4 | smell: 4.5 | taste: 4.5 | feel: 4 | overall: 4.25
$ 15.93 (Including tax and discount)/750 mL corked and caged bottle ($ 0.627/oz) from Spec's # 100, DeZavala, San Antonio, TX. Reviewed 1/29/19.
"2018" on the label, no other date found. On shelf at Spec's. Stored at 42 degrees and served at 50 degrees (Per bottle instructions) in a hand washed and dried Jester King snifter.
Appearance – 4.
Body – Dark brown, opaque. When held to the light, some penetration occurs around the rim.
Head – Average (maximum 2.5 cm, controlled center pour), tan, fizzy, rapidly diminishing to a two to three mm ring and a thin, spotty layer.
Lacing – Fair – narrow thick band of tiny to small bubbles.
First pour – Medium amber, clear.
Aroma – 4.5 - Strong odor of dates and figs, with some weaker hints of bourbon and oak.
Flavor – 4.5 – Begins slightly sweet and semi-syrupy with distinct dark fruit flavor. Very light bourbon tickles the rear oral cavity on the exhale. No hops, no rye, no alcohol flavor (12.4% ABV), no diacetyl, no dimethylsulfide. After a minute of two some gastric warming occurs.
Palate – 4 - Medium, creamy, soft carbonation.
Impression and interpretation – 4.25 – I feel this brew is in the wrong category; it is very much a Belgian strong dark ale and not a "Rye Beer". While the rye and hops may be present, the flavor and viscosity are very much those of a slightly sweet, fruity, complex alcohol laden, Belgian strong dark ale. "Ryeness", as expressed as either spiciness or a pumpernickel flavor is absent.
Jan 29, 2019

TBoneJones from Texas
3.73
/5
rDev
-6.5%
look: 3.75 | smell: 3.75 | taste: 3.5 | feel: 4.5 | overall: 3.75
Sticky and sweet, but not with many distinct flavors. Just okay flavor-wise. Toffee malts are filling and the mouth feels great: thick and creamy. A hint of raisin keeps it somewhat interesting, although I would like this more if a punch of vanilla or even more barrel showed through.
Sep 23, 2018
StonedTrippin from Colorado
4.05
/5
rDev
+1.5%
look: 4 | smell: 4 | taste: 4 | feel: 4 | overall: 4.25
this was fantastic beer! not enough rye wine styles in the world i dont reckon, so nice to see one like this, rich and heavy, almost scotch ale tasting with the combination of heavy spicy rye and sweet barley and barrel wood, its all happening, and its all so cohesive. i didnt even know these guys did beers like this, but this is right on. deep deep copper colored beer, frothy tan headed and rich looking. the rye is less forward than anticipated here, as there is a lot of barrel in the works, but the spice and dry earthy complexion is there, and the bourbon lends a lot of vanilla, brown sugar, and even maple notes to this beer that i think compliment what we can get of the rye really nicely. the alcohol is strong and the body is enormous, this is anything but subtle, but i somehow find myself blasting through it, appreciating to wood more and more as it warms up to temperature. mild dried cherry or raisin or fig, a toffee sweetness, dry rye, raw almost, and an on its way to mature barrel profile. cool beer, rather unique, nice to see it really is happening everywhere...
Jun 18, 2017

russpowell from Arkansas
3.5
/5
rDev
-12.3%
look: 2 | smell: 3.75 | taste: 3.75 | feel: 2.75 | overall: 3.5
Opens with a gentle pop, pours an effervescent & slightly murked up chestnut with with a sliver of fast-failling sand colored head. Zero head retention & lacing
S: Figs, raisins, ever so-faint Bourbon
T: follows the nose, along with dryness up front. A little peppery rye fights through as this warms, along with boozey warmth & dryness, some dark chocolate, vanilla & Bourbon present. Finishes dry, peppery, with a little Bourbon
MF: Medium body, negligible carbonation, dissapointiing
Doesn't quite pull together, a bit of a chore to drink
May 05, 2017
TheSevenDuffs from Canada
4.01
/5
rDev
+0.5%
look: 3.75 | smell: 4 | taste: 4 | feel: 4.25 | overall: 4
A - Poured a deep brown colour; very slightly translucent with thin layer of cream coloured head.
S - Lots of toasted oak up front that intermingles with the sweet notes of the base beer. There's caramel, toffee and raisin. Bourbon and vanilla notes are also present.
T - Toasted oak at first, that gives way to sweet caramel, toffee and raisin notes. Vanilla and bourbon are present throughout. A little bit of alcohol heat helps cut the sweetness. A great mix of the barrel tones and the base beer profile.
M - Full body. Creamy. Light carbonation.
Jan 25, 2015
jlindros from Massachusetts
4.36
/5
rDev
+9.3%
look: 4.25 | smell: 4.5 | taste: 4.25 | feel: 4.25 | overall: 4.5
Really interesting and hopefully delicious beer thanks to furealz, 2013 vintage.
Pours a nice creamy semi thick 1/2 finger off white head that fades pretty slowly, nice lacing too and good legs coming down the sides, dark mahogany reddish brown beer with faint hints of ruby light sneaking through the edges.
Nose is very nice, great bourbon right out front, sweet candy bourbon and vanilla barrel, into big sweet malts, barleywine like big sweet malts, candy malts, toffee, caramel, molasses candy, and a nice big spicy rye with that as well, and a little rye syrup like aroma, as well as mild dark raisiny fruits, vanilla creams, and lots of great aromas.
Taste is delicious as well, sweet candy out front but not too sweet, little syrupy as well, with nice caramel, molasses candy, lots of toffee and a little candy caramel creams, mild nuttiness as well, and not too syrupy either. Some spicy fruity rye flavors as well, nice rye component overall and pretty strong without being over bearing. Mild bourbon, the bourbon came through more on the aroma than flavor but still there, little sweet candy bourbon and mild barrel notes. The booze starts to come through noticeably, with some warmth and mild tingle, and but balanced nicely with the fair sweetness, and a nice big fluffy nougat center. Hint of raisin like dark fruit flavor. Finish is a little sweet still but not sticky or syrupy surprisingly, bit more booze warmth, some spicy rye flavor lingering as well as more dark fig like fruit and more toffee and caramel candy.
Mouth is med to fuller bod, mild syrupy, fair booze warmth and little tingle, decent to lighter carb.
Overall pretty good, nice barrel notes and bourbon but wish the bourbon came through more on the flavor, nice sweet flavors with the toffee, caramel, molasses candy, etc, and the rye came through quite nice without being overbearing. Pretty tasty.
Dec 29, 2013

Hopswagger from South Carolina
3.44
/5
rDev
-13.8%
look: 3.5 | smell: 3.25 | taste: 3.5 | feel: 3.5 | overall: 3.5
P: Hard poured created a slow building head that fizzed toward the end of the pour. A deep amber body with ruby highlights and a khaki head that fades quick.
S: Rich syrupy sweetness, spicy rye, black berries, caramel, bourbon, coconut, and cardboard.
T/M: Malt forward with sweet candy, lots of sweet bourbon, burnt toffee, raisins, coconut, floral notes, dark cherries. Mouthfeel is the best part of this brew. Full and creamy.
O: I'm not loving this. I typically like the territorial series because of the adventurous nature but this one misses the mark. I'm missing the big rye presence that I anticipated but its much better once warmed. I think the bourbon really masks this beer and is maybe a tad too heavy. Definitely let this warm up because its a waste when cold.
Dec 27, 2013
StaveHooks from Oklahoma
3.47
/5
rDev
-13%
look: 3.5 | smell: 3.25 | taste: 3.75 | feel: 3.25 | overall: 3.25
750 split with Hopswagger. Served in a Prairie teku glass
A - Pours a dark garnet color with a milky off-white cap. No lacing and light retention.
S - Spicy rye malts, tangy yeast, sugary prunes, raisins, multi-grain cracker, sweet molasses, caramel, caraway seeds.
T - Bourbon barrel hits strong with underlying rye bread. Sorghum molasses, sticky green piney hops add some bitterness. Burnt raisin bread, brown sugar, slightly toasted. Very sweet malt base. Finishes semi sweet with spicy rye bread and and a little alcohol punch.
M - Heavy side of medium body, silky and viscous, spicy finish.
Sweet and savory with lots of rye flavor. There's a sweet heaviness and it has a nice sharpness from the alcohol but becomes a tad astringent, almost artificial. Nice barrel flavor and it comes together pretty well but for the price, it doesn't wow me.
Dec 27, 2013
KYGunner from Kentucky
3.9
/5
rDev
-2.3%
look: 4 | smell: 4 | taste: 3.75 | feel: 4 | overall: 4
This rye wine poured with a robust amber hue that formed a dense foam that thickened to a solid core.
The scent is full of barrel tones both woody and aging. I smelled the old wood tones that actually came from the barrel itself but then the vanilla and coconut synonymous with the aging process. The coconut is certainly the most prevalent of the scents.
The flavor keeps a ton of whiskey tones with the oak barrel flavors accompaniment. The whiskey tones are dry with little sweetness, but the vanilla and coconut seem lost on the tongue.
The feel is full with little carbonation and a satisfying thickness. The 11 pct is completely lost in the fullest of feel.
Dec 17, 2013
BEERchitect from Kentucky
3.73
/5
rDev
-6.5%
look: 3.75 | smell: 3.75 | taste: 3.75 | feel: 3.5 | overall: 3.75
First there were Barleywine, then Wheatwine, and now... Ryewine? Why not! The husky, spicy grain character sheds a rustic and deeply earthen light on the toffee-laden hidden beneath. Rounded with the char and booze of used bourbon barrel- this malt-focused ale certainly doesn't lack complexity or intrigue.
With a slightly hazed deep copper appearance, bronze low-lights slice right through its amber hue. As a creamy but light-statured head rises to the top, it's cream colored and semi-stern in retention. The head diminishes to broken sheet, attributed to its barrel spices and enormous alcohols.
Rich malt aromas are highly nutty, grainy, and sweetly scented. Pecans, oak and toffee abound while a tinge of toast, bread crust and simple toasted grains offer up a "Grapenuts" scent. Dark stone fruits of figs and dates rise along with the barrel complements of toasted coconut, bourbon-soaked cherries and vinous-type spiciness.
Its taste is highly consistent with its scent- Certainly its malty-sweet upstart is of caramel, toffee and maple. A light buttery taste extends into cashew and pecan nuttiness. That further morphs into barrel-aged complements with the oak, coconut and vanilla. All the while, its spicy pang of rye husk keeps the ale balanced despite a hearty hop balance in finish. Warming as it goes, its fruitiness comes to life as apple first, but then figs, dates and finishing with cherry-like tartness to close.
Medium full from sip 'til finish, the ale is lightly sticky, malty-sweet and prickly early, late and often. Even in its warm closure, the textures are creamy-sweet and with the common grain-derived astringency from both oak and rye.
Where a beer called "Ryewine" is expected to be somewhat cloying, thus slowing down its drinkability and creating much more of a sipper than a quick quaffing session. The ale reminds me of a lot of stronger British ales like Old Ale and Barleywine but with that added element of earthen rye spice and bourbon.
Dec 17, 2013
Territorial Reserve Bourbon Barrel Aged Rye Wine Ale from COOP Ale Works
Beer rating:
88
out of
100
with
61
ratings