Territorial Reserve Wild Wheat Wine Ale
| Coop Ale Works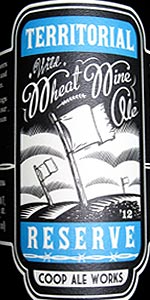 BEER INFO
Brewed by:
Coop Ale Works
Oklahoma
,
United States
coopaleworks.com
Style:
Wheatwine
Alcohol by volume (ABV):
11.00%
Availability:
Spring
Notes / Commercial Description:
No notes at this time.
Added by StaveHooks on 05-14-2012
Reviews: 12 | Ratings: 28

4.32
/5
rDev
+9.1%
look: 4 | smell: 4.5 | taste: 4.5 | feel: 4 | overall: 4
Thanks Herf!
Pours a medium orange color, somewhat sunny. Off white head with nice head. The aroma is quite Bretty, some hay and funk, mild acidy. Some sweet bready malts. The taste has an initial tart taste, with some hay and musk. There's some sweet malts indicative to a hefty wheat wine. It's good. Crisp in a way on the feel, but some substance and creaminess.
Interesting take with the wild yeast...very good!
418 characters
4.18
/5
rDev
+5.6%
look: 2.5 | smell: 4.5 | taste: 4 | feel: 4.5 | overall: 4.5
Picked this up at Sam's Wharehouse in OKC. $13.55 a bomber, a bit towards rip-off pricing
Pours a semi-hazed amber with 2 fingers of cream colored head. Some head retention & lacing
S: Wet cereal, lemon rind, tartness & sournes. Much sour cherry as this warms, just get mor intense pick some oak as this warms
T: Wet mushy, cereal then lemon rinds, some grapefruit up front. Plenty more tartness & sourness as this warms. Some sourmash notes. Finishes tart & sour with oaky notes, some pineapple hiddinf in the background
MF: Medium bodied, slight carbonation, warming & tartness shine through
A nice take on the style, bloody pricey . Better than their imp stout last winter
680 characters

3.72
/5
rDev
-6.1%
look: 3.5 | smell: 4 | taste: 3.5 | feel: 3.5 | overall: 4
Poured into a snifter. Big thanks to Urbancaver for this. 2012 vintage, bottle #0159/1492.
3.5 A: Well hazed, but not opaque dark orange color. Two fingers of frothy beige head. Retention isn't great, but the ABV is high, so whatever. No lacing.
4.0 S: This smells like a half & half of a regular wheatwine and a funky wild. By this I mean that it manages to keep its wheatwine characteristics quite well, which sometimes isn't the case when wild yeast is in the mix. Apricot, apple, and pear fruitiness. Potent neutral wheat. Mildly sugary. Grassy and hay funkiness with apple orchard and rotting wood undertones. Also a light horsey component. Decently strong herbal component which is probably from the alfalfa. Light honey rounds things out.
3.5 T: While the nose was evenly split between wheatwine and funk, the taste shifts slightly toward the funk. Grass, hay, earthy funk. Apple orchard and wet wood. Honey is more aggressive. The fruitiness is a lot more subtle, but still apricot, apple, and pear. The yeast really dried this out as there's only a soft sweetness remaining. Booze is hidden really well. Moderate herbal component with grassy hoppiness. The label suggests "tropical fruit and rich tartness," but there really isn't any of that aside from hints of pineapple. In any case, tasty, but nothing too special.
3.5 M: Lighter medium body. Carbonation is on the lower end, but not bad. Silky, almost slippery feel to it. Smooth enough.
4.0 D: A little something away from the ordinary. This also gets better as you drink it.
1,545 characters

4.29
/5
rDev
+8.3%
look: 3.5 | smell: 4.5 | taste: 4.5 | feel: 4 | overall: 4
0456/1492
Labeled on the bottle
P:  Hazy golden orange color with small head speckled carbonation. 
S:  Funky sour yeast, floral hops, earthy notes of molded wheat, rotten wood, fresh thick honey, acidic aroma, astringent alcohol. 
T/M:  Robust and warming rustic wheat flavors, heavy alcohol, surrounding a gentle backdrop of timid orange and lemon bitterness.  Once warmed tropical fruits, peppery bite, honey, alfalfa, charred wheat, and a slight medicinal flavor. Mild carbonation in a medium body and a dry chalky finish.  Herbal mentholated sensation on the back of the throat.   Carbonation becomes more timid when warmed. Has a similar taste to Gulab Jamun.
O:  Fantastic and interesting approach to the style. Huge wheat flavors earthy and fruity with a taste of sour funk. Nicely done. Coop's Territorial Series have been great so far. I'm glad to see this adventurous side to brewing. Well done! 
923 characters
3.45
/5
rDev
-12.9%
look: 4 | smell: 4 | taste: 3.5 | feel: 2.5 | overall: 3
A: Poured a thinnish, hazy light orangish yellow with a nice white cap, bubbles and moderate lacing.
S: The nose was a big ol fruit basket; apples, pears, a little citrus with a moderate woody, Earthy and funky nose to it and just a measure of wheat
T: Immediate light lacto and funk with lighter orchard style fruits, some booze and a little wheat. This beer is a wild one but in no way would I have really determined this was a wheat wine. Moreso a wild ale with wheat added. It did not taste bad but I was looking for something else. The finish is a bit boozey, thin and acidic with some funk and light fruitiness
M: Medium bodied, a tad overcarbonated
O: The bugs ran away with this beer leaving only a sample of a wheatwine. While many of the tasting notes common to a wheatwine are opresent the underlying sweet, fluffy and fullness a wheatwine should provide
874 characters
4
/5
rDev
+1%
look: 4 | smell: 4 | taste: 4 | feel: 4 | overall: 4
Thanks to ericandersnavy for sharing this bottle.
The beer pours a hazy orange color with a white head. The aroma has a lot of wheat and orange citrus notes in it, as well as a little bit of tartness. The flavor is similar. The tart and lightly sour orange citrus notes come through first, but they are backed up by a good dose of wheat. There is also a nice amount of funk and leather in the flavor. Medium mouthfeel and medium carbonation.
442 characters

3.92
/5
rDev
-1%
look: 3.5 | smell: 4 | taste: 4 | feel: 3.5 | overall: 4
A good-sized, thin and bubbly off-white head clears out quickly, leaving scattered bubbles around the edge. Brass in color with a chill haze and some reddish orange around the edges. Sour fruits (apples, white grapes) are first noticed to the nose, and I must admit, the level of funkiness is bit unexpected, but quite nice. Following are some fresh wheat notes, a bit of lemon and some Belgian yeast. Tastes sweet with an almost cloying aftertaste and bit metallic in parts. Further inspection reveals a fruity, creamy core (banana anyone?), some caramel and grain. The initial sweetness subsides and the beer balances quickly as it warms. The alcohol is distant, and this one is dangerous because it slowly draws you in with a sweet siren song. Before you know it you are deep within its clutches, a fact that is not necessarily bad news, because this beauty comes in a magnum, so there's plenty more funky goodness to be had before the fun is over.
951 characters
4.73
/5
rDev
+19.4%
look: 4.5 | smell: 4 | taste: 5 | feel: 5 | overall: 5
This is a hybrid brew, not really a wheat wine and not really a wild ale. Some have criticized the lack of a discernible category; however, I find the end result fantastic and leaving me without a care in the world as to what style it is. What should be a strong sour profile is masked by alfalfa honey, which only adds to the complexity and layering of flavor. This beer gets better as it warms. I'd compare it to some of the Russian River beers.
447 characters

3.85
/5
rDev
-2.8%
look: 3.5 | smell: 3.5 | taste: 4 | feel: 4 | overall: 4
Hand numbered 750ml bottle. Served in a wine glass.
Pours a slightly hazed gold-orange with a thin mat of white froth on top. The nose is fairly simple with a clean smack of lactic sourness and lemon rind. Complexity picks up on the palate with green apple, lemon juice, musty basement, and fresh leather. More tartness persists into the finish and slightly puckers the cheeks. Alcohol is well-hidden behind the wild character.
Wheat Wine or Wild Ale? The end result is neither. Instead, this comes off as some sort of slightly sour/funky Strong Belgian Golden ale. It's a nice, interesting beer and all, but considering the hype and price I'm not very excited.
P.S. Whoever had the idea to print "Savor the rarity!" on the label should be backhanded.
754 characters
4.07
/5
rDev
+2.8%
look: 4 | smell: 4.5 | taste: 4 | feel: 3.5 | overall: 4
Bottle 1487 of 1492
Big thanks to 4balance for sending this one my way! Poured from 750ml to brandy snifter, split with my brother.
Pours a glowing mimosa with a swelling white head. Nice sudsy lacing.
I'm not usually that into big wheat beers because they seem sort of one dimensional to me. This is not one dimensional whatsoever. Yeasty funk, white grapes, sweeter malts. I get a variety of aromas that evolve in time and warmth.
I get a lot of the same notes from the nose in the taste. The hops perk up a bit though. Nice. I think the barnyard side of this would really pop after a little bit of age. I wish I had another to experiment with. Tasty stuff.
Typically, I like my wilds to be a bit more bubbly than this but the high ABV might be too big an obstacle. Certainly doesn't detract from the beer.
Overall I'm very grateful to have had the opportunity to taste this extremely limited beer. Thanks Ken!
919 characters

4.1
/5
rDev
+3.5%
look: 4 | smell: 4 | taste: 4 | feel: 4 | overall: 4.5
Out of a 750ml and into a snifter
I reviewed this beer fresh and it was terrible. Seems with almost 2 months on the bottle, The beer has really transformed and meshed well together creating a very solid beer. So, this is a re-review of how it tastes now.
A- Pours a hazy and burned amber color. Small head. Minimal lacing. Looks pretty good!
S- Floral aromas. Hint of some fruit, oak, hops, and citrus. Brown sugar. A slight booziness. Tart and funky aromas like wet earth and hay.
T- Starts tart and slightly funky and a tad bit lactic. Then transitions into a bit of sweetness and booziness. Warm alcohol. Brown sugar, caramel, hints of vanilla. Honey. Spicy comes out of nowhere. Then the finish is tart and funky again and lactic again. A balanced rollercoaster, if you will.
M- Very smooth. A little lactic. Decent carbonation.
O- Seems more a wild ale then anything. The beer is an actual honest mistake that proved to be fantastic.
944 characters
4.24
/5
rDev
+7.1%
look: 3.5 | smell: 4.5 | taste: 4 | feel: 4.5 | overall: 4.5
750ml served into a 22oz snifter. Bottle # 0450 of 1492.
A - Pours a glowing and hazed burnt orange. A light creamed head sinks into a solid collar.
S - A mix of damp oak barrels and fruit esters. Strawberries, red delicious apples, candied pears, stone fruit(mainly peach), melon, limes, spice, sugary malt. A big aroma of floral perfume and spicy alcohol.
T - Lactic acid and wheat rush over the palate. The malt is full and sweeter than the nose. The honey and wood are very present but is layered well. Some leafy herbal and floral hop shows up on the sides of the tongue. Lemony lactic acidic adds some sourness. Strawberries, red delicious apples, and peaches seem to be the dominate fruits. It has a honey kissed orange toward the finish.
M - Moderate carbonation but super smooth. Light side of full body, velvety texture. Tart upfront, sweet in the middle, and spicy on the finish.
Well this "hybrid" take on the style seems to work very well. The wild yeast and wood add a deep level of layering. Very complex aroma and super mouthfeel are the strongest components. Alcohol is there, per style, but adds a sharpness that really works with the floral aspects. Not sure about the ABV but I'm guessing it's around 10.5%. I bought a couple of extra bottles on a gamble and I'm glad I did.
1,299 characters
Territorial Reserve Wild Wheat Wine Ale from Coop Ale Works
3.96
out of
5
based on
28
ratings.