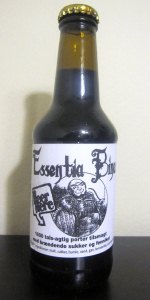 Write a Review
Beer Geek Stats:
| Print Shelf Talker
Style:

ABV:

16%

Score:

85

Avg:

3.38

| pDev:

26.63%

Reviews:

8

Ratings:

From:

Avail:

Retired (no longer brewed)

Wants

Gots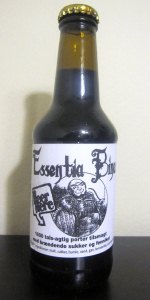 Notes: A 17th century style porter, brewed with burnt sugar (essentia bina) and fennel seeds.

2.35
/5
rDev
-30.5%
look: 3 | smell: 3 | taste: 2 | feel: 2.5 | overall: 2
Thanks to bosse for this gem. It's been staring at me ominously for a while now and I figured Chris (largadeer) was the perfect person to share it with. Served in a Darkness snifter.
A - Unsurprisingly this has very low carbonation. A thin ring of bubbles tops a solid near-black body.
S - Tobacco, smoke, sweet roasted malts, fennel, some soy sauce, and surprisingly well-hidden alcohol.
T - Yikes. The smell was passable, but the taste is pretty awful. Significant char and ash mingles with fusel alcohol. Aftertaste is that bitter walnut flavor I occasionally get from high-ABV beers. There's a bit of chocolate sweetness, but not nearly enough to mask the intensely bitter combination of burnt malts, burnt fennel, and burnt alcohol. Somehow is simultaneously cloying and astringent.
M - Full-bodied, sticky, tannic, with obvious alcohol heat. Minimal carbonation.
D - Just not a good beer.
899 characters

2.06
/5
rDev
-39.1%
look: 3 | smell: 2 | taste: 2 | feel: 2 | overall: 2
Another rare tick generously provided by Alex. Much appreciated.
Dark brown bordering on black with absolutely no carbonation. Oily.
Smells like burnt fennel, burnt malt, burnt charcoal, burnt sugar, burnt fruit and alcohol.
Tastes burnt. Also extremely sweet, flat and syrupy. Licorice, soy sauce, molasses. Full bodied, cloying to the extreme. An abomination.
364 characters

2.75
/5
rDev
-18.6%
look: 2.5 | smell: 2.5 | taste: 3 | feel: 3 | overall: 2.5
Poured from a 250ml bottle into my brand new Lost Abbey tulip. Thanks to tlay10 for sharing this rarity.
If our Danish translation software is correct, this brew's modeled after 17th century porters, which were apparently made using fennel seeds and a type of burnt sugar called essentia bina — essentially moist sugar boiled until it becomes syrupy, bitter and pitch black.
The black sugar seems to have done its work — the beer pours out an inky dark chocolate brown. No head, though there are some big, watery cocoa-colored bubbles that remain on the sides. Syrupy legs hang on the glass as I swirl.
The nose exhibits a moderate lactic tang, licorice, molasses, dark chocolate and cocoa. The tang had us worried, as we thought maybe the beer had gone bad.
Before we opened it, the bottle was topped with a cap that looked as if it had endured centuries of rusting and mistreatment. This beer tastes like that rusted cap looks. There's a big metallic flavor doing battle with notes of anise, molasses, burnt toast and syrupy sugar. It's very sweet, but that's not quite enough to redeem it.
Flat and oily mouthfeel. The carbonation that should be contained in the medium-light body is replaced with tongue-numbing alcohol that blazes through the nostrils and gives me heartburn. The darkly sweet and roasty flavors linger on the tongue like an oil spill.
If this is how porters tasted in the 1800s, I'm glad I was born a few centuries later. It's a different, interesting peek into the past, but I found myself very relieved it was packaged in such a small bottle. My ancestors may have dug this, but I don't.
1,637 characters
3.62
/5
rDev
+7.1%
look: 3.5 | smell: 4 | taste: 3.5 | feel: 3.5 | overall: 3.5
Appearance: A heavy-looking, black liquid slowly leaks out of the bottle and here it sits, without head, without lace.
Smell: Essentia Bina carries with it a ponderous aroma to go with such a hearty appearance. Heavily roasty with notes of coffee and dark chocolate and scent of smokey condensed molasses given a few good shakes of non-brewed soy sauce and dash of spice.
Taste: A taste of well-roasted malts fused with a bitter, nearing acrid taste of burnt sugar and a light background spiciness from the addition of fennel seeds. Hint of charred wood. A hotness and coffee flavor akin to cheap, off-brand Kahlúa. Some dark, dark chocolate. More of the basic soy carrying over from the nose and lasting into the roasty, earthy finish.
Mouthfeel: Medium-full body. Sans carbonation, so it remains a bit weighty on the tongue.
Drinkability: At times reminiscent of WWS, but the noted soy sauce character also reminds me of dear ole Triple Bock. It's an interesting brew, albeit somewhat tiresome to the tongue -- what a great relief it's housed in a scant 250mL bottle.
1,074 characters

4.75
/5
rDev
+40.5%
look: 5 | smell: 5 | taste: 4.5 | feel: 4.5 | overall: 5
Had the opportunity to try this beer at a tasting last night @ the Coffee District Meetups last night in Delray Beach, Fl.
It was served from a bottle into a snifter (delirium), while I only had about an ounce-2ounce pour of this, it was simply magical.
There was no carbonation to this beer at all. It looked like motor Oil. The nose of the beer consisted of dark rich choclate, subtle alcohol and a hint of coffee and smoke.
The taste was smooth, light smoke, sweet notes of chocolate, and some roasted malty-ness. very heavy yet smooth on the palette. I thought it was about 12% abv, but surprised to find out it is 16%. We were unsure of the age of this bottle but by the condition of the cap (rusted) definatly showed it had a very years to mellow out. Fantastic beer!
776 characters
4.17
/5
rDev
+23.4%
look: 3.5 | smell: 4 | taste: 4.5 | feel: 4 | overall: 4
Bottle from Ken Mitchell, and his store and cellar in the U.K. Pours jet black with some reddish hue, virtually no head no lace. Aroma of a rich chocolate and spices, maybe coffee. An imperial porter more than a baltic porter. A tad above average mouthfeel. Declicious to the last drop,a very rich porter with chocolate, good coffee, and taste a bit aged. no sign of 16%.
371 characters
3.9
/5
rDev
+15.4%
look: 3.5 | smell: 3.5 | taste: 4 | feel: 4.5 | overall: 4
A gift from Ricke from my first international trade. Cool presentation...cheap paper label, rusty crown (intentionally I'm told) and a little bottle, maybe 7-8 ounces. Cool! Poured into my Delirium Noel goblet.
Dull carbonation invokes almost no foam. Deep and dark appearance. Some sediment at the bottom.
Fumy and intoxicating aroma, letting you know without a doubt that this is a serious beer. Fusel alcohols, rich malts, yeast stress (big esters and some autolysis), it's all a bit rough around the edges.
Flavor is sweet, lots of roasted malt and barley too. Comes together much better than the aroma. Deep rich chocolate, tobacco, strong coffee. Bitter fallout like 91% dark chocolate.
Rich, chewy, oily, slick, tongue-coating mouthfeel. Luxurious and perfect for the beer.
Reminds me of world wide stout, but with more dark chocolate bitterness. Never heard of the brewery or the beer but very glad I got to try it. Thanks and cheers!
949 characters
4.32
/5
rDev
+27.8%
look: 3.5 | smell: 4 | taste: 4.5 | feel: 4.5 | overall: 4.5
A: Pitch black, thick and viscous. Hardly any head - just a thin layer of cappuccino-colored bubbles that settles quickly. Small lacings at first, but after a while they all disappear.
S: A very rich smell with a thick layer of roasted malts up front. Burnt wood, lightly smoky aromas, soy sauce and licorice struggle successfully to make their way through the dense malts. Hints of mint. The alcohol is hidden, but a restrained sting in the nose reveals the potency of this one.
T: Initially, a massive taste of sweet roasted malts fills the mouth. Plenty of burnt wood, charcoal, cold coffee and tannins. The taste is rather sweet but the roasted and burnt flavors balance the sweetness. It never gets cloying. It has a very round and rather heavy character with a cherry-like fruitiness adding yet another layer of complexity. In the finish, the alcohol becomes present, but in a very integrated way - it just gets warming, never boozy. The taste ends with prominent salty flavors, sweet licorice and notes of soy sauce, wood and a rather distinct spiciness. Every now and then a bitterness becomes present, but I don't know if it's a result from the hops, the alcohol or the fennel they used in the brewing.
M: A very full and fat body, super Basically no carbonation whatsoever. Very smooth. Slightly dry in the finish. Fantastic mouthfeel. Despite the sweetness and the lack of carbonation, it never gets too sticky.
D: I really liked this one. It's not very sophisticated or elegant. Actually, it's quite rough and obnoxious, and if you where a beer, I don't think you'd want your daughter to come home with the arms of this one around here waste. But it's rather vulgar character kind of works. It's very well made, complex and the different parts are well integrated. Perhaps, one would think that a porter with 16% ABV would be too much, but in this case it's not. (But of course, the small 250 ml bottle is quite handy.) Highly recommended.
1,968 characters
Essentia Bina from Beer Here
Beer rating:
85
out of
100
with
11
ratings