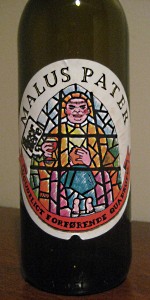 Beer Geek Stats
From:

Style:

ABV:

10%

Score:

Avg:

3.95

| pDev:

5.06%

Reviews:

7

Ratings:

Status:

Active

Rated:

Mar 23, 2016

Added:

Jun 23, 2010

Wants:

Gots:
Brewed at Hill Farmstead Brewery, Vermont, US.
Recent ratings and reviews.

Reviewed by laituegonflable from Australia
3.94
/5
rDev
-0.3%
look: 3.5 | smell: 4.5 | taste: 3.75 | feel: 3.5 | overall: 4
Pours a dirty bronzed brown colour, bit of sediment that got caught. Minimal head, just some tan bubbles around the edge. Looks heavy, boozey, and warming. Not bad.

Smells sweet, complex and more than a little boozey. Loads of sultana, currant and prunes with a brandy-snap sweetness, some cardamom and black pepper and some burgundy richness. Classic Belgian notes; rich and generously layered.

Taste is a little bit thinner than expected. Lots of that rich, fortified fruity sweetness - sultanas, prunes and a touch of candied orange peel develops some light spice midway. Pepperberries, cardamom and cinnamon with a slight tartness giving mild vinous notes. Trails off disappointingly, when it should finish with a bang and a slug to the chest. Nice flavour, just not quite enough oomph for the style.

Fairly standard body, not quite as thick or hot as it might have been. Texture's there, just not as bold as I think it should have been.

Nice quad - so hard to get right and very close to how it should be. Kudos!
Aug 01, 2014
Reviewed by biboergosum from Canada (AB)
3.99
/5
rDev
+1%
look: 3.75 | smell: 4 | taste: 4 | feel: 4 | overall: 4
500ml bottle. OK, Beer Here has some subversive, sexy, and mildly disturbing labels under their belt (no pun intended here), but this one seems a mite bit beyond the pale, no? The titular 'Bad Father' is creepily rendered, smirking through stain-glassed windows, crudely um, 'comforting' an altar boy. And the translation of the label text only seems to verify and justify all of this. Christ on a crutch, man!

This beer pours a hazy, rather dark reddish brown hue, with three fingers (erp!) of puffy, bubbly, and duly foamy beige head, which leaves a bit of low-lying wavecrest lace around the glass as it slowly recedes.

It smells of musty dark fruit - raisins, prunes, and dates - burnt brown sugar, caramel/toffee malt, indistinct Christmas cake spice, re-hydrated banana chips, faint cocoa, bready pudding, earthy, slightly weedy hops, and a sidling alcohol astringency. The taste is more of the same, lightly soused black fruit - the same suspects from the nose - mushed overripe bananas, biscuity toffee and warm caramel malt, demarara sugar, muddled holiday spices, earthy, musty hops, and a well-restrained booziness.

The bubbles are fairly understated, and barely perceptible after a while (no, not for _that_ reason!), the body a decently solid medium weight, and generally quite smooth. It finishes off-dry, actually, the multifaceted sweetness encountering enough spice, hop, and booze dryness to really make a go of this.

A pleasantly enjoyable 'quad', a seemingly slavish ode to the efforts of the Trappist monks of Belgium and elsewhere, while at the same time mocking and deriding them. Not that I'm wholly against such behaviour, but the whole attempt at a sassy marketing angle here renders me cold, as a real father, and as a human being. I can't believe that I'm protesting this, full stop, so Imma just gonna go lie down instead.
Nov 24, 2013

Reviewed by mungus from Australia
4.22
/5
rDev
+6.8%
look: 4 | smell: 4.5 | taste: 4 | feel: 4 | overall: 4.5
500ml bottle that I bought from IBS in April 2011, and has been 'cellared' in the kitchen cupboard ever since.

A - Despite some disconcerting rust on the cap the bottle opens with a promising hiss. Pours a deep mahogany-black. Inch of off-white head hangs around for a bit then settles down to become fairly thin and patchy. No lacing to speak of.

S - Smells strongly of dark fruits and sugars, more so than when I had it fresh I think.

T - Taste follows the nose fairly closely, with much more caramel and dryness than I recall. Some alcohol warmth as it approaches room temperature but mostly the ABV is very well hidden. Finish has definitely dried right out.

M - Medium-low carbonation seems to suit the style, dangerously drinkable. Still surprised by the dryness.

All in all I'm just happy that my humid, mostly warm (28-30 degrees) cellar has not ruined this beer after a year. The beer itself has held up extrememely well, I honestly think it rates up there with with Rochefort and Chimay.
May 28, 2012
Reviewed by eric5bellies from Australia
4.02
/5
rDev
+1.8%
look: 3.5 | smell: 4 | taste: 4 | feel: 4.5 | overall: 4
Drank from my Duvel Tulip

A - Pours a deep Mahogany colour with a tanned head that reduces to a thin film.

S - Nice aromas of chocolate and fig and oak.

T - Up front some nice toffee flavours, followed by some dark chocolate. Nice fig flavours follw with some dark fruits. The finish is brown sugar and spice.

M - Medium body and carbonation, that make for a smooth drop.

O - Really enjoyed this beer and its closer to the rustic Belgian Quad than anything I have had from the U.S. Having said that, its still a long way behind a Rochefort 10 or St Bernies 12.
Mar 17, 2012
Reviewed by dgilks from Australia
3.88
/5
rDev
-1.8%
look: 4 | smell: 3.5 | taste: 4 | feel: 4 | overall: 4
Extremely dark brown colour with a big, dense, tight, tan head. Fair head retention. Good.

Rich burnt sugar aroma with a touch of prune and earth. Mild spicing but this is more about the dark sugar. Interesting.

Rich and complex sugar. Lots of toffee and burnt notes. The fruit is subdued but dark and the spice just sits in the background. Well rounded and not overly sweet.

Medium-full body with moderate carbonation. Good.

I quite like this. The complex sugar character is well developed. I really search for a little more fruit but it's still good.
Feb 19, 2012
Reviewed by ADZA from Australia
3.63
/5
rDev
-8.1%
look: 4 | smell: 3.5 | taste: 3.5 | feel: 3.5 | overall: 4
First of all i cant get over this label its so wrong lol lets hope the beer is better and it pours a dark non see through cola hue with nice carbonation that leaves behind a two finger head that slowly recedes to a one finger layer of smog and a rim of lacing,the smell is similar to a dark fruity shiraz with hints of blackberries,shiraz grapes,subtle blueberries,spices and plum jam,it has a medium bodied averagely carbonated mouthfeel that starts sweet and finishes dry full of flavours of dark cherries,plum jam,blackberries,earthy hops and rounded out with caramelized fig bittersweetness and ive gotta say this is not your everyday brew but would be perfect for dessert such as sticky date pudding or toffee sponge cake and its high ABV is very well hidden cheers.
Jul 26, 2011
Reviewed by CrazyDavros from Australia
3.72
/5
rDev
-5.8%
look: 3.5 | smell: 4 | taste: 3.5 | feel: 3.5 | overall: 4
Pours dark brown with a small head.
Nose shows caramelised banana, chocolate, soft alcohol, rose-like perfume and raisins. Pretty full on.
Lots of alcohol shows upon tasting, along with heads of sweet brown sugar and golden syrup. Long lasting finish with plenty of candi sugar. Not amazingly complex for the style.
Moderately low carbonation could be higher.
Apr 07, 2011
Malus Pater from Beer Here
Beer rating:
3.95
out of
5
with
8
ratings