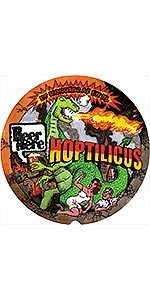 Rate It
Beer Geek Stats
| Print Shelf Talker
Style:

ABV:

9%

Score:

Avg:

3.59

| pDev:

12.53%

Reviews:

10

Ratings:

From:

Avail:

Rotating/Seasonal

Wants

Gots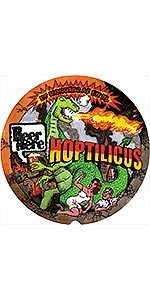 Notes: "Brewed with obscene amounts of pale ales malt, plenty of caramel malt, a bit black malt for color's sake, and the finest Lolland sugar. Malt profile is balanced by fruity citral Centennial hops and a little sharp Chinook hops.
Beermanmiles from New York
4.18
/5
rDev
+16.4%
look: 4.25 | smell: 3.75 | taste: 4.5 | feel: 3.75 | overall: 4.25
This is an above average strong ale. This beer does a very good job of emulating the taste of most strong ales by having a strong alcohol bite and fizzy mouth feel. Where Hoptilicus goes above and beyond is in the exotic blend of crystal malt and hops. These ingredients give a sweet/bitter after effect to the beer that is atypical of most strong ales. While it is an exotic taste, it is extra expensive. 15 dollars is a bit much. If it were ten I would buy it again.
Jul 30, 2015
biboergosum from Canada (AB)
3.95
/5
rDev
+10%
look: 3.5 | smell: 4 | taste: 4 | feel: 4.25 | overall: 3.75
500ml bottle. Decently rendered lizard-king dominating the puny humans imagery on the label. And at least 'PS: GRRRR!' readily translates.
This beer pours a murky, dark burnt orange amber hue, with a fistful's worth of puffy, frothy, and bubbly ecru head, which leaves some layered dissipating cloud lace around the glass as it gently recedes.
It smells of pungent grapefruit rind, orange cream, and pine resin hop esters, toffee-heavy caramelized malt, brown sugar and molasses, a faint earthy spiciness, subtle green yeast notes, and a simmering sweet metallic booziness. The taste is juicy orange and grapefruit flesh, wet pine forest floor, toasted bready caramel malt, hints of saltwater taffy, a soft meaty umami effect, a late on-coming tropical fruitiness, and a bit of herbal, perfumed hops, the alcohol worming its way in there.
The bubbles are soft, but adequate and up for the task, the body a sturdy medium weight, generally smooth, and even a tad creamy here and there. It finishes on the sweet side, the tropical and domestic fruit really running the show, the bitterness kind of a middling memory by the end.
I'm now grokking why this isn't classified as the DIPA I might have imagined - the big hops are there, fo sho, but this is actuality a malt orgy, a la Arrogant Bastard, where said hops are really just present to keep us all from scraping our tongues from what would otherwise be a cloying mess.
Nov 17, 2013
ADZA from Australia
3.57
/5
rDev
-0.6%
look: 3.5 | smell: 4 | taste: 3.5 | feel: 3 | overall: 3.5
Pours a dark murky brown hue with a khaki creamy two finger head and lacing all around,the smell is very strong as soon as i unpop the growler its caramel malts,toffee,piney hops and grapefruit its a strong combination of hops and malts,the mouthfeel is suprisingly lighter than i expected especially with the malt profile but yeah its just under medium bodied and tastes are butterscotch,a touch of booze,toffee/caramel malts,pecans,candy and finished bittersweet with candied citrus and overall on smell i thought it was going to be alot better and the mouthfeel really lets it down to and not something id revisit in a hurry cheers.
Aug 17, 2012

danieelol from Australia
2.84
/5
rDev
-20.9%
look: 4 | smell: 2.5 | taste: 2.5 | feel: 4 | overall: 3
Pours dark brown with good head/lacing.
Smell is rye/caraway. Faint hops and a bit of malt. Just bland really. Bit o' booze.
Taste is rye, hops and alcohol. Again, not much going on here.
Mouthfeel is astringent and boozy but ultimately pleasing.
Ultimately I have no idea what this beer is supposed to be, a DIPA it is not (as I assumed from the name). Disappointing. Fine to drink but don't get the point really.
Jun 17, 2012
CrazyDavros from Australia
3.74
/5
rDev
+4.2%
look: 3 | smell: 4 | taste: 3.5 | feel: 4 | overall: 4
Pours brown with a small head.
Aroma revolves around sweet rich malt. Brown sugar, caramel, nutty notes, bready malt are all quite noticeable along with some soft spicy hops.
Flavours include more bready, toasty and nutty malt along with soft caramel. Spicy hops enter afterwards, followed by a bold, sharp bitterness.
Well-suited moderate carbonation.
Jun 11, 2012
BradAndAdele
3.06
/5
rDev
-14.8%
look: 4 | smell: 3 | taste: 3 | feel: 3 | overall: 3
Very unusual.
A beautifully dark brown colour, foggy and thick. And a quite frothy head.
For something named Hoptilicus, it's the malt that jumps out, and the dry, yeasty smell. Overall it smells musty, of burnt toffee or toast, and citrus hops. The smell is decent for the style, but not to our personal tastes.
The taste is rather bitter, with marmalade and tones of peach and apricot that have been left in the oven a little too long. The malt comes through a bit too much -- a little cloying -- with the hops taking over for the aftertaste.
Overall this is an interesting beer, but not one we'd be inclined to try again. At A$14 it's not cheap either. Another odd conconction from Denmark, but the taste and the smell just don't seem quite right to us.
Sampled in Melbourne.
May 14, 2012

beerdrifter from Germany
4.35
/5
rDev
+21.2%
look: 4 | smell: 4 | taste: 4.5 | feel: 4.5 | overall: 4.5
Picked this up at the beer store at the De Molen Brewery. Slightly hazy copper-brown pour with a red tinge as well. Two finger head with decent retention and nice lacing. Very malty, earthy nose with resiny, syrupy, hops complementing and just a touch of dark fruits. The taste is big and bold and bitter. Super caramel malt base that's fighting for control over the sticky, resiny, tangy hop bite. The caramel, candy, malty sweetness is solid, but not overpowering. Perfectly balanced for a strong ale and gets better as it warms. The mouthfeel is thick, chewy, and syrupy with a great bitter, tangy finish that is super smooth at the same time. The alcohol is very well disguised and this is a hugely drinkable big beer. This is my third beer from Beer Here and they haven't disappointed me yet. Denmark is quickly becoming a huge player in the craft beer market.
Oct 14, 2011
tobeerornottobe from Australia
3.13
/5
rDev
-12.8%
look: 3.5 | smell: 3 | taste: 3 | feel: 3 | overall: 3.5
A: Deep red-bronze colour. Good head - lots of half centimete bubbles. Head has off-white colour.
N: Malt initially more prominent and then the hops kick in. Quite mild though.
T: Pleasant, flavours develop towards back palate instead of on front palate. Hops distinctive but not overpowering.
M: Smooth but not overly thick, which makes this a fairly easy-going beer given its ABV.
Fairly drinkable overall, would be interested to see if this tastes any different if served fresh on tap.
Oct 09, 2010

laituegonflable from Australia
3.78
/5
rDev
+5.3%
look: 4 | smell: 3.5 | taste: 4 | feel: 4 | overall: 3.5
Pours a dark amber colour, slightly hazy with decent head; sinks to a firm wobbly crown but leaves specks of nice clingy lace around. Light bead; overall looks pretty heavy, but nice.
Smell is quite malty with a nice scotchy edge. Slight watery underlying character with some mild golden syrup and touch of fruity hops, slight apple and pear on there with some floral notes as well. But yeah, malty overall with a touch of spice; decent but no wow factor.
Taste is also quite golden, with that syrup character coming through pretty clearly. Lots of rich scotch boozines and a very pleasant light and airy hop character, quite fruity with hints of lemon zest, followed by a good earthy bitterness, slight nutty edge and bread on the mid. Nice, sweet and grainy palate followed by nice balancing hops; not too strong but a pleasant long bitterness. Don't absolutely love this, but it's pleasing.
Slight heat on the back of the mouth and mostly a nice full, thick palate and nice foamy texture. Good.
Yeah a bit hot and the long bitterness is noticeable, but overall this is a pleasant brew indeed.
Oct 06, 2010
lacqueredmouse from Australia
3.71
/5
rDev
+3.3%
look: 4.5 | smell: 3.5 | taste: 3.5 | feel: 4 | overall: 4
First review? How bout that. It had to travel all across the world before it got to me and all.
Pours a lovely reddish brown colour, quite vibrant and striking, with a full and frothy head of fine beige foam. Lacing is good, leaving some worm-like tunneling patterns down the inside of the glass. Lovely. Really looks pretty exceptional.
Nose has a pleasant amount of sweet malt, with a light musty grain note and a hint of phenolic alcohol. For a beer with hop in the name, I'm not getting a huge amount of freshness or fruit on the nose, but that's not to say it's unpleasant.
Palate is smooth and thick in the feel, but the taste is a little bit empty through most of its length. If anything, it tastes pretty light on the front, only welling up with some hop bitterness and spice on the finish. For what it's worth, the spicy finish, which gives off hints of pepper and cinnamon, is extremely long, and the final bitterness lingers.
It's a pretty nice beer, but while it hits some elements spot on, it also misses quite significantly just as often. It ends up a bit haphazard, but it's still a tasty brew.
Sep 25, 2010
Hoptilicus from Beer Here
Beer rating:
86
out of
100
with
19
ratings