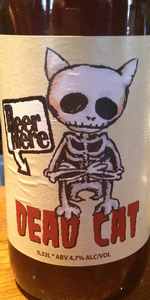 Rate It
Beer Geek Stats
| Print Shelf Talker
Style:

ABV:

4.7%

Score:

Avg:

3.82

| pDev:

7.59%

Reviews:

9

Ratings:

From:

Avail:

Rotating/Seasonal

Wants

Gots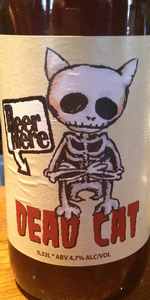 Notes:

REVZEB from Illinois
3.89
/5
rDev
+1.8%
look: 4 | smell: 4.25 | taste: 3.75 | feel: 3.75 | overall: 3.75
Smell was the clear star here, with classic amber ale biscuit base supporting the crazy array of tropical fruits, some grains and dank grass. Taste was more muddled, with the caramel malts and grains taking more of a lead, cutting into the flavors from the smell. Weird hopped and grainy feel but not bad. Solid change up in a style without much diversity
Oct 02, 2018

Marius from Netherlands
3.9
/5
rDev
+2.1%
look: 4 | smell: 4 | taste: 3.75 | feel: 4 | overall: 4
On tap at Fermentoren Copenhagen, post-CBC. Orange pour with an off-white head. Dank, with notes of caramel, funky cheese, orange and subtle tropical fruit.
Aug 22, 2016
biboergosum from Canada (AB)
3.82
/5
rDev 0%
look: 4.25 | smell: 4 | taste: 3.75 | feel: 3.5 | overall: 3.75
500ml bottle. More oddly creepy label art from this brewery, but I do like the "The cat is dead, long live the cat" sentiment in Danish, though. Made with 'fantastic' Simcoe hops, of course.
This beer pours a slightly hazy, medium reddish amber hue, with three fingers of puffy, tightly foamy, and somewhat creamy off-white head, which leaves some pockmarked painted lace around the glass as it slowly sinks way, very much like melting ice cream.
It smells of grainy, biscuity caramel malt, bitter tropical fruit - grapefruit, guava, Asian pear, and a touch of kiwi - a pithy pine needle astringency, and some further herbal, weedy hop notes. The taste is a sort of muddled, but still bitter grocery store fruitiness, forest floor detritus, subdued bready caramel malt, and a mild, indistinct spiciness, likely hop-borne, but it's hard to tell.
The carbonation is a bit charged at first, but slowly releases as things progress, the body an adequate medium weight, and kind of thin in its smoothness. It finishes just off-dry, the crackery malt sort of overrun by the lingering fruity, green herbal hops.
A nicely hoppy red ale, though not really all that crisp, which may be an unfair expectation, but still. I'm not sure if this is single-hopped with just the Simcoe, but the complexity of the bitterness is rather pleasant, especially for a lower ABV offering. Worthy of a go, if only for its strange outer coat, and more agreeably tasty inner one.
Sep 16, 2013
rudzud from Massachusetts
4.22
/5
rDev
+10.5%
look: 4 | smell: 4.5 | taste: 4.25 | feel: 4 | overall: 4
Recently stumbled across my notes from The Festival 2012. Lets do this!
A - Poured a very nice dark amber hue with a solid off white head, two fingers or so, that fades nice and slow.
S - Ohhh yah. Aromas of MASSIVE tropical fruit assault, lychee, pear, grapefruit, passionfruit, and my favourite, peach!
T - Taste, unfortunately, is not nearly as amped up as the nose, but still good none the less. Solid hop notes, not nearly as fruity with flashes of stonefruits, pine, and some nice sweet lychee notes.
M - Mouthfeel is sold, a touch higher carbonated than I like.
O - Overall, a solid offering from Beer Here. Wish this was readily on the shelf!
Jun 13, 2013

laituegonflable from Australia
3.2
/5
rDev
-16.2%
look: 3.5 | smell: 3.5 | taste: 3.5 | feel: 2.5 | overall: 2.5
Pours a reddish amber, thin head. Lace is OK. Looks alright.
Smells hoppy. Grapefruit, resin, pine, some green apple. A little meek, smells a bit like watered down hop juice. Nice, but underdone.
Tastes similar. No real body, but hops are dominant. Citric, piney, getting resinous towards the end. Reminds me a little of Brewdog Nanny State, in that it's heavy on hops to the point where it could be really nice with a bigger body, but there's just not enough malt there to pad or balance the hop pull. Decent flavours, but off kilter.
Thin body, then so much hop pull and dry. Meh.
A bit too light, flavour becomes overpowering. Potential there but it would then be a bigger beer. Needs to be toned down a bit to make it suitable for 4.7% I guess.
May 20, 2013
lacqueredmouse from Australia
3.92
/5
rDev
+2.6%
look: 4 | smell: 4.5 | taste: 3.5 | feel: 4 | overall: 4
On-tap at the Local Taphouse in Sydney as part of their Scandinavian Tap Makeover.
Pours a pretty clear copper hue, with a very fine and persistent head of just off-white. Body is fluid, but with a little heft to it. Some streaky lace is left behind as the head goes down. Carbonation is fine and dancing when tilted. Looks good.
Nose: bang! Sweaty, sweet hops giving big fragrances of pine and passionfruit, even heading towards crushed herbal notes of sweet basil and myrtle. Very fresh, very big, nicely tied together. Lovely stuff.
Light on entry on the palate, some faint fluid and smooth sweetness, but rather flat, and missing the hops which were so prominent on the aroma. There's a very slight uptilt mid-palate, with some nutty characters, but it feels pretty watery and flat still. By the end everything's dropped out, leaving nothing on the aftertaste.
Feel is smooth and pleasant enough.
It's a shame about the mid-palate, but I guess at 4.7% it was always going to be lighter than the aroma suggested. It still has some nice classic characters despite its flatness. Not bad at all.
Feb 14, 2013

ToasterChef from Maine
4.24
/5
rDev
+11%
look: 4.5 | smell: 4.25 | taste: 4.25 | feel: 4 | overall: 4.25
A chilly 500ml bottle is split between two half-pints.
The beer has a dark copper color with a tan head made up of tiny bubbles. Very good lacing. There beer is clear and there are many tiny bubbles rising within.
There is a big piney hop aroma. It is bitter and enticing.
There is a nice flavor here. Plenty of malt and hops with are well balanced. The hops provide pine and citrus bitterness. The malts give off a toffee flavor. The finish is a touch spicy.
Medium body with lots of tingling carbonation. A slightly sticky coat is present, but it holds plenty of the malt and hop flavors.
This is a nice beer. I never got to try Fat Cat, but this alternative doesn't make me lament my loss. Fans of hoppy reds should check this beer out.
Jan 19, 2013
CrazyDavros from Australia
4.12
/5
rDev
+7.9%
look: 4 | smell: 4.5 | taste: 4 | feel: 4 | overall: 4
Pours dark amber with a large, growing head.
Massive tropical fruit in the aroma. Big lychee, pear, peach blossom and passionfruit. Also some clean malt underneath.
Pretty hoppy flavours too, though not quite as fruity as the aroma. Still a fair bit of lychee. Also some biscuit-like malt.
Nice moderately high carbonation.
Dec 18, 2012
ADZA from Australia
3.18
/5
rDev
-16.8%
look: 4 | smell: 3.5 | taste: 3 | feel: 3 | overall: 3
This is an ale based on beerhere Fat Cat which is temporarily dead due to hop shortages,Dead Cat is an easy going Red ale with modest alcohol content and light bitterness,but a great hop aroma and flavour.THE CAT IS DEAD LONG LIVE THE CAT!
Pours a bright orange hue with a fluffy three finger head that doesnt stop rising and lacing everywhere.
Smell is piney hops,grapefruit,peaches and boiled candy.
Taste is stonefruits,candy,a light hit of piney hops with the finish being dry,sweet and a touch bitter but not as hoppy as smell thats for sure.
Mouthfeel is light bodied with light carbonation.
Overall it starts off alright but its no Fat Cat thats for sure and i wont be revisiting anytime soon cheers.
Sep 25, 2012
Dead Cat from Beer Here
Beer rating:
84
out of
100
with
25
ratings