Troubadour Magma Special Edition 2013 - Galaxy
| Brouwerij De Musketiers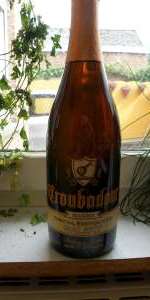 BEER INFO
Brewed by:
Brouwerij De Musketiers
Belgium
troubadourbieren.be
Style:
Belgian IPA
Alcohol by volume (ABV):
9.00%
Availability:
Limited (brewed once)
Notes / Commercial Description:
No notes at this time.
Added by samEBC on 10-16-2013
This beer is retired; no longer brewed.
Reviews: 9 | Ratings: 49
4.03
/5
rDev
-5%
look: 2.75 | smell: 4 | taste: 4 | feel: 4 | overall: 4.5
From Belgium in a box. IN Teku glass. Playing Magic Duels. BBF Jul 16. Very foamy. Although old, galaxy hops still provide a nice bitterness that compesates the excessive fruityness of the normal troubadour magma, making it a more enjoyable brew. It could have been great fresh.
278 characters
4.75
/5
rDev
+12%
Freaking fantastic! Appearance is a sick fall me billowy off-white to cream-colored long-lived head with some lace and a slightly hazy orangey-ish to apricot Amber color. Aroma is neat volatile blend of hops malt Caramel sweet grapefruit yeast . Flavor is like aroma plus there is some carbonic tanning sweetness becomes somewhat subdued and bitterness becomes more prominent all of all the whole package mellows after a bit. Palate is perfect. Outstanding beer although with its bold bitterness and Rich maltiness it doesn't go well with all foods so I would suggest palate cleanser.
584 characters

4.25
/5
rDev
+0.2%
Ahh-those Musketiers. Ale pours a thick, rich, cloudy orange. Unfiltered goodness. Beautiful
thick white foam head dissipating down to a thin layer of foam and leaving fantastic lacing.
Nose of pineapple, banana, citrus hops, Belgian candy sugar, and yeasty earthy goodness.
Taste has an excellent citrus hop flavor up front and on the sides. Pineapple and Belgian
candy interplay on the back with earthy sticky hop goodness and candy malts. Light alcohol
warmth on the back and smooth carbonated yet silky mouthfeel makes this one of the BEST
of the hopped Belgians I have yet to try. Would be a nice one to lay down for another couple
of years. Fantastic.
Cheers
679 characters
4.42
/5
rDev
+4.2%
look: 5 | smell: 4.75 | taste: 4.25 | feel: 4.25 | overall: 4.25
Bottle: Poured a hazy orangey color ale with a large pure white foamy head with excellent retention and some perfect lacing. Aroma of tropical fruit with some mango notes is quite nice. Taste is a great mix perfect some flora notes of tropical fruit and mango with fruity ester and a solid Belgian malt backbone. Body is full with limited filtration and good carbonation and no apparent alcohol. I really enjoyed this beer with great notes of Galaxy hops and a solid malt backbone which mix in very well.
504 characters

4.35
/5
rDev
+2.6%
look: 5 | smell: 4.25 | taste: 4.25 | feel: 4.25 | overall: 4.5
Appearance: hazy amber with a big, thick white head, that's slowly dropping and leaving nice lacing on the glass
Aroma: huge, intense aroma - there's caramel, bread, pineapple, resin, flowers, pine... Everything!
Taste: sweet, fruity and citrusy. Also some toasty notes. Alcohol is present, but makes everything taste even better. Medium bitterness, could be higher I guess.
Mouthfeel: full bodied, medium carbonation.
Overall: this is a big beer. And not just because it's in a 750ml bottle (the bottle is superb, beautiful etc., I love it and I'm gonna keep it). I don't usually drink sweet IIPA's but this one is great, because there's so much more to it than just the sweetness. Highly recommended beer!
710 characters

4
/5
rDev
-5.7%
look: 4 | smell: 4 | taste: 4 | feel: 4 | overall: 4
Poured a golden body with large head and foamy lace patches down glass. Aroma is a dirty, earthy hop menagerie mixed with yeast and touches of sweet, sugary goodness. Well carbonated so it has a sharp crispness and light mouthfeel but the yeast keeps it real smooth and the hops and malts give off not only citric, earthy tones but touches of tropical fruit sweetness.
368 characters
4.32
/5
rDev
+1.9%
look: 4 | smell: 4.5 | taste: 4.5 | feel: 4 | overall: 4
750 ml bottle into signature tulip glass, best before 7/16/2016. Pours moderately hazy/cloudy orange amber color with a 2 finger dense and fluffy off white head with great retention, that reduces to a nice cap that lingers. Nice soapy lacing clings on the glass, with a good amount of streaming carbonation retaining the head. Aromas of big tangerine, peach, passion fruit, lemon zest, pineapple, mango, floral, grass, honey, light caramel, bread, light pepper, and floral/yeast earthiness. Fantastic aromas with great balance and complexity of bright citrus/tropical hops and light-moderate malt/yeast presence; with good strength. Taste of big tangerine, peach, passion fruit, pineapple, mango, lemon zest, floral, grass, pine, pepper, honey, light caramel, bread, and floral/yeast earthiness. Good amount of pine bitterness on the finish; with lingering notes of tangerine, peach, passion fruit, lemon zest, pineapple, mango, pine, floral, grass, pepper, honey, light caramel, bread, and floral/yeast earthiness on the finish for a while. Fantastic complexity of bright citrus/tropical hop flavors with moderate yeast/malt balance; with a great crisp hop/yeast/malt balance and zero cloying flavors after the finish. High carbonation and medium bodied; with a smooth, crisp, and moderately sticky mouthfeel that is nice. Alcohol is very well hidden with minimal warming present after the finish. Overall this is a fantastic Belgian DIPA. All around awesome complexity and balance of bright hop, yeast, and malt flavors; and very smooth and crisp to sip on for the ABV. A highly enjoyable offering.
1,600 characters

3.86
/5
rDev
-9%
look: 4.25 | smell: 3.75 | taste: 3.75 | feel: 4 | overall: 4
Pours into a large tulip glass a slightly hazed lighter amber shade with a large blooming bone white head that settles ever so slowly into a creamy mass leaving two full rings of lace behind.Aromas are yeasty with a bit of hard toffee and overripe pineapple and mango fruit,hoppy fruitiness could be bigger in my opinion.Grainy and dry on the palate with lightly spiced yeasty notes,the hops provide some mild fruitiness and leafiness in the finish.Not bad,I would have liked a little more of the tropical fruit-like hops on the palate but it's solid.
551 characters
4.4
/5
rDev
+3.8%
look: 4.25 | smell: 4.25 | taste: 4.5 | feel: 4.25 | overall: 4.5
Poured from the bottle into a tulip glass.
A real nice nearly clear but a little opaque and not too hazy perfect tangerine orange body. Head is a fluffy white that makes some soapy retention, lots of rolling lumps in the top with a big amount of staying power. Nice fine carbonation if a little hard to see.
Nose is big and tropical juicy. Faint sense of sweetness and hints of possible mango, and citrus orange. Fairly one note but it's delivered and presented nicely.
Palate has a nice quick bitterness of hop, but also some good prickly quinine like carbonation. Juicy large orange tangerine palate, with a nice bitterness. Classic Belgian sweetness but with much more toned down sucrose notes, and a good thick body. With some time and warmth there is a nice big sticky dry yeast punch to this as well.
Overall, this is fantastic. Wonderful balance of hop forward tropical/citrus juice, Belgian candi senses, hop bitterness, and tonic water orange refreshment.
968 characters
Troubadour Magma Special Edition 2013 - Galaxy from Brouwerij De Musketiers
4.24
out of
5
based on
49
ratings.