Milk Porter
| Kooinda Boutique Brewery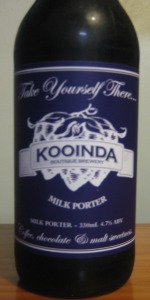 BEER INFO
Brewed by:
Kooinda Boutique Brewery
Australia
kooinda.com.au
Style:
English Porter
Alcohol by volume (ABV):
4.70%
Availability:
Limited (brewed once)
Notes / Commercial Description:
No notes at this time.
Added by ADZA on 08-18-2012
This beer is retired; no longer brewed.
Reviews: 7 | Ratings: 17

4.21
/5
rDev
+18.3%
look: 4 | smell: 4.25 | taste: 4.25 | feel: 4 | overall: 4.25
A well balanced and delicious milk porter!
chocolate, coffee, vanilla bean and slight citrus predominate on the nose and palate. highly drinkable and a pleasure to drink.
171 characters

3.71
/5
rDev
+4.2%
look: 4 | smell: 3 | taste: 4 | feel: 3.5 | overall: 4
As of recent my focus has turned more towards the Aussie craft scene, partly because of the rapid influx of new and exciting brewers, seems like I come across a new brewery every time I go for a pint, and partly due to a personal interest in promoting our craft scene a bit more. Kooinda whilst lacking in a great bottle label have decided to brew a style that I believe needs more attention from the Aussie craft scene - Milk Stouts brewed with Lactose, or in this case a Milk Porter... err, if it is brewed with Lactose - didn't see any mention of it on the bottle [would be really misleading if this wasn't brewed with Lactose].
Poured from a 330ml bottle into a nonic pint.
A: Jet black body with chunks of yeast sediment sitting at the bottom of the glass and a centimetre tan head that invites one to partake a sip.
S: Dark fruit esters (plum, prune, date) along with milk chocolate notes and a hint of coffee. Standard stuff here apart from the pungency of the dark fruits - smells like they're rotting.
T: Pretty decent flavours. All of the above finished with a slight medicinal hop bitterness. It's sweet and milky as well. The aforementioned "rotting dark fruits" add a funky note in the after taste, a little bit distracting.
M: Medium bodied with a creamy Stout carbonation... wait - I just burped, it's a tad too high then.
D: Well I wasn't expecting much and Kooinda thankfully surprised me with this decent Porter/Stout (they really are interchangeable terms for what is essentially a dark Ale). There is enough body and flavour to keep me entertained, and once you get past the rotting dark fruit after taste and the constant burping you're in for a good time. Could probably use some smoke for a little more dimension... No! You know what? Forget the smoke, there's enough beers out there with smoke, this Ale is smooth and relaxing, let's just leave it be [whoa where did that outburst come from Dok?].
Food match: Steak pies and mushy peas please.
1,974 characters

3.24
/5
rDev
-9%
look: 4.5 | smell: 3 | taste: 3.25 | feel: 3 | overall: 3.25
Bottle: a standard 330mL brown bottle with a pretty boring label. Just looks to me like the start-up labelling of a new brewery, which is fair enough.
Appearance: pours an almost oily, thick jet black with a wonderfully thick one-finger creamy head with great retention. Reasonable lacing.
Aroma: not really much here to be honest. You can smell the milk / chocolate that gives the style its name, but it is so tame as to be a bit hum-drum.
Taste: again there is minimal flavour going on here - some milk chocolate, a touch of dark fruits. Not bad, just not overly exciting.
Aftertaste: the taste fades away pretty quickly. I wouldn't mind so much as it is a sessional beer, but the price is completely prohibitive.
Mouth feel: I think half the problem is stemming from the light- to- medium body with moderate carbonation. This could have been a much better beer with a heavier body.
Overall: a reasonable start at the milk stout, but it really needs a heavier body to bring the flavour through a bit more strongly. What really erks me though is the price. I am so tired of the number of 'new aged craft labels' popping up in Australia and being sold at ridiculous prices. Take this one for instance. Not a bad beer - but nothing to write home about - and it is AU$90 a case of 24 x 330mL bottles. I wouldn't put it any further ahead than CUBs Sheaf Stout, and yet it is almost 80% more expensive. Why, Australian craft scene, whyyyy?
1,441 characters

3.5
/5
rDev
-1.7%
look: 3.5 | smell: 3.5 | taste: 3.5 | feel: 3.5 | overall: 3.5
Pours a slightly thin black which almost hints at turning brown around the edges but never quite gets there. Solid head and lacing. Yeast chunks at the bottom fail to appetise.
Smell is yeasty with very prominent notes of aniseed. Get a bit of welcome sour yoghurt. Some carob. Dark fruits. Almost funky, manurey. Roast.
I feel taste is an improvement on aroma. Solid milk/yoghurt, some chocolate, dark fruits. Roast.
Mouthfeel is a little thin and astringent. I guess that's to be expected given the ABV.
This is a solid offering with a few flaws. Worth buying.
566 characters

3.5
/5
rDev
-1.7%
look: 3.5 | smell: 3.5 | taste: 3.5 | feel: 3.5 | overall: 3.5
A - Dark, dark brown with a light brown foamy head.
S - Coffee, chocolate and hazelnut praline.
T - Very roasty but very sweet also. Mocha, nutty chocolate. Tasty after dinner.
M - Medium carbonation. Chalky, dusty body. Pretty well executed.
O - Yeah, it's pretty one dimensional but perhaps a good starter dark beer for newbs. Very accessible.
349 characters
3.32
/5
rDev
-6.7%
look: 3 | smell: 3.5 | taste: 3.5 | feel: 3 | overall: 3
Pours black with a large, growing head.
Nose shows chocolate, roasted malt and nutty notes.
Flavours focus mainly on 1-dimensional roasted malt, but include some sweetness, presumably from lactose.
Too highly carbonated.
Not bad, but a bit too sweet and plain.
260 characters
3.5
/5
rDev
-1.7%
look: 3.5 | smell: 3.5 | taste: 3.5 | feel: 3.5 | overall: 3.5
Pours a very dark kola hue which leaves a three finger bubble laden khaki head and lacing everywhere,the smell is dark cocoa,roasted malts,a touch of coffee and herbal hops,the mouthfeel is medium bodied and taste starts off sweet with hints of dark cocoa,mocha,roasted malts and finished with a herbal bitterness and overall its above average and easy enough to drink but nothing memorable cheers.
398 characters
Milk Porter from Kooinda Boutique Brewery
3.56
out of
5
based on
17
ratings.