Fischer Bière De Noël
| Brasserie Fischer / Fischer Biere d' Alsace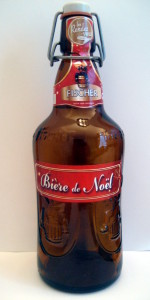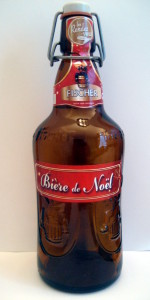 BEER INFO
Brewed by:
Brasserie Fischer / Fischer Biere d' Alsace
France
fischerbeverages.com
Style:
Vienna Lager
Alcohol by volume (ABV):
6.00%
Availability:
Winter
Notes / Commercial Description:
No notes at this time.
Added by Andreji on 12-16-2003
HISTOGRAM
Ratings: 13 | Reviews: 8
Reviews by beerdrifter:

2.66
/5
rDev
-14.2%
look: 4 | smell: 3 | taste: 3 | feel: 3 | overall: 1
Picked this up at a supermarket in France. Nice copper-orange pour with two finger head and great lacing. Really big and really unique, fruity, spicy nose with loads of orange peel and brown sugar. The taste is pretty much the same with orange the star once again. The sweet caramel malt dominates with little to no hop bitterness. It almost tastes like a flavored beer the orange is so intense. The mouthfeel is creamy, but it's so sickly syrupy and sweet that it kills the drinkability. I really thought this beer had potential when I popped the top, but man did it go downhill quick. What started off as a fruity and unique nose, eventually reminded me of drinking soda pop. I was barely able to choke down the whole bottle because it was so rich and sweet. I'm still searching for a French beer that's worth drinking...
823 characters
More User Reviews:
2.55
/5
rDev
-17.7%
look: 3 | smell: 3 | taste: 2.5 | feel: 2.5 | overall: 2
Logically, since German beers are good, and Alsace is very German, shouldn't Alsatian beers be good? I used to think so. Not any more. This beer helps to prove that logic false. Just as causation doesn't mean correlation and just like A can equal B and B can equal C without A equaling C, Alsatian can be like German without making good beer. Does that follow?
This is not very beer like, it's not even biere like. This is Vin Chaud, only cold and weaker. Two things dominate the aroma after formaldehyde, heaps of oranges and cloves. That's it. No balance, no malt, no hops. I like vin chaud but I don't care for this much.
632 characters

2.72
/5
rDev
-12.3%
look: 4 | smell: 2 | taste: 3 | feel: 3 | overall: 2.5
A-Pours a clear golden-amber w/off-white head and respectable retention.
S-First whiff was one of the skunkiest I've smelled since I rated Fischer blonde. Afterward it's skunky caramel, bits of spice, faint hops.
T-Slightly sweet w/orange notes, bits of clove and possible ginger, cinnamon. Finish is dry noble hops w/touch of skunk and fruit.
M-Light-bodied, decent balance, light carbonation.
D-I'll drink the entire bottle, but probably won't buy again.
461 characters
2.48
/5
rDev
-20%
look: 3.5 | smell: 3 | taste: 2 | feel: 2.5 | overall: 2.5
I'm starting to think that either a-The french don't like christmas, or b- I'm the one not in the christmas mood. Because this beer stank badly, but, then again, alsacian breweries have turned to be somewhat unimpressive lately.
A reddish hued pour with little weak white head that fades, malty smell with no extra push for it, The taste is best described as an attempt to sweeten a lager that rather turns out soury, bitter and, oh, yeah, awful.
Get this one away from me or i'll wind up becoming the grinch this holiday season.
536 characters
3.05
/5
rDev
-1.6%
look: 2.5 | smell: 2.5 | taste: 3 | feel: 4 | overall: 3.5
500 ml bottle from Nice.
Pours amber with off-white fizzy head that soon dissipates. Aroma is light malt, some caramel, weak spice.
Taste is much better - quite strong sweet citrusy malt with light hop bitterness in the finish, hints of spice, could not feel any alcohol, despite the unusually high ABV. Mouthfeel is medium light, slightly creamy with some mild alcohol warming.
Quite average Vienna.
403 characters

3.09
/5
rDev
-0.3%
look: 3.5 | smell: 3.25 | taste: 3 | feel: 3 | overall: 3

2.5
/5
rDev
-19.4%
look: 2.5 | smell: 2.5 | taste: 2.5 | feel: 2.5 | overall: 2.5

3.03
/5
rDev
-2.3%
look: 3.5 | smell: 3 | taste: 3 | feel: 3 | overall: 3
Beer bottle (65cl.) and draught, tasted in 2003.
Appearance : amber color, with abundant white foamy head.
Smell : cereal and sipcy aromas.
Taste and mouthfeel : malted, with spicy notes . However, the persistence is hopped.
Drinkability : an average beer in the style Oktoberfest/marzen lager.
295 characters
2.98
/5
rDev
-3.9%
look: 3.5 | smell: 3 | taste: 3 | feel: 2.5 | overall: 3
(from notes)
A: Amber colored. Creamy head with a medium retention.
S: Fruity (orange, tangerine), spiced (cinnamon). Reminding a mulled wine.
T: spicy, slightly smoked. Quite sweet overall. Light bitterness on the finish.
M: Medium bodied, medium carbonation. Quite refreshing.
O: Quite a good beer for thirst with a sympathetic Christmas scent.
351 characters
3.92
/5
rDev
+26.5%
look: 4 | smell: 3.75 | taste: 4 | feel: 3.75 | overall: 4
This had a nice dried fruit flavor, reminiscent of prunes. Had on tap at a small bar in Metz, France. Overall nice aroma and taste, with some mild sweetness.
157 characters

3.01
/5
rDev
-2.9%
look: 3 | smell: 3.25 | taste: 3 | feel: 2.5 | overall: 3
Fischer Bière De Noël from Brasserie Fischer / Fischer Biere d' Alsace
Beer rating:
3.1
out of
5
with
13
ratings