Dismiss Notice
Dismiss Notice
Nothing But Flowers
| Black Raven Brewing Co.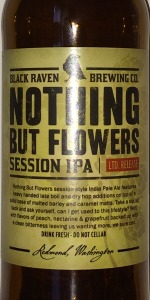 BEER INFO
Brewed by:
Black Raven Brewing Co.
Washington
,
United States
|
website
Style:
American IPA
Alcohol by volume (ABV):
4.90%
Availability:
Rotating
Notes / Commercial Description:
No notes at this time.
Added by HuskyinPDX on 02-09-2014
Reviews: 9 | Ratings: 42

3.72
/5
rDev
-4.9%
look: 4 | smell: 3.75 | taste: 3.75 | feel: 3.75 | overall: 3.5
Pored within four months of bottling. Nice, golden slightly hazy (not murky) pour. Muted floral and citrus aroma. Taste follows suit with a slight cracker-malt. Bummed that the bottle was probably faded.
★
203 characters
3.73
/5
rDev
-4.6%
look: 4 | smell: 3.5 | taste: 3.75 | feel: 4 | overall: 3.75
Poured from bottled. Nice head retention. Light golden straw color. Malty melon aroma. Nice mouthful for a session. There's an odd grain note on the front and nice hop bite on the end. Decent beer
★
196 characters
4.44
/5
rDev
+13.6%
look: 4.25 | smell: 4.5 | taste: 4.5 | feel: 4.5 | overall: 4.25
Purchased via Tavour in 22-ounce form; despite some reports, this hop-premised ale was, by all accounts, quite fresh and wet, the waiting and shipping time not really seeming to have much in the way of discernible negative impact.
And, indeed, it certainly is a floral SIPA, making that first note extremely relevant: rose petal, lemon-grass, hay, geranium, grapefruit juice, marjoram all burst through amongst this beer's fecund aromatics. Fairly generous head no doubt aids the aesosolization of these esters, creating—along with the sparkling golden-flax sheen, slow-abating lacing, moderate effervesce—a very inviting foreground for the forthcoming flavors.
Those flavors are no slouch, either, yet there's excellent restraint, making this "Session IPA" devout to its sessionable intent; there's some lemon pith, an extension of the rose petal qualities (in the form of florid bitters), and some creamy yet crisp crystal malt notes. What follows is a very dry grassy-bitter finish that's bright, and even bold, but nonetheless never fulminating, pairing pleasantly with through-lines of mild, smooth creaminess, flax-based bite, and just enough bubbles to keep it all buoyed.
Would be thrice as nice in six-pack form.
★
1,230 characters
3.81
/5
rDev
-2.6%
look: 3.5 | smell: 3.75 | taste: 4 | feel: 3.5 | overall: 3.75
L: hazy no head no lacing
S: lemon peel rather pleasant
T: citrusy and floral nice balance with the malt
F:thin and watery
O: there is an unpleasant lingering bitterness that makes this beer less then sessionable and at 4.9% you may as well drink a pale ale
★
258 characters
3.89
/5
rDev
-0.5%
look: 3.5 | smell: 3.75 | taste: 3.75 | feel: 4.25 | overall: 4.25
22oz bottle served in pint glass. The label promises a drinkable, low-intensity vehicle for hop aroma, and based on the promise of 4.9% ABV, I'm hopeful these folks actually understand the meaning of the word "session" (even if it is only offered in 22s). Beer pours pale yellow with an ample white head. Aroma is mild and fresh, delivering the promised floral hop aroma with a hint of citrus. Flavor is similarly mild, though some non-bitter hops really come through on the palate. Carbonation level is low enough to match the style (bottled session ale, that is), and there's just enough of a kick of uncaramelized barley to bring some dimension to the flavor. Overall I'd say this beer delivers on its promises, and offers some great, if unsurprising, hop flavor.
★
766 characters
3.94
/5
rDev
+0.8%
look: 4 | smell: 3.75 | taste: 4 | feel: 4 | overall: 4
A-golden color with a nice white head and good lacing
S-citrus, slight tropical fruit, pine, light floral, malt
T-bready malt, citrus, hint of caramel, slight tropical fruit, pine, floral, moderate bitter finish
F-light to medium body with moderate carbonation, crisp
O-nice flavor and easy drinking session ale, should make this a regular
★
344 characters

3.77
/5
rDev
-3.6%
look: 3.75 | smell: 3.5 | taste: 3.75 | feel: 4 | overall: 4
Poured from 22oz bomber into a pint glass.
Appearance: medium golden hue with a touch of haze and a pretty strong effervescence. Head pours a finger of frothy white foam with OK retention.
Smell: sweet malt with some citrusy character. Not bad, but not terribly complex.
Taste: very slightly caramelly malt with citrusy, herbal and earthy hop character. There's a moderate bitterness here which is balanced with the light maltiness. Pretty tasty.
Mouthfeel: light body with a big carbonation and a very surprising creaminess. I'm a big fan!
Overall: this beer is not overly complex, but it is eminently quaffable on a heat-wave day like today.
★
648 characters

3.93
/5
rDev
+0.5%
look: 3.75 | smell: 3.75 | taste: 4 | feel: 4 | overall: 4
22oz into a tulip. Pours a clear straw color w/ a loose, frothy white head, some patchy lace.
Aroma is hoppy and floral, a little citrusy.
Taste is pale, neutral, biscuity malt and spicy, floral, citrusy PNW hops. Crisp, clean and straightforward.
Mouthfeel is light and refreshing. More body than I expected from such a low ABV beer. Finishes clean and crisp.
Overall a very nice, drinkable summer ale.
★
407 characters

4.01
/5
rDev
+2.6%
look: 3.75 | smell: 4 | taste: 4 | feel: 4.25 | overall: 4
Poured into a Black Raven pint glass. Pours a light golden amber with active carbonation. Two finger white head dissipates quickly to a thick cap with good retention and slippery lacing. Aroma of light bready and biscuit malt, mild citrus and floral hops (as advertised), a bit of berry juice. Flavor follows with light to medium biscuit malt, interesting hop flavors spanning citrus, mild pine with floral elements, orange family citrus and hints of tropical fruit.Finishes with a lingering floral citrus hop bitterness. Surprisingly full, nearly creamy body, nice mouth feel. I'm still not sold on session IPAs; I really think a somewhat higher ABV really allows the hops to shine, but this is quite tasty and well balanced. The initial taste seems thin, but flavor development is good and the finish is satisfyingly flavorful. It still reminds me how much more awesome Birdserker was. Maybe I'm spoiled for lighter IPAs now. Despite that, this is one of the better session IPAs I've had, nicely done.
★
1,003 characters
Nothing But Flowers from Black Raven Brewing Co.
-
out of
100
based on
9
ratings.