Dismiss Notice
Extreme Beer Fest:Los Angeles
Join us December 9th in Los Angeles for the ultimate throwdown of craft beer creativity!
Learn more...
Dismiss Notice
Iconoclast Nocturna
| Mayfield Brewing Company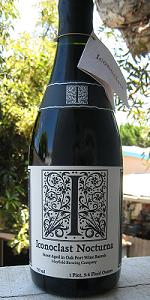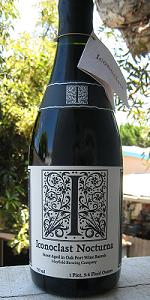 BEER INFO
Brewed by:
Mayfield Brewing Company
California
,
United States
Style:
Russian Imperial Stout
Alcohol by volume (ABV):
10.70%
Availability:
Limited (brewed once)
Notes / Commercial Description:
No notes at this time.
Added by largadeer on 05-04-2009
This beer is retired; no longer brewed.
HISTOGRAM
Ratings: 12 | Reviews: 12
Reviews by trygger87:
4.78
/5
rDev
+14.1%
look: 5 | smell: 4.5 | taste: 5 | feel: 5 | overall: 4.5
Where do i start with this "beer". It came in a 750ml brown bottle with a double wax seal. This beer just looks serious from the get go. I was lucky enough to pick up bottle number 19 of 216. Its a 2007 vintage and was aged for 10 months in Petit syrah barrels. I left the beer out till it was around 50ish and poured it in to a Chimay chalice. Beer is pitch black except when held to a light, there is a razor thin edge of toffee color. produces a half finger head with a dark caramel color that slowly faded away.
The smell of this beer is very nice with a red wine quality to it. Also get lots of chocolate and a bit of raspberry with some booze. Over all a pretty sweet smell but not in the cheap malt liquor sense i.e old english.
This beer starts out tart but quickly fades to a chocolate stout with under tones of raspberry and butterscotch. There is no alcohol flavor to speak of at all. This beer has a wonderful mouth feel and personally i cant stop drinking this beer.
Insane drinkability on this one. Dangerously smooth but its expected with such a high price tag.
Overall this beer is outrageous in both the flavor department and the price department. If your feeling spendy and want one of the best stouts that money can buy get this beer!
1,256 characters
More User Reviews:

4.12
/5
rDev
-1.7%
look: 4 | smell: 4.5 | taste: 4.5 | feel: 4 | overall: 3
On tap at the Rose & Crown for Mayfield Brewing night for only $7 for a large pour - a crazy discount compared to the outrageous price of a bottle of this.
Pours black and somewhat thick with purplish hues. Minimal head.
Excellent aroma: smooth roast and chocolate along with sweet port wine, black cherry, oak, and vanilla.
Flavor is really amazing. A very good base stout, with roasted malt, toffee, coffee, and dark chocolate, which benefits even more from the barrel aging. Sweet and mildly tannic port, black cherry oak, and vanilla really add to the complexity.
Smooth and fairly thick on the palate with low carbonation and a little bit of wine-like acidity.
Overall a very interesting and very good beer. Now I saw the brewer, John, at the event but didn't get to talk to him. I would have liked to compliment him on what a great job he did in brewing this excellent barrel aged imperial stout. The only problem (and it's a big problem) is that bottles typically sell for over $40, an absolutely INSANE price point. I just don't get how someone can start up as a brewer and come out of the gate charging that much. I would buy this beer like crazy at $20. At $43, no chance in hell. There's just so much better value out there. I have to dock them in the drinkability/overall category for this. Sorry, John.
1,320 characters

4.37
/5
rDev
+4.3%
look: 4 | smell: 4.5 | taste: 4.5 | feel: 4.5 | overall: 4
Imperial stout aged in Petit Syrah port barrels for 10 months. Thanks for sharing this one, Mark.
Appearance: The corked, capped and waxed champagne-style bottle is impressive, it almost looks worth the $40 it's going for. The beer itself pours a dark tawny-brown, not the blackest stout out there but still opaque in the glass, crowned with half a finger of head.
Smell: Strong fruitiness up-front; the port wine barrel is very apparent in the nose. Dark, chocolatey malt supports the strong barrel character, while a light tartness brings to mind cherries or blackberries.
Taste & mouthfeel: Rich roasted malt and fruity, caramelly port wine hit the palate first. Lightly sweet and tart, backed by a firm bitterness. There's more wine character than there is oak; a touch of vanilla shows up mid-palate, but tannins are mild. Medium-bodied and lightly carbonated. The finish is interesting; drying, tart and bitter with a lingering espresso note. This beer is a nice start for Mayfield, I'm fairly impressed. Shame about the $43 price tag though; there are better imperial stouts out there for a quarter of the price.
1,122 characters

4.42
/5
rDev
+5.5%
look: 4 | smell: 4.5 | taste: 4.5 | feel: 4 | overall: 4.5
Thanks to MasterSki for bringing this great and interesting brew to our Epic Chicago Tasting.
A - A very dark brown, nearly black if not held up to the light. Decent sized bubbles, no lacing.
S - I didn't even know what kind of beer this was until later, smelled nicely of cherries and port. Nice blend of oak and chocolate on this one as well. Great smelling stuff.
T - This tasting interestingly amazing, definately one of the great siruprises of the night. A very sweet and fruity taste that complimented an oaky, chocolate stout. Great stuff, wish I knew where I could find more of this beer.
M - Very heavy, nice carbonation.
D - Very drinkable considering the depth and ABV of this beer. We drank a lot of good stuff at the tasting, and this one was a bit of a show-stealer.
785 characters
4.16
/5
rDev
-0.7%
look: 3 | smell: 4.5 | taste: 4.5 | feel: 3 | overall: 4
Nada mucho on the visuals. A slight head but it kind of falls flat.
Aromas of port, coffee, and an overall sweetness that is highly complex and enjoyable.
The flavors are deliciously smooth and include the kind found in a really good stout, but also the aforementioned port and a good amount of oak. Everything balances out well.
A thinner mouthfeel, more akin to The Abyss or Dark Lord in viscosity.
Overall, an enjoyable RIS that delivers a significant richness in aromas and flavors. I guess I shouldn't be too disappointed in the visuals or mouthfeel considering the port flavors were a major component; and we all know port ain't known for maintaining a lighter body.
680 characters

4.32
/5
rDev
+3.1%
look: 4 | smell: 4.5 | taste: 4.5 | feel: 4 | overall: 4
Thanks to largadeer for picking this up for me. The bottle is beautiful, as you can see from the incredibly artistic picture of it above. It looks like a $43 bottle of beer should look, I suppose. It's double or triple black waxed over a cap and cork. From the description on the bottle, I've gathered that this is an Imperial Stout aged for 10 months in French oak barrels that formerly held California Petit Syrah port wine.
Bottle 176 of 216. Poured into my Bruery snifter, the beer is nearly black with a mountainous light brown head and excellent retention.
The aroma is full of dark fruits: currant, plum, and cherries. The Petit Syrah barrels have given Nocturna's aroma a lot of vinous qualities. A little vanilla and oak are present, as well as a distinct tartness and tannins. The dark chocolate in the aroma compliments the wine notes nicely, and the coffee is very faint.
The taste is sweet up front, and a little tart and tangy. It's quite unique; it reminds me a lot of Bullfrog's Black Cherry Bomb. Notes of rich dark chocolate are apparent as well as a little vanilla and tannins. The nice dark fruits I enjoyed in the aroma are kind enough to stay for the flavor: tart cherries, plums, and other dark fruits I refuse to name. Coffee pops in near the end to say hello, but he quickly departs after realizing he isn't welcome. The finish is long, with notes of chocolate, cherries, and plums.
The beer is full bodied with low-medium carbonation. The mouthfeel is smooth and creamy. It's nice, but it was just a little thin.
Overall, this is a very fine beer. There are so many Imperial Stouts around now so it's nice to see a brewery do something different. I'm hesitant to spend $43 on any beer, especially one from a brewery that isn't established, but in this case I'm glad I did. Would I buy it again? Probably not. $43 is outrageous. Aside from the price, this is exceptional. The drinkability would be in the 4.5-5 range for me if it was reasonably priced.
1,984 characters
3.57
/5
rDev
-14.8%
look: 3.5 | smell: 4 | taste: 4 | feel: 4 | overall: 2
Chilled bottle into a glass, 2008 vintage (about to be released, at the time of this review). Shared by John Alderete, the brewmaster, at a sponsored beer tasting. I was quite excited about this one, and specifically saved my palate to try it.
A: Pours kind of a dark maroon color, as if port has truly been blended with an imperial stout, instead of the pitch black that is typical for the style. Not much in the way of head, which I attribute to the chilled bottle and inexperienced server, but there is a light swirl on top of the brew. I don't want to ding it too hard for low carbonation, because it captures the mouthfeel really well, but the color isn't quite solid.
S: Very strongly port-driven. You can smell the grapes, along with blackberries or currants, but they're also well supported by a hefty chocolate and barrel note.
T: Yup, strongly port-like here, too. Don't get me wrong; it's well-blended, and the base beer is strong enough to make its presence felt, but it is still a secondary characteristic. Blackberries, vanilla, and a restrained barrel character (soft tannins) make their presence known. There's also dark chocolate along with a brief roasted malt / coffee near the finish. These work well with the barrel character to give it enough bitterness to balance what would otherwise seem to be a very sweet body. Tart, lightly dry in the finish.
M: Medium-full body; not quite as thick as I'd like, but it's pretty solid. The finish is really well-done, and the flavors themselves are well integrated (if not exactly balanced; like I said, I thought it leaned too heavily toward the port side).
D: This is a really interesting experiment. To my knowledge, there aren't too many wine-barrel beers out there, and John was commenting on the perils and pitfalls of being one of the pioneers in this area: discoveries of secondary fermentation in the barrel, fluctuations in flavor throughout the aging process, etc. It's amazing how close he comes to the mellow, balanced flavors of more experienced barrel-aged brewers within such a short period of the company's existence.
I think the beer could use some blending to balance out the port flavor a bit, but I won't bitch too hard.
What I WILL complain about is the $47 out-the-door price tag on the beer. It's a good beer, but let's be honest, the price is... ambitious for a brewery that is still finding its footing. I don't know a single person that has bought a bottle.
2,459 characters

4.35
/5
rDev
+3.8%
look: 4 | smell: 4 | taste: 4.5 | feel: 4.5 | overall: 4.5
Bottle shared by Masterski at our Epic Chicago Tasting. Poured into Rochefort tulip.
A - Pours a very dark brown, almost black, with large bubbles, a thin ring, and no lacing.
S - Red wine, chocolate, barrel/oak, alcohol, cookie notes.
T - Similar to the palate. The wine and chocolate meld well together and I'm really digging this. I would say this is as close to a beer that tastes like wine then I've ever had. Syrah is strong enough to come through with the stout...yum.
M - Full bodied, slight carbonation, very rich.
D - More please. Recommend.
556 characters
4.17
/5
rDev
-0.5%
look: 3.5 | smell: 4 | taste: 4.5 | feel: 4 | overall: 4
Thanks to Kiefdog for this rather rare/expensive beer.
A: Pours a very evil deep dark black with a small tan head. No real retention or lace.
S: Aromas of rich chocolate, tart black cherries, and gooey toffee. Sublte woody notes can be picked up as well.
T: Mmm I like the tartness this one has. Very tart black cherries up front. Rich chocolate comes next along with a blast of dark fruit. The roasted malt comes out nicely along with a touch of oak. I love the way the tartness and tannis seem to come and go in waves. In between you can really enjoy notes of chocolate and coco puff like roasted malt.
M: Fairly full in body. Rich, bold, it is a decadent beer.
D: Unique beer, I think I may have liked it most out of everyone at the tasting.
749 characters

4.37
/5
rDev
+4.3%
look: 4 | smell: 4.5 | taste: 4.5 | feel: 4.5 | overall: 4
Huge thanks to Nanoslug for this apparently very expensive gift to celebrate my dissertation performance. Served in a Westvleteren chalice. Can't remember the bottle number - something out of 216.
A - Took awhile to get to the actual beer with the double-waxing, cap, AND cork. Eventually poured with one-plus fingers of dark tan foam that eventually settled to a big, thick ring and some light film. Big black body that is a touch lighter at the fringes.
S - Sour cherry, vinous notes, oak, roasted malts, other dark fruits, chocolate, and a touch of tart and funky flavors. Very potent, and quite unique. Minimal alcohol presence.
T - Again, it's tart cherries and other dark fruits, milk chocolate, roastiness, and plenty of oak and tannins in the finish. Unlike other wine/port barrel stouts where the flavors clash with the base beer, this is incredibly well-integrated and satisfying.
M - Medium-full body that is sufficient for 10.7%, very low carbonation, smooth viscous texture. The finish is very dry and tannic. Minimal warmth.
D - I filled my glass a second time, and the minimal alcohol presence and low carbonation made for easy drinking. However, I can't in good conscience be super-generous in this category with a $40+ price tag (even if I wasn't the one who paid for it). Still, if you see it on-tap, or have saved up for a special occasion this is highly recommended.
Someone threw out a comparison to Black Cherry Bomb, and while I've never had the pleasure of trying that beer I get the sense it's high praise.
1,537 characters
4.37
/5
rDev
+4.3%
look: 4 | smell: 4.5 | taste: 4.5 | feel: 4.5 | overall: 4
Thanks to Alex for bringing this unknown quantity to our tasting, a rare treat indeed, just wish I was a tad more sober...This is basically the perfect wine stout. The aroma is great, oak, cherries, red wine, chocolate, lots going on but complex and nothing is overpowering...The taste is really a combination of a red wine and stout, a very vinous feel, tannic stickness, nice chocolate accent.
This is tasty treat, well worth trying.
436 characters

3.31
/5
rDev
-21%
look: 4 | smell: 3 | taste: 3.5 | feel: 3.5 | overall: 3
Bottle received in my first trade with Arbitrator many moons ago.
Pitch black with a darker-than-tan head. Not a whole lot going in the smell category. A bit of roast, chocolate, and just a skosh of wed wine. The wine is more present in the taste.
MF is pretty thin with really no heat at all. This is surprising at 10.70%, but I attribute that partially due to it's age of roughly three years.
I have been sitting on this for over a year and while I have no basis for comparison, there appears to be an overall fadedness with the flavors. It was brewed in 2007 and spent over a year in wine barrels. I didn't really know what to expect, but I did enjoy it, even though it was a bit underwhelming.
700 characters
Iconoclast Nocturna from Mayfield Brewing Company
Beer rating:
4.19
out of
5
with
12
ratings