Carrboro Beverage Company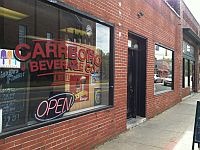 PLACE INFO
Type:
Store
102A E. Main St.
Carrboro
,
North Carolina
, 27510
United States
(919) 942-3116 |
map
carrborobeverage.com
Notes:
No notes at this time.
Added by atsprings on 04-19-2009
Reviews: 10 | Ratings: 17

4.32
/5
rDev
-4.6%
vibe: 4.25 | quality: 4.25 | service: 4.5 | selection: 4.25
Walked in to grab a six pack for a friend as promised, was pleasantly surprised with the selection, a ton of singles for a great pick your six as well as a very good selection of local and national craft beers in the back. Lots of IPA's like any craft store and a good selection of North Carolina beers from Mother Earth to Wicked Weed. The vibe was pretty chill, and the staff come of as knowledgeable without being pretentious. Knew what I wanted when I went in but chatted with the guy for a few minutes and seemed like he would be able to help someone pick out a great first craft.
585 characters
4.14
/5
rDev
-8.6%
vibe: 3.5 | quality: 4 | service: 4.75 | selection: 4
This is a very good bottleshop - you should check it out if you're in the Chapel Hill area. Nice selection of regional and world brews, good choice of Belgians too. The staff were knowledgeable and fun to talk to on my visit. I also enjoyed the couple of draft lines they have. Cool store.
289 characters

4.73
/5
rDev
+4.4%
vibe: 5 | quality: 5 | service: 5 | selection: 4
Staff is knowledgeable without being snobby (I don't get talked down to as a female BA, which I appreciate). I like the pick 'n' mix section and taps for tasting. Brewery reps also do tastings weekly (I think the day is Wednesday) Prices are reasonable, especially for local brews. The staff has great local recommendations, which to me is something essential in a small bottle shop! If you are looking for something specific, you may be disappointed, but if you want to find something new, this is the perfect place to make a discovery. Prices are lower than the local grocery stores, slightly higher than the big box places - but the free samples, recommendations, etc. are more than worth the extra pennies.
710 characters

4.86
/5
rDev
+7.3%
vibe: 5 | quality: 5 | service: 5 | selection: 4.5
I went in looking for some Belgians, and they really didnt have much in the Sours department, but thats pretty rare to find. While perusing, I noticed they had alot of small batch bottles and 22oz/750mL bottles. What they had was rather impressive. They said they get KBS, FBS, and possibly CBS. Large selection of American brews including the largest selection of Founders, Bells, and Pumpkins. They didnt have the biggest selection, but what they had was solid.
The problem was the price. I saw some bottles that were priced higher than Ive seen in the Triangle. For example, Duchesse de Bourgogne was over 12 dollars, which is $2 more than I paid at Total Wine.
The guy working was really knowledgeable, he named some examples of Belgian sours, and guided me toward the Duchesse, even though I ended up buying it another store. Im sure Ill be back to get FBS, CBS, and possibly KBS. If it wasnt for Sam's, Carrbor Beverage would be my go to bottle shop.
960 characters

4.44
/5
rDev
-2%
vibe: 4 | quality: 4.5 | service: 4.5 | selection: 4.5
Stopped by Carrboro Beverage on the way home from a recent trip to Durham. Stopped to admire the display of craft beer cans in the front window. This is a small store, but they have packed in a really nice selection. Lots of year round and seasonal offerings from a good variety of breweries, including a few I haven't seen around many places. Most of the inventory is on shelves, but there are several in coolers as well. They also have a nice selection of pre-filled growlers from several area breweries. Prices were very reasonable as well.
543 characters

4.55
/5
rDev
+0.4%
Stopped in today while cavorting around the area in the beautiful sunshine with the wife and baby. It is a neat, tidy little store with a fair amount of stuff I haven't seen before, even at Sam's. My wife liked the healthy selection of Sprecher sodas and the small display of gag food items (Dead Mule Nuts) and t-shirts.
Very nice selection of bombers and an impressive and reasonably priced make your own sixer station. I also liked the organized and attractive displays by country. Very few beers in there I either didn't want like. Reminds me a bit of Bruisin' Ales in Asheville and that is intended as a big compliment.
626 characters
4.85
/5
rDev
+7.1%
They pack a lot of great beer into this modestly-sized store. The selection is very impressive for all styles, and of course they allow you to create your own 6-pack. Some of the more rare beers I spotted were Avery's Samael, Drie Fonteinen, and Rasputin XII.
The service is also excellent. The employees are beer lovers who really know their stuff, in particular Julia. Novices and experts alike will get useful suggestions and guidance. They are also very good about tracking down beers that they don't have in stock to see if they can either make a special order, or at least advise you on where they might be available.
Free tastings happen every Thursday from 7-9. I have been to a handful, and they are fairly low-key. Often a beer rep will come in with four or five beers to be sampled, and of course answers questions and such.
The store itself has four rotating taps for tasting purposes. They serve 9oz samples for a reasonable price.
As a bonus, this is one of three attached and related establishments. Tyler's is a great restaurant/bar next door, and the Speak Easy is a bar on the other side of Tyler's. Both bars have very good selections on tap, but I'll leave that for another review.
Overall, this is one of my favorite places to buy beer. Highly recommended.
1,282 characters

4.5
/5
rDev
-0.7%
Located right next to Tyler's in Carrboro, Carrboro Beverage is a great beer store. They have a very nice selection of beer that includes lots of NC brews, a good representation from all over the US and plenty of Europeans. A few notables for me were Ballast Point Dorado and North Coast Old Rasputin. It's a fairly even split between what is refrigerated and what is not. They have a good number of individual bottles and lots of sixes as well. They even offer a few on tap with tasters for sale. Overall the shop oozes a nice authenticity and commitment to craft beer.
I thought the service is great. The woman behind the counter new her beer and was very helpful. And the prices seemed reasonable.
Carrboro Beverage makes for a great stop when visiting Tyler's or Milltown. Check it out.
792 characters
4.2
/5
rDev
-7.3%
Stopped in here after helping my friend's fiance move out of her apartment in Carrboro and I was not dissapointed. Great selection of beer considering how small the shop is, and they have a couple taps in the shop to boot! Picked up some Ipswich beers that I hadn't seen at Sam's on my last trip as well as Great Divide Belgica and a Smuttynose Maibock. The prices were reasonable if a bit on the high side, but this is Carrboro after all. Overall a really solid beer store, up there with Peace Street Market for second best in the Triangle after Sam's. Definitely worth a stop if you are in the area.
601 characters
4.65
/5
rDev
+2.6%
While I was in the process of moving from Chicago to Carrboro, I was worried about the quality of bier stores in Carolina. I worry no more! This is a high quality bier store.
First of all, the service here is first rate. The employees can explain almost every bier (and wine) in stock and are always good for recommendations. As a German bier drinker, they have a good selection of German bier as well as American craft biers, Belgians, English ales, many Carolina brands, and a good eastern US selection. There are regular tastings and they always have a few newer biers on tap to sample.
This place is next to Tylers Tap room, so it is always busy, but the service is still great. They have an extensive keg list; in fact I was able to get a keg of Schneider Hefe from there. Mmm-gut.
Overall, I strongly recommend this place for bier and good bier conversation. Plus, if you are a FC Bayern fan, you are welcome...
923 characters
Carrboro Beverage Company in Carrboro, NC
4.53
out of
5
based on
17
ratings.