Horny Betty
| Brauerei Gusswerk GmbH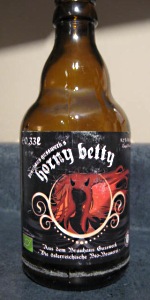 BEER INFO
Brewed by:
Brauerei Gusswerk GmbH
Austria
|
website
Style:
Doppelbock
Alcohol by volume (ABV):
9.20%
Availability:
Year-round
Notes / Commercial Description:
No notes at this time.
Added by wordemupg on 10-16-2012
Reviews: 8 | Ratings: 13
Reviews by ccrida:

More User Reviews:

3.76
/5
rDev
+3.6%
look: 3 | smell: 4.5 | taste: 3.5 | feel: 4 | overall: 3.5
330ml stubbie bottle, day 19 in the 2012 Craft Beer Advent calendar. Another provocative English name, with everything else on the label in a different language. What's up with that?
This beer pours a slightly hazy, very dark ruby amber hue, with two fingers of fizzy, foamy beige head, which leaves nothing in the way of lace around the glass as it quickly recedes.
It smells of sweet, sugary caramel malt, stewing raisins, treacle, black cherries, dry nutty chocolate, white grape must, and some herbal, leafy hops. The taste is strong dark fruit - kind of heavy on the prunes - grainy malt, bittersweet chocolate, an oily nuttiness, some mild herbal, perfume-like hops, who may be affected by a sinister, circling booze warmth.
The carbonation is a tad peppy, but generally easy to coast along with, the body a decent medium weight, not overly obvious in its sugary connotations, and adequately smooth. It finishes sweet, but moderately so, the fruit drying out in somewhat of a musty manner, while the hops and alcohol continuing plodding away on the sidelines.
While the label espouses this as a 'Tripel-Bockbier', I do agree that it actually shows off many more dark dopplebock traits, than the Tripel nomenclature might suggest. If it just literally means 'Triple-bock', than yessiree, that's what this is - big, integrated booze, throughout a fruity malt beast. Neat.
★
1,379 characters

3.33
/5
rDev
-8.3%
look: 3.5 | smell: 3.5 | taste: 3.25 | feel: 2.75 | overall: 3.5
This is beer 19 from the Rieder advent calendar. Pours very dark and hazy, no head or lacing. The aroma is sweet and fruity, like plums and caramel. The flavour is light for such a dark beer, there is definitely some sweetness from the wheat, and it's a little cloying on the finish. There's a nice punch of sweetness on the nose, but it fades quickly into a nice plum and biscuit kind of thing. Little dark chocolate dryness on the finish of the first few sips, but the effect seemed short-lived... There is very little carbonation, which seems to magnify the thin oily texture. Prior to reading the description, I was guessing this was a Weisenbock, based both on it's visual and flavour characteristics. A little underdone I think, but certainly very enjoyable. The thing that impressed me the most is that there is no booziness on the finish, it certainly disguises it's alcohol content well :) After having Google translate the description, I'm thinking that the Horny Goat Weed was responsible for the wheat qualities I was noticing (there is no wheat in this). Looking forward to any side-effects from that additive haha! ;)
★
1,131 characters
3.73
/5
rDev
+2.8%
look: 3.75 | smell: 3.75 | taste: 3.75 | feel: 3.5 | overall: 3.75
Rusty red, still, slightly cloudy and topped with 2 fingers of beige head.
Apples, cloves, coriander. I'm thinking this is a dunkel heff based on the look and nose. Bananas, as in ripe bananas. A slight note of rust.
Ok. The apples, cloves and coriander are present, then a big kick of alcohol which was hidden on the nose. A wash of fruity phenols, then foam, and it subsides.
Thick body. Its blocky as its got defined but awkward stages of thin foam, then thick alcohol, then thin foamy carbonation again.
Really interesting brew. How it got labelled as a doppelbock I'm not sure. However, I really enjoy this one in all its unique qualities.
★
654 characters
2.95
/5
rDev
-18.7%
look: 3.75 | smell: 3 | taste: 2.75 | feel: 3.5 | overall: 2.75
L:
-pours a hazy copper with a big,quickly dissipating,beige head
-medium carbonation visible
S:
-spicy,very herbal,caramel,toffee,metallic,strawberries,plums,paint,perfumy
T:
-caramel,toffee,bready,toasty,raisins,paint
-fairly bitter for a Bock
F:
-light to medium body
-medium carbonation
-alcohol certainly present but not boozy
O:
An attempt at a herbal Doppelbock.
Not really to my liking though.
★
401 characters

3.67
/5
rDev
+1.1%
look: 4 | smell: 3.75 | taste: 3.5 | feel: 3.75 | overall: 3.75
Pours a nice dark translucent colour with a thin tan head. There is a definite molasses, malt nose. The flavour leans toward a burnt malt and a bit of prunes in the background. There is a flavour in the background that I'm trying to decipher, maybe it's the apparent horny goat weed that is in the mix. The carbonation is there an it lingers on the tongue. A nice sipper.
★
371 characters

3.86
/5
rDev
+6.3%
look: 3.5 | smell: 4.25 | taste: 3.75 | feel: 3.75 | overall: 3.75
One of my last brews from the advent calendar (I don't really like spiced brews and this is bb sometime in 2014).
A: Chestnut brown with a light tan head, very thin ring of retention, no lace.
S: Sherry, roasted nut, caramel, toffee, field berry, with an unfamiliar herbal quality.
T: Caramelized raisins, raspberry, blackberry, roasted nut, sherry & herbs. A bit sweet & a bit odd.
M: A little too much residual sweetness for me, but it fades with the drying alcohol finish.
O: There's a lot going on in this brew, but it doesn't really do it for me.
★
556 characters


3.62
/5
rDev
-0.3%
look: 3.5 | smell: 4 | taste: 3.5 | feel: 3.5 | overall: 3.5
330ml stubby poured into tulip 15/10/12
A dark brown with just enough clarity to see some sediment, thumbs width of light brown head stick around for a few sips and leaves no lace
S molasses and milk chocolate with a nutty, herbal, floral thing going on, a little grape and cola with some bruised banana bread, smells pretty good
T booze and sour plum come out with some earthy herbal notes, not as much going on in the mouth compared to the nose but has a strong flavor just not as complex or as nice as the smell
m leaning towards full bodied with enough carbonation to give it some life, a little heat from the booze ans slightly sticky on the lips
O smells good and decent in other areas, not a mind blowing beer but not bad either but I wouldn't go looking for it
Another beer out of my increasingly overpriced Advent Calender, a few nice beers but mostly average stuff in there, this ones somewhere in the middle of the pack
★
950 characters

3.59
/5
rDev
-1.1%
look: 3 | smell: 4 | taste: 3.5 | feel: 3.5 | overall: 3.5
330 mL blt served in a chalice at 7C.
Earth brown pour if I have ever seen one, with very low head that marginally maintains a super thin ring, and spotty carbonation gives only traces on the surface and no lacing.
Smells of toffee, light molasses, well cooked sugars, nutty pumpernickel.
The nose is nice and complex while condensed without being tight, but it is not much compared to many of my normal Germans of the style. A good 4 but no more.
Earthy nutty brown ale quality. Cooked sugars in more of a Belgian ale style depth than what I expected, which I like. Mild bitter hopping the is pervasive throughout the layers but peaks in the middle and slides reasonably through the finish.; which comes off a little woody/CO2 dryness. Boozy dried sour cherry. Not nearly as complex as it should be considering the nose.
The texture begins with ample body from the carbonation that dies slowly into a dry CO2 flat finish with a lasting residual sugar coating.
Although some may say a chalice is the wrong glass, for which I now agree seeing my friend drink it from my vintage Duval Tulip but the head was only marginally better and still faded very quickly. The hue is the only thing keeping the appearance above a 2, it is picture perfect earthy. The flavour is a little flat and without the depth or darkness I was hoping for. (even worse it came in a winter advent calender full of early fall lagers and this is only at the lightest end of where the toaster malted beers should have been; especially considering my last beer was the Schneider Aventine and Ayinger dunkel)
Just over average, and the nose makes it all.
★
1,628 characters
Horny Betty from Brauerei Gusswerk GmbH
3.63
out of
5
based on
13
ratings.