Evolution Craft Brewing Company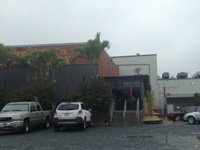 PLACE INFO
Type:
Brewery, Bar
200 Elmwood St
Salisbury
,
Maryland
, 21804-5522
United States
(443) 260-2337 |
map
evolutioncraftbrewing.com
Notes:
No notes at this time.
Added by lackenhauser on 04-28-2009
Reviews: 12 | Ratings: 69

4.22
/5
rDev
+3.9%
vibe: 4 | quality: 4.25 | service: 4 | selection: 4.5
Most of the people seem to go to the Public House side to either eat, or sit at the bar. Therefore, the taproom area was not very crowded (only went one time, so not sure if this is typical). All of the year-rounds + seasonals + a couple limited releases. Most beers can be found elsewhere in the state, but there were a few that were very limited. Delicious beer
★
367 characters

3.75
/5
rDev
-7.6%
vibe: 3.75 | quality: 3.75 | service: 3.75 | selection: 3.75
It has a comfortable vibe, it's not too big or too small. Large windows are nice and let in lots of natural light, though this can be an issue when the sun is shining directly into your eyes, blinding you from looking at your beers. The quality was also good, beer and food-wise. No complaints about service or selection. Pretty solid across the board, though a bit pricey. Not sure why it's not giving me an option to rate food, but their crab dip is some of the best I've ever had.
★
483 characters

3.78
/5
rDev
-6.9%
vibe: 4 | quality: 3.75 | service: 3.75 | selection: 3.75
Beautiful location with great outdoor and indoor space. Service was poor. The waitress did not know what was offered on tap and advised differently from what the bartender had. A bottle release was offered by the brewery but the waitress did no know if the bottle was still available. Was asked to check and forgot and had to be reminded. Have to note that the waitress was working the deck area but nonetheless should have know this info. Would not go back due to the poor service and ok beer.
★
501 characters
4.85
/5
rDev
+19.5%
vibe: 5 | quality: 4.75 | service: 5 | selection: 4.75
The best brewery/gastric pub in the state. Incredibly unique menu. Fantastic beer selection. Very knowledgable staff. Restaurant, brewery and tasting room all in one place.
★
172 characters

4.26
/5
rDev
+4.9%
vibe: 3.75 | quality: 4.25 | service: 4.75 | selection: 4
Evolution Brewing has a really nice newer facility. On the one side has a nice restaurant and the other side a tasting room. We didn't have the time to take the tour but the people that did looked happy with it. Great service and some really good beers. My only complaint is that they don't sell any bottles at the brewery. But other than that, I look forward to visiting them each time I'm down in Ocean City, Maryland for vacation.
A very promising up and coming brewery, cheers!!
★
484 characters
4.01
/5
rDev
-1.2%
vibe: 3.75 | quality: 4.25 | service: 3.75 | selection: 4 | food: 4.25
Great atmosphere, fairly laid back but not too quiet. I could wee myself going there for several different occasions.
Beer and food was of high quality, also tried a couple well crafted spirit mixtures.
Service wasn't spectacular, but the staff was definitely helpful and friendly.
The food was great. Although they didn't have a long menu, it was quite diverse. Also, I felt like they weren't overreaching at all. It was all fresh and well executed.
Prices are very reasonable especially for the quality that you get.
★
522 characters

4.5
/5
rDev
+10.8%
vibe: 4.5 | quality: 5 | service: 4.25 | selection: 4.25 | food: 4.25
From Visit on 4/23/12
(re-posted from my blog)
They have been around since 2009 and it is a small brewery that I used to frequent when living in Virginia. They make really good quality beer. They were on a very small scale and have been growing ever since. My favorite of their brews (which they did not have at the time of this trip) is Rise Up Stout. I was told they were finally bottling it! I am so excited. They used to be located in a small building in Delmar, DE and finally outgrew that and decided to open a Restaurant along with the brewery and moved to Salisbury, MD.
Well as for the food here. It was good. It is an upscale bar food kind of place. They use as much local foods as they can and make interesting dishes and specials almost every day (I read their Facebook page) They cut and smoke and season their own meats and the bacon they make is outstanding! They recommended we just order a bunch of entrees and apps and even thought they aren't "family sized" portions and share with the table. They said you can just order as you go through out the meal and it comes out as it is made. So not everything comes out at once. They had an array of cheeses and the desserts were awesome. The food itself was good and the order of Fish and Chips was the best thing I tried all night! As for a dessert our table ordered one of everything and they were amazing. I myself had the Porter Float (Vanilla Bean Ice Cream dropped in their Porter) it was fantastic! I think I might put ice cream in beer anytime I want to eat ice cream since I am not super big into ice cream.
The atmosphere was fun and the building is really cool looking (inside and out). The only suggestion I would make to them is to put changing tables in the bathrooms. We had 4 kids with us and there was not one changing table in any of the bathrooms.
The new beer tasting room is right next to the restaurant but you can get samplers of the beers like any other brewpub. It was overall a great dinner.
Definitely worth checking out if you are ever in Salisbury Maryland or even in Ocean City Maryland (it's not a far drive from there)
★
2,126 characters
4.3
/5
rDev
+5.9%
vibe: 4 | quality: 4.5 | service: 4.5 | selection: 4
Nice little stop for those coming from to Ocean City or RB.
Small tasting room with a few stools and a couple of picnic tables outside. 5 beers on tap, with the possibility of bottles of the migration series available for purchase.
Brewing equipment is behind a large window behind the bar. They are very cramped in this facility and obviously looking to expand.
Nice selection of t-shirts, hats, and the like available for sale. No food to speack off, though I can see getting a pizza and eating on one of the outside tables.
Friendly staff. Didn't seem to offer a formal tour, if you are into such things, but the place is so crammed full of equipment I'm not sure one would even be advisable.
This is definitely a brewery worth checking out. Thankfully, their beers are showing up in other locations now (even found some in Charlottesville VA).
★
857 characters
3.94
/5
rDev
-3%
vibe: 3.5 | quality: 4 | service: 4 | selection: 4
I had wanted to try some of their BA beers for a while so I took the drive down the other day. The town of Delmar does not look like it had much to offer. The outside of the brewery is non-descript, the building used to house a small grocery store. Inside is a small bar, and in the corner were a handfull of barrels that they use for their fall migration. I ordered a flight which included most of their normal lineup + a seasonal. I was surprised how many patrons they had for a Thursday afternoon. The bartender was pleasant and the flight was reasonably priced. I was very excited because they were selling gift packs of menagerie #3 and their winter migration(first day they offered it, did not even list they had it for sale on their face book page). They are moving to a new location in the spring, which will be a much bigger space. If you are in the area the current location is worth stopping by.
★
906 characters

4.18
/5
rDev
+3%
vibe: 3 | quality: 4.5 | service: 4.5 | selection: 4
Stopped by here about a month ago for the Menagerie No. 3 Redux release. This is strictly a tap room...you won't find any food here, though I know they are about to relocate to Salisbury to launch a formal brewpub, which sounds awesome. Walked in right at opening and surveyed the tap list which was (mostly) their standard fare (ESB, Lot 3, Lucky 7) along with a seasonal (Jacques) and the aforementioned Menagerie No. 3. A little bar with a TV featuring college football as well as few corner tables adorn the small taproom. A very friendly bartender walked us through the tasting and talked about some of the things Evolution has going on. We started the tasting being the only ones there, but when we finished, the place was packed. We lingered for a few more hours, chatting with locals and having some tap pours. The bartender even gave us a sneak peak of their Fall Migration, which was really cool of him. We left with a few bottles of Menagerie No. 3, some recommendations for dinner spots, and a pretty good impression of EVO overall.
The limitations on this tap room are obvious: the town it is in (Delmar) is a bit ramshackle, the size of their brewhouse limits the diversity of beers they have on tap, especially small batch/brewery only drafts, and the lack of food and the atmosphere of the tasting room don't mandate repeat visits if you live in an area where you get Evolution bottles distributed regularly. That being said, the beer is very good and the service was excellent. I'm really looking forward to making a return trip when they open a true brewpub, as I think they will knock that out of the park.
★
1,626 characters

4
/5
rDev
-1.5%
vibe: 4 | quality: 4 | service: 4.5 | selection: 3.5
This place went from being not reviewable to being reviewable for a day and back to not. Now I find out it takes reviews.
I visited Evolution during my time down in Baltimore. The wife and I were hanging out at Alewife Baltimore and met one of the owners of Evolution Brewing. We told him we were going to Delaware soon and he of course recommended we visit Evolution.
They are located in Delmar, Delaware, right by the Maryland border. The owners are all from Salisbury, MD, but chose to open the brewery in DE because of business and taxes and dollars.
The taproom is relatively small, with a bar right upfront as you enter, barrels on the left holding the precious special Evolution releases and shelves with merchandise and some squeaky-clean restrooms on your right.
I won't lie and shall admit I was a lil' disappointed with the tap choices. They had their basic classic lineup, including Secret Spot (winter ale), Rise Up (stout), Lot 3 (IPA) and Lucky 7 (Porter). But none of the barreled stuff or Menageries, which I was very much looking forward to trying.
It was a tease inspecting the barrels at the taproom and not being able to taste them! But can't complain much because after visiting Evolution we headed to SoBo's Wine Bistro in Salisbury for the Southern Boys Beer Festival and there we got to try nine different Evolution brews.
Service at the taproom was great, the wife of Evolution's head brewer was manning the bar and she was so sweet. We chatted about this and that, beer and life, and had a great time.
I got a tasting of all their tap beers plus a growler of Lot 3 IPA to go, and prices were very reasonable (some $12 for the growler, including the glass).
If you're headed to Dogfish or going to Ocean City, do yourself a favor and stop here. Evolution is the next-big-thing to come out of Del-Mar!
★
1,841 characters
4
/5
rDev
-1.5%
vibe: 4 | quality: 4 | service: 4 | selection: 4
A bar? More like a tasting room but the listing are never wrong, are they?
Atmosphere: Located in sleepy Delmar, DE, Evolution is a spartan place. The tasting room has 8 or so bar stools, a table or two inside and picnic tables outside. The bar has a centrally-mounted tower. A few barrels are racked around the room. Behind a door and glass window is the brewing equipment.
Quality: Friendly staff, cozy environment, and plenty of good beers. That's good enough for me.
Service: One bartender working and the place was hopping with pre-Irene jitters. At least three of us had three empty growlers to be filled. Each was attended to in order and with a smile.
Selection: 5 beers on tap: Lot 3 IPA, Summer Session, Haymaker, Primal Pale, and Lucky 7 Porter. The ESB kicked as we entered. Ksak and I had a pint each, Lucky 7 and Haymaker, and we left with growlers of Haymaker, Lot 3, and Summer Session. All beers are well-crafted.
Food: Chips are available for a nominal fee. Other than that, no food. Although I can see bringing a sandwich in to accompany a few pints.
★
1,074 characters
Evolution Craft Brewing Company in Salisbury, MD
3.81
out of
5
based on
4,231
ratings.