Pale Horse Stout

Pale Horse Brewing Company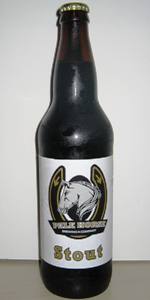 Write a Review
Beer Geek Stats:
Style:

ABV:

4.4%

Score:

Avg:

3.58

| pDev:

6.7%

Reviews:

9

Ratings:

From:

Avail:

Retired (no longer brewed)

Wants

Gots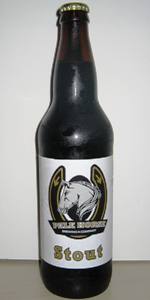 Notes:
Reviews: 9

3.53
/5
rDev
-1.4%
look: 4 | smell: 3.5 | taste: 3.5 | feel: 3.5 | overall: 3.5
Thanks again to my friend Jeff for hooking me up with this bottle in our recent trade. I poured part of the bomber into my DFH snifter to find a deep black body. I was very careful when I poured this but I ended up with a huge three inch head that left a nice sticky lacing. The aroma was on the mild side, with coffee, malt and some chocolate.
This one was really on the dry and mild side. No one flavor jumped out over the other. The roasted malts were the most present with the coffee and cocoa powder hidden in the back. To me this one was really on the light side for a stout, I understand that this is an Irish Stout but I prefer more bold flavors and a heavier body out of my stouts.
692 characters
3.68
/5
rDev
+2.8%
look: 4.5 | smell: 4 | taste: 3.5 | feel: 3.5 | overall: 3.5
Pours a lovely opaque sable with a thick, fine-bubbled and rather persistent light tan head. Aroma is oily, yeasty and smoky with nutty, coffee and molasses hints. Smoky flavor has tones of coffee, molasses, nuts and toffee, a bit on the thin side but still enjoyable. Texture is quite smooth, just a teensy watery and only mildly fizzy. Not the best stout I have ever had, but still decent.
391 characters

4.03
/5
rDev
+12.6%
look: 4.5 | smell: 4 | taste: 4 | feel: 4 | overall: 4
On draft at Bailey's, Portland, Oregon.
Poured a black hue with a one and a half finger creamy off white head. There was good retention and very good lacing.
The smell featured a chocolate malt and a dominant black malt.
The taste consisted of a soft chocolate, dry coffee and charcoal.
The mouthfeel was toward the fuller side of the style; creamy but dry.
Overall a good dry stout with a good use of malts.
413 characters
3.7
/5
rDev
+3.4%
look: 4 | smell: 4 | taste: 3.5 | feel: 4 | overall: 3.5
Add another brewery to the ever-expanding Oregon beer scene. Found a 22 oz. bottle of the Stout (intriguingly, of the 'Irish Dry' variety) on a Belmont Station stop a couple weeks back. Poured to a standard pint.
A: Nice-looking, appropriately charcoal/ebony with a 1-finger topping of light tan cream; a chestnut glow at the edges. Some patchy lace, slowly sliding fragments.
S: Ashy smokiness, a charred malt semi-sweetness, dark chocolate chips. Don't recall the last Irish Stout I could smell from a distance; this one beckons from a couple feet away.
T: A bold punch of flavor, a prounced 'burnt grain' with hints of . Bitterness and mineral tang is pronounced (astringent coffee roast?), even a little lemon-tart oxidation, but for whatever reason this all strikes me as 'tasty'. Sweetness is minimized.
M: Busy mouthfeel, but not overly carbonated - just a nice zest. Feel is medium, a bit heavier than I recall for this style, especially compared with the ubiquitous Irish standard-bearers. In other words, I didn't find this nearly as 'thin' as the standard Guinness seems. Finish is -what else?- dry.
D: A good start from a fledgling brewery; a likable and robust version of the style that holds it's own among the better ones I've tried. Sure, I'd have it again...sessionable-strength is an added bonus. Worth a try.
1,332 characters

3.32
/5
rDev
-7.3%
look: 3 | smell: 3.5 | taste: 3.5 | feel: 3 | overall: 3
Poured from a 12oz bottle into a clear pint glass. No freshness date, but this brewery has not been bottling very long. Single purchased from a broken six-pack at local grocer for $1.28, or $7.69 a sixer on sale. Normal price $9.29.
A-Pours a deep, dark brown almost black hue with scarcely a 1/4 inch head, which receded too quickly to notice its color, although I know it was tan. Virtually no lacing.
S-Roasted and grainy malts with some sweetness present.
T-Lighter than the aroma and sub par. Roasted malts, oats, chocolate, but also an unpleasant twang.
M-Not really sure what the Irish Dry Stout style is all about since it has been quite awhile since I have had a Guinness. But, this is much too thin and watery. In a word, flat.
D-No thanks. ABV is low at 4.4%, but this beer does not offer enough complexion or taste.
I really wanted to like this beer, being from my hometown. We have a few brewpubs that offer some bombers, but this is the only Salem, OR brewery bottling for a wider distribution. The local newspaper featured Pale Horse in a very flattering article this week, so I decided to try one of their beers. I really wish them well, but this is not going to help these brewers realize their dreams. Perhaps, they just don't have the larger scale brewing and bottling operation down well enough yet to produce consistently good beer. I hope they figure it out.
1,388 characters
3.39
/5
rDev
-5.3%
look: 3 | smell: 4 | taste: 3.5 | feel: 2.5 | overall: 3
Malt syrup aroma and flavor, finishing with sharp, earthen bittering. Behind the sweetness, coffee flavor presides. Thin in the body and light on suds, but the curious juxtaposition of flavors makes this near-black ale enjoyable enough. It's just not very dry and hard to appreciate as the dry Irish-style stout the brewery bills it as.
336 characters

3.18
/5
rDev
-11.2%
look: 3.5 | smell: 3 | taste: 3 | feel: 3.5 | overall: 3.5
A: the pour consisted of a few old brown colors with some darker bourbon hues. It looks to be on the lighter side for a stout. My pour became more violent as the head was stubborn to form. After everything settled, a thin fizzed light khaki color rested atop. Lacing is sub-par with a few nice patches existing
S: sizable whiff of cooked grains, roasted malts, and few crushed oats. I can pull sweetness of dusty cocoa powder. A bit bleak in the nose
T: too bad...the palate proves as weak as the nose. Overwhelmingly light on taste. The notables consist of roasted malts, maybe some flaked oats with a splash of chocolate cream, and a few days old coffee grounds. It also harbors a light astringency with elements of clean and crisp hops on the back of the tongue
M: this brew maintains a medium level of carbonation and is rather light as a result. It is easily drinkable in that sense, but I like'em real heavy. Body is medium in feel and a bit thin
D: I see people regarding this as a possible session brew, it is a session brew that lacks some flavor. Something a little heartier would be nice...but then again it is an Irish Dry Stout and drinkability is at the helm
1,176 characters

3.63
/5
rDev
+1.4%
look: 4 | smell: 3.5 | taste: 3.5 | feel: 3.5 | overall: 4
Couple of "pounders" at Stone Front Tavern Salem.
Typical dark mahogany, almost black stout colour with a very nice creme coloured thick head,lots of lace after awhile.
Pleasing roasty,toasty oatish aromas.
Good roasted malts ,dark chocolate and darker coffee flavours.
Very dry stout, this is smack bang in the middle of the style.
I found the dryness promoted drinkability and had to stop at two because i was driving, though at 4.4% this has the potential to be a real sessioner.
Well done Salems first new independent brewer for quite some time!
550 characters

3.72
/5
rDev
+3.9%
look: 3.5 | smell: 4 | taste: 3.5 | feel: 3.5 | overall: 4
Appearance- Pours a low tan head that dissipates quickly, leaving a perisitent foam.
Smell-Creamy and very chocolatey.
Taste-Dry, roasty malts, chocolatey, but less than it smells. Hops are present in just the right proportion.
Mouthfeel-Crisply carbonated for a stout, making the body feel thiner than it is. Not unpleasant, but unexpected.
Drinkability- Light for a stout in body and ABV. One could easily session this brew.
431 characters
Pale Horse Stout from Pale Horse Brewing Company
Beer rating:
3.58
out of
5
with
9
ratings