Double Espresso Premio Caffé
| Black Wolf Brewery
BA SCORE
83
good
10
Reviews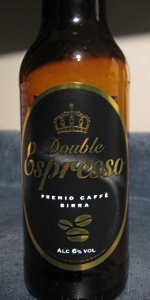 BEER INFO
Brewed by:
Black Wolf Brewery
Scotland
,
United Kingdom
blackwolfbrewery.com
Style:
English Porter
Alcohol by volume (ABV):
6.00%
Availability:
Year-round
Notes / Commercial Description:
No notes at this time.
Added by biboergosum on 08-02-2012
Reviews: 10 | Ratings: 24

3.73
/5
rDev
+3.9%
look: 4 | smell: 4 | taste: 3.5 | feel: 3.75 | overall: 3.75
From 10/17/15 notes. Picked this up in Stirling, Scotland. 12 oz. bottle into a globe glass.
Pours a pitch black color with low carbonation evident and one inch of brown head. Lots of espresso and strong bitter coffee, cream, roasted mats, and burnt malts. Taste is earthy and has some dirt too. Medium body and moderate carbonation
Overall a decent beer; liked the nose a lot though the taste was bitter and lost some of the coffee.
435 characters
3.03
/5
rDev
-15.6%
look: 3.25 | smell: 4 | taste: 3 | feel: 2.75 | overall: 2
Looking at the bottle now, is July 14, disappointing in something I just bought. Not sure what's up with the store I get these from but that's 2 way, way, way out of date beers from them in this trip.
It tastes and smells like the most well known coffee liqueur you know. I have no head and carbonation to speak of.
You can achieve this beer with cola and that coffee liquer. Just let the cola go flat.
406 characters

4.19
/5
rDev
+16.7%
look: 4 | smell: 4.25 | taste: 4 | feel: 4.75 | overall: 4.25
330 ml bottle; BBdate of April 2016.
Enjoyed ½ mile west of St Monans, Fife at the remains of Newark Castle.
Pours with a generous, creamy tan head.
Aroma: As much chocolate as coffee; a characteristic repeated in the flavor.
Full body; exceptionally smooth with a fine creamy feel.
O: Much less coffee flavor than the "double espresso" description suggested, I found this to be very nicely balanced in coffee/malt flavor and in sweet/bitter.
448 characters

2.46
/5
rDev
-31.5%
look: 3 | smell: 3.25 | taste: 2 | feel: 2 | overall: 2.5
330ml bottle. Aug 2015. Pours as brown as it gets before being black, adequate brown head which reduced to a ring and only a touch of lacing. Aroma of dark roasted coffee, cocoa, molasses, mould and liquorice. Medium sweetness, light bitterness. Light to medium body, thin texture, flat carbonation. Burnt coffee finish with some sourness in there too. Noticeable alcohol burn. I didn't enjoy this one. 5.
405 characters

4
/5
rDev
+11.4%
look: 3.75 | smell: 4.25 | taste: 4 | feel: 3.5 | overall: 4
A 330ml bottle with a BB of Oct 2013, so it's a bit out of date. The last beer of the Sainsbury 2012 Beer Hunt still in my possession. Must have slipped under my radar. The label doesn't say much except to indicate that this contains coffee.
Poured into a tulip pint glass. A very dark reddish-brown hue that appears ultra-black in the glass. Yields a creamy head of light-brown foam that lasts for a few minutes before subsiding; it's not unlike the crema on a good espresso. Aroma of intense coffee - almost like a fresh brew. Notes of roasted coffee beans, dark malt, burnt grain, hints of dried fruit, a touch of molasses and fruity yeast. Seriously bitter yet also slightly sweet. Very nice.
Tastes of rich coffee and roasted malt with a substantial bitter finish. Notes of intense roasted coffee, burnt grain, dark malt, molasses, mild dried fruit, ale yeast and a faint citrus twang from the coffee. Very slightly sweet, followed by a roasty bitterness upon swallowing. Mouthfeel is smooth and lightly tingly, with soft carbonation and a vaguely insubstantial body for the style. Pretty astringent, accompanied by an aftertaste of bright espresso and dark malt.
Nice, though definitely one for coffee fans. Looks OK, while the aroma and flavour are superbly redolent of fresh espresso and bitter roasted grain. Subtle fruit notes from the coffee. So-so body; could be creamier for the style. A tasty brew with a big character - well worth sampling if you come across it.
1,480 characters
3.58
/5
rDev
-0.3%
look: 3.5 | smell: 3.5 | taste: 3.75 | feel: 3.25 | overall: 3.5
330ml bottle: BBD Feb 2014, poured into a Gordon's Thistle shaped glass on 30 Aug 2013.
Exceedingly dark body with a full but fairly thin tanned head.
Intense rich coffee aroma and taste, as you'd expect by the name on the bottle. Dark chocolate and cocoa flavours vie with the coffee to give a smell and flavour very similar to a Greek 'Frappe' without any milk.
Not as creamy and rich in texture as the nose suggested, the body depth being my only negative thought on the brew.
Both interesting and worth finding (if you like coffee).
540 characters
3.79
/5
rDev
+5.6%
look: 3.75 | smell: 4 | taste: 3.75 | feel: 3.5 | overall: 3.75
Appearance: Dark black-brown with slight mahogany highlights. An average dark-tan coloured head that dissipates slowly, with a low amount of lacing.
Aroma: Very coffee forward, however, it smells a bit less like espresso and more like a cappuccino. Some chocolate notes come through once your senses get used to the strong coffee aromas, along with some roast grain and a little bit of sweet liqueur.
Taste: Strong coffee flavours (again, more like cappuccino than espresso), with some chocolate and roast following. Again, there is a sweet aspect, similar to Galliano Espresso liqueur, which matches well with the biscuit aspect in the aftertaste. Well balanced bitterness from the hops.
Mouthfeel: Medium body with medium-soft carbonation. Finishes quite dry, without being astringent. Probably a little thin.
Overall: Quite nice and very tasty for those who like their coffee. It does not, however, shout espresso to me, much less "double espresso". It has more of a sweeter cappuccino aspect to it, which is bolstered by the chocolate notes. A little bit thin and simple, but reasonably well balanced none the less.
1,123 characters
3.04
/5
rDev
-15.3%
look: 4.5 | smell: 3 | taste: 3 | feel: 3 | overall: 2.75
330ml Bottle from Sainsbury's (£1.55):
Dark mahogany brown bordering on black with a thin looking, creamy head that is an off-brown colour that stays pretty well.
Dark chocolate and cocoa with a lot of coffee coming through as well. It is quite a strong aroma that seems to fill the room. There is a sort of coffee liqueur aroma to this one with some roasted malts too.
Mainly coffee and the chocolate that dominate again with some roasted malts and a rich cocoa smell. Other than that the beer offers little else and the initial aroma is slightly overpowering. There is an earthy, roasted malt smell towards the end.
Light medium bodied beer with a smooth and bitter taste that is backed up with the smallest taste of alcohol.
Started with a really strong aroma, a nice mix of coffee & cocoa but on closer inspection it was apparent that there wasn't much else the beer had to offer and this was mirrored in the taste. The beer started okay but as I worked my way down the glass it quickly turned a little sickening and basic.
1,032 characters
3.56
/5
rDev
-0.8%
look: 4.5 | smell: 3.5 | taste: 3.5 | feel: 3.5 | overall: 3.5
Pours a beautiful rich dark brown bordering on black, lovely tan lacing on a finger width head. Holding up to the light you get a lovely dark toffee colour at the edges of the glass.
Initial aroma's are of cola mixed with coffee liqueur, but the coffee aroma then develops into a much more rich espresso. There is a hint of chocolatey malt hidden away.
The taste is like the most magnificent coffee liqueur you've ever had - but not quite like espresso. Sweet. Definitely has a Scottish Ale quality to it. Faint hint of alcohol warmth. The taste stays with you, in a good way.
It feels beautifully soft in your mouth, and can disappear very quickly.
A fairly nice coffee beer, but not the best.
698 characters
4.12
/5
rDev
+14.8%
look: 4 | smell: 4.5 | taste: 4 | feel: 4 | overall: 4
330ml black foil capped bottle. I see that a Double Espresso offering already exists, but no oatmeal is mentioned in the making of this one in my hot little hands.
This beer pours a solid black abyss, with very slight cola highlights, and two fingers of bubbly, frothy tan head, which leaves a low sudsy berm of lace around the glass as it steadily sinks away.
It smells, bang-on, like Coffee Crisp Dark - biscuity chocolate malt, and mildly bittersweet cafe au lait, with some soft leafy, earthy hops bringing one's mindset sort of back to beer. The taste is somewhat less candy bar reminiscent, though the resemblance is hard to shake, as the medium chocolate malt and nice, even earthy coffee notes may have stepped back a notch, but still radiate their attributes, so, spade, thou hast been called out. Anyways, a mild sourness, and some nice herbal, hoppy notes do their best to refer focus back to the base beer.
The bubbles are soft and almost cushioning, the body a wavering medium weight, but to no ill effect, and pretty damned smooth. It finishes a tad off-dry, the espresso and chocolate maintaining their bittersweet detente, and the hops just doing their best to be appreciated by mostly staying out of the way.
Wow - this is one tasty coffee beer - and just restrained enough to make me, the coffee agnostic, crave more. Through the java mire, I can perceive an adequate amount of porter elements to classify this as such, but we know who the real stars of this little endeavour are. I recommend this to cuppa joe freaks and beer geeks alike.
1,561 characters
Double Espresso Premio Caffé from Black Wolf Brewery
3.59
out of
5
based on
24
ratings.