Brouwerij De Dolle Brouwers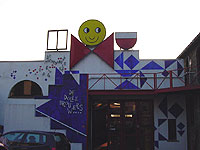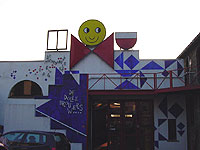 Brewery, Bar, Eatery
Roeselarestraat 12B
Esen
, 8600
Belgium
+32 (0)51 50 27 81 |
map
dedollebrouwers.be
Notes: Only open to the public on Saturday and Sunday

amano_h from Oregon
4.93
/5
rDev
+10.3%
vibe: 5 | quality: 5 | service: 5 | selection: 4.75
One of the most underrated breweries of all time.
De Dolle Brouwers are as craft as craft beer can get. The head brewer and one of the masterminds behind the creation of De Dolle, Kris Herteleer, pretty much built the brewery from the ground up with his bare hands and I mean that strictly in the semi-literal sense. Coming from a former medical background, Kris is the quintessentially modern rendition of the renaissance man: he's the head of a cycling club, an artist who designed all the artwork that goes with De Dolle, the mechanic that keeps all the brewing equipment in line at De Dolle, and of course the genius behind De Dolle's unique and one of a kind Belgian Strong Dark and Pale Ales.
The brewery itself is built around the Oerbierman, the mysterious yellow blob-ish like character that appears as the mascot/logo for De Dolle's signature beer. Think of the brewery grounds as the breeding and feeding grounds of Oerbierman -- a magical Belgian creature that feeds on the excitement and harmony created by all visiting these hallowed grounds and spouts out yummy beers in return.
Abstract imagery aside, the brewery does kind of look like one big awesome theme park (in the likeness of Duvel-Moortgaat's proposed Chouffe Land) and any experience here will likely be a magical storied one. Kris and his better half Els are usually entertaining guests from both near and far on Saturdays and Sundays when the brewery is open to the public, and they sure do know how to make someone feel right at home as you immediately feel like family the moment Els hands over that crisp cool pour of Arabier straight from the hallowed taps.
Dammit, I have to stop getting carried away with the imagery. There's usually three or so taps on offer at De Dolle with two of them permanently being reserved for De Dolle's year round offerings (Arabier and Oerbier). They do sometimes have bottles behind the counter as well, so it's always good to ask if you're looking for something specific.
Across the kitty corner from the bar they also sell all sort of brewery paraphernalia like t-shirts, posters of Kris' awesome artwork, printed glasses, and also bottles to take away. English tours are only given on Sunday, but you can also set up a tour for a weekday if you have a large party with you (of 8 and over I believe.)
If you've already made the drive out to West-Vlaanderen, or even to Bruges which isn't that far out from here, do make sure to stop by De Dolle to sample some of Belgium's finest non-sour traditional beers, and also if you're tired of the "European city hospitality" that Brussels, Bruges, and Gent are famous for and actually want to feel treated like a respectable human being. Even if you've never had any of De Dolle's offerings, I'd still urge you to visit -- this place is more like a playground for kidults if anything else, and I find it hard for anyone to have a bad time here.
Food options limited.
Mar 01, 2016

atomeyes from Canada (ON)
4.79
/5
rDev
+7.2%
vibe: 4.75 | quality: 5 | service: 5 | selection: 4.75 | food: 3.75
Definitely in my top 3 breweries in the world to visit. I've been there 5 times. Would go again and again and again. Kris and Els are absolutely awesome. Kris is a mad genius and i love how the bar feels. there's an outdoor patio in the summer, lit candles on the tables in the fall/winter and lots of beer flowing. do NOT drive there, since the high ABV beer will put you tits up real quick.
the brewery tour (30 min) is worth it if you dig cool and old brewery set-ups. Kris will pull some Reserva from the barrel for the groups to try (if he's in a good mood).
their swag for sale's always great.
this is my home away from home.
Nov 25, 2015

Jerseyislandbeer from Jersey
4.15
/5
rDev
-7.2%
vibe: 4 | quality: 4.25 | service: 4.25 | selection: 4
Open only on Sunday afternoons (2-7pm) this is a must visit if your in West Flanders. A lively & colourful brewery, with large & busy tap room with plenty of table & chairs. Choice of 3 different beers on tap, all very much on the strong side, but of outstanding quality. A small area is set aside for the selling of the 4 or so different bottles they had.
Sep 05, 2015
Vandelay37 from South Carolina
4.69
/5
rDev
+4.9%
vibe: 4.75 | quality: 5 | service: 5 | selection: 4
A huge thanks to moderndrunkard for his review and perfect walking directions from the Diksmuide train station. I'd also add that the walk - while 2 miles - is down a main road through a town, and it's paved and easily walkable. We followed his directions, and they were spot on, and it only took 35 minutes or so.
Other than that, De Dolle was fantastic. One of the regulars even brought in food and cut it up for everyone! Great atmosphere, delicious beers (we had the Arabier on tap and the Dulle Teve and 2012 Special Reserve in bottles - the 2013 was also available), and clean restrooms, which are always a plus in my book.
May 24, 2015
Jackofallbrews from Minnesota
4.72
/5
rDev
+5.6%
vibe: 4.5 | quality: 4.75 | service: 5 | selection: 4.5
Located in the small village of Esen. They opened up in 1980, taking over an 1800's brewery and distillery that had gone out of business. Much like the early craft breweries in the USA, these guys were one of first new and craft oriented breweries to open in Belgium. Starting with the Oerbier, they pioneered a hoppier version of blonde ale than had been popular, really taking some risks for the time. This is still a small family run business and we were able to get a relaxed tour of the brewery and grounds for our group. We sampled most of their beers during this trip, and like most of the breweries in Belgium, they do not like to give small samples. It is full glass or nothing for these guys! I really liked the Boskeun--a light colored, malty and strong alcohol Easter beer named after a rabbit. The tap for this beer was hooked up to a battery operated drumming rabbit that went off loudly each time the beer was poured. Pretty funny!
Another of their popular beers is the Dulles Teve (or Mad Bitch in English) which is a strong tripel. They mention not aging this beer on their website, but last trip to Belgium we had a 10 year old version that was amazing.
We had a fantastic and relaxing visit to this brewery, taking a good amount of the afternoon to get through all those beers. I was impressed with this newer brewery that respects the traditions of Belgian brewing (they still use a coolship!) while still pushing the boundaries of Belgian beer styles.
May 22, 2014

SStein from Colorado
4.93
/5
rDev
+10.3%
vibe: 5 | quality: 5 | service: 5 | selection: 4.75
It is a quiet little barroom in the back corner of the brewery. There is a small bar serving That was today serving Arabier and oerbier. I sampled both, while my wife who pulled driving duties today drank sparkling water. Our daughter enjoyed the view of the place. The lady behind the bar, I believe she was the brewery's wife was very informative, and helpful. She even brought out toys for my daughter to play with, and was extremely friendly. I walked out of there with 4 glasses, a mixed box of 10 Dulle Teve and 10 Arabier and 2 6-packs of 3 each Arabier and Dulle Teve. Can't wait to back and take the tour.
Jan 19, 2013

beerpirates from Belgium
4.66
/5
rDev
+4.3%
vibe: 4.5 | quality: 5 | service: 4.5 | selection: 4.5
Great place to visit, Kris and his wife are really wonderful persons. I didn't visit the brewery. It is possible only on appointment, but I had the pleasure of talking with them drinking their great creations in the pub into the brewery with others visitors. The beers on taps are magnificent and we tasted also some Stille nacht Reserva 2008
I can really recomand this place to all beerlovers in the workd , it's worth all the effort to get here
Take care with the alcoholic content, here it's really easy to get drunk...
Feb 05, 2012
DaPeculierDane from Wisconsin
5
/5
rDev
+11.9%
vibe: 5 | quality: 5 | service: 5 | selection: 5
Visited 8-22-10
Of all the brewery tours I have taken (somewhere in the 100 plus range) and all the breweries/brew pubs I have visited (200 or more), this was my favorite. In fact, my visit to De Dolle stands out as probably the single best beer focused experience of my life thus far.
After training from Bruges to Esen via Diksmuide, we walked the 3-4 kilometers of country road to De Dolle. I felt mildly guilty for dragging along my fiancé, who had a twisted ankle, and her sister and brother-in-law who really aren't all that into beer. A few minutes after reaching De Dolle, however, we all knew that our efforts would be repaid many times over.
We began with a tour lead by head brewer Chris's 92 year old mother. She describe her sons' beer and art (Chris paints his own labels as well as other fine works that can be found around the brewery) with a passion that only a mother can convey. Her stories were humorous and insightful and she seemed able to convey them and to joke in every language imaginable. Before long her entire audience was laughing and sharing in her excitement for their product.
Upon entering the brew house I was shocked to find an environment that one would expect to see at a lambic producer. Ancient equipment, cob webs, barrels, and a massive copper Kuhlship too allow for a brief spell of open air fermentation. When De Dolle talks about the Oerbier being of the "Old Style" they are not joking. There brewing process incorporates techniques that have sadly been forgotten or otherwise banned due to obnoxious health departments and regulatory agencies. To this day I have never seen another brewery that looks anything like this place. It was truly unique and helps to explain why their beers can't quite fit into any categories with the beers of other brewers.
As we continued, our guide swore that her health and longevity were the result of the mystical qualities of the copper kuhlship we witnessed (I fully believe her) and the hops found in the Ara Bier, which she drinks daily (I was lucky enough to buy her a bottle for her 93rd birthday the next night at 't Brugs Beertje). Then it was time for us to try the Ara Bier for ourselves.
The tasting room of De Dolle is equivalent to a country tavern/township meeting hall. It seemed that the entire village was there along with all the local farmers. Everyone was hooting and hollering and having a grand time. We joined right in tasting De Dolle's entire line up from taps and casks as well as some wonderfully aged vintages of Stille Nacht.
Before long we were chatting up Chris about Flemish politics, beer, and art and he was pouring us glasses of Chateauneuf du Pape aged reserve sour beers from the massive barrel and discussing his many other "mad" experiments.
It's difficult to describe the feeling we all had at De Dolle. You know those great moments when a happy buzz is coming on and you're with your friends in the perfect place and everyone just loves everybody else. It was like that only better. The beer just kept tasting better and better. The world was brighter and our futures seemed to guarantee that this jubilation would last for ever. It was just an out of this world positive beer experience.
Although our adventures with the Mad Brewers continued for sometime after this, I must not relay them in detail as I promised I would not. Let me just say that there are few brewers as kind and generous (or Mad) as Chris and his fine family near Esen. If you go to Belgium, go to De Dolle. Take your time and enjoy all they have to offer.
Jul 22, 2010

nickd717 from California
4.6
/5
rDev
+2.9%
vibe: 4 | quality: 5 | service: 5 | selection: 4
Awesome place to visit, especially on bike (so you don't have to drive - drunk biking is awesome!). I made the mistake of driving so I had to limit myself, which I really really regret. The beer here is awesome. Kris Herteleer, the brewmaster, does most of it by himself, which is incredibly impressive considering you see his beers all over Belgium and the US. His wife, kid, and mom, were also just hanging around. Great people. I had the pleasure of talking with Kris for an hour or so on a Saturday afternoon in between the arrivals of biker groups. The guy is an artist - his paintings are all over the tasting room - but his greatest art is his beer. They had about 4 beers on tap and those and a few more in the bottles, plus a couple rarer/out of season ones if you know what to ask for. The tasting room is located back behind the brewery (you need to walk through it to get there) and there is also some merchandise for sale. Kris' mom does an English tour every Sunday at 2. Nice patio outside overlooking the Belgian countryside. If you're ever in the western area of Belgium, this place is highly recommended.
Aug 08, 2009
DaggerEyes from New York
4.65
/5
rDev
+4%
vibe: 5 | quality: 5 | service: 5 | selection: 4 | food: 4
Of all the tours my wife and I did on our visit to Belgium this one had to be the best.
We arrived for the 2pm Sunday Tour (the only one given in English without a reservation). We happened to be the only people to show up for the tour and proceeded to spend the next hour being shown around the brewery by Kris (the brewers) mother. She is an amazing tour guide, full of jokes and anecdotes.
Afterwards we went to the bar where we had a wonderful conversation with Kris and Carlo from De Struisse Brouwers, and enjoyed a few De Dolle beers on tap with a wonderful serving of Oerbier Pate (which I would highly recommend).
All De Dolle beers were available during our visit. Arabier and Oerbier on tap and the rest in bottles.
Kris is a wonderful artist and everything about the brewery is art. You can just feel the thought that he puts into everything, right down to the smallest details.
If you are in the Bruges area, DE DOLLE is A MUST VISIT
Sep 28, 2008

ATPete from New Jersey
4.36
/5
rDev
-2.5%
vibe: 4.5 | quality: 4.5 | service: 4.5 | selection: 4
Visited Do Dolle Brouwers in April 2008 with the Burgundian Babble Belt on a Bier-Mania bus trip.
De Dolle makes some of my favorite beers being able to visit the brewery was an honor. The front is very intrigueing very bright and colorful. The front gate really caught my eye, it is hand welded in the classic De Dolle style. BTW the bathroom is on your right hand side, outside, as soon as you walk in the front gate! The inside is very cozy a few small tables by the bar and an off shoot room with a fireplace and cushioned furniture. The Back of the brewery is a beautiful sight! 5 large barrels are in the back corner of the patio with nothing but a field of green behind it. Also on the patio were assorted kids toys, i guess the locals bring the kids along with them =) I had 2 draught Ara's, 1 Oer, and a very special 2004 Oer Bier Reserva (not for sale). I bought a shirt to support.
If you are in Belgium, especially Bruges you should definitely make the trip to De Dolle, just be sure to check on the breweries operating hours before making the short trip.
May 05, 2008
moderndrunkard from S. Georgia & S. Sandwich Isls.
4.5
/5
rDev
+0.7%
vibe: 4.5 | quality: 4.5 | service: 5 | selection: 4
Absolute must for any trip to Belgium. Easily accessible from Bruges or Brussels. And just to expand on Crosling's description: Once you get to the Diksmuide, walk out to the entrance of the train station. You should see a bar in front of you with a Branik (Bravik? Can't read my writing.) sign on it. You could stop in there and have a delicious Petrus Ouid Bruin if you like, but you have to get to De Dolle by 2 for their Sunday afternoon english language tour.
So, fromt he train station take a left and walk down till you get to the first intersection. If you go left, sou should end up crossing the train tracks. That's Esenweg and it will take you straight to your destination. Just keep walking straight. At the first roundabout veer to your left, and walk until you get to the church. At the church, head right and the brewery is just ahead on the right.
We made it their a little late, just as the english tour was wrapping up, but we told brewing brother Kris that we'd take the Flemish tour, hoping our German might help us out a little.
It didn't, really. We caught a couple of jokes and the story of how a doctor found that the healthiest people in the world were a tribe in South America that ate only seeds, and since beer is only made of seeds, it must be very healthy.
After the tour, Kris had his mother, "Muss," the tour guide, come over to our table in the bar and give us some basic info in English. She told us how the brewery was started in 1980 when her two sons started brewingthe Oerbier while they were in college. They picked one of 35 different versions to enter into a competition in Brussels. They took first prize and Muss helped them start the brewery.
Kris is, as Crosling said, is a great artist and does all the artwork for the brewery himself.
They had three beers on tap: the Oer, Boskeun, and Ara (a dry-hopped "summer" beer). There were more in bottles, not sure which, which were available to take home. They also sell t-shirts and posters.
The place was pretty crowded, as I believe it's tradition to spend Sunday afternoon with friends and family down at the local brewery. And this place oozed friendliness. We had a great time, and when we told Muss we had to leave for the long walk back to the train station, she offered to drive us!
May 02, 2006
Crosling from Colorado
4.36
/5
rDev
-2.5%
vibe: 4.5 | quality: 4.5 | service: 4.5 | selection: 4
If you are staying in Brugge on a Sunday and have nothing planned, why not go visit The Mad Brewers. There is a guided tour in English each Sunday at 2:00.
The brewery is in a very small village in Esen, Belgium. There is not public transportation to Esen on Sundays. To get here you must take a train to Diksmuide. Diksmuide is about 14 minutes (by train) from the Brugge main station and there are trains departing from Brugge to Diksmuide about every 30 minutes. Once you reach Diksmuide, find the main street that connects Diksmuide and Esen. Esen is about 4 kilometers, exactly east of Diksmuide. It's about a 30 to 40 minute walk. I would suggest walking, as hitchhiking didn't seem to work very well. It's a nice walk anyway.
The guided tour is led by the brewer's (Kris) mother and original financier Mrs. Herteleer. She is a very passionate and very knowledgeable guide. We were led through the entire brewery. The highlights were the mash-tun and the hydrometer, which was on a mantle directly over the cooling tun. I also went through the hop room (they use whole flowers). After the tour Mrs. Herteleer took us down to a small theatre room and gave us a brief history of the brewery. This room also housed a impressive bottle collection of some of the old flemish breweries.
The tasting cafe was very impressive. Kris's paintings were hung all over. He is a very talented guy. He's a brewer, arcitect and a painter. Old, donated furniture, baring no resemblence to any other piece, was placed all over the back room of the cafe.
The beer was great (ofcourse). Kris and I talked for a few hours. Afterwards, he led me down to the basement of the brewery, which is usually not included on the regular tour. In the basement were three rooms: a storage room, Kris's personal cellar and the barrel storage room. There were 8 barrels, 6 housing Oerbier Reserva in bordeaux barrels and the other 2 holding Dulle Teve in Dupont Calvados barrels. His cellar was simply amazing. Hundreds, maybe thousands of old De Dolle beers. He grabbed a bottle and handed it to me as I left, making sure I knew what was inside ofcourse. The bottle was covered in cobwebs and grime but inside, was the original Oerbier from 1993 that had been oak aged for 2 years and then cellared until he gave it to me. I felt special and even more special when I tasted it later in the evening. It was incredible.
Going to The Mad Brewers was a fantastic experience. I hope it is everything to you, as it was to me. Have fun.
Jul 27, 2004
GreenCard from Maryland
3.45
/5
rDev
-22.8%
vibe: 4 | quality: 4 | service: 3 | selection: 3
Well, it's a great little brewery and fun to visit. The main reason I went there was to go on the brewery tour, but presumably locals (and visitors like me) come here to tip back a few in their odd tasting room. Sort of had the atmosphere of a "romper room" for kids and adults. Sort of "family oriented". The original artwork is great. We even asked about buying a couple of them (which proved to be a bit cost-prohibitive for the moment). He's got a great painting style though.
So, the selection rating suffered a little because the only thing they had was their own beer. But, come on, that's to be expected and certainly not a bad thing. What better place than here to try De Dolle beers? You know the beer is fresh and well cared for. In fact, I changed my opinion of Arabier after tasting a bottle of it there. Much better than the bottle I tried from a beer shop here in Brussels!
The brewery tour is interesting. We were lead around by the brewers' mother, who spoke very fondly of her sons. As an amateur brewer myself, the information wasn't really new (brewing process), but it was very interesting to see how rustic their set-up is. Interesting to know that they use a coolship for part of the cooling process. Probably a good source for that slight "funk" in their beers. But it's a good funk! The bottling line is insane. It is gargantuan in proportion to the brewery itself. It must take no more than an hour to run one batch of beer.
Great prices on the take-away beer. I bought a mixed case of 20 beers for 21.50 euros. They also had six-packs and some nifty wooden 16-pack crates. Plus the De Dolle Oerbier pate.
I highly recommend visiting this brewery on any beer-tour in Belgium. They do a tour in English every Sunday at 2pm, but are open on Saturday as well (though not for tours, it seems, unless you call ahead and book it with them).
May 04, 2004
TheLongBeachBum from California
3.73
/5
rDev
-16.6%
vibe: 4 | quality: 4 | service: 4 | selection: 3
The "Mad Brothers" turned 21 years old last year (2001). But for me, they reached maturity a long time before then. They have themselves a very fine business, a great Old Brewery and an excellent portfolio of beers to boot. I was lucky enough to visit the Brewery in 1999, and afterwards we enjoyed some of their fine offerings in the Bar on the premises.
The Mad Bar (my name not theirs), is located at the back of the premises. I was told it started life as the Sampling Room for the many beer tourists that requested visits to see the almost ancient brewery equipment. The old plant has been restored, and for a working brewery, now looks to be in great shape. However, the Bar is now open to the Public, but only on Saturdays and Sundays. As with their beers, it is different, but of high quality. A large square room with an assortment of padded seats all the way around the edge of the room and some constructed modern type padded pews in the middle with no seat backs. Just off the centre of the room is a huge open square fireplace, with a massive metal extractor hood arrangement that kind of dominates the room a little. But who cares we were here for the Beer.
The Beers are all Mad (literally), would you really come here to drink anything else??? Being Easter, we were very fortunate to sample the seasonal beer called Boskeun, a very spicy 7% Ale, made with Honey and one of their best Seasonal beers for me. Also, we had bottles of Snoek, a rare beer specially brewed only for a Museum in Fortem, with links to the Brewery allegedly. I also had the sour brown Ale, Oerbier which, I think, is by far their best regular beer. Other Mad Beers are available. A fantastic way to end a Brewery Visit. You can buy T-Shirts here, and other Mad Memorabilia as well, including a large Oerbier Yellow Man illuminated plastic sign, if you want one. Yes that would go nice in my Apartment ?!?
Mad Brewers ?? Hmm….
I beg to differ – they know exactly what they are doing!!!
Oct 22, 2002
Brouwerij De Dolle Brouwers in Esen, Belgium
Brewery rating:
4.15
out of
5
with
4966
ratings