Les Brasseurs Du Temps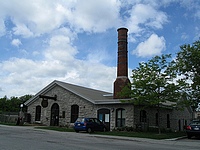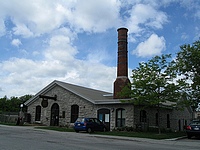 Brewery, Bar, Eatery
170 Rue Montcalm
Gatineau
,
Quebec
, J8X 2M2
Canada
(819) 205-4999 |
map
brasseursdutemps.com
Notes:
Reviews: 12 | Ratings: 21

3.86
/5
rDev
-3.7%
vibe: 3.75 | quality: 3.5 | service: 4 | selection: 4.25 | food: 3.75
My entire family (and a guest) ventured over to Gatineau to visit BDT from Ottawa. I ordered the clock/flight, which featured 3 ounces of 12 of their different beers on tap. These are predetermined, which is also true of "the watch" which has 4 or 5 beers (no one ordered that). Most of the beers were ok, but none seemed truly outstanding. I rated them all on Untapped, but didn't think I knew enough about each to rate them here at BA. The food was good, but not necessarily great. Everyone ordered something different and no one complained about their food. I had the mac and cheese with bacon, plus a side salad. It was a huge portion of mac and cheese with lots of bacon. I should have split with someone and had something else, but 3/5ths of my party was vegetarian. Of the beers, I was most impressed by the stout, but it had a really small pour, and also enjoyed the high alcohol beers (9% to 9.5% abv). The crique (Kriek) was disappointing as it was not especially sour, cherry, or tart. The Harvest beer was the worst and tasted medicinal to me. I shared most of the tasters with other drinkers at the table.
The waitress was bilingual, so that was not a problem. However, we had taken a Lyft to Quebec and discovered that it was unavailable for the ride home. We had to take an Uber in the other direction.
1,319 characters

3.7
/5
rDev
-7.7%
vibe: 3.5 | quality: 3.75 | service: 3.5 | selection: 4 | food: 3.5
The interior decor does not live up to the promise of the outside. The wait staff were pleasant helpful, though it was notgreatthat our appetisers and mains arrived at the same time. The beer range is interesting. As you would expect there were highs snd lows. Generally this brewer is happiest with IPAs and flavourful Belgian style beers.
340 characters
4.68
/5
rDev
+16.7%
vibe: 4 | quality: 4.75 | service: 4.75 | selection: 4.75 | food: 4.75
I visit Gatineau on business routinely, and this is a stop at least once per visit. An old character building converted to a brewpub. This is not a sports bar, not a place to get good wifi. It is a brewpub that does a reasonable number of things really well and satisfies its customers.
The food is exceptional, freshly made and inventive. The house fries are the best around. Whatever you want to try, it is hard to find a dud. The beers are of course the reason to come. They have 12 regular beers on tap, and between 4 and 6 on rotation. You can order a tasting platter called the horloge (French for clock) which will line up all 12 in a circle on a giant platter. Or just order sample glasses and keep em coming until you can't take it any more. My all time favorite is the Trois Portages, which is a tripel. I also enjoy the Dumduminator (Doppelweizenbock), Diable au Corps (Imperial IPA), and Obscur Desir (Imperial Stout). In 10 years of visiting I have only hated one beer (a hot pepper based concoction) and only been disappointed by one (their Barleywine doesn't measure up).
I would recommend without hesitation this establishment.
1,159 characters
4.58
/5
rDev
+14.2%
vibe: 4.5 | quality: 4.75 | service: 4.25 | selection: 4.75 | food: 4.5
This Brew Pub is 4 years old but it was my first time there on a recent visit to neighboring Ottawa. I went first on a Saturday evening. There was music - Shawn Phillips. I had 3 beers that evening - LA Saison Haute: Just like a Saison should be. Tart / citrus, pepper on the palate, with a bone dry finish. The 8.5% alcohol was further proof of the high attenuation. One of the top 10 Saisons I have had. Next was a cask conditioned bourbon barrel aged Imperial Stout. Figs and plums with a strong bourbon - vanilla nose. Wonderful. Lastly - Carpe Diem - A blonde Belgium ale at 6.5%. It was perfectly in style, but nothing unique. The food was also fantastic. Farm to table, simple but elegant preparation.
I was so impressed I went back two days later for lunch. I had the Dumduminator - a Doppelweizenbock - strong and malty at 8% ABV. And finally the Trois Portage - A Belgium Triple @ 9% ABV. Pineapple and peach on the nose and palate, with a bitter sweet finish. It was a little cloudy for the style (probably served before the yeast fully floculated) but wonderful in taste.
This place ranks as one of the top Brewery / Pubs I have been to in North America (and I have been to many).
1,194 characters
4.33
/5
rDev
+8%
vibe: 3.5 | quality: 4.5 | service: 4 | selection: 4.5 | food: 5
Finally accepted my friends invitation to Gatineau to visit this place. Just wasn't feeling it for some reason. Glad I changedmy mind.
I think this is the best food I've had at a brewpub. Better even than Trou du Diable... I've only eaten once at each place though...
Anyways, took the sampler flight of beers called l'horloge which includes about two good sips of all 12 beers for 18 bucks. Seemed expensive but it's not that bad. There were only two or three beers I didn't like. Much better than expected. Especially since I did not enjoy the Dumduminaor bottle purchased a couplemonths ago which was my first taste of this brewery.
Our table split all the food three ways: Some of the meatiest scallops I've ever had, beef and salmon carpaccio with some crazy dressings like green jelly and frozen horseradish, a perigord salad with choice pieces of duck and some of the best foie gras I've tasted, ribs which were ordinary but good and finally one of the best poutines I've tried. I'm not a very big fan of poutine but this one had some sort of pale brie sauce which seemed perfect. Brie also replaced the traditional curds and works amazingly well. Add smoky duck meat and, crisp fries and blueberries and you got one crazy, crazy-delicious poutine.
Prices seem expensive but it's really not that bad. Lots of brewpubs I know inMontreal will charge $9 for a sandwich or $14 for a small pizza. Here you can get a real plate, with food as carefuly thought out and crafted as the beer. Good beer drinkers usually like good food. I don't know why more brewoubs understand that.
Atmosphere is funny as it seems like one of the hip places in town so you get a lot of teenagers drinking pitchers, young couples on romantic dates and families.
Tap-lines run to two-table giving you a self-serve option for two of the best-selling beers. More of a novelty than anything else since price per ounce is the same.
The hostess seemed like a bitch. The kind of staff who thinks ''yeah I work here, we have tons of clients and if you're not happy about something just leave.'' Luckily, our waiter was a lot cooler. Knowledgeable and patient. Helped make the experience great.
All in all cool place with good beer and very interesting and tasty food. I hate driving long distances but I know I have to return.
2,306 characters

4.05
/5
rDev
+1%
vibe: 4 | quality: 4 | service: 4 | selection: 4 | food: 4.5
Affectionately known as "The Brewpub" by my friend, a Gatineau native. We went here the night I arrived in town, as well as a night or two before I left. This was a while ago, so I'm just going on memory here. 3 hour time difference is not helping things. So we got there late, and got a round or two of tasters. The only beer I remember was the Framboyante. Was not bad for a fruit beer. Really can't remember much of what else was on tap, but that shouldn't matter. It's a beautiful building well worth seeing if you are in Ottawa.
First night was drinks, last night was for dinner. They make an absolutely devilish poutine (classical French/Quebecois dish), which I had for dinner and highly recommend. Overall a very nice place. Did not ever get too crowded, and even when there were a lot of people, it never felt too bad.
828 characters
4
/5
rDev
-0.2%
vibe: 4 | quality: 4 | service: 4 | selection: 4 | food: 4
Went for lunch and a beer on a Tuesday afternoon, so the place was virtually empty. Atmosphere was quite nice; dark but classy, with lots of tables on a couple of levels, some of which had good views of the kitchen and brewing sections. I had their Carpe Diem beer, which was good; they also had 11 other of their own brews, plus a guest tap, I believe. Had the bison burger and fries, which were very tasty (a little pricey at $15, but worth it). Our waiter was extremely friendly and spoke excellent english, and chatted us up a little about the place.
I'd easily return here if in the area again, and I'd be interested in going for an evening sometime when I could try more than one of their beers.
702 characters
4.33
/5
rDev
+8%
vibe: 4.5 | quality: 4.5 | service: 4.5 | selection: 4 | food: 4
Arrived on a Friday evening about 5:15pm without reservations (we decided to risk it, I'd suggest calling ahead and making them). We were seated almost immediately expect to be using French at the door, as mine is way out of date we struggled a bit. Our waiter was bilingual and quickly switched over to English to accommodate, I ordered the ESB my aunt asked the waiter to surprise her, he selected the Dunkel Wiezen which from my one sip was very well done as well. My cousin selected the chicken fingers being a typical child of my family and not wanting to venture anywhere unfamiliar, she did eat them all so they obviously passed. My aunt and I both selected the Bison burger with Gouda and bacon which was very tasty, the fries were also excellent. Menu wasn't overly expansive but decent. 13 beers on tap, 1 of which was a guest tap. Very upscale look and clientele, the brew master was enjoying friends at the table next to us. Over all was a bit pricey (12oz brew, 20oz brew, 2 milks, above mentioned dinners after tip came to $70) but was in line with the look and vibe of the place. If this were local I'd most likely be hanging around quite often, and about the nicest brewpub I've ventured to so far. Highly recommended.
1,234 characters
4.05
/5
rDev
+1%
vibe: 4.5 | quality: 4 | service: 4 | selection: 4 | food: 4
Had lunch here with brewer Larry Kress. A large and beautiful brewpub along quaint creek. Modern facilities and are impressive. Large open kitchen with huge dining room and a spiraling pathway that goes down to the actual brewhouse, which is visible through glass walls. There is a large patio outside which overlooks the creek and there is a VIP room downstairs that is equipped for business meetings and wedding parties alike. Service was excellent. I had a cheese platter so I won't rate the food, but the platter was well priced and very generous in portion size. Beer here is very good. I tried all the beer and had seconds of the Pied du Courant. An absolute must visit for anyone in the area.
699 characters
4.06
/5
rDev
+1.2%
vibe: 4.5 | quality: 4 | service: 4 | selection: 4
Beautiful brewpub located in an old hydro-electricity plant with great view on the river. This place is huge with an area where you can easily view the brewing area, a large bar area and a super big patio with a great view. Selection of 13 taps alternate between brewpub offering and some great QC micros. Service was not all that good in the beginning but management seem sot have work on the kinks. I haven't taste the food already so I can't really comment. The location is close to downtown and easily accessible and parking can easily be find anywhere close to the building. Definitely a place I will revisit in the future.
628 characters
3.73
/5
rDev
-7%
vibe: 4 | quality: 3.5 | service: 3.5 | selection: 4 | food: 4
This brewpub is a unique and large place, just outside of downtown Ottawa. For the summertime, it is a must stop as there are many tables, room for more than 100 outside. Inside is a bit smaller in relationship, and I am told can get very crowded and not overly sociable to other groups at other tables. Service was attentive because we arrived just after opening on a Sunday and it only become moderately busy afterward.However people inside did not smile much, and outside were restaurant eople who did not know one beer from another even after several tries. Food, as tried by my party, was above average to good.The home brew is average, although shows promise for the furture with higher abv choices I was shown in a tour. There is also a private party space for rental that borders on a natural bit of water, with Canadian geese and the like, it is all very pretty. The bar is hand carved and very pretty. Great guest taps, most of which will be taken over by what will be host brewed. Prices are a bit expensive for Ottawa, but less than Toronto, and big US cities.
1,072 characters
3.25
/5
rDev
-19%
vibe: 4 | quality: 4 | service: 2 | selection: 3 | food: 4
Brand new microbrewery in Gatineau, opened 21-MAY-2009. We visited on the 25th, after an apparently very busy weekend.
The atmosphere is nice, with a very large seating area above the kettle and fermenter (~12 tables in the bar area, ~20 in the large dining room, ~15 more outside). Though the restaurant was not very full, it was a chore to flag down our server. The chalkboard listed 6 beers on tap, though their menu showed 14 beers, all Quebec micros (with one Ontario cider). While they offer a sampler (L'Horloge) of 8 beers, I was re-buffed at every attempt to order one (I didn't mind doubling up on some to fill out 8, I didn't mind not having the proper tray, but the last excuse was that the taps were not set up for them [??]. Clearly it wasn't meant to be) I tried their very first beer, kegged only today: A Fin La Lumiere (Finally, the Light!) Very tasty. I also tried MacKroken Flower, a Quebec micro, also great (though they call it a quad, it looks like a Scottish beer).
Food-wise, the nachos were acceptable, but lacking in toppings. The cornet de frites (cone of fries) were good, with a choice of 4 different mayos.
Main course, I ordered a Dallaire bison burger, which was very dry and the Monterey Jack cheese was missing. My tablemates had the ribs (good, nothing special), Monferret bison burger (no complaints there) and shrimp (happily surprised at the number of shrimp on the plate, 8).
For dessert... We tried to get a menu, but they were out of everything but the cherry torte, so we passed (like I said, a busy weekend).
Besides the very-difficult-to-find server (never did get that garlic mayo for the fries), each of our four bills were wrong. Not his fault, they seemed to be entered incorrectly in the POS system. Some quick table math got us back where we wanted to be.
On the way out, I grabbed a sampler of the Marie-Framboise and Ginger beer, which were both great. Apparently the taps were working again...
So, I'm going to wait a while before going back, in the hopes that they work out the new restaurant kinks. There are plans for a beer museum to open in Sept. 2009, that looks to be interesting. Another neat thing about the bar is they have a couple of tables with built-in taps where you can serve yourself for a cost of $0.25/ounce. Seems like a great deal for a big group (who can all agree on one beer).
Beers on tap: BdT A Fin la Lumiere, St. Ambroise Outmeal Stout and Red, Marie-Framboise, Ginger Beer, MacKroken Flower, Belle Guelle (sorry, this is from memory).
2,519 characters
Les Brasseurs Du Temps in Gatineau, QC, Canada
Brewery rating:
3.65
out of
5
with
361
ratings