Great Western Premium Light
| Great Western Brewing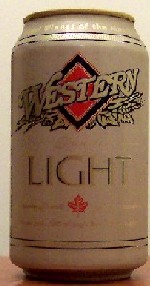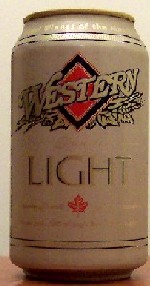 BEER INFO
Brewed by:
Great Western Brewing
Saskatchewan
,
Canada
greatwesternbrewing.com
Style:
American Light Lager
Alcohol by volume (ABV):
4.00%
Availability:
Year-round
Notes / Commercial Description:
No notes at this time.
Added by canadianbarman on 08-02-2004
HISTOGRAM
Ratings: 8 | Reviews: 6
Reviews by ChrisCage:
3.22
/5
rDev
+3.5%
look: 2 | smell: 2.5 | taste: 3 | feel: 3 | overall: 5
A- Pours a crystal clear grassy color, with lots of big bubbled carbonation visible. The head starts out thick, but it is fizzy and quickly dissipates into a ring around the glass. As far as lacing goes, there isn't really any. Not the best looking beer.
S- For a light beer there is a moderately decent aroma. It is primarily of grains, but there is some sweet malt present. Nothing really there in terms of a hop bitterness. Nothing really to get excited about but the best I've smelled to date in a light beer.
T- Overall the flavors are mild, but there is a sweet malt character present. Otherwise, the graininess comes through and there isn't really any bitterness on the finish. It is a very clean tasting beer, which is to be expected.
M- Watery, light bodied feel and heavy, zesty carbonation scrubs my palate. It finishes very clean and crisp. This is a very refreshing brew.
D- I don't normally drink light beers, but this one actually does taste like it has something to it. It has a richer profile than a typical macro light beer (Coors light) and is refreshing. I received a case of this as a gift and I will most likely get this again, when given the opportunity, as this isn't available in Alberta...give it a try. Best light beer I've tried so far!
1,268 characters
More User Reviews:
2.77
/5
rDev
-10.9%
look: 2 | smell: 2.5 | taste: 3 | feel: 2.5 | overall: 3
not a fan of light beers, this one has so far been the best.
A: stubble yellow, with a thin, fluffy white head that vanishes rapidly.
S: mild, grainy. lacks the metalic smell from the mainstream brands which was the high point.
T: well, it's mild. nothing offensive here, but certainly not as good as their premium lager. this ones lacking. an adjunct taste present, i believe its corn.
M: pretty thin, but good for a 'light' beer.
D: goes down easy, especially after landscaping.
485 characters
3.03
/5
rDev
-2.6%
look: 3.5 | smell: 3 | taste: 3 | feel: 3 | overall: 3
355ml can, procured at a liquor store in my hometown, after a swell night of catching up at my 20th high school reunion.
This beer pours a very pale golden yellow colour, with three fingers of tight, foamy, almost creamy bone-white head, which leaves nothing in the way of lace around the glass as it duly (read: quickly) recedes.
It smells of mildly grainy, and more majorly corny, malt, the sweetness restrained at any rate, with a softly sour vegetal character, and weak earthy, dead leaf hops. The taste is tame, underwhelming grainy malt, with a subtle corn sweetness astringency, a slight mineral note, and quite thin earthy hops.
The bubbles are average, nothing more than an underlying edge, the body light in weight, and watery in constitution, rendering a generally overall smoothness. It finishes fairly clean, the thinned-out graininess seeing little else beyond some quite anemic lingering earthy hops.
For the style, this is s'alright. Too bad the style is what it sez at the top of this page. Given a choice between this and the big boys' light offerings, I usually sink deeply into a glass of Irish whiskey.
1,127 characters


2.55
/5
rDev
-18%
look: 2.5 | smell: 2.5 | taste: 2.5 | feel: 3 | overall: 2.5
Very rarely will I ever throw down my hard earned clams for some light beer, but for some reason Great Western's version piqued my interest, at least at the moment of purchase.
It pours out of its can a clear pale straw hue, very light and lacklustre, although with a massive fizzy white head on it which at least was impressive for a light beer. The aroma is faint and nondescript, nothing really there to yay or nay, it slips under the radar. The incredibly light flavour in combination with the carbonated texture of the mouthfeel kind of reminds me of drinking soda water, it's hard to tell that a beer is being consumed at times. This, I suppose, is what people are looking for when they buy and drink a light beer. Curious folk those types of people. An okay mouthfeel for a lager though, nothing impressive, but it's not overly watery either. Although I couldn't see myself buying this stuff again, I would easily take it over a Coors Light if offered, or any of that other "light" fare. This is drinkable for a light beer, but not recommended for beer drinkers.
1,072 characters
2.96
/5
rDev
-4.8%
look: 3.5 | smell: 2.5 | taste: 3 | feel: 3.5 | overall: 3
355ml can poured in a pilsener glass.
Clear, pale, pale straw yellow. White head is 1/4inch on the pour, but reduces to a thin cap. Some lacing.
Aroma is quite mild. Faint grains and a bit of a sour/adjuncty aspect.
Grainy throughout. Light petrol notes in the middle. Mild finish. Practically no aftertaste. Fairly average macro light and pretty blah.
Light bodied and moderately carbonated. Very clean and almost crisp.
Definitely the best light beer I've had to date. A decent choice as a thirst quencher on a hot day. Fairly high scores come from its relationship to other light beers.
604 characters
3.1
/5
rDev
-0.3%
look: 2.5 | smell: 2.5 | taste: 3.5 | feel: 2.5 | overall: 3.5
--Came in a standard size can with no freshness date found.
--Poured a light straw like in color with very little head and very little lacing. Bubbling was standard.
--Smelled very average, like any other light beer.
This was a good light beer but not a specatular light beer as I have tasted better. It went down smooth though and I would drink again on a hot deck under a hot sun.
385 characters
Great Western Premium Light from Great Western Brewing
Beer rating:
3.11
out of
5
with
8
ratings