Olde Magoun's Saloon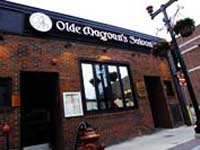 PLACE INFO
Type:
Bar, Eatery
518 Medford St
Somerville
,
Massachusetts
, 02145-2657
United States
(617) 776-2600 |
map
magounssaloon.com
Notes:
No notes at this time.
Added by cornsnake23 on 05-23-2009
Reviews: 7 | Ratings: 20
4
/5
rDev
-0.5%
There's something delightful about this place. Nothing too fancy, but comfortable, the employees are friendly, the beer list is great and there's variety, and their communication (social media, etc) are HELPFUL and informative. Plus, once I went in with a friend and they were giving out free drink tickets. For no particular reason. Because they are wonderful.
363 characters
3.85
/5
rDev
-4.2%
vibe: 4 | quality: 3.5 | service: 4.5 | selection: 3.5 | food: 4
Magouns is a comfortable neighborhood pub on the border of Somerville and Medford in Magoun Square. It is a combo of a local tavern, an Irish pub and a sports bar. Arrive at the wrong time (say a Patriot's game) and you will be standing. When there is not a local sporting event (I think there are a few days a year :) ) you can easily get a spot at the bar. The bartender (usually Eddie) is a good guy who is attentive and friendly. He is from across the pond so its easy to get him to switch on a futbol match.
Beer selection is mostly decent, some local stuff and a few other good "import" brews in bottle. Food is pub grub, but tastes a lot better than typical pub fare, and they do it in a tiny kitchen. I am not sure 2 people can fit in that space, but they can feed a good size room full of tables and a large bar with no problem.
I enjoy coming here, it is what I consider one of my local pubs.
906 characters
4.05
/5
rDev
+0.7%
vibe: 4.5 | quality: 4 | service: 4 | selection: 4 | food: 4
I'm not at all bitter about the time I spent at school in Providence, but reflecting on my college career I do wish that the city had a few more reliable beer bars (I still miss the GCB dearly and the beer scene has gotten better overall, but I think my point still stands). Upon moving to Boston, I was struck by the sheer volume of great drinking spots so close to the many colleges around here. Surely, had I spent my undergrad years in this city, I would've been a far happier – if poorer – Beer Advocate. Imagine my surprise, then, when I was recently met with blank stares from a number of Tufts graduates after I asked them about Olde Magoun's. This isn't necessarily a beer geek hotspot, just a neighborhood bar that happens to have a great beer list. Nonetheless, Magoun Square was apparently a little too far away from campus to be on their radars. Figures: I never really made it off the Hill for four years.
Magoun's doesn't try too hard, it just tries harder than it has to. This is a bar that could easily get by with five BMC taps, what with its seemingly continuous loop of Celtics/Bruins/Sox/Pats games displayed on several enormous screens. But Magoun's isn't interested in being another one of Boston's oft-maligned anonymous sports bars. Fresh locals – Pretty Things, Cambridge, Haverhill – are always on tap along with a smattering of winners from the West Coast and beyond, and everything is served in properly branded glassware. In a town where beer is serious business and sports a far more serious one, Magoun's is one of the surprisingly few bars where one can drink very well while catching a game.
Someone with culinary ambition mans the kitchen. Between Roast Sundays, $6 Fish Taco Mondays, and the oft-politically incorrect monthly rotating specials on Wednesdays (see "Asian Confusion" for April and May), I've always eaten very well here for a more than reasonable price. I hate to recommend a turkey sandwich, but I will – Magoun's version is something of a dream haunter.
I've seen Medford cops grabbing a pint alongside grizzled regulars nursing their Gansetts here. I've seen groups of middle-aged women tearing through platters of nachos next to awkward second dates on cold Somerville nights in January here. And even though Magoun's isn't really accessible by public transit, I'll find an excuse to go whenever possible. All told, it's probably for the best that Magoun's isn't in Rhode Island – I had enough trouble stretching my paychecks.
2,540 characters

4.38
/5
rDev
+9%
vibe: 4.5 | quality: 4.5 | service: 4.5 | selection: 4 | food: 4.5
In the past year, Magoun's has become my one of my favorite (if not THE favorite) places to drink and eat in the Boston area.
Place has a real comfy Irish-pub type vibe that is authentic and not like most other Boston-area Gaelic gag-fests (looking at you Black Rose!)
Chalkboard lists around 24 taps, consisting mostly of regional & large crafts (Sierra Nevada & Anchor seasonals) and a great selection of German beers in the fall around O-fest time.
Service has always been prompt, friendly and attentive whether I sit at the bar or at a table. The staff seem geniuinely happy to have me as a guest...a breath of fresh air for the Cambridge/Somerville beer bar & restaurant scene.
They have the NFL Sunday Ticket package and have most if not all games showing on their HD Projection screens. Kudos.
Food is great. Burgers are solid, the pulled pork nachos are the best nachos in Boston, period. Fish and chips are of the fresh fish and fresh cut fries variety. It's obvious scratch cooking is done in the kitchen.
Though it may not have the lastest uber-geek selection, Magoun's is a great place to meet friends and catch a game.
1,137 characters
4
/5
rDev
-0.5%
vibe: 4 | quality: 4 | service: 4 | selection: 4 | food: 4
I love this place. It's one of the host bars of the St. Patrick's Day Road Race, and that's how I found out about it.
Really great tap selection, and a fair number of unusual bottle selections as well. How many bars do you know that carry Hennepin's Three Philosophers?
Friendly, efficient waitstaff.
Has pretty typical pub grub, but it's tasty.
Being in a college town, it attracts a college crowd during the school year, but the place isn't at all wild. Usually, it's a friendly, fun crowd, and it doesn't get too crowded on week nights. They also have trivia night once a week.
584 characters
3.73
/5
rDev
-7.2%
vibe: 4 | quality: 3.5 | service: 3.5 | selection: 4 | food: 4
A decent sized (meaning neither too big nor too small) with a single long bar and enough seating/standing room to be comfortable. Several tv's with the latest game, including a drop down projection screen at the front of the establishment (a bit delayed and out of synch with the other's though). They also allow for parties (meaning, you can get a section of tables reserved, and have food served on the dividing walls at a flat rate). Not a college bar, but not an old fogey gin mill either.
Beers are fresh and the right temp. Food is what you'd expect. All is generally good.
Busy, with wait staff hitting the tables with good regularity. Bartender is hustling, but at the time I was there, they needed one more person back there. There literally was a line for drink orders at the tap, which isn't good for those in line, and really sucks for those sitting at the bar and tipping out the bartender.
Not a huge tap selection, but big enough. Good bottle selection, and good seasonal/general rotation of beers, but alot of favorites remain (i.e. Fullers ESB always seems to be there). Some good oddities that are worth the try in a bar rather than a bomber or six as well.
Food selection is very good, with pizzas being unique and tasty. Bigger meals are also good as far as pub fare is concerned. Good variety of fried appetizers, and some cold healthier stuff as well.
Beers are in a decent range, in general ($4.00-$6.00), and the food wasn't going to break the bank.
Overall, a good place to stop. Great for the locals who walk down. parking sucks, with meters checked till 8:00 pm, but at least they have warning signs for this in the bar. Worth trying.
1,668 characters

3.88
/5
rDev
-3.5%
vibe: 4.5 | quality: 4 | service: 4 | selection: 3.5 | food: 3.5
This place is right around the corner from my apartment so I was thrilled when I found out that they don't keep any BMC on tap (although they do have almost all of them in bottles). They have a great selection that's diverse and it's always changing. Tap rotation is very good. I go in about once every two weeks or so and there are always new taps to try when I go. They also have a few good crafts in bottles, but they have enough taps that are constantly changing that I haven't felt the need to order a bottle yet. The beers are all between $4-6 a pint which I feel is very reasonable.
The food is pretty good based on what I've had. They've actually changed their menu recently and the new pulled pork sandwich they added is really good, topped with a very flavorful coleslaw and your choice of a big pile of fries or a big pile of onion rings. My girl got the popcorn shrip mac 'n' cheese which was very tastey and is served in the pan used to cook it. The prices are great with sandwiches and entres ranging from $8-13. Definitely a bargain if you want a nice dinner and some good beer.
The atmosphere is very relaxed. It's never really too loud unless it's a game night. They have televisions all around to watch sports and they even have 3 HUGE projection screens on all sides of the bar so you can watch the bigger games from anywhere you are sitting. They recently started doing a trivia night, though I haven't attended this yet.
The crowd seems to be some locals and a lot of tufts students. I've seen the full age range in there from 20 year olds to 60 year olds. It just seems to be a very friendly place and the bartenders don't mind you chatting them up about the beer they're serving and giving you samples if you'd like to try a beer without making a commitment.
The wait staff is friendly and does a good job during the dinner hours getting you food and drinks and anything else you want. My only complaint is that they don't seem to write the orders down so occasionally you may have to ask for something twice (such as some extra bbq sauce or a glass of water alongside your beer). But other than this they always seem to be around to get you what you need and very rarely have I seen patrons sitting around with empty glasses.
My only real gripe is that the beer list on their website isn't kept up with very well. They change out their taps so often that they should be updating their website every week or two, but they seem to be lazy about doing it and even the stuff they do have listed on the online list is spelled wrong or the completely wrong beer. Hopefully they will get someone to keep up with it and do it the right way someday.
All in all, this is a great little bar if you're in the area and want some craft beer but don't care if there aren't 100 taps.
2,797 characters
Olde Magoun's Saloon in Somerville, MA
4.02
out of
5
based on
20
ratings.