Excalibur Strong
| Greene King / Morland Brewery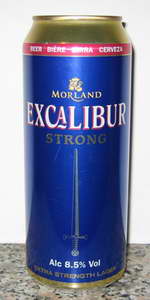 BEER INFO
Brewed by:
Greene King / Morland Brewery
England
,
United Kingdom
greenekingbeers.co.uk
Style:
Euro Strong Lager
Alcohol by volume (ABV):
8.50%
Availability:
Year-round
Notes / Commercial Description:
No notes at this time.
Added by Suds on 08-05-2007
This beer is retired; no longer brewed.
Ratings: 3 | Reviews: 3
Reviews by SpruceMoose:

1.52
/5
rDev
-38.5%
look: 3 | smell: 1 | taste: 1.5 | feel: 1.5 | overall: 1.75
I'm an enormous fan of English beer. After growing weary with other Greene King/Morland beers such as the Old Speckled Hen, the classic IPA and more intense ales like Tangle Foot, I decided to try for myself one of the lesser-known British strong lagers brewed by the company. Excalibur Strong intrigues the drinker with its blue and gold can and description which declares it a "hearty brew" and "the perfect drink for any occassions". Unfortunately, these dreams of a hearty strong lager disappear once the can is opened and you take that first virulently offensive sip.
Appearance: An aggressive pour into a tall Hefeweizen glass leaves about 3-4 cm of white head which dissipates remarkably quickly, with minimal lacing. The beer itself is a generic lager colour, pale golden albeit slightly cloudier than stock-standard European macros.
Smell: Overwhelmingly dominated by the alcohol. Painfully so. There is the quietest whisper of malt underneath the arsenal of booze-stench which attacks your sinuses upon the first whiff, and although it might be forgiven for this sin as it's a strong lager, it's certainly no excuse for being almost completely devoid of any other scents or smells.
Taste: Offensively bitter and alcoholic. The strength of the beer is not masked by the flavours, and does not blend in well with the malt and hops. The beer must've been brewed with unprecedented amounts of hops as the bitterness, even to the most seasoned of bitter drinkers, makes it an arduous challenge to finish the 500ml can.
Mouthfeel: Thin and watery with some alcohol burn. Not pleasant at all. The carbonation appears to be rather high, even for a strong lager.
Overall: It's somewhat of a blessing that this beer is relatively obscure in the lager world. There is almost certainly a reason for it as well; this watery, imbalanced swill should poison as few people's lips as possible. I'd take a Carlsberg Master Brew over it any day.
1,941 characters
More User Reviews:

3.06
/5
rDev
+23.9%
look: 4 | smell: 3 | taste: 3 | feel: 3 | overall: 3
From what I can tell the beer I am reviewing is this beer, but with a slightly different name/packaging.
Pirate Beer: Extra Strong
Thanks DmanGTR
A: Like a nice white whine in color, a nice pale amber/yellow color. Crystal clear with a fish eye filled white head, which slowly dissipates.
S: Sweet with hints of pale grain. Not a lot of hop character, and typical Euro Strong scents.
T: A little hot with some metallic flavors. A touch of sweetness and a floral note in the finish. The alcohol is present, but not blatant.
M: Medium, and slightly syrupy. The carbonation is high, and the booze gives it a little heat.
O: Overall not bad, but not great. A beer that would "get the job done" but not necessarily one that would do it with flare.
754 characters

2.82
/5
rDev
+14.2%
look: 2.5 | smell: 3 | taste: 2.5 | feel: 3.5 | overall: 3
This is an example of countless european strong lagers that are found everywhere in Italy. Excalibur a yellow-golden color, and exceptionally clear. The head is light and fizzy, with only modest stability and not much lace. This is about on par with the beer's competitors, but it's not a particularly attractive beer. The aroma is dominated by the alcohol, with a little grain in the background. Not much of a hop aroma in this one, although a bit of malt comes through underneath the ethanol. Unfortunately, the beer has a harsh and rough taste. The alcohol is not folded well into the flavors at all. It's a simple beer with high-powered alcohol. The malt in the aroma does not follow to the taste. I bit of sweetnees in the front, then harsh hotness. It's a bit fuller in body and smoother in mouthfeel than expected, but it's not at all satisfying due to the harsheness. It sure could have been a lot better.
913 characters
Excalibur Strong from Greene King / Morland Brewery
2.47
out of
5
based on
3
ratings.