Abbot Reserve
| Greene King / Morland Brewery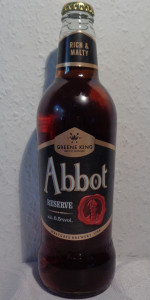 BEER INFO
Brewed by:
Greene King / Morland Brewery
England
,
United Kingdom
greenekingbeers.co.uk
Style:
English Strong Ale
Alcohol by volume (ABV):
6.50%
Availability:
Year-round
Notes / Commercial Description:
No notes at this time.
Added by PartyBear on 08-16-2009
Reviews: 9 | Ratings: 26

3.17
/5
rDev
-14.1%
look: 3.25 | smell: 3 | taste: 3.25 | feel: 3.5 | overall: 3
Bottled (& sadly clear glass)
Light brown body with slight off white head that disappears 75% surface only tiny bubbled head
There is toffee on the nose and it would have been a good aroma but for the skunking
likewise the flavour has a good balance of sweet toffee elements & bitterness but it's bulldozed by the skunking due to the clear glass bottle
352 characters
3.44
/5
rDev
-6.8%
look: 3.75 | smell: 3.5 | taste: 3.25 | feel: 3.75 | overall: 3.5
Bottle. Amber in colour. Thin head.
Sweet malt and alcohol smell.
Tastes like most Greene King derivations. Toffee caramel with a little fruit.
Moderate feel.
I enjoyed the alcohol but not much else.
199 characters
3.37
/5
rDev
-8.7%
look: 3.25 | smell: 3 | taste: 3.5 | feel: 3.5 | overall: 3.5
Half pint at one of the 'spoons in Glasgow. A dark amber to light chestnut coloured beer with a fairly generous 'spoons style head. It has a spicy caramel nose which belies its early sweetness. It begins with some banana, some yeast and lots of white sugar before alcohol with a slight mintiness takes over. It feels slightly on the thick side.
344 characters

3.45
/5
rDev
-6.5%
look: 3.5 | smell: 3.5 | taste: 3.5 | feel: 3 | overall: 3.5
A 500ml clear glass bottle with a BB of March 2012. Picked up cheap from my local off-licence.
Poured into a tulip pint glass. A clear reddish-amber hue with low carbonation. Forms a decent head of white foam that lasts for a minute or so before subsiding. Aroma of rich, fruity malt with notes of dried fruit, cake and brown sugar. A whiff of booze/solvent in the background.
Tastes of sweet, fruity malt with a dry finish. Notes of honey, brown sugar, dried fruit and caramel/toffee. A faint suggestion of diacetyl, and a dry stewed hop bitterness upon swallowing. A warming note of alcohol in the background. Mouthfeel is smooth and tingly, but seems a little thin and slick. Somewhat astringent, and leaves a sensation of coating the palate. Aftertaste of fruity malt and bitter hops.
Not too bad, if not world-class. The rich malt character is decent and the balance is good. Lacks the depth of other strong ales, but pleasant enough. Worth sampling.
958 characters
4
/5
rDev
+8.4%
look: 4 | smell: 4 | taste: 4 | feel: 4 | overall: 4
Pours a dark copper hue which leaves a two finger head and heaps of clingy lacing,the smell is sweet caramel,fruitcake,salt,vinegar and toffee,the mouthfeel is medium bodied with a light syrupy stickiness to it with tastes of fruitcake,brandy,candied lollies,chestnuts and finished with a dried fruit semi-sweetness and overall a nice brew to end the session on or have with a big hearty roast or rich dessert and i would drink again cheers.
441 characters
3.85
/5
rDev
+4.3%
look: 3.5 | smell: 3.5 | taste: 4 | feel: 4 | overall: 4
Served in a pint glass. Reviewed November 2010.
A: Thin but creamy head. Darkly clear; light mahogany brown. Prettier than not with decent lacing.
S: On the light side. Fruity sweet with a robust beery underscent.
T: The extra alcohol transforms a mediocre Abbot Ale into a much more enjoyable beer, more assertive, full-bodied, and flavourful. Fruity malts have a slightly different character than they did in the smell (less apple/peach, more raisin/pineapple). Slightly sour. The aftertaste is smooth, somewhat nutty, and sweetish with touches of caramelised sugar.
M: Smooth, filling, with a good personality. Sticky at times.
D: Very enjoyable. A solid, filling pint. I would order again.
698 characters
3.91
/5
rDev
+6%
look: 4.5 | smell: 3.5 | taste: 4 | feel: 4 | overall: 4
500ml bottle poured into a standard English pint pot.
A. A clear, coppery red ale with a tanned/latteish head that dissipated slowly.
N. Toffeeish notes and fruity malt.
T. The sweet malt smacks you full on immediately and the 6.5% reminds you to take it seriously. There is a very slight fruit cake taste in there but it is negligable. The finish is long and nicely bitter.
M. Medium, almost bordering on heavy. Much thicker than the standard bottled Abbott version and is a nice warming beer.
First had this in cask form on Christmas Eve 2008 and was impressed straight away and am equally as impressed with the bottled version. A few of these and you will know about it alright. Considering the difference between standard Abbott and this is only 1.5% ABV once you have tried this you will never go back to the weaker version. The alcoholic warmth is stronger than it actually is, the burn felt more like an 8% or so English beer and would be a good companion to have at your side by the fireside on a cold winters evening.
1,031 characters
3.88
/5
rDev
+5.1%
look: 4 | smell: 3.5 | taste: 4 | feel: 4 | overall: 4
Clear 500ml bottle, poured into a 'Palm Special' bulbous tulip glass (twice).
Lovely reddy brown coloured body, clear and clean, a well formed off-white, tan coloured, creamy head sat on top with both pours.
The aroma was of molasses and toffee, sweet for a normal UK ale.
The sweet malts/molasses hit your tastebuds straight away, a dry bitterness follows in the aftertaste as the hops kick in. The rear label mentions fruit cake flavours, but I didn't detect any cake on my palate, this isn't a rich fruit cake beer; having said that, it is full bodied and very pleasnt to drink.
My tasting was on a sunny afternoon, this is a cold evening by the fire sort of beer. Greene King get a lot of bad press from a lot of the UK CAMRA guys, and I often join in. I'll have to think twice now before having a go at the brewery if they are producing such good beers as this on a regular basis.
889 characters
4
/5
rDev
+8.4%
look: 4 | smell: 4 | taste: 4 | feel: 4 | overall: 4
A - Dark woody brown colour supporting a medium white head. Quite lively.
S - Fruity malts on the nose, with sweet honey interwoven.
T - Initially there are sweet toffee flavours, alongside biscuity, cake-like malts. There is a mild fruitiness after the first flavours, maybe cherries. It finishes with an unexpected bitterness, and earthy hops.
M - Full bodied and deceptively smooth.
D - I'm a big fan of Abbot ale, and this beer takes it to the next level. They ramp up the ABV and open out the flavours, so, if you thought Abbot Ale was lacking something, you should definitely try and get your hands on the Reserve because they have dropped a lot bigger engine under the hood.
696 characters
Abbot Reserve from Greene King / Morland Brewery
3.69
out of
5
based on
26
ratings.