Tasmanian Devil
| Buffalo Bill's Brewery
BA SCORE
81
good
14
Reviews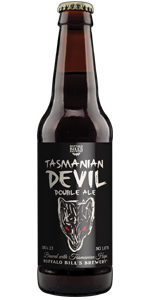 BEER INFO
Brewed by:
Buffalo Bill's Brewery
California
,
United States
buffalobillsbrewery.com
Style:
American Strong Ale
Alcohol by volume (ABV):
8.00%
Availability:
Year-round
Notes / Commercial Description:
No notes at this time.
Added by beerguy101 on 09-30-2003
Reviews: 14 | Ratings: 62
3.07
/5
rDev
-11%
look: 3.25 | smell: 3 | taste: 3 | feel: 3 | overall: 3.25
Pours copper with a big head, quickly fading to a lingering lace.
Fruity nose, sweet malts, tropical fruits flavors. Alcohol is present, distracting from the flavor.
Interesting display of Tasmanian hops.
★
204 characters
4.19
/5
rDev
+21.4%
look: 5 | smell: 4 | taste: 4.25 | feel: 3.75 | overall: 4.25
Pours an effervescent amber with 2+ fingers of ivory colored head. Great lacing & head retention
S: Pear & a little grapefruit plus grassiness
T: Pear, nectarine, a little grapefruit & tangerine up front, some mango as well. Pink grapefruit & mango as this warms, a little peach as well & some grassiness. Finishes with a tropical flourish, some grassiness & melon
MF: Medium body, slight carbonation & nice balance
Drinks so easy for the ABV, this is really well done, not sure why it's called an Old Ale...
★
516 characters
2.71
/5
rDev
-21.4%
look: 3.75 | smell: 2 | taste: 3 | feel: 2.5 | overall: 2.75
Amber color with inch of head. Nose is faint malts and hops with some sweetness. Taste is pretty plain beer taste. Stronger version of a macro. Sweet lingering finish. Pretty average beer. Meat and potatoes type beer. Not horrible but nothing special to it.
★
257 characters
2.82
/5
rDev
-18.3%
look: 4 | smell: 2.5 | taste: 3 | feel: 2.25 | overall: 2.75
A: Pours a ruddy, slightly murky amber with a creamy, clinging whitish head.
S: Not a lot of character on the nose-some relatively faint scents of toffee, heavy cream, brown sugar, and grassy, herbal hops are all I can detect.
T: Notes of caramel, treacle, brown sugar, horehound candy, toffee, heavy cream, honey roasted nuts, grassy hops, and peppery alcohol dominate the mouth. The finish is sticky and sweet with ludicrously pronounced brown sugar and toffee flavors underpinned by grassy, herbal hop and peppery alcohol notes.
M: Somewhat full in body, but still thinner than I normally prefer beers of this style to be. Very sticky in the mouth. Carbonation is inappropriately airy and crisp. Alcohol is punchy and pronounced.
O: Nothing comes together here. This is a beer that seems to be stuck between stations. It is not a DIPA, it is not a barleywine, and it is also not a typical strong ale. I do not really know what to make of this, but at least it is not entirely unpalatable.
★
995 characters
3.74
/5
rDev
+8.4%
look: 4 | smell: 3.75 | taste: 3.75 | feel: 3.5 | overall: 3.75
I'm going to cut this ambitious ale some slack because it had an enjoy by date of 12/24 and today is 12/27 (and I bought it today at Saveon - I am a little disappointed that they sold this to me - just a little).
I opened this baby and poured it, and I couldn't get half in the glass there was so much head. Decent head too - foamy. It it receding slowly, leaving cakes of lace. Best head I've gotten in a while.
It doesn't indicate any style on the bottle, so once I could get in through the foam, I started guessing. It obviously was a huge ale and it seemed pretty reddish and hoppy enough to be an IPA, but the classification as American Strong Ale is pretty accurate. The hops taste and aroma are pretty unified - as it there were just the Tasmanian hops. This allows plenty of malt to come through, nice and darkly too.
It has a deep bitter under the booziness. It lingers nicely. I would like to try this again but a bit fresher - I don't think this style keeps well.
★
978 characters

3.6
/5
rDev
+4.3%
look: 3.75 | smell: 4.25 | taste: 3.25 | feel: 3.5 | overall: 3.5
Pours a murky copper with a dense cream head than lingers, leaving sheets of lacing as it slowly dissipates.
Caramel, toffee, prunes, raisins, and figs form the initial aroma, along with booze and light phenolic notes.
Flavor lacks far behind the promising aroma. There's a bit of bruised cherry and dates, but it's predominantly dry, with just a touch of tea-like flavor at the dry, bitter finish.
Body is moderate, with moderate to slightly low carbonation and high alcohol warmth.
Great aroma, disappointing flavor.
★
522 characters

3.94
/5
rDev
+14.2%
look: 4 | smell: 3.75 | taste: 4 | feel: 4 | overall: 4
Really wasn't sure what I was going to get myself into with this one but I still wanted to give it a shot. The beer poured out as a nice looking amber color with a cream colored head on top. The retention was pretty good as well as the lacing on it also. The smell of the beer was really quite nice, not sure how old the bottle was but couldn't have been more than a month. The hop aromas really grabber me and I wanted to say it was just a Hoppy Amber Ale. The taste of the beer also had some nice resin-like hop flavors and pine in there blended with the toasted malts in the background of it all. The mouthfeel was smooth, very drinkable and honestly very refreshing to me. Overall I really enjoyed this beer, I would probably drink it again. I don't agree with the classification of this beer on here but to each their own... this one to me is more of an American Amber Ale.
★
878 characters

3.47
/5
rDev
+0.6%
look: 3 | smell: 3.5 | taste: 3.5 | feel: 3.5 | overall: 3.5
Buffalo Bills Tasmanian Devil
12 oz stubby bottle, states the hops were grown in Tasmania. Pours a light amber color. Aroma of earthy, resinous hops. Some floral and pine notes abound. Toasted malts and alcohol also are noticeable. In the taste, solid hop flavor with earthy pine and resin notes. Malt character is lightly toasted and full of caramel. Has a light tang to it, and a pinch of alcohol. Medium bodied and well carbonated. Overall, this is a pretty good beer. I'd get this again some time.
★
502 characters

3.71
/5
rDev
+7.5%
look: 4 | smell: 3.5 | taste: 3.75 | feel: 3.75 | overall: 3.75
Bottle > Sam Adams Sensory Glass
A - Pours a nice gold color, 1 finger head, lighter on the lacing.
S - Orange, spices, a little pine and citrus hints.
T - Medium, decent balance of floral hops and some mild malt flavors, and at the end you pick up some of those spices and citrus fruits.
M - Good feel to it, nothing special, but sits well, and refreshes.
O - Decent beer, another one of those finds in the "strong ale" that i've discovered recently, and fits nicely.
★
471 characters
3.53
/5
rDev
+2.3%
look: 3.25 | smell: 3.25 | taste: 3.75 | feel: 3.5 | overall: 3.5
Poured from a "stubby" 12oz. bottle into a standard pint glass
Cloudy, chill-hazed copper, with a moderate head of off-white foam.
Aroma-funky yeast note
Taste-Spicy, Belgian-like yeast, fruity hop note, faint funkiness. Interesting flavor. The "Tasmanian" hops perhaps? A Belgian pale ale comes to mind in flavor and character. A nice match for a strong, aged cheddar.
★
369 characters
3.7
/5
rDev
+7.2%
look: 3.75 | smell: 3.75 | taste: 3.75 | feel: 3.75 | overall: 3.5
A - Looking beyond the twist off I see a fairly hazy bright amber brown with a 1/4 inch of somewhat sticky head.
S - Smell is fairly pleasant with orange zest, some caramel malts, and a touch of citrus hops. Somewhat oaky too.
T - Well it's ok for an old ale, the citrus hops take a backseat leading to caramel sweet malts, some sugar cookie dough, and a touch of lemon or orange peel.
M - ABV is kind of hidden drinks much thicker for almost 7%. Mostly medium bodied.
Overall these guys seem to be hit or miss for me and this one is just OK. I was actually hoping this was a DIPA or an amber version of their "Alimony ale" since that beer is great.
★
652 characters
3.65
/5
rDev
+5.8%
look: 3.5 | smell: 3.5 | taste: 4 | feel: 3 | overall: 3.5
Pint at the brewery on 1/23/09, reviewed from notes, color is a golden orange with amber tint, small 1/2 inch foamy white head, leaves a little lace but does not last too long, aroma has sweet malt, Cascade hops, floral scents, caramel, and orange, flavor starts off sweet and ends that way too, bit of earthiness in the middle, hops provide some dry quality in the finish but not enough to battel the malt and fruit, gets tangier as it warms, not warming at any point which you almost hope for in this style if not expect, sweet, fruity, and slightly dry mouthfeel, medium bodied, too much carbonation for its style, taste does not linger long, could drink a few of these, very light in ABV for the strong ale category, did not really seem like one to me, maybe just a maltier amber or something, fairly smooth and easy to drink most of the time, probably this brewery's best beer, I know it is a local favorite according to my bartender, I recommend if going here, one of the only tolerable brews from them in my experience, worth trying
★
1,039 characters
3.92
/5
rDev
+13.6%
look: 3.5 | smell: 4 | taste: 4 | feel: 3.5 | overall: 4
Visited BB's for the first time yesterday and tried the beer sampler before settling on the Taz.
It was definitely memorable, with a nice dark golden color. The taste seemed well balanced between hops and malt, and there were some definite floral qualities mixed in with mild bitter. Definitely strong, but I didn't think the ABV was that high!
It went very well with the food we ordered: Tuscan white bean soup, spicy Jambalaya pizza, and citrus salad.
★
456 characters
2.98
/5
rDev
-13.6%
look: 3 | smell: 2.5 | taste: 3 | feel: 3 | overall: 3.5
Medium yellow gold color, medium white foamy head. Aroma is fruity and sweet. Medium bodied "strong" ale. Lightly hopped, medium malts. A little more bite. Good malt taste. Mouthfeel is full and round. Finish is clean. Aftertaste is slightly bitter and hoppy.
★
259 characters
Tasmanian Devil from Buffalo Bill's Brewery
3.45
out of
5
based on
62
ratings.